It's The SUZYs! Announcing the 10th Annual DrSusanBlock.Tv Awards for 2021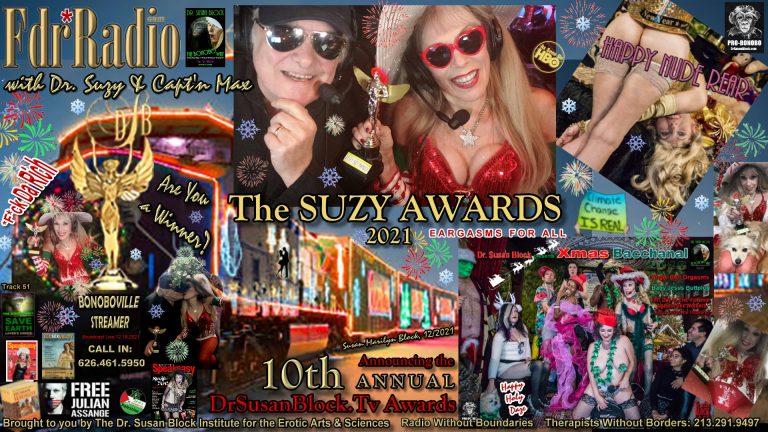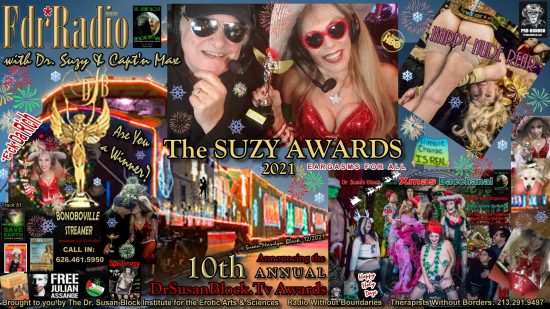 Length 01:46:16 Date: December 18, 2021, 2021
by Dr. Susan Block.
It's our LAST live FDR broadcast of 2021…
So here's wishing you Happy Holy-Daze, Seasons Beatings, Merry Xmas, Sexmas, Saturnalia, Kwanzaa, Winter Solstice, Festivus and a very Happy Nude Rear!
And speaking of looking to the rear end—Da Caboose of da Train we call F.D.R. (Fuck Da Rich)—we're mooning the moon on the longest full moon of the year, known as the "Cold Moon" to the Mohawk Native Americans, as we broadcast this podcast live from the Little Love Church of the Bonobo Way in the Bonoboville Streamer …
Choo-choo!
It's the 2021 SUZY awards!
50 Shows in One Year!
Honoring excellence in broadcast artistry and exhibitionism for the 10th consecutive year, the DrSusanBlock.tv Awards, a.k.a., "The SUZYS," recognize erotic performance, sexual intelligence, pro-sex politics and Weapons of Mass Seduction—though the dildonic SUZY award can be utilized quite effectively as a Weapon of Ass Destruction (careful with those wings now!).
Celebrating The Bonobo Way of female empowerment, male well-being, sharing resources, ecosexuality and peace through pleasure in all kinds of weather, these awards pay tribute, with love, irreverent humor and deep respect, to those who work and play in the fields of peace, liberty, equality and sexuality, as well as call out those who would deny these things to the rest of us.


In a way, the SUZYs are the anti-award awards.


As usual, we're ahead of our time. Well before the Oscars, Critics Choice, the Grammys, the Tonys, the Emmys, XBIZ, the AVNs, the TEAs, the BAFTAs, NAACP, XRCO, SAG, MTV and the Golden Globes trot out their awards, we are here to acknowledge the best and worst of 2021 with The SUZYs!
Our goal, as always (besides having a cum-ton of fun), is to advance the cause of sex education—as we face more and more draconian crackdowns on sexual speech by Big Tech and the Texas Taliban, Mississippi Taliban (with apologies to the actual Taliban), and now we even have the Arcadia, California Taliban.
We also aspire to inspire better erotica, pornography and kinky art with a more sex-positive, sapiosexually stimulating and bonoboësque aesthetic in the general culture.
Finally, we aim to save the real bonobos from extinction and support a bonobo-inspired ethos in the world…. Speaking of "ethos," our Bonoboville Ethics Committee has, since our inception, stipulated that DrSuzy.Tv and F.D.R. staff members, no matter how deserving, are ineligible to receive SUZY awards. However, because we were raised in the United States of Everybody-Gets-an-Award, we do give a special "staff award" to our beloved staff, a "thank you for your service" award. Otherwise, all award winners are usually selected from guest appearances and products used on the 50 live broadcasts of FDR in 2021. However, because this year, we had very few guests, and none on video, we include callers and even a very few commenters in our pool of awards candidates, and we have continued extending it to people who were not actually on the show, though we talked about them. Yes, even Bonoboville can get caught up in celebrity–gazing, especially when it somehow illuminates our own confounding predicament.


In a way, the SUZYs are the anti-award awards. While some of our categories are serious, many are parodies, and then there are the "boobie" prizes. But most are an honor. As always, we are safety and ecology-minded, carefully placing a Glyde America Vegan Condom on the golden head of our SUZY statuette which, at optimal balance, looks like a latex halo or one of my hats, though it can fall off with the slightest jiggle, like too-big condoms do during sex. Thus, without further ado, we deliver the news.
So sit back, pour yourself a flute of champagne, smoke a doobie, relax, start ringing in 2022 for a happier, healthier, sexier you, cheer the winners and laugh at the losers of the 2021 SUZY awards…
And The Winners Are…
#GoBonobos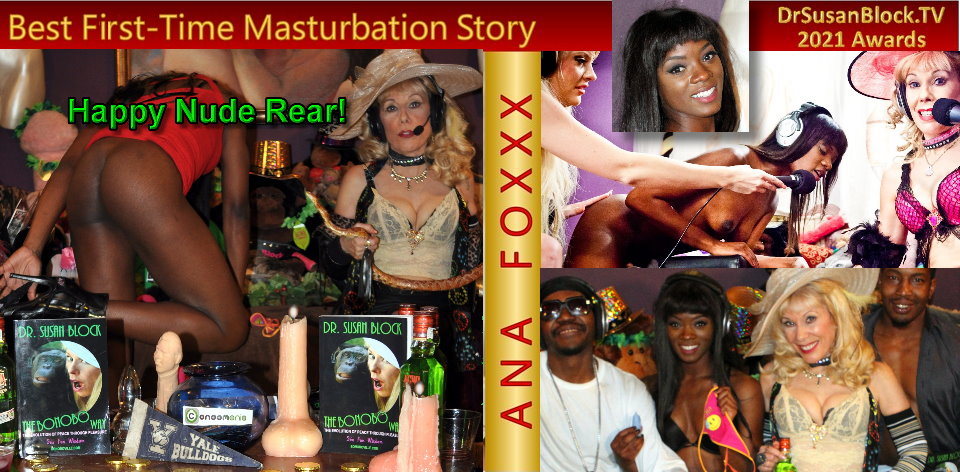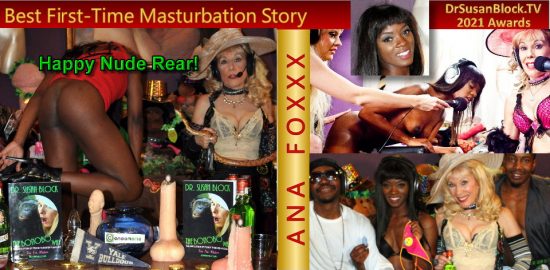 Sex & Pleasure
Kink, Fetish & BDSM
Arts, Science & Media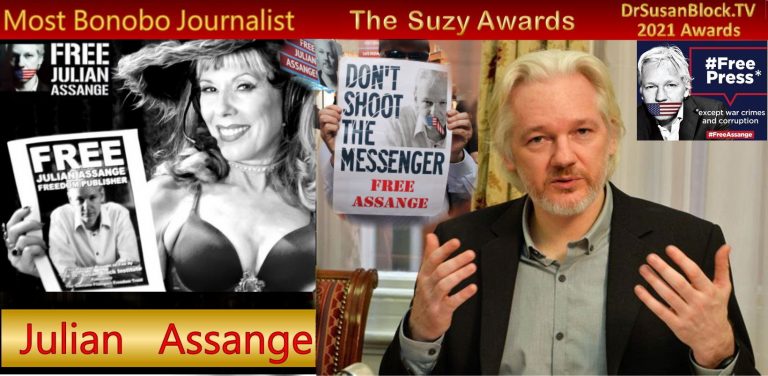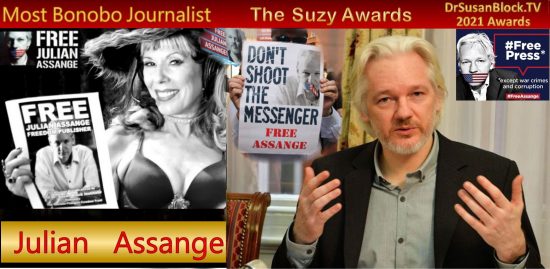 Bonobo Politics
See 2020's Winners. See 2019's Winners. See 2018's Winners. See 2017's Winners. See 2016's Winners. See 2015's Winners. See 2014's winners. See 2013's Winners. See 2012's Winners.
Thus, another hot listicle of sexperts, sexpots, sex workers, politicos, artists, exhibitionists, visionaries, revolutionaries, hot babes, bitches and a few bad bastards who have appeared, been mentioned or parodied on DrSuzy.Tv or FDR have been immortalized, honored for greatness or exposed for evil.
You may question some of our choices (so did we!), which is one reason to listen to the show above or below. Another reason is that it's full of sex, fun, bonobo wisdom and leftist politics, always bubbling up in our champagne as we toast the winners and pee on the losers (just virtually; don't panic, Amber).
Caveat: If "Nastiest Billionaire" Elon Musk gives a billion to the bonobos, I will say I meant "nasty" in a good way.
One spontaneous SUZY Award Acceptance Speech as one of our winners, Chris Gagliardi, joins us on Clubhouse to accept his "Most Bonobo Political Activist" 2021 award, grateful to win his sixth SUZY and just to be alive after almost losing everything in Hurricane Ida. And it's his birthday, so we're glad to give him the ultimate gift.
Elvis Has Left the Building
Sad News: Just hours before this broadcast, we are heartbroken to hear that our friend and frequent caller on the show, Smokey Binion, Jr., has died.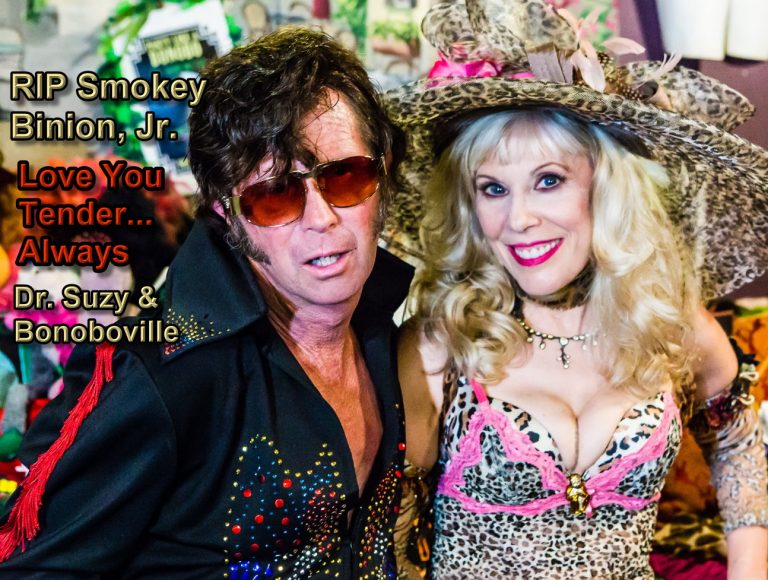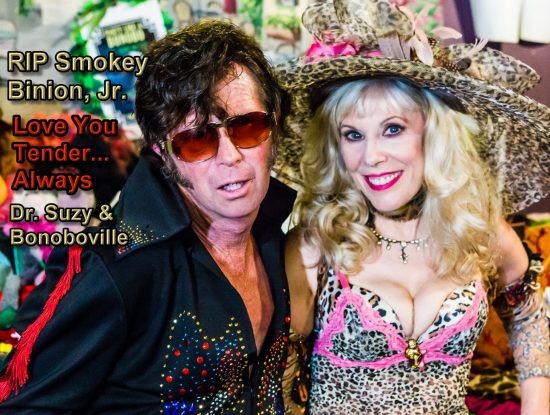 Smokey and I used to tease each other a fair amount, and I had planned on teasing him this year about his love of flirting and sending his autographed photos to any and all the ladies of Bonoboville at what seemed a rapid clip this year by giving him a "Most Persistent Ladies' Man" award. But when I heard the news, I decided to just honor his memory as the "World's Greatest Little Elvis Tribute Artist." Under 5'2", bursting with knowledge and passion for all things Elvis and Hank Williams, with a little bit of Texas Taliban in him and a whole lot of sincere warmth, Smokey was all of that and more.
Love You Tender, Smokey, and see you soon… though hopefully, not too soon.
Listen above or below to our fond farewell to another beloved Bonoboville spirit gone too soon.
The Claiming of Anne Rice
We also say R.I.P. to the late great gothic novelist, Anne Rice, presenting her with a posthumous SUZY award for "Best Dark Erotica." Many years ago, before she got mega-famous, I had the honor of interviewing the Interview with the Vampire author for an article I was writing for the San Francisco Bay Guardian about "interesting couples," and Anne's deeply romantic relationship with her husband, Stan Rice, whom she'd met in high school (and who happened to be my English professor and chairman of the San Francisco State University Master's degree program), was certainly "interesting." Though Anne was much more conservative than hippie me, I was very impressed by her love for Stan, as well as her sparkling brilliance, wit, gothic horror stories, and her trademark *kinky nun* look—high-collared white lace blouse and jet black maxi-skirt that matched her cascades of onyx hair crowned by a thick fringe of Bettie Page bangs (like me!). She mesmerized me like a vampire drawing in her prey. All in all, Anne and Stan were by far the most interesting couple in that article, and one of the most interesting I'd ever met.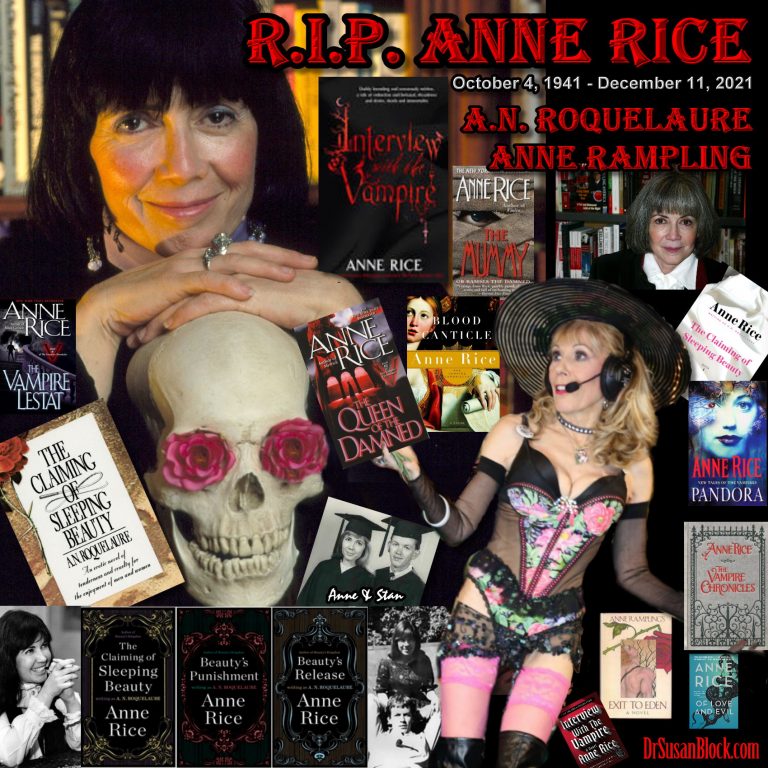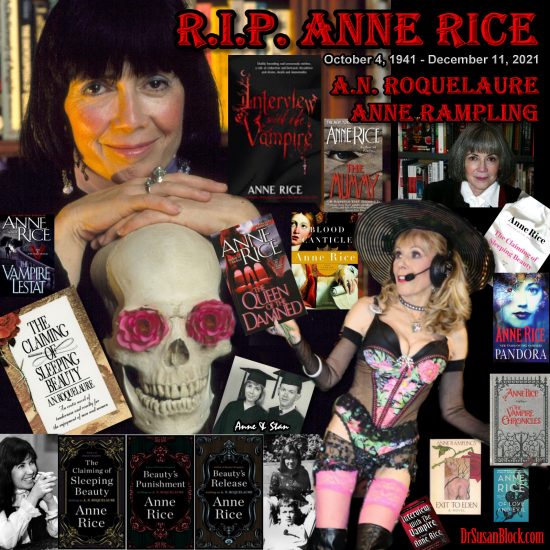 A couple years later, when I was just learning "the ropes" of BDSM, a more experienced kinkster turned me on to Anne's Beauty books, and I must say, I was blown away. A woman of many literary facets and pen names, Anne also wrote the famous erotic novel Exit to Eden under yet another nom de plume, Anne Rampling, though that didn't have the impact (for me) of her penetrating, no-holds-barred, no topics-off-limits Beauty books.
As I reflect upon Anne's death, I feel her Thanatos-enraptured spirit has come home. I also realize that Anne opened an erotic dungeon door for me with her kinky Beauty. And I realize that Anne and Stan were my role models for a very special kind of wild, creative, romantic but enduring love, inspiring my own marriage to Capt'n Max. For that, Anne deserves a lot more than an award, but it's Awards Night, so that's what I give her.
Britney's Free, But What About Assange?
Some people might have legitimate questions about my choice of Britney Spears for the prestigious award of "Most Bonobo," but please listen to the show for my reasoning here. After all, she's hot, breathtakingly creative, posts sexy naked videos and socialist sayings on social media, rejects her family's restrictions and exploitation of her, demands respect for her sexuality—from relatives, the media and the public—and has semi-consciously built a hugely successful sexual freedom movement around herself and her personal liberation.
Plus, it's incredibly gratifying to cheer for someone's legal freedom, and then see that person legally freed. So yes, Comrade Britney deserves "Most Bonobo." You go girl, go bonobos!
On the other hand, it's incredibly frustrating to see "Most Bonobo Journalist" winner Julian Assange still imprisoned and being extradited to the U.S. where he is likely to be subject to even harsher conditions. If only the Free Assange movement were as successful as Free Britney has been. However, bonobo journalism is more threatening to the state than a bonobo pop star. I just can't get over how disturbing it is to see killers like Kyle Rittenhouse go free while Assange the exposer of killers stays locked up, being slowly poisoned. This is censorship at its most insidious.
Though there are many kinds of censorship. Speaking of which, don't miss "The Arcadia Papers—Crack the Code!" coming soon to a Courthouse near you!
Meantime, enjoy some mistletoe kisses, an adorable Xmas puppy and this week's orgiastic throwback: Xmas Bacchanal 2018: Jingle Bell Orgasms to 'O Holy Night,' Baby Jesus Buttplug & Honoring International Day to End Violence Against Sex Workers (Jesus Loved the Hookers!).
Need the perfect gift for the socialist-feminist-orgiast who has everything? Give The Bonobo Way for the holidays.
And if you need to talk, the Therapists Without Borders of the Dr. Susan Block Institute are here for you 24/7 throughout the holy daze and into the future. And if you haven't got a dime, throughout the Coronopocalypse which, thanks to Omicron, is still raging, everything you can see on DrSuzy.Tv is still free.
Jingle Balls Rock!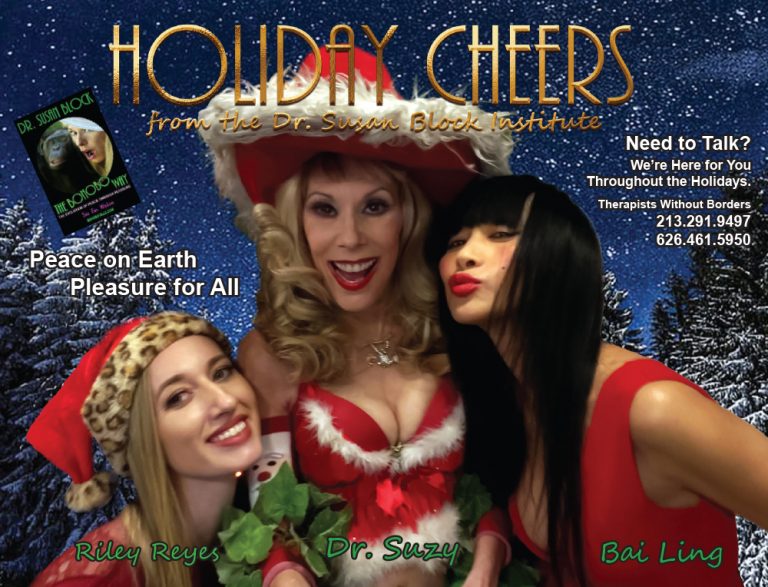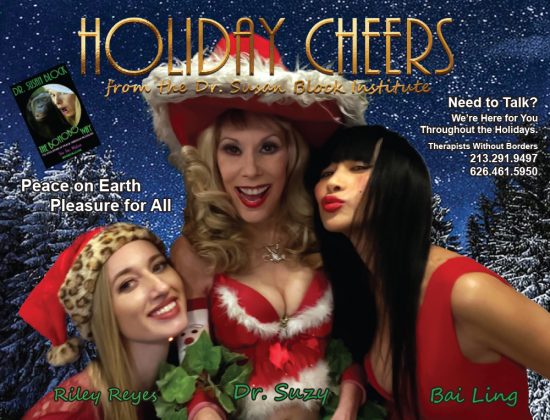 © December 18th, 2021 Susan Block, Ph.D., a.k.a. "Dr. Suzy," is a world renowned LA sex therapist, author of The Bonobo Way: The Evolution of Peace through Pleasure and horny housewife, occasionally seen on HBO and other channels. For speaking engagements, call 310-568-0066.
SUZY AWARDS 2021 on F.D.R. PHOTO ALBUM
---
Explore DrSusanBlock.com
Need to talk? Sext? Webcam? Do it here. Have you watched the show? No? Feel the sex. Don't miss the Forbidden Photographs—Hot Stuff, look at them closely here. Join our private social media Society. Join us live in studio 😊. Go shopping. Gift shop or The Market Place. DrSusanBlock.tv, real sex TV at your toe tips. Sex Clips Anyone? FASHION, we have fashion! We also have politics. Politics? Have you Read the book? No? How about the Speakeasy Journal? Click here. Ok, how about some free sex advice?
---
---