F.D.R. (F*ck Da Rich): Passover Peace Train
Length 01:30:41 Date: March 27, 2021
by Dr. Susan Block.
Why are so many of us violent and confused? Why don't more of us follow The Bonobo Way of peace through pleasure, the natural path of love, sharing, female empowerment, male well-being and good sex? We do we stay shackled like the Hebrew slaves in Egypt to this Pyramid Scheme we call "capitalism"?
One root of the evil that runs deep in the history of human civilization is religious sexual abuse.
It begins with the spinning of stories that turn into lies that beget violence. It sprouts into many forms—some awful, some awesome and some seemingly silly (but laced with serious poison)—from the Evangelical "purity" cult-complicit "Massage Parlor Massacre" to the first little "baby lie" told to me at the age of five in the center of a gigantic 100-family Passover seder.
Want More? Read on…
Blasts from Passovers Past
Yes indeed, Brothers and Sisters, Lovers and Sinners, sex maniacs, (so-called) sex addicts and sacred wine-guzzlers, it's the first night of the Jewish holiday of Passover 2021, as the F.D.R. Love Train leaves the station for parts unknown. Now being served in the Speakeasy Bar Dining Car: super-sweet, 11% proof Manischewitz wine… and stories.
Baruch atah Adonai elohenu melach haolam boray peree hagofen.
Blessed art Thou, O Lord—and Lady—our God—and Goddess—who provide us fruit of the vine…
And the drunken, divine stories that flow forth from it.
Like the many other Dionysian-style festivals of Spring, Passover is a holiday of wine (four cups!) and freedom.
I usually celebrate with a big multi-course seder dinner and/or a kinky Passover Story-themed BDSM orgy with beautiful FemDoms roleplaying Egyptian taskmasters whipping their shackled "Hebrew slaves" portrayed by real submissives who genuinely enjoy it.
Freedom is the greatest aphrodisiac, but restraint is a close second.
Consensual restraint, of course, aka BDSM. Sorry if I sound like a broken record about consent, but with all the nonconsensual activity and fantasy going around these days, I feel like I should constantly make that clear.
As the train choo-choos through the Time Tunnel, we reminisce about Passovers past. Our after-show is one of those bacchanalian seders climaxing with an orgy of scallion-flogging and kinky play: Sexy Seder 2016 features porn stars Dayton Rains and Savannah Jane, Doms, FemDoms, submissives and an ex-orthodox rabbi—formerly married to the great granddaughter of Marc Chagall—who's now an out-of-the-closet gay artist.
Needless to say, it's Not Your Bubbe's Passover…
Unfortunately, it's still the Coronapocalypse, so we don't have a big seder, or really any seder at all, just a little Manischewitz left over from Purim, and very little of that. In fact, I didn't even know that it was Passover (I'm such a bad Jew), until my cousin Elliot wished me a "Zizan Pesach" just before the show, reminding me of that first big Passover seder and my traumatizing, five-year-old experience with religious abuse. Listen above or below for my full tale of divinely-inspired woe that set me on a search for truth and, ultimately, the path of sexual revolution and the Bonobo Way.
It was all based on one of the little lies of Passover, that "Elijah drank the wine," similar to Christian kids being told that Santa brought their presents, except we didn't get any presents. Though sometimes we'd get a shiny silver dollar (Jewish gelt for guilt) as "payment" from our elders for going along with the lie. In my five-year-old innocence combined with innate willfulness, I wouldn't or couldn't go along with this little lie that felt like a Big Lie to me. For my insubordination, I was humiliated in front of 500 laughing children and adults, high on Manischewitz and their sense of superiority, all in on the Big Joke of religious abuse, except five-year-old me.


In some ways, I'm still that little kindergartner refusing to go along just to get along, still trying to expose the truth to set myself and anyone else "free" of the shackles of religious abuse. Now, as a sexologist and sex therapist, I tend to focus on religious sexual abuse, but it all stems from the Big Lie of all religions that gives our religious leaders a mystical power over us, the power of life and death, Heaven and Hell, the power to make us work, sacrifice, kill "in God's name" and drop to our knees in prayerful submission.
Listen above or below to the Elijah story, and a few other, kinkier Passover stories of sexy seders in Bonoboville.
April Scams Day, Call Me By Your (Other) Name & Georgia On My Mind
That old-time religion—all denominations of the three major monotheistic religions and most of the others, as well—is at the root of a lot of evil, but it doesn't explain everything. Capt'n Max berates the potential mass-murderers out there, the road raging, assault-weapon-wielding ammosexuals, the anti-Asian thugs and anti-sex-worker sociopaths that seem to be multiplying.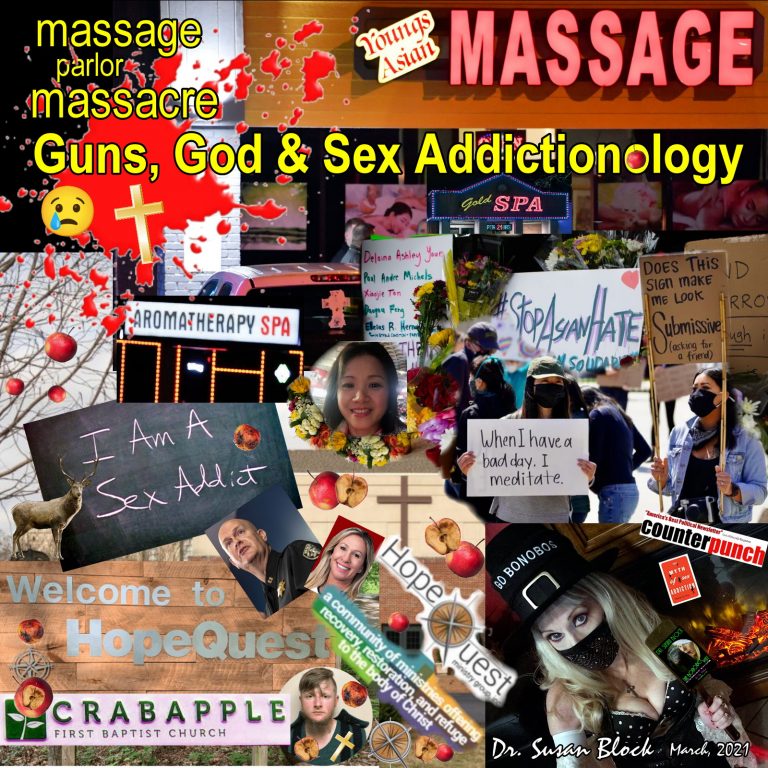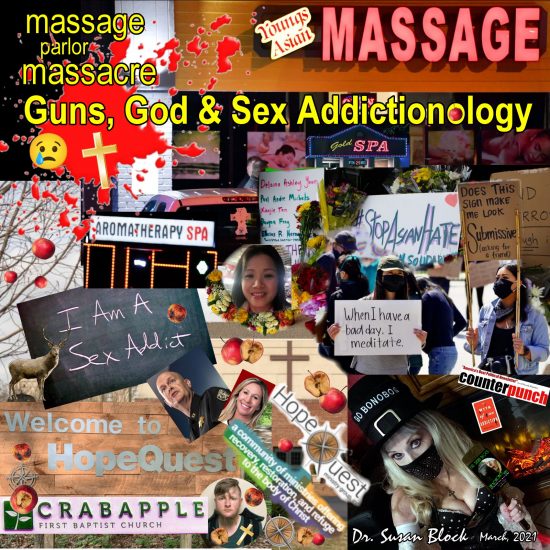 Is it because the Coronapocalypse appears to be winding up (but it's spiking again, so keep your sexy masks on!) or is the American empire is winding down?
Based on the comments that Mariah reads to us from our various platforms, many of our listeners are also unnerved, though they're divided on whether or not to give up their beloved AR-15's.
As a reminder that the religious sexual abuse, ignorance and confusion are still widespread, Unscene Abe relays a call from "Erin Houston" who wants to know if it's "okay" to masturbate. "Yes, of course," I reply, assuming he's not lining his palm with razor blades, sticking beer bottles up his rectum or doing it in front of his neighbor's bedroom window (three not-okay ways to masturbate). Then he asks if it's okay do it with "cream," and before I can ascertain exactly what kind of "cream" he means (Semen? Vaseline intensive care? Whipped cream? Mother's milk?), the F.D.R. Dining Car starts gushing cream jokes, and Erin hangs up. I imagine he was mortified, but hopefully, he just had to clean his cream.


Another April Fool's Day is also sneaking up on us, and friendly practical jokes are one thing, but internet scams that fool you and steal your cash are another. Institute manager Harry Sapien is really up on these scams (does he have a scam fetish?), packing his deep and wide-ranging knowledge into a literal Binder Full of Scams, which will hopefully do more good than Mitt Romney's infamous Binders Full of Women.
Scams or schemes, Max says, "Either you believe their story, or they believe your story."
I like to listen to everybody's story (guess that's one reason I'm a sex therapist), but whatever you choose to believe, don't fall for these scammer stories. Listen above or below to some of the more common slut-shaming scams and how to avoid that seductive "temptation" to click their scammy hyperlinks.
Returning to this train's theological theme, I recommend "Call Me by Your Name." No, not Armie Hammer's pre-Cannibalism-scandal gay-coming-of-age movie. The "Call Me by Your Name" that I'm calling out is the psychedelically gorgeous, wildly erotic, thematically Biblical (Snake in the Garden and shackles in the palace), gay-coming-of-age music video by Lil Nas X (the gay male WAP?) climaxing with a slide down a very long phallic pole into a lush, lascivious Lap Dance for Satan.
Who better to free us from the religious sexual abuse of many millennia than this sexy Satan (whose ancestor is Pan, patron saint of the bonobos, aka Pan Paniscus)?
Though in the end, a mischievous Lil Naz X snaps the devil's neck and takes his sacred horns just to make sure we don't worship false idols or any idols at all.
The best part is how Lil Naz X's Biblical interpretations got Fox News and the Drumpf–fellating Governor of South Dakota's panties in a twist.

Speaking of Drumpf lovers, if you have photos or video of MAGA insurrections "hugging and kissing" Capitol police as the Sorest Loser insists that they did, please send them. Don't be shy. Maybe it could inspire another Lil Nas video….
Several times on this Peace Train, we revisit Georgia, still teetering between promising progressive heights and the depths of reactionary criminality. Last week's Massage Parlor Massacre in Acworth was a bloody explosion of Guns, God and Sex Addictionology. This week, the world was confronted by the racist image of Georgia Governor Brian Kemp, a white Republican man surrounded by six other white Republican men in a locked door meeting, as he signed a bill that takes away Georgians' voting rights, juxtaposed by the image of Black LGBTQ woman and Georgia State Representative Park Cannon being arrested and dragged from the Georgia state house to jail, just for knocking on that locked door.
What a travesty. Will we ever "pass over" this mess to real freedom for all?
#GoBonobos for Baltimore
We do celebrate a bit of good news on our 2021 Passover Peace Train. A year ago, Baltimore State's Attorney Marilyn Mosby stopped prosecuting drug possession, prostitution, minor traffic violations and other low-level offenses, a move aimed at curbing Covid-19's spread behind bars. That shift—repeated by prosecutors in other cities—didn't just reduce jail populations. In Baltimore, nearly all categories of crime declined, confirming to Mosby what she and criminal justice experts have argued for years: Crackdowns on so-called "quality-of-life" crimes (like drug use and sex work) don't stop more serious crimes, like homicide and theft. In fact, in the 12 months since Mosby scaled back enforcement, violent crime is down 20 percent and property crime has declined 36 percent. Homicides inched down, though Baltimore still has one of the highest homicide rates among cities nationwide. Nevertheless, on Friday, Mosby announced that she was making her pandemic experiment permanent, saying Baltimore—notorious for runaway violence and rough policing—had become a case study in criminal justice reform. Hallelujah. Praise be to the virtual decriminalization of drugs and sex work.


So, there's hope in that proverbial light at the end of the Tunnel of Darkness that's also a Tunnel of Love. We wind up our ride with three cheers, a bonobo beer, and a half-glass of Manischewitz for Bernie Sanders for tackling billionaire Jeff Bezos' greedy fight against Amazon unions. Besides religious abuse, another great root of modern evil is the kind of runaway capitalism that has resulted in, after a year where millions have lost their jobs, health and wealth, total US billionaire wealth soared $1.3 trillion since mid-March, 2020, an increase of 44 percent.
This is a sickness in our society that's just as bad as the pandemic, and right now, the best vaccine is a good, robust wealth tax. "Wealth tax! Wealth tax!" we chant as we go…
Bezos, Musk, Zuck, Gates, Buffet, Walton Family, etc., it's time to take the shot—the vaccine, the Manischewitz, the wealth tax. Fuck da Rich!
That's our story, and we're sticking to it.


March 27. 2021 Susan Block, Ph.D., a.k.a. "Dr. Suzy," is a world renowned LA sex therapist, author of The Bonobo Way: The Evolution of Peace through Pleasure and horny housewife, occasionally seen on HBO and other channels. For speaking engagements, call 213-291-9497.