F.D.R. (F*ck Da Rich): Fascism & Fetishes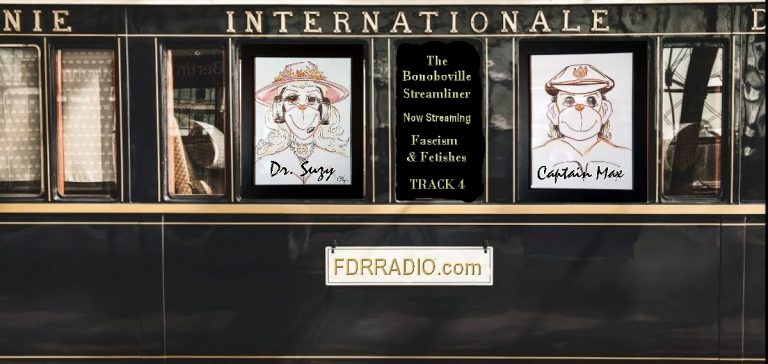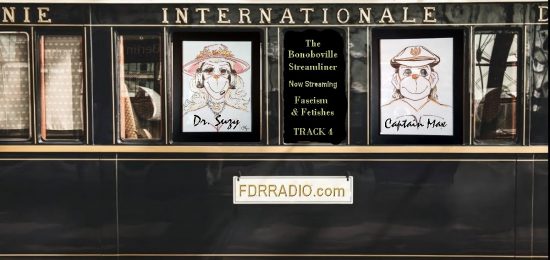 Length 1:27:59 Date: Jan. 16, 2021
by Dr. Susan Block.
Still reeling from the Rape of the Capitol, we are back on the train through 2021.
It's International Fetish Day, so Capt'n Max and I join the worldwide conversation currently swirling around actor/heir Armie Hammer's alleged "cannibalism" fetish, as well as the more frightening fetish for fascism, "wrapped in a flag and carrying a cross," now roiling the U.S.A.
Between drinks, joints and appetizers (though no grilled toes on this Dining Car), we talk about MAGA and QAnon fantasies vs. Christian and cannibal fantasies; "eating" pussy vs. tequila toe shots; Ben Shapiro's "Wet Ass P-Word" vs. Cardi B's wet ass; "Daddy Trump" vs Charlie Manson (bonus: You'll hear Capt'n Max's harrowing and hilarious story of being threatened by the Manson Family, a true tale that inspired a scene in Beverly Hills Cop); MAGAt Exhibitionism vs. Riot Porn; Fa vs. AntiFa; a fetish for fascism vs. the Bonobo Way—and much more!—with Mariah, Unscene Abe and a studio audience of thousands, all masked up and riding that train.
Message to tRump: Before you pardon all your Rotunda rapists, pardon Julian Assange!
All aboard the F.D.R. Bonobo Way Express, Streamliner Track 4, for eargasms and insights into fascism and fetishes.
More Notes on "Fascism & Fetishes"

So, last week on "F.D.R. (F*ck Da Rich): After the Insurrection," we compared tRump's masterminding of the MAGA mob to Charlie Manson and his "Family" committing the Tate/LaBianca murders on his orders, even though Manson himself, like tRump Daddy, wasn't physically at the scene of the crime.
Bonus: Capt'n Max tells the true story of being threatened by the Manson Family itself back in the 1970s when his paper, The LA Star, published photos of them naked; a tale so harrowing and hilarious, it was made into one of the funniest scenes in Beverly Hills Cop.
Now the Grifter-in-Chief has the ignominious distinction of being the only U.S. President impeached twice. The scary part is that most of tRump's base doesn't know what "ignominious" means, and for those that do, it just adds fuel to their fascist fire. Though "tRump Coup" failed to overturn the Presidential election of 2020 (of course), the riveting "riot porn" it produced succeeded in exciting tRump's base like a potent aphrodisiac that makes ugliness look beautiful and "bullshit" smell sweet.

What good is raping the Capitol if you can't take a selfie? And what good is taking a selfie if you can't broadcast it to all your "friends," fans… and the FBI?

Of course, they can't admit that they're aroused by their ammosexual, poop-spewing, gang rape of "The People's House"—like so many hypocrites can't admit they're aroused by their fetishes—so they're also spinning the easily disproven fantasy that "Antifa did it."
The Trumpus belched out a torrent of lies, incitements and exhortations leading up to that assault, but one of the scariest was the same refrain that the Clown Prince Don Jr.'s girlfriend, Kimberly Guilfoyle, shrieked like a banshee at the Republican Convention, "the best is yet to COME." It's a well-worn cliché, like "Make America Great Again," but from their gaping mouths, it sounds ominous, like brownshirts bullying their way through Weimar Germany, harbingers of its Nazi future. And then there's that sexy synonym for orgasm, "come," exciting the base and making sex therapists like me cringe.


A week later, some of the rioters are under arrest. That's the risk of indulging in an illegal fetish whilst filming yourself—and these MAGAts filmed themselves like obsessive-compulsive exhibitionists, drunk on attention—and probably some other stuff.
What good is raping the Capitol if you can't take a selfie? And what good is taking a selfie if you can't broadcast it to all your "friends," fans… and the FBI?
Now dozens of proud, privileged MAGAts are being rounded up like… people of color. I don't often cheer the police on for arresting anybody, but I might make an exception here. Capt'n Max, Mariah, Unscene Abe and I try not to laugh too hard as we talk about the new No-Fly-List'ers. Well, at least you MAGAts weren't shot in the back.
And you can always take the train.
Some of those under arrest, like the horned QAnon Shaman and the self-promoting Texas realtor, are crying, "Pardon me!" to Daddy tRump, and maybe he will. After all, he's pardoned worse crooks and killers.
Speaking of pardons, I take one last opportunity to once again ask the Trumpus to pardon Julian Assange, winner of the 2020 SUZY award for "Most Bonobo Journalist." Even if he does it to "stick it to the libs," the "deep state" or whatever, it would be a good thing. It wouldn't make all the horrors of the Trump Era go away, but it would mean that every time we consider his almost totally odious legacy, we'd have to admit, "at least, he pardoned Assange." Also, though he built up the Military Industrial Complex to ever more obscene proportions, he didn't start any new wars. I understand the human tendency is to simplify and see people as all good or evil, but I believe in finding the good in the worst of us (as well as acknowledging the faults in the best). It's the Bonobo Way.
And we're all on this train together.


Yet it feels more and more like "we" do not share the same reality.
Did we ever? I talk about my experience growing up Jewish in a Christian world, "forced" by social convention to sing Christmas carols (which I now love) that worship a baby "born of a virgin" as "God Almighty." Talk about a wild fantasy being presented as reality! Indeed, I was traumatized. As an innocent child who believed in science, I thought the "Immaculate Conception" was as certifiably insane as the QAnon "codes" are today, and yet I had to sing those Christmas carols—with feeling—or risk being flunked out of my elementary school music class.
Presenting fantasy as reality is rampant throughout the history of organized (and disorganized) religion. As a sex therapist, I often help people to handle their sexual fantasies and to enjoy the erotic arousal and pleasure they inspire. However, we also have to be careful about taking them for reality—or using them as a dress rehearsal for real-life actions—at least not the destructive ones.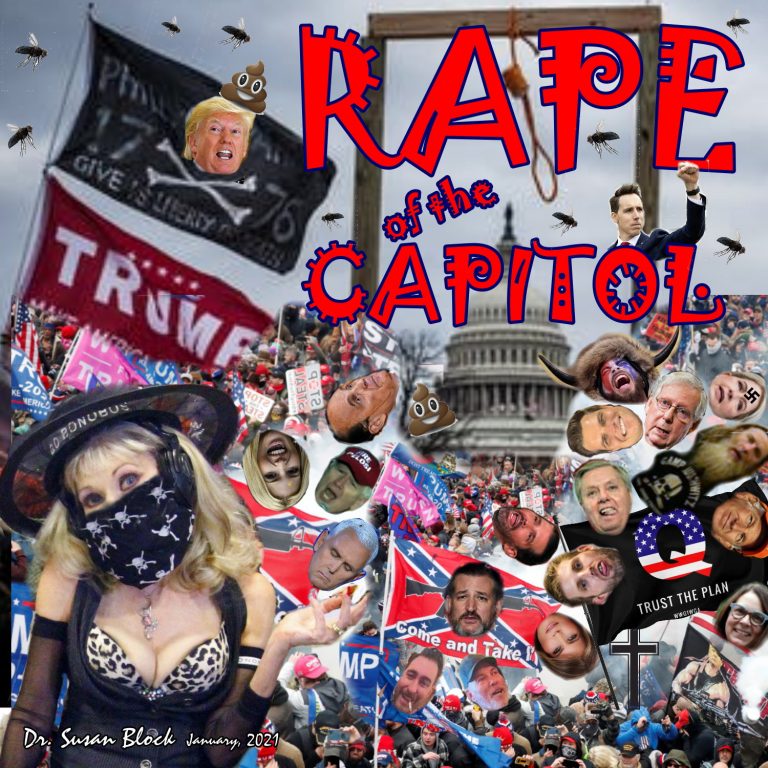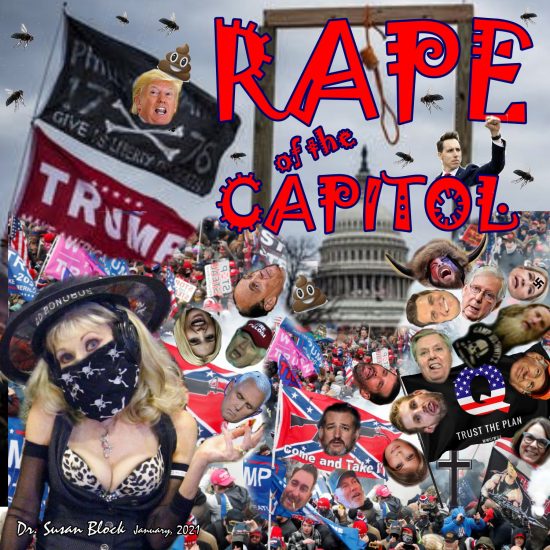 QAnon/MAGAt fantasies are not much crazier than other, more acceptable religious myths, but they are threatening to destroy the United States of America.
Fans of QAnon: please "enjoy" these fairy tales in the erotic theater of the mind, not the real world where someone could get hurt, maybe even you. And if you need help with that, the Therapists Without Borders of the Dr. Susan Block Institute are here for you, whatever your fantasies, fetishes or politics.
Social media is the most obvious culprit, but the corporate mainstream media plays a big part in disseminating these fantasies. Does that mean they're "fake news"? Sometimes. Keep in mind that your favorite news anchor is a rich person being paid by even richer people to tell middle class people to blame poor people for their problems.


And to that we say, "Fuck Da Rich (F.D.R.)." Some say "Eat the Rich." But I'm more of a sex maniac than a foodie.
Eat the Rich Before They Eat Us
Speaking of food fetishes (splosh, anyone?), it being International Fetish Day (shoutout to my AASECT colleague, kink and fetish expert Russell Stambaugh, for letting me know this), we spend the rest of this train ride in the Dining Car, eating, drinking and talking about cannibalism.
As those of you who have known me for the 30 years I've been a sex therapist in private practice, though I do discuss fetishes and fantasies of all kinds on the air, I have never divulged anything regarding the identities of my private therapy clients, celebrity or otherwise. Nor would I ever "out" anyone, client or not.
But Armie Hammer, actor (featured in "Call Me By Your Name" and "The Social Network," among other films) and heir to the Armand Hammer oil fortune, has already been outed by one lover, with the accusations confirmed by another lover, and his response to these charges being testy, but rather weak, calling them "bullshit." There's that word again… Remind me, what is "bullshit" and what is real these days?

Our intimate, sometimes confused food-and-sex associations have their roots in the beginnings of life itself.

Seriously, as a sexologist who wrote the definition of "sexual fetish" for the Wiley-Blackwell International Encyclopedia of Human Sexuality, and a sex therapist who counsels many clients with cannibalism (as well as many other) fetishes, I feel I should contribute to the public conversation. After all, I'm not outing anyone, and it's my civic duty to educate people who might have the fetish or are just interested in it, and possibly even to help Armie himself and his allegedly traumatized past lovers, as I'm sure they all listen to F.D.R. radio.
Over the years, I've had dozens of sex therapy clients into the cannibalism fetish, some aroused by the thought of consuming their lover (or parts of their lover, the toes being a popular place to start)—boiled in a pot, barbequed on a spit or raw—or being consumed. None of them have ever eaten anyone nor have they been eaten. This is not to say there aren't real-life Hannibal Lectors, or a Jeffrey Dahmer or Armin Meiwes, amongst it. It's just that while the cannibalism fantasy is fairly common, actual practicing cannibals are, fortunately, very rare.
Armie Hammer doesn't appear to have actually eaten anyone… as of this writing. I say that last part because some of the alleged texts are quite threatening. Though I don't know what game they're playing, he seems to be trying to scare his target. A little bit of fear can be an aphrodisiac, but too much can be traumatizing. Then, of course, the fearful object of your desire might lash out and, in an instant, make all your private kinky little texts go viral.
Many of my clients with different fetishes are turned on by fear which is often connected to their own fears. If we can believe the "evidence," Armie likes to arouse his own fear factor by texting his controversial fantasies, surely knowing they could be screenshot and exposed, as they have been. In addition to cannibalism, he may have had the very common fetish for getting "caught" that went just a bit too far.


We discuss how in some of his other interviews, he admits he loves kinky things like hair-pulling, but not with his wife because he "respects" her too much. Unfortunately, this is a common marital problem. It's usually accepted as inevitable, and it can be the source of a lot of sex and relationship problems, including this one. Listen above or below for more of my thoughts on the cannibalism fetish and the Armie Hammer story.
Capt'n Max and I also highlight the healthier paths to foot fetish fun that we've been pursing since we fell in love… feet first.
Though my first orgasm with Max was from behind his head (the big head; listen above or below for details), we spent a lot of foreplay on feet. I'd say that my feet were the ambassadors to the Capitol rotunda, aka my pussy. Later, we even explored foot cannibalism (but sensuously, without the fear factor) via Tequila Toe Shots and Shrimping with real shrimp between my shrimp-like toes.


If you think it's all very "weird," keep in mind that our intimate, sometimes confused food-and-sex associations have their roots in the beginnings of life itself. As Drs. Lynn Margulis and Dorion Sagan suggest in Origins of Sex: Three Billion Years of Genetic Recombination, the first "meiotic" sex acts were a kind of cannibalism on the cellular level. Consuming led to reproducing, which led to more consuming, and here we are now, reenacting that primal cellular scene, eating each other up with love. Indeed, when you eat something off of, or out of someone—like whipped cream or honey—you get to revel in the faux cannibalism of oral carnality that lies deep within our genes, as well as our jeans.
And why do you think we call cunnilingus "eating" pussy?
Speaking of the "p-word," I also give a shoutout to my Counterpunch editor, Jeffrey St. Claire, for posting a very eerie video with Ben Shapiro Faceswapped into Cardi B's WAP in the middle of his Roaming Charges column, with the trigger warning:
Caution: You may need (to) consult our own Dr. Suzy for therapy after watching this.
Thanks for the referral, Jeff!
And I give a sneak peek into my conversation with Robbie Martin—the amazing Abby Martin's brother—about sex, politics and the Bonobo Way—coming soon to a device near you (there's that word "coming" again).
There are many more stories, insights and eargasms than I can describe, so slip into some comfortable headphones, pour yourself a drink, roll up a doobie or grab a bite (no human toes, please), click the arrow above or below and listen.


January 16, 2021 Susan Block, Ph.D., a.k.a. "Dr. Suzy," is a world renowned LA sex therapist, author of The Bonobo Way: The Evolution of Peace through Pleasure and horny housewife, occasionally seen on HBO and other channels. For speaking engagements, call 213-291-9497.
---
Explore DrSusanBlock.com
Need to talk? Sext? Webcam? Do it here. Have you watched the show? No? Feel the sex. Don't miss the Forbidden Photographs—Hot Stuff, look at them closely here. Join our private social media Society. Join us live in studio 😊. Go shopping. Gift shop or The Market Place. DrSusanBlock.tv, real sex TV at your toe tips. Sex Clips Anyone? FASHION, we have fashion! We also have politics. Politics? Have you Read the book? No? How about the Speakeasy Journal? Click here. Ok, how about some free sex advice?
---
---