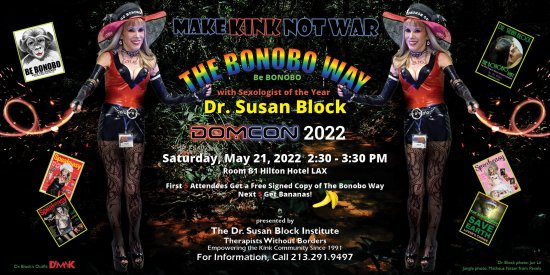 For Immediate Release: Contact: Maximillian R. Lobkowicz. Phone: 626.461.5950. Email: DrSusanBlock@gmail.com
LOS ANGELES, Calif., March 20, 2022 — World-renowned sex therapist and "Sexologist of the Year" Susan M. Block, Ph.D., a.k.a., "Dr. Suzy," will deliver "Make Kink, Not War: Be BONOBO" at DomCon LA 2022, Saturday, May 21, 2:30 PM – 3:30 PM, in Room B1 of the Hilton Hotel LAX.
"Now more than ever, we need to 'Make Kink, Not War'," says Dr. Suzy, veteran talk show host, best-known for her HBO specials, and best-selling author of The Bonobo Way: The Evolution of Peace through Pleasure. "But what does that mean in the real world, on the battlefield or in the bedroom, the boardroom, the dungeon or the play party? What can we learn about our largely untapped ability to "Make Kink, Not War" from the kinkiest apes on Earth, our kissing cousins, the bonobos, the FemDoms of the Wild? How can consenting-adult kink help to heal the traumas of war, abuse, misogyny, racism, rejection, slut-shaming and PTSD–personally and collectively—and improve our love lives?"
"Make Kink, Not War: Be BONOBO" is version 6.0 of Dr. Suzy's popular "Bonobo Way at DomCon LA" series. Go on a wild, kinky, anthropological adventure into the real-life world of the make-love-not-war, kink-normative, femocratic bonobos, humanity's closest living relatives and the only great apes who never kill each other. Explore the Bonobo Way of peace through pleasure and learn: how bonobos prevent war and killing through kink and caring (and how we can too!); how Cougars & MILFs rule Bonoboville; how bonobos practice BDSM, sex and socialism; how to "release your inner bonobo"—or any inner animal (Happy Year of the Tiger!); how to mix trust with lust; how to lead a male by the balls; and more. We'll also talk about #MeToo, bonobo-style; same-sex solidarity through Hoka Hoka and penis-fencing; bonobo female empowerment and male well-being; bonobo conflict resolution; bowing to male force vs. surrendering to FemDom power; cuckolding, bonobo-style; pansexual gender-fluid bonobos; sex work in the wild and more (time permitting), topping it off with a Bonobo Way book-spanking! Dr. Suzy will be assisted by her Dr. Susan Block Show producer and husband Pr. Maximillian Lobkowicz and other members of her Bonoboville crew. Free signed books for first five attendees, and free bananas for the following five!
"Dr. Suzy is phenomenal!" declared world-renowned dominatrix, artist and political activist, Goddess Soma Snakeoil, after attending one of her packed presentations. "I loved this class. It was such a joy, and I learned so much!"
Founded and directed by Mistress Cyan St. James in 2004, DomCon LA is "the world's largest professional and lifestyle domination convention," this year to be held May 18-23, 2022. Register for DomCon LA 2022.
"DomCon is the Met Gala of Latex and the Comic-Con of Kink," says Dr. Suzy who recently wrote KINK: A Guide for the Perplexed (with apologies to Maimonides). "Mistress Cyan has created a wonderful, enduring, bonoboësque event. I love the DomCon experience and philosophy of fellowship through fetish, the presentations, the parties and especially the amazing people within this deliciously naughty yet deeply supportive community."
In addition to her Bonobo Way series at DomCon 2020, DomCon 2019, 2018, 2017, 2016 and 2015, Dr. Suzy has presented The Bonobo Way at AASECT (American Association of Sex Educators, Counselors & Therapists) 2016 and 2019 and AdultCon in 2017. She presented The Bonobo Way of Ecosexuality as the keynote speech at the University of Puerto Rico, Mayagüez, and at UC Berkeley for the 5th Conference on Monogamy & Nonmonogamy, and she spoke on writing The Bonobo Way at Yale University (her alma mater), as well as at USC, UCLA, Caltech and many other venues. The Bonobo Way is available in kindle and paperback on Amazon or direct from the publisher. A portion of all book sales goes to Lola ya Bonobo and the Bonobo Conservation Initiative, as well as other organizations actively helping to save the highly endangered bonobos from extinction. Dr. Suzy and Max also discuss the Bonobo Way, how to "Be BONOBO" and "Make Kink, Not War" in relation to current events, human sexuality and the rest of life every Saturday night live on F.D.R. radio.
For information or to arrange an interview, email drsusanblock@gmail.com or call 626-461-5950.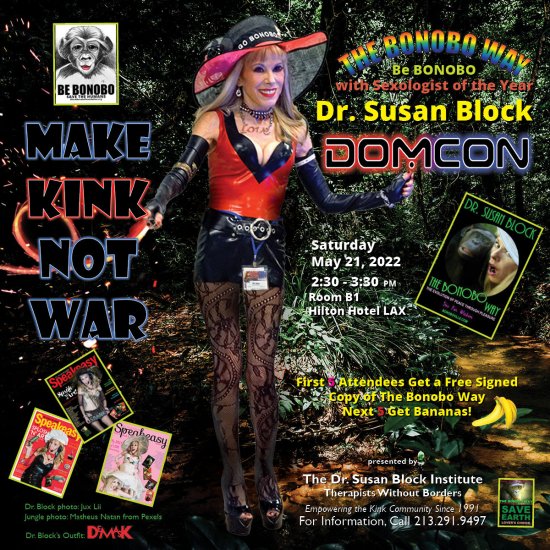 What Do Humans Say About The Bonobo Way?
"AMAZING… The Bonobo Way shines a light on humanity's capacity for peace."
—Dr. Scott Barry Kaufman, author of Wired to Create
"Brilliant. A great book about human sexuality and how reverting to an evolutionary path can divest the human race from its aggression and violence."
—Sherry Rehman, Past Pakistani Ambassador to the United States
"The Bonobo Way is sexy and fun… damn smart too."
—Sex at Dawn author Christopher Ryan, Ph.D.
"Dr. Susan Block pushes the envelope and brings us the truth about bonobos and ourselves—with wit, intelligence and sexual positivity all balancing on a fulcrum of fascinating hard science."
—Dr. Patti Britton, American Association for Sexuality Educators, Counselors and Therapists (AASECT) Past President
"Impactful, often hilarious… wildly entertaining… The Bonobo Way just might hold the key to world peace."
— Steve Karras, HUFFINGTON POST book review
"The Bonobo Way is a pleasure on all counts… and especially significant at this time."
—Dr. SerenaGaia Anderlini D'Onofrio, co-editor of Ecosexuality
"Bravo Dr. Block for paving the way to a hopefully more bonobo future."
—Vanessa Woods, Duke University primatologist and author of Bonobo Handshake
"Amazing! Dr. Susan Block is an ecosexual visionary."
—Annie Sprinkle, Ph.D., ecosexual artist and filmmaker
"Awesome book… Excellently written and transformative"
—Dorion Sagan, author of Death & Sex
"The Bonobo Way will save our planet! Dr. Susan's insight into sexuality is not only incredible…it is also the sexual revolution, easily mapped out, that we have been waiting for."
—Tracy Vanity, blogger
"I love every page of The Bonobo Way!"
—Christian Bruyère, producer of Champions of the Wild
Tired of conventional sexuality experts? Dr. Block is available for comment or interview. Would you like to review The Bonobo Way? Contact us today.
Contact: Max Lobkowicz Phone: 626-461-5950 Email: DrSusanBlock@gmail.com Web: DrSusanBlock.com