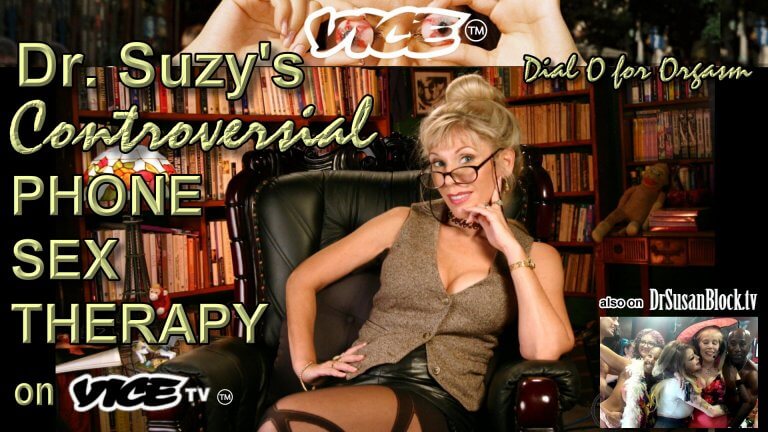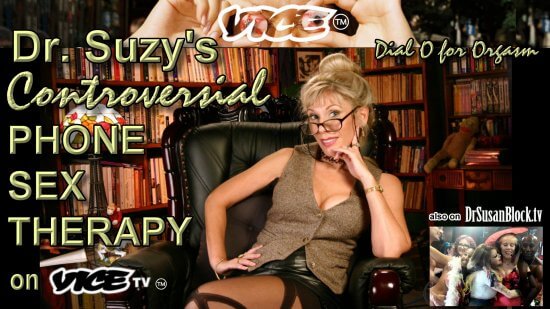 LOS ANGELES, August 1, 2023 — The remarkable life, pro-bonobo world and exceptional sex therapy system of Dr. Susan Marilyn Block, a.k.a. Dr. Suzy, is the subject of a new Vice TV documentary, "Dr. Suzy's Controversial Phone Sex Therapy," premiering this Thursday August 3rd, 2023.
Breaking News: "Dial 'O' for Orgasm: Dr. Suzy's Controversial Phone Sex Therapy" has just dropped on Vice TV! Watch it here
"Sex Therapy is changing," says Dr. Susan Block. "30 years ago, when I started conducting therapy sessions over the phone, no one else was doing it, and some of my colleagues were appalled—even though it's safer, more convenient, intimate, private, better for the environment and available to anyone with a phone worldwide. Now, of course, tele-therapy or phone therapy and phone sex therapy are at least as common as seeing therapy clients in person."
With unprecedented access, Vice TV cameras ventured deep inside the living, legendary Dr. Susan Block Institute for the Erotic Arts & Sciences and Dr. Suzy's Speakeasy in Bonoboville to document two days in the life of Dr. Suzy, her husband Max and their merry band of bonoboësque collaborators and volunteers, plus interviews with real phone sex therapy clients of the Institute as well as guests on DrSuzy.Tv, and climaxing with an emotional, bacchanalian "Bonoboville Reunion" of artists, kinksters, friends and lovers in the "Womb Room" sanctuary of this very special "Church" of the Bonobo Way.
Don't miss this never-before-seen glimpse into Dr. Suzy's extraordinary, sex-positive, make-kink-not-war world!
Bonoboville Reunion guests include Daniele Watts (aka DaLove), Chef Belive, Amor Hilton, Sally Mullins, Man-Pet, Shannon Coronado, Mistress Mina Nietsche de Sade, Nova, Kacy T-Girl, Onyx Muse, Rhiannon Aarons, Coralyn Jewel, Erikka Rijks, Ikkor the Wolf, Luzer Twersky, Abby Martin, Mike Prysner, Stan Kent, Cyn Yen, and John Barrymore.
Susan M Block, Ph.D., aka "Dr. Suzy," internationally renowned sexologist best-known for her groundbreaking HBO specials, has hosted The Dr. Susan Block Show for almost 35 years, and is the best-selling author of The Bonobo Way: The Evolution of Peace through Pleasure. A magna cum laude Yale graduate, Counterpunch columnist, DomCon and AASECT lecturer, and champion of sex education, bonobo conservation and freedom of speech, recently featured in Vice TV's Sex Before the Internet and Abby Martin's Dosed and nominated for the "Most Popular Sex Educator" Urban X Award, Dr. Block hosts F.D.R. Radio every Saturday night with her husband of 31 years, publisher and producer Maximillian Lobkowicz di Filangieri. She's also been featured on NPR, Oprah and The Doctors, and many others. But she'll never quit her "day job" as director and chief therapist with the Dr. Susan Block Institute, helping couples, singles and groups to explore, enjoy, take responsibility for and live their best sexual lives.
"Dial O for Orgasm: Dr. Suzy's Controversial Phone Sex Therapy" will premiere at 10 am PST Thursday, August 3rd on Vice TV and can be viewed continuously thereafter at ViceTv.com and at Youtube.com/Vice.
For information or to arrange an interview with Dr. Susan Block, email drsusanblock@gmail.com or call (626) 461-5950.