Susan Marilyn Block, Ph.D., aka "Dr. Suzy," best-known for her groundbreaking HBO specials, is an internationally renowned sexologist, best-selling author and champion of sex education, freedom of speech and the bonobo apes.
Her latest book, The Bonobo Way: The Evolution of Peace through Pleasure, has been praised as "brilliant" and "transformative" by psychologists, primatologists, politicians and porn stars. A Yale University magna cum laude graduate with two doctorates (in Sexology from the Institute for the Advanced Study of Human Sexuality and in Philosophy with an emphasis in Psychology from California Miramar), she has hosted The Dr. Susan Block Show for over 35 years, appeared on numerous shows from Oprah to The Doctors, and won various awards, including "Sexologist of the Year," "America's Greatest Thinker," Cinekink Film Festival and DomCon's Guest of Honor and "Animal Play Activism" awards, and "Best of LA Phone-In Shows" in The LA Weekly. Recently, she was nominated for a "Best Sex Educator" Urban X Award.
Married for over 31 years, she and her husband, Maximillian Lobkowicz di Filangieri, founded and direct Dr. Suzy's Speakeasy Art Gallery and Journal, as well as the Susan Marilyn Block Foundation, Block Bonobo Foundation and their Bonoboville community (in social media and reality)—helping humans connect, "make love not war" and save the bonobos—and together they host the live weekly FDR radio podcast. But she'll never quit her "day job" as a therapist in private practice with the Dr. Susan Block Institute, helping individuals, couples and groups to explore, enjoy and take responsibility for their sexual lives.
Current Shows
The Dr. Susan Block Show (since 1991)
F.D.R. Radio
Books
The Bonobo Way: The Evolution of Peace through Pleasure
The 10 Commandments of Pleasure: Erotic Keys to a Healthy Sexual Life
Being a Woman (with Dr. Toni Grant)
Advertising for Love
Print Magazines
Splosh 'n' Art Speakeasy Journal
Spank 'n' Art Speakeasy Journal
Dr. Susan M Block's Journal
Articles
Recent Articles
Counterpunch Columns
Definitions
Wiley-Blackwell Sexuality Encyclopedia
Sexual Fetishes
Phone Sex
Striptease
Spanking
Cuckold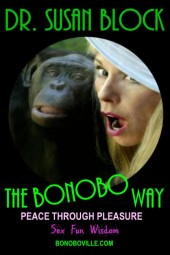 Book Contributions
Ecosexuality: Introduction
Serpents in the Garden
Frank Moore Anthology
Pleasures
Erotic Interludes
Recent Lectures

Deep Throat 50th Anniversary (Panel Moderator)
Peace, Love, Bonobos & Sex Week at Yale
Make Kink Not War
The Bonobo Way of Inclusivity (AASECT)
FemDoms of the Wild (DomCon)

For more information and to arrange an interview with Dr. Susan Block, call Max at 626.461.5950 or email DrSusanBlock@gmail.com.