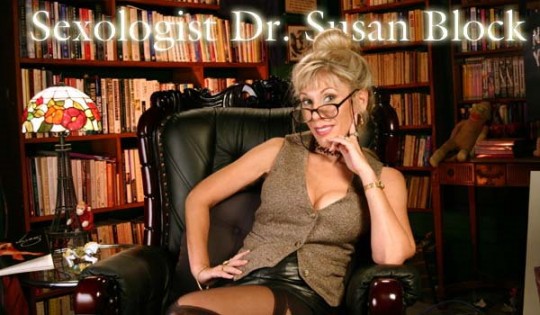 Part philosopher, part therapist, part bloggamist and part-time horny housewife, Dr. Susan M. Block is a world-renowned sexologist, best-selling author, performance artist, award-winning documentary filmmaker, art dealer and talk show host. A familiar face on HBO's late-night programming through her #1 Nielsen-rated show, Radio Sex TV, her episodes on Real Sex and soon to be seen as the sex therapist to the working girls at Dennis Hof's Bunnyranch on HBO's Cathouse, she also hosts The Dr. Susan Block Show, rated #1 by The LA Weekly as "The Best of LA Phone-In Shows," airing on cable TV stations around the world, from Hollywood to the Holy Land, as well as on Internet radio at RadioSuzy1.
"One of the nation's leading sexologists, and a very bright and funny woman to boot," according to Truthout's Robert Scheer (writing in The LA Times), "our favorite boudoir revolutionary…a cross between Camille Paglia and Oprah Winfrey," opines LA New Times, and a "genius" according to Penthouse, Block is a dedicated sex therapist with one of the world's largest private practices, in addition to her roles in front of and behind the camera.  She is executive director of the Dr. Susan Block Institute, located in a 14,000 square foot LA facility, including offices, seminar areas, movie theater, broadcast and editing suites, film and art studios, Dr. Suzy's Speakeasy, the Womb Room and the Speakeasy Gallery of Erotic Art. "Dr. Block's cult status as an educator is enormous" writes Cosmopolitan.
"Frank, funny, thoughtful, sensual…Dr. Suzy always bases her explicit patter on a foundation of academic reasoning and considerable experience," writes best-selling author Tom Quinn in Entertainment Today. "And…she makes you feel good."
A magna cum laude graduate of Yale University with Distinction in Theater Studies, Block went on to study at UC Berkeley, San Francisco State and Naropa Institute, receiving her master's and doctorate in philosophy with an emphasis in psychology from Pacific Western. Her first book, Advertising for Love, forecast the current online dating explosion. Her second book, Being A Woman, a popularization of her doctoral thesis on Dr. Toni Wolfe's theory of feminine psychology, became a NY Times bestseller. Her third book, The 10 Commandments of Pleasure, has been published in 15 countries (coming soon to Israel, where her cable TV show is a hit). Creator of the award-winning documentary series, Dr. Susan Block's Encyclopedia of Sex, Block is an active member of the Academy of Television Arts & Sciences. She has been featured in numerous documentaries and appeared on multiple radio and TV shows, from Oprah to Today. Her TV series Dr. Suzy's Squirt Salons was featured in the Barcelona Erotic Film Festival and the Cinekink Film Festival, and her music video Blonde Island: Funk Me held its World Premiere at the LA Erotica Film Festival, and its East Coast Premiere at Cinekink. She is now making a documentary, the working title of which is Speakeasy, with award-winning filmmaker ("Ears Open, Eyeballs Click") Canaan Brumley, First Prize winner at the Marseille Film Festival, among other cinematic accolades.
Chosen as one of "America's Greatest Thinkers" (twice) by the Great American Think-Off, and dubbed "the Erin Brockovitch of the Bonobo" by Salon, Block is an active advocate of the extremely endangered bonobos, using their highly sexual, non-violent and gender-egalitarian "lifestyle" as a prototype for her philosophy of Peace through Pleasure, aka "The Bonobo Way." She is a visiting lecturer in the Human Sexuality Department at University of Southern California (USC), UCLA, Cal Tech, and at her alma mater Yale University, as well as a founder, coordinator and regular lecturer at "Sex Week at Yale" (coming into its sixth season). She is working with the Obstetrics and Gynecology department of USC Keck School of Medicine to develop a Sex Therapy division. She is also an expert witness in LA Criminal Courts and consultant to the LA Public Defenders' Office (Sex Crimes Division) as well as private attorneys.
Block has been writing for magazines since her days at Yale. Her columns on sex, health, politics and culture are published in various print and online magazines, from Counterpunch to Perfect 10, besides appearing in her own online Journal, and are touted as "among the most readable to come out of LA" by Steve Mikulan in The LA Weekly. Championed as a freedom fighter by Pulitzer Prize-winning columnist Jimmy Breslin in NY Newsday, Dr. Block (acting in pro per) won an extremely important legal battle over First and Fourth Amendment Rights with the LA Police Department (screenplay in development). Recently profiled in The LA Weekly's famous "People Issue," she also won a major battle for Freedom of Speech on cable TV with former Adelphia CEO, John J. Rigas, later sentenced to 15-20 years in prison for fraud. In 2008, she ran for U.S. Vice President on the Just Makes Sense Ticket with Presidential Candidate Frank Moore. "Although her ideals have thrust her into the controversial gray areas of first and fourth amendment rights, she has consistently prevailed over those who try to limit her civil liberties, including the LAPD and local politicians," writes Laura Rhinehart, covering Block's Eros Day X "Orgy for Obama" for Citizen LA.
Though a woman of deeply held "Blue Values," Block is remarkably popular in the so-called "Red States." N. Carolina's QZ Magazine, in a cover story on her, calls Block "a modern-day Queen Esther" and "sex pioneer whose work has put the topic of pleasure on the table, one of the most important social developments on this continent ever, saving us from sexual repression."