"Voices for Nature and Peace" interviews Dr. Susan Block about Bonobos and The Bonobo Way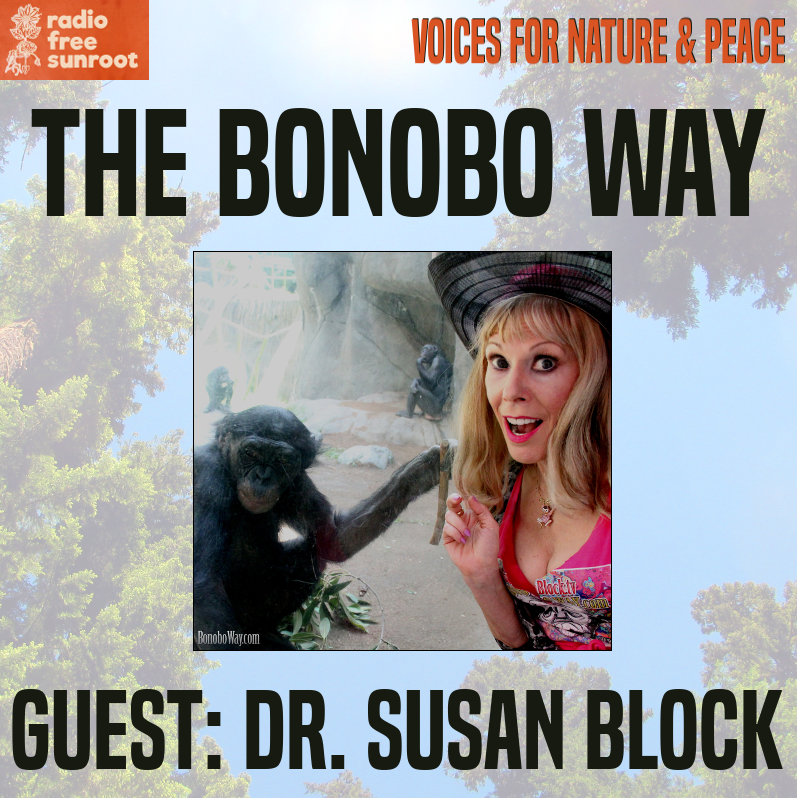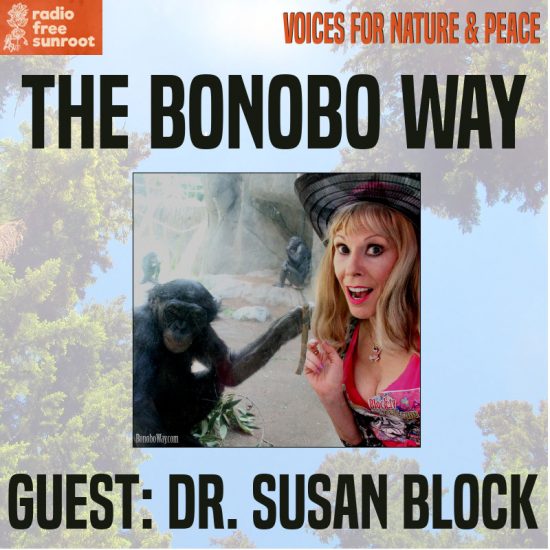 Dr. Susan Block's fellow Counterpunch contributor Kollibri terre Sonnenblume interviews her on his "Radio Free Sunroot" podcast, "Voices for Nature and Peace," dedicated to discussing "issues of ecology, empire, justice, and consciousness with guests who are aware of the challenges of our time and are working to address them." In episode 62, Dr. Block shares her knowledge of the groundbreaking Bonobo Way (also the title of the episode). Over the course of the show Block and Sonnenblume discuss how close bonobo great apes are to us humans and how bonobo culture is like prehistoric human hunter-gatherers, bonobo female empowerment, male bonobo well-being and bisexuality, how the "bonobo handshake" resembles the way people used to testify by touching their testicles in Old Testament times, bonobo ecosexuality, bonobo nonmonogamy, how bonobos make peace through pleasure, how sex makes you smarter, sexual puritanism on the Left as well as the Right, releasing your inner bonobo, groups that are saving the highly endangered bonobos from extinction in the wild and more.
Listen to the interview on Radio Free Sunroot or on YouTube.
---
Explore DrSusanBlock.com
Need to talk? Sext? Webcam? Do it here. Have you watched the show? No? Feel the sex. Don't miss the Forbidden Photographs—Hot Stuff, look at them closely here. Join our private social media Society. Join us live in studio 😊. Go shopping. Gift shop or The Market Place. DrSusanBlock.tv, real sex TV at your toe tips. Sex Clips Anyone? FASHION, we have fashion! We also have politics. Politics? Have you Read the book? No? How about the Speakeasy Journal? Click here. Ok, how about some free sex advice?
---
---