Proud to be Gay – The Bonobo Way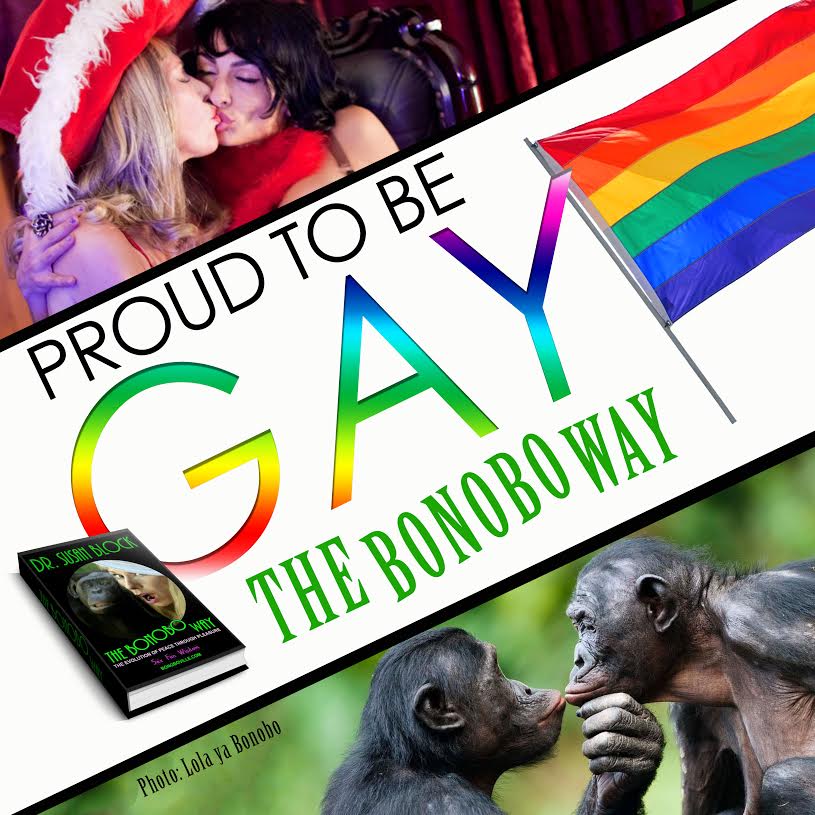 by Dr. Susan Block
Gay Pride could use a mascot, and what better mascot than the bonobo? For millennia, major religious groups, politicians and other authorities have railed against homosexuality and bisexuality, deeming it 'unnatural' and dangerous to society. Gay Pride season is a time to acknowledge that same-gender sexual relations are not a decadent, peculiarly human perversion of nature, but natural and even socially beneficial. Many other animals enjoy 'gay sex,' most notably, the bonobo ape.
Studies show that bonobos, who are over 98% genetically similar to humans, have a lot of same-gender sex, maybe even more than with the opposite gender. Bonobos show us how natural, normal, healthful, viable and valuable same-sex relations can be, not just for the immediate participants, but for the community as a whole, nurturing the ecosexual health of the "tribe."  In other words, bonobos are gay (in a way), and that's okay.
Virtually all female bonobos enjoy "lesbian" relations, performing what primatologists call "genito-genital" or "GG" rubbing, rapidly swishing their swollen pink vulvas against each other, often resulting in profound orgasms. The native Bongandu people call this primal dance "hoka-hoka" which sounds like a bonobo tango, and that's just what it looks like, only it's rapid vulva-to-vulva rather than slow cheek-to-cheek. And these "hot bi girls" of the Great Ape World aren't just "gay for pay." Among bonobos, girl-girl sex is at least as passionate as boy-girl. Hoka-hoka lubricates life in Bonoboville, shaping politics along with orgasms, creating a sexy sense of female solidarity that empowers the bonobo gals in the community, helping them to stick together to keep the rape rate down and assure that the ladies get first dibs on food and other goodies.
Bonobo males also have frequent same-sex relations. They tend to resolve conflict by literally "turning the other cheek" (butt-rubbing) or with testicle play, kissing, hugging and "penis-fencing," channeling their natural, testosterone-fueled aggression into erotic, non-violent activity. Within this intimate male-male communion lies one of the reasons that no bonobo has ever been seen killing another bonobo in the wild or captivity. Unlike common chimps who do kill each other and wage territorial wars, bonobos make peace through pleasure.
Of course, the bisexual nature of bonobos doesn't exactly parallel human bisexuality or queer inclinations. Regardless of the differences, witnessing the fluid sexuality of bonobos helps gay, bi, transgender and other LGBTQA folks embrace their sexuality. Moreover, gay sexual activity is key to keeping the peace in Bonoboville. That is, when male bonobos engage in penis fencing and other erotic interactions, they're less likely to kill one another. And when the females do the hoka-hoka, they're more apt to look out for each other.
Watching bonobos shows us that LGBTQA sexual diversity is utterly organic and natural, adding to the richness of our individual lives and the ecology of our society. It may even be the key to peace on Earth. The bonobos show us the way. They represent a new, peaceful, bisexual Great Ape paradigm for humanity. That's why Gay Pride should take the bonobo as a mascot, and help to save the real bonobos from extinction.
© May 11, 2015. Susan Block, Ph.D., a.k.a. "Dr. Suzy," is a world renowned LA sex therapist, author of The Bonobo Way: The Evolution of Peace through Pleasure and horny housewife, occasionally seen on HBO and other channels. For speaking engagements, call 310-568-0066.
---
Explore DrSusanBlock.com
Need to talk? Sext? Webcam? Do it here. Have you watched the show? No? Feel the sex. Don't miss the Forbidden Photographs—Hot Stuff, look at them closely here. Join our private social media Society. Join us live in studio 😊. Go shopping. Gift shop or The Market Place. DrSusanBlock.tv, real sex TV at your toe tips. Sex Clips Anyone? FASHION, we have fashion! We also have politics. Politics? Have you Read the book? No? How about the Speakeasy Journal? Click here. Ok, how about some free sex advice?
---
---