California Jesus and the Virgin Goddess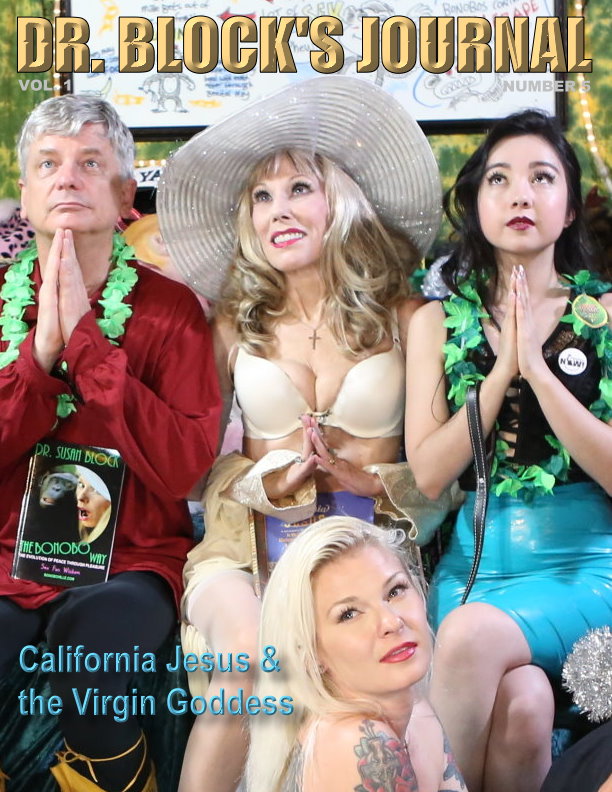 Length 01:43:04 Date: August 5, 2017
We gather together in the Womb Room Cathedral of the Church of Bonoboville where we worship all the gods and goddesses, "just in case," as Prince Max says, we find that one or two of them are real when we cross over from this life to whatever lies beyond. "Just in case…" is our mantra. There are infinite possibilities for "The Infinite."
So, come, let us pray…. and cum, let us play! This is Bonoboville, after all, at the Dr. Susan Block Institute of Faith-Based Sex. We may or may not be Children of God, but we are all Children of Sex. Hallelujah, Brothers and Sisters, Lovers and Sinners. Sex is what brings us into this world, and sex is what motivates us to stick around for a while.
And to that, we say: Amen. And Awomen! Praise God and the Goddess, whichever god or goddess you choose. We do not judge… as long as you don't use your god like a weapon against our freedom of choice.
Jesus Walks into Bonoboville
On this show, we investigate one of human history's most popular gods, also known as "the Son of God," aka Jesus. We also take a look at his many colorful California churches and cults, as well as the subject of sexual virginity, Christian and FemDom.
For this sacramental Bonoboville "Confirmation," I don the diaphanous white and gold bishop's robe that I first wore at our 1999 Downtown LA Speakeasy Gallery art opening for "Erotic Art of the Apocalypse," along with a pendant cross given to me by a real-life "40-year old virgin," one of my sex therapy clients who was a victim of religious sexual abuse via a sex-repressive, strict Catholic upbringing. Within a couple years of therapy, I helped this man to "lose" his rather burdensome virginity to a lovely lady with whom he is still close friends. As a token of his appreciation, he gave me this little gold cross. I also wear my "Jesus Loves My Ass" panties, presented to me by Pastor Tammy of the Full Gospel Ranch, topped off by the white hat decorated with silver tinsel by the talented Gypsy Bonobo for Pr. Max's and my silver wedding anniversary.
Thus attired, I lead my little congregation in a multi-faceted "Jesus Walk" through churches, doctrines, fetishes (both religious and erotic), ecstatic communion, divine domination, virginity, religious abuse, the Apocalypse and the looming Trumpocalypse in terms of the mind, the body, the soulful spirit and the Bonobo Way.
Though quite often, I find that my congregation is leading me, which is all right because their positions are nothing short of sublime.
This is a very special show that must be tasted to be understood, like an erotic Eucharist or a very juicy fruit plucked from the Tree of Knowledge.
California Jesus
The first guest to share my pulpit/bed is Mike Marinacci, best-selling author of California Jesus: A (Slightly) Irreverent Guide to the Golden State's Christian Sects, Evangelists & Latter-Day Prophets, as well as Weird California. Though mostly sympathetic to the many quirky Cali churches he catalogs, Mike is a self-identified "Transcendental Agnostic" (with a hat tip to Robert Anton Wilson) and son of the late great Rudy Marinacci, who was the art director of Pr. Max's legendary Southern California publications, The Brentwood Bla Bla and Beverly Hills, the Magazine.
PHOTOS: JUX LII
I have a personal interest in Mike's subject matter, as I confess in my 5-star review:
"As a sexologist, I have long been challenged and fascinated by cases of religious sexual abuse, as well as spiritually oriented cults in general. As a talk show host and hypnotherapist, I am often impressed by the amazing abilities of various Christian evangelists to hypnotize their congregations into believing just about anything, not to mention giving up their worldly possessions, as well as their sanity… From the snake-oily but determined Rev. William Money who wrote the first English language book published in California to the integrated glossolalia of Rev. William Seymour; from the erotic theatrics of the amazing Aimee Semple Macpherson to the outrageous donation demands of Dr. Gene Scott and his wife Pastor Melissa Scott (former porn star Barbie Bridges); from the comic-book ministry of Jack Chick to the ongoing Doomsdays of Family Radio; from the murderous Nazi-sympathizing Kingdom of Yahweh to the sexual abuses of the Children of God and the rather anti-Semitic "Passion" of Mel Gibson; from the warm, LGBT-welcoming Metropolitan Church of Rev. Troy Perry to the colorful artistic achievement of Salvation Mountain and more, this book is chock full of true stories which [Mike] delivers with empathy, irony and attention to detail."
Mike's stories inspire my other guests to testify to their own tales of sex and god. The root of the word "testify," as I explain in The Bonobo Way (Ch. 5: "Erotic Politics & Bonobo Economics"), is the same as that of the word "testicles," from the Latin testiculus, the diminutive of which is testis, meaning "witness." So, a man's package is his "little witness" or, for some, his star witness in the trial of his life.
Indeed, back in Old Testament times, when our forefathers swore an oath, they didn't put their hands on the Bible. After all, these were "Bible times," and the Bible hadn't been written yet. When they testified, they put their hands on their testicles, i.e., they swore by their family jewels. The Bible coyly calls this part of the male body the "thigh," as in Genesis 24:2 when Abraham tells his servant Eliezer to "put thy hand under my thigh and I will make thee swear to the Lord of Heaven and Earth…" Whereupon Eliezer obediently cups his hand under his master's "thigh" (i.e., his patriarchal sack of tiny future Israelites), and swears his solemn oath. Don't try this in court, but do consider it for what it is: a Biblical bonobo handshake.
Can I get a witness?
The Only Goddess Virgin
My first "witness" to a new spin on an old sacred sexual tradition is the exquisitely beautiful, petite, clever and charming Goddess Virgin, whom I met at DomCon LA 2017.
This Goddess is indeed a sexual virgin, having never been penetrated by a human appendage, though she does enjoy masturbating with sex toys and partaking in various types of erotic play with her slaves and submissives.
She says that she has received oral sex from her male slaves, but she's never been licked by a woman, and she not so subtly invites me to be her first. I accept, of course, but somehow we don't get around to it on this show, or maybe this Goddess is just a bit of a tease—in the finest, most delightful sense of the word.
Though sexy as a stripper, she guards her virginity like a lioness protects her young, never having given fellatio or experienced sexual intercourse with a real penis.
No anal, either; no "poophole loophole" (as Gypsy pegs it) for this Catholic-raised virgin… until the right man comes along, or perhaps, just when she feels it's time.
Or maybe never. Though I believe in the power and glory of SEX with a capital "X," I don't see anything inherently wrong with lifelong virginity, celibacy or chastity, if that's what you really want.
The Goddess is accompanied by her dutiful pet/slave Dog Dean, quiet as a mouse though big as a house, attired in black, including a face mask, always kneeling subserviently at her lovely high-heeled, pedicured feet, sometimes offering his back as her footstool.
He also bought the Goddess a condo.
Goddess Virgin, you see, is a "findom" or financial dominatrix, extracting money and gifts—aka "tributes"—from her clients, worshipers and followers with the mesmerizing finesse of a preacher demanding donations from his flock. The big difference is that Goddess Virgin is up-front and honest about her demands and what you get in exchange, as the hypocritical Evangelical Christian con-artists of California Jesus very often are not.
Beautiful "Backsliders" Be*Live & Daniele
Our favorite pansensual power couple, whom we met on the night of our 24th wedding anniversary, acclaimed film and television actress Danièle Watts and renowned raw food Chef Be*Live, both happen to have been raised in the Church of the Seventh Day Adventists. Having abandoned the strict rituals and systems of the Church, they are called "backsliders" by those who are still devout. I'd heard the term before, but I always thought it had something to do with anal. I learn something new every Saturday night. Nevertheless, Be*Live—even with his arm in a cast (something to do with backsliding on a skateboard)—and Daniele—with a sweatshirt tied fashionably around her head—make "backsliding" as sexy as it sounds.
When they were busted for backsliding (aka, having sex) in a car (see Daniele's Christmas Confession for the details), they experienced a spiritual erotic epiphany that they're still trying to sort out.
One of the preachers in California Jesus, Herbert W. Armstrong of the Worldwide Church of God, was a different type of Adventist "backslider." Actually, he slid to the extreme right of his Adventist origins, purporting some fairly racist notions before sliding into a fiery pit of incestuous scandal.
Mike and Daniele bond through more than just Adventism, but more on that when we get to Bonoboville Communion, our answer to the Eucharist, with Agwa de Bolivia Herbal Coca Leaf Liqueur.
Chynna Does a "Steve Bannon"
Rounding out the congregation are two naughty nuns. Jay Toriko is back with a new name: Chynna Doll. We're not sure how that will affect relations with Beijing, but we try to call people what they like to be called, and Chynna does look lovely in a nurse/nun frock studded with crosses of mercy or masochism, depending on your perspective.
Chynna has that singular sexual skill for performing auto-fellatio which I am now calling the "Steve Bannon." This is in honor of Anthony Scaramucci's melt-down on the phone with New Yorker writer Ryan Lizza, when tRUMP's 11-day Communications Director explains that he's "not trying to suck my own cock like Steve Bannon."
Moreover, Chynna is also a virgin. Sucking your own cock, skillful as it is, doesn't count.
Jacquie Blu is most certainly not a virgin, though she is wearing a nun costume, the same one she wore for Halloween when she got pegged by that giant sex machine. She blesses the congregation when she lifts up Gypsy's Catholic school girl skirt for all to see her backslider. Oooh la la!
Especially Sacred Bonoboville Communions
Thus we begin our weekly Church ritual of Bonoboville Communion that takes on even more of a sacramental feeling during this show. First to receive is Be*Live who seems to really need a Communion to help with the slow healing of his arm. Daniele asks if Goddess Virgin might be his Altar Girl, and Be*Live beams a big smile.
The FinDom Goddess ponders the thought for a moment, then deigns to permit her new supplicant to lick and suck his Communion salt off of her stiletto high heel.
The not-so-submissive but eager-to-engage Be*Live ponders the offer for less than a moment, then dives right in and sucks the Goddess Virgin's heel with relish and deep-throating skill. Then he receives his Waterboarding, Bonobo-Style, to the hosannas of the congregation.
Next, Brother Mike agrees to receive his first Bonoboville Communion. As the High Priestess of Bonoboville Communion for almost 15 years, I feel honored to be administering it to an expert in the unusual churches. Of course, Bonoboville Communion is, in part, just a silly parody of Christian Communion. But the other part is, for some, a truly spiritual erotic experience, a melding of two souls through flesh with the Womb Room as witness.
Daniele volunteers to be Mike's Bonoboville Communion Altar Girl. She removes one boob from her dress and cuddles up next to Mike who snuggles up against that beautiful natural boob as if it were his Salvation Mountain. Hallelujah! Praise the Lord and the Lady, especially this Lady.
They look kind of like the Virgin Mother and Child, except she's not a virgin or a mother, and he's certainly not a child (not even an adult baby).
But the feeling is healing. Brother Mike kisses Sister Daniele's "altar" and licks the sacred salt from her supple skin.
Then he takes his Agwa Waterboarding, Bonobo-Style like a brave Prisoner of War, and testifies to his truth, an adventurer, a historian, a storyteller and a Child of Sex.
Trumpocalypse Now
And yes, we also talk about tRUMP, the "lazy boy" of this week's Newsweek.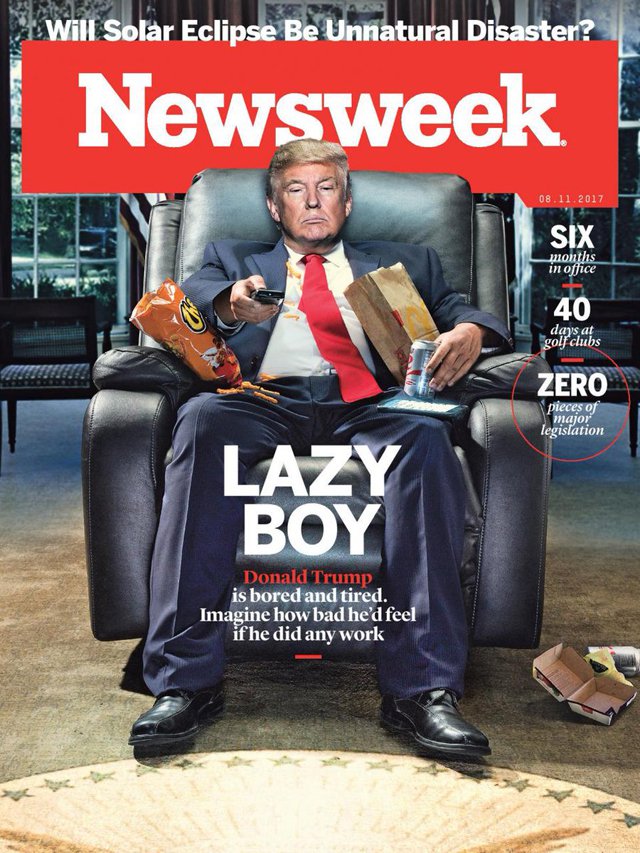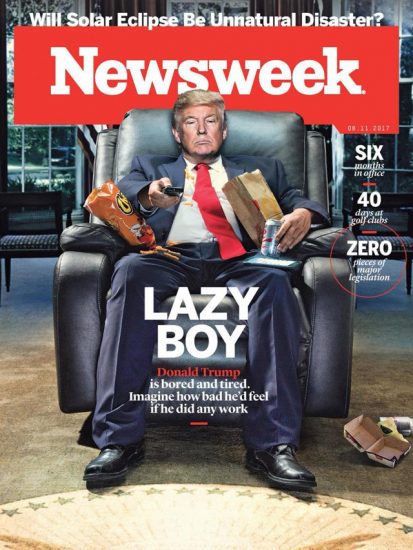 Personally, I prefer that he be lazy and incompetent to actually getting things done on his nefarious, misogynist, racist, and police-state agenda.
I wish he'd play more golf and sign fewer bills.
The only other thing I like about Trump is his bromance with Putin.
I wish Congress would just let them get it on already. Make love not war! Those crazy sanctions against Russia and Europe could start a war, which would be great for the Deep State–not us!
I love Speakeasy Gallery artist Scott Siedman's portrayal of "The Late Knights Defend Democracy."
Comedy is great therapy for the Trumpocalypse.
But if you have Post-Trump Sex Disorder, you might want to call the Therapists Without Borders of the Dr. Susan Block Institute.
It's one of our specialties these days.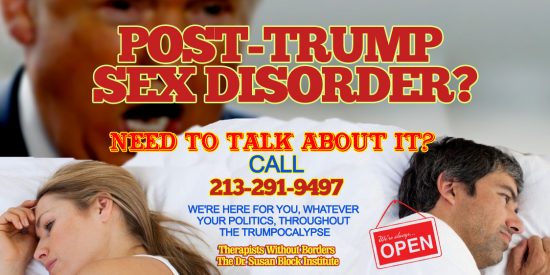 Why are Political Christian Evangelists so in love with Trump who isn't very "Christian" at all?
Because tRUMP supports their intolerant agenda and both believe in "alternative facts."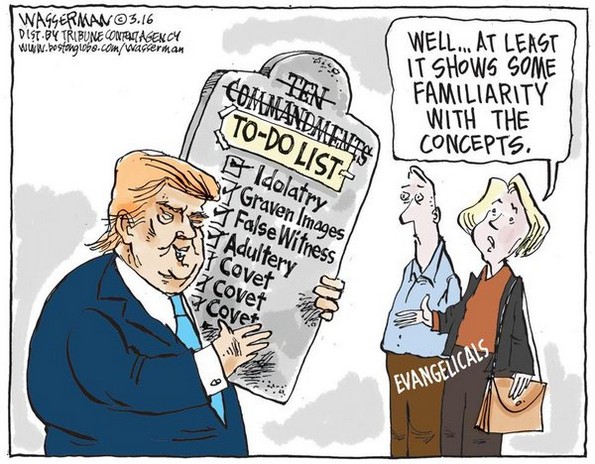 Ikkor the Choir Director
Every Church has a choir, and the Church of Bonoboville has Ikkor the Wolf, who steps up to the pulpit to sing our favorite hymn, "We Are One."
Amidst all the squabbling sects of Christianity and all religions, the warring factions of politics, the last stands of the hate groups and the bickering battlegrounds of so many bedrooms around the world, it's important to remember those simple but incredibly complex words. "We Are One."
Amen and Awomen. It's the Bonobo Way.
Then before we can say, "Jesus! Where did the time go?" it's gone/
And we all melt into the after-party of another balmy summer night in the Garden of Bonoboville.
Much bonoboësque outercourse ensues, with good old-fashioned, non-virginal intercourse, heavenly orgasms and sweet dreams follow.
We are one.
Thanks to Our Volunteers: Videographers: Danny Hare, Lamont Bellsarios, Michael Sullivan; Photographers – Jun, Jux Lii, Rick Slick, Xander; On-Campus Bonobos – Abe Perez, Del Rey, Gypsy Bonobo, Harry Sapien, Jacquie Blu, Johnny Jungle, MarsFX, Clemmy Cockatoo, Ana & Miguel.
© August 5, 2017. Susan Block, Ph.D., a.k.a. "Dr. Suzy," is a world renowned LA sex therapist, author of The Bonobo Way: The Evolution of Peace through Pleasure and horny housewife, occasionally seen on HBO and other channels. For speaking engagements, call 310-568-0066.