Xmas Eve Confessions with Hanukkah Hot Wax
Length 1:52:36 Date: December 24, 2016
Merry Christmas, Brothers and Sisters! Chag Sameach Hanukkah! Merry Muhammed's Birthday! Happy Pancha Ganapati! Bountiful Bodhi Day! Happy Kwanza! And Happy Merry Sexy Sun Birthday! Did I leave anybody's favorite winter holiday out? All Holidays Matter. See, this is why sometimes—War on Christmas, Peace on Earth or Satanic Solstice—it's easier and more inclusive to just say "Happy Holidays."
Yet this show does happen to fall on Christmas Eve, as well as the first night of Hanukkah, coinciding—or colliding—to produce one of the biggest "family" nights in the Western World, and Bonoboville is no exception.  Like most family holiday gatherings, ours is filled with emotional reunions, political arguments, explosive outbursts, dramatic runaways, childhood memories, true confessions, ecstatic celebrations and a cornucopia of love. Unlike most family holiday gatherings, ours includes getting naked and turning solemn religious rituals into wild kinky games, from a Christmas nativity scene filled with religiously inspired dildos to Hanukkah hot wax play, after-party strip dreidel and a Happy Nude Rear.
Holiday Incest Fantasies & Rabbi Mrs. Santa's Naughty Helpers
No outside guests for this special intimate evening, just a few close members of our current Bonoboville "family." Of course, none of us are blood-related so, if and when we have sex, it's not "incest." However, incest fantasies are a prime topic on this "family" show. In that sense, I guess I'm the "Mom," though I'm dressed like a naughty Rabbi crossed with Mrs. Santa Claus, sporting "Jesus Loves My Ass" panties, a tallis with a red and white "naughty" elf cap on a navy blue shtreiml. Dangling above my cleavage: a Star of David woven from the unraveled threads of prison uniforms by inmates at Twin Towers jail, a gold cross given to me by a strict Catholic sex therapy client (after I helped him to "lose" his virginity at the age of 42) and an international peace sign surrounded by symbols of all the world's major religions.
Gathered around me are Mrs. Santa's naughty little helpers, Gypsy Bonobo and Jacquie Blu, along with pansensual power couple (both raised strict Seventh Day Adventist): Chef Be*LiVE rawking a pair of pink high heels, and Daniele Watts in an Xmas teddy that doesn't stay on her very long. Behind-the-scenes are Del Rey live-tweeting via @RadioSuzy1 and Paniscus Brecht on the Facebook live cam, with Abe, Mar, Harry, Melissa the bartender and the wonderful Bonoboville volunteers holding up the rest of the tech fort. As always, Capt'n Max is at the helm, steering the ship of XXXmas elves and Hanukkah hotties, from Topanga to Tehran, through the holidazed high seas.
Tammie & the Trumpster
Mid-show, we are joined by Tammie Parrot, also looking gorgeous in skimpy Elfin slutwear. We haven't seen Tammie since she voted for Trump, probably because she voted for Trump, but we love her beautiful, "deplorable" ass anyway, and we welcome her back with hugs and kisses under the mistletoe. The holidays are a time of forgiveness, and besides, it's the Bonobo Way of peace through pleasure, though I grit my teeth nervously when she talks about "defending" me with her weaponry. Just don't bring those weapons into Bonoboville.
We even give our trussed-up, safety-pinned plush-toy voodoo doll Trump the Dick with Small Penis Syndrome the holiday "love" treatment. Obviously, the Trumpkin needs a lot of love (his Mommy issues, for one reason), as evidenced by his notorious late-night tantrum tweets. Though we don't forgive the Orange One for the way he's already dragged down our culture and is threatening to do a LOT worse.
Daniele's Christmas Confessions
Daniele also has a soft spot for Trump Daddy, which Capt'n Max and I do not coddle, leading to some heated, family-holidayish interchanges.  Speaking of Daddies, Daniele confesses that she sent photos of herself receiving Bonoboville Communion naked to her Dad, much to his consternation. Then, in a hilarious and kinky twist on a family outburst, she stomps out of the Womb Room, seemingly offended by the way the Womb Room receives her first Christmas Confession. Off-stage, she takes a shower, and then the Prodigal Daughter Returns, soaking wet and beaming like the thousand-Watt Star of Bethlehem that she is.
Her next confession is particularly emotional and sensationally exhibitonistic (though not narcissistic, even though she calls it that). She even delivers this confession as I "torture" her, dripping hot wax from a Hanukkah candle on her bare breasts as she quivers and shrieks.
For the full confession, you'll need to watch the show, but in a nutshell: She actually DID have sex with her husband (then fiancé) Chef Be*Live in their car, fully clothed, on that notorious day when they got arrested in Studio City.  You can find out more about the famous incident in our 24th Wedding Anniversary, but on this show, you get to a deeper truth, as Daniele releases her bottled-up shame and Bonoboville erupts in the ecstasy of empathy with this luminous, courageous performance artist and explorer of "truth" in its infinite variety.
Hanukkah Hot Wax
In between confessions, outbursts, mistletoe kisses, a brief but electric  Ikkor the Wolf appearance, Bonoboville Communion (in which I am honored and delighted to be Gypsy's altar girl), Agwa Waterboarding, bites of Jux Lii's Cannabelly brownies (a deliciously disorienting arousing Bonoboville favorite), and dripping red hot wax on Gypsy Bonobo's butt and blue wax on Jacquie Blu to the tune of Carmina Formosa's "The Kinkster," Jack Nice playing the Grateful Dead's "Friend of the Devil" on ukulele, I tell the Story of Hanukkah.
Though a minor holiday in the Hebrew calendar that is elevated simply to give Jewish kids something to do around Christmas, Hanukkah is actually based on some recorded history: In 167 BCE, the occupying Greek king Antiochus IV Epiphanes (from Syria, of all places) commanded the occupied Jews to worship the Greek gods, instead of or, at least, in addition to, the Jewish God, aka Adonai, aka Yahweh. The assimilated or "Hellenized" Jews were cool with this dictum, but the more purist or fundamentalist Jews were pissed and refused to "bow down" to the Greek gods.  
Some, like the tragic Hannah and her Seven Sons, even let their own children die rather than eat pork or worship the "idols" of the Syrian Greeks. One fundamentalist Jewish priest, Mattathias, and his son Judah Maccabee, led a guerrilla war of the Maccabees against Antiochus, which wasn't just between Jews and Greeks; it was a civil war between the fundamentalist Jews and the assimilated Jews, eerily reflective of the current civil war in Syria. Indeed, some modern rabbis say that the glorious Maccabees were a kind of intolerant Jewish Taliban who would not look kindly on liberal American Jews or most Israeli Jews either.
It just goes to show: One person's "terrorist" is another person's "freedom fighter." There is righteousness and blame all around in the Hanukkah story and in the current news in Syria where the question of which side is "right" pales in comparison to the humanitarian catastrophe that all the battling has unleashed.
The Maccabees won the Hanukkah war, recapturing and rededicating the temple, which they later lost, but the holiday celebrates the "miracle" of their victory, and the sacred myth that the oil in the temple's everlasting lamp, which was only enough to last a day, actually lasted eight days. Bloody and confusing Jewish Taliban war stories notwithstanding, this brings us to my longtime favorite part of Hanukkah: the eight-pronged (plus one) Menorah.
When I was a child (yes, your naughty Rabbi Mrs. Santa Claus was once, long ago, a child), my relatives and I would bet on which candle in the menorah would last the longest. This Block family tradition lives on in the Bonoboville candle race, and on this show, Jacquie's candle wins, perhaps a sign that she will win one or both of the TEAs (Transgender Erotica Awards) for which she is nominated in 2017.
Even though my dear parents admonished me not to, I used to love playing with the hot molten wax that dripped from the Hanukkah candles. But who knew that I would take my slightly pyromaniacal childhood fascination to the "next level" in Bonoboville, making hot wax play an integral part of our Hanukkah celebrations. For one of the best, see last year's Clip-O-Rama Hanukkah Hot Wax clip. And watch this show! Not only do we drip the hot wax onto Gypsy and Jacquie's bouncy buns and Daniele's shimmying boobs, we let the molten light of Hanukkah drop down onto Chef Be*Live's naked cock. Ouch! The Chef's got balls!
Jesus Loves the Sex Workers
Whether or not Jesus really existed, was the son of a god or the symbol of a moment, he was one of the world's great rƎVO˩utionaries, preaching a bonoboësque peace and a social agenda that denounced greed, bigotry, misogyny and violence. Though many of his current followers are quite sex-negative, according to scripture, Jesus was not. Indeed, Jesus loved the sex workers, aka the ho' ho' ho's. He brought marginal individuals to the center and welcomed outcasts to the table and into heaven.
Xmas celebrates Jesus' birthday, of course, though most of the holiday's customs hail from the Roman Saturnalia and the Norse/Germanic Yuletide. Here in Bonoboville, we especially love the mistletoe, a very bonoboësque plant of peace, under which enemies could declare a truce, couples explore their first embrace or warring spouses kiss and make-up. 
We also love our dildonic XXXmas nativity scene, housed in a manger meticulously built (with snow on the roof!) by Miguel, featuring the Divine Interventions Baby Jesus butt plug in the central starring role, a bonobo doll playing Mother Mary, and three novelty dildos—Buddha, Satan and Billy J. Clinton—playing the Three Kings who visit the child god. In the attic above the manger, representing the sexy savior this baby boy will someday become, rises the Jesus Jackhammer dildo.
Beauty or Blasphemy
My apologies if I offend anyone with my holiday dildonics, antics and interpretations. I must confess as a former Sunday school teacher and current sex therapist who treats many victims of religious sexual abuse, I myself have a bit of a fetish for exploring religious rituals in playfully titillating ways. It has long seemed to me that all the major monotheistic religions use mythology, fantasy and fear to try to control our natural, blooming sexuality, channeling it into procreation (leading to environmentally dangerous levels of over-population), instead of more ecosexual, bonoboësque recreation.  Besides weighing heavily on our planet's limited natural resources, all that religious control leads to abuse, oppression, ignorance, bigotry, hypocrisy, murder, mayhem and much human-made misery.  
On the other hand, it also stimulates erotic rebellion and exhilarating, some might say "blasphemous" kink, as Daniele so dramatically exhibits in her Emmy-worthy, confessional performance.  In a sexually twisted society such as ours, many people need the friction of being "naughty" in order to feel nice. 
Baby It's Cold Outside
Speaking of naughty versus nice, Bonoboville weighs in on the "Baby It's Cold Outside" controversy. Is this rather "naughty" 1949 Xmas seasonal standard which snagged an Academy award in Neptune's Daughter, and has been famously sung by Dinah Shore and Buddy Clark as well as Margaret Whiting and Johnny Mercer  not to mention Lada Gaga and Tony Bennett, a story of "rape culture" in action or a romantic tale of consensual seduction? Is this catchy, naughty ditty better off rewritten with "nice," more politically correct lyrics as attempted by Lydia Lyza and Joseph Lemanski? Listen to the archive above or watch this show on DrSuzy.Tv to find out how Bonoboville weighs in.
As for me, I believe it is extremely important to resist and denounce rape and rape culture, especially with a self-confessed "Pussy-Grabber-in-Chief" about to assume the U.S. Presidency. And I can see how some folks might construe some of the "Baby It's Cold Outside" lyrics as "rapey." The line "say, what's in this drink?" may bring Bill Cosby to mind, even though I think it's meant more as a humorous excuse for the woman to fall into the man's arms without being judged as a "slut" by her relatives and nosy neighbors. All in all, I personally see "Baby It's Cold Outside" as far more romantic than "rapey," and primarily, as a song of a woman's sexual liberation in female-repressive 1940s America, so she can stay with a hot man whose company she enjoys rather than bow to society's misogynistic control.  
My Christmas Eve confession is that I have a very personal relationship to "Baby It's Cold Outside," since it was one of the songs that Capt'n Max and I listened to as we fell in love back in 1990. We even played it on one of our "Desert Susan" tapes that we sent to soldiers during Desert Storm, in hopes of "seducing" the generals and the troops into laying down their arms and coming home. In that sense, the song is an enticement to shun the "cold outside" of war and to come inside to our Womb Room of warmth and peace through pleasure.
NYE 2017 in Bonoboville
So once again, Happy Holidays, Brothers and Sisters! I love you, even if you're a "deplorable," misogynistic neo-Nazi KKK Trumpeteer, I love you. My guess is that you need love even more than libs like me who talk about it all the time. I hope that you lay down your arms, trade hate for love, or at least a little peace through pleasure, and join with me in resisting the impending Trumpocalypse. It's bound to be a lot of hard work, but it'll also be fun. It's got to be fun. Like Emma Goldman, "If I can't dance, I don't want to be part of your revolution."
Speaking of dancing, spanking and coming into 2017 on the Sybian with a bang… Don't miss our sure-to-be sextacular New Year's Eve  in Bonoboville this Saturday night featuring a galaxy of Domme-stars and kinksters! RSVP: Call 310-568-0066, make your reservations here or just watch us in the Bonoboville lounge.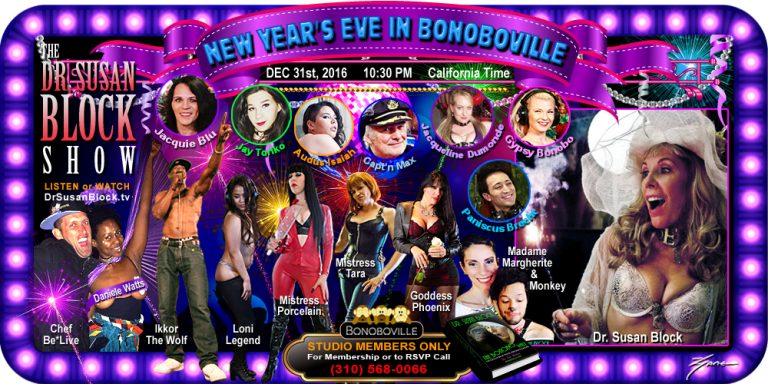 Thanks to this week's volunteers: Camera Operators – Alister Conway, Jim; Photographers – Janerzon Deleon, Hugo Flores; Bartender – Melissa Ello; and our in-house bonobos Abe Perez, Del Rey, Gypsy Bonobo, Harry Sapien, Jacquie Blu, MarsFX, Paniscus Brecht and Zane Bono.
© December 25, 2016. Susan Block, Ph.D., a.k.a. "Dr. Suzy," is a world renowned LA sex therapist, author of The Bonobo Way: The Evolution of Peace through Pleasure and horny housewife, occasionally seen on HBO and other channels. For speaking engagements, call 310-568-0066.