Art with Teeth on DrSuzy.Tv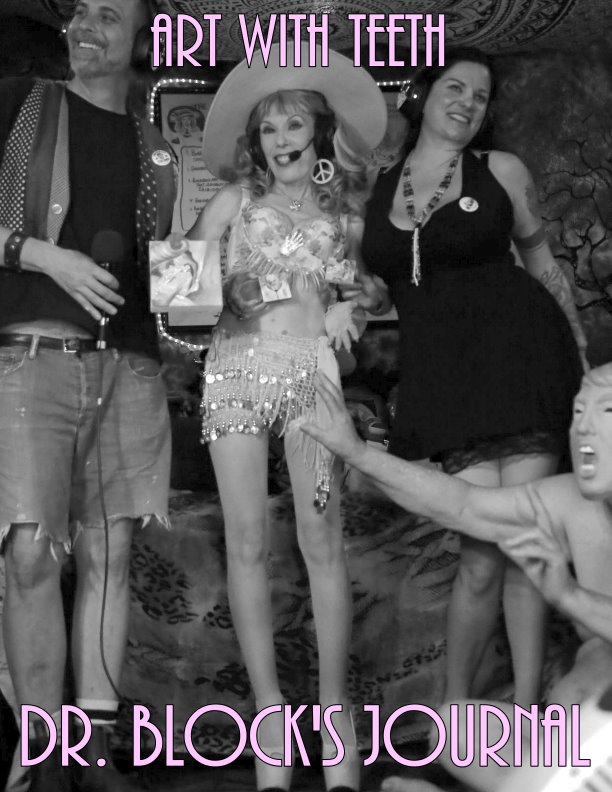 Length 01:49:37 Date: July 29, 2017
What an effervescent intersection of artistic expression—politics, parody, music and sex—featuring some of the fantastic "Resistance Art," artists, movers and booty-shakers of TAWDRY: Art with Teeth, the exhibit opening this coming Saturday at the Hive in DTLA. Plus, we celebrate our beloved Gypsy's birthday in bawdy bonoboësque style with a bunch of beauteous, bare boobies and some very sensuous Bonoboville Communions. And man, oh man-child, do we whack tRUMP!
tRUMP Terrors of the Week
The tangerine baby-king Narcissist-in-Chief really deserves it this week. From his nasty, mendacious tweets announcing a new ban on trans people in the military (blindsiding his generals) to his rambling, uber-politicized speech to the Boy Scouts, to his hateful, violence-stoking address to Long Island Police urging cops to "rough up" suspects, to his threats against Senators if they didn't pass his awful "Skinny Repeal" of ObamaCare, he's won the title of Monster of the Moment with each new cycle of Fake News.
Fortunately, for all Trumpty Dumpty's threats and boasts, they didn't pass his silly, healthcare starvation diet, the "Skinny Repeal," anyway, producing another epic #TrumpCareFail for the history books.  At this point, the best thing about T(he) Rump is his utter incompetence, so he can't manage to accomplish much of his evil agenda.
#GoBonobos for Real-Life Wonder Women: Susan Collins & Lisa Murkowski
However, he is still (as of this writing) the President of the USA, commanding awesome power, and sometimes you've got to "fight the power," especially when it's this unreasonable, hateful and toxic to the 99%. So, I take a moment early in this show to salute two brave women—two Republican Senators, Susan Collins of Maine and Lisa Murkowski of Alaska—for standing up for what's right and voting against Agent Orange and Mitch McConnell's atrocious, unworkable, unpopular, anti-female, anti-human and very unbonobo "Skinny Repeal" of Obamacare.
John McCain has gotten most of the credit, and he does deserve some since he cast the deciding NO vote. But Collins and Murkowski have been out on the frontlines of this battle, fighting like real-life Wonder Women, taking all kinds of abuse from their fellow Senators, not to mention our "unpresidented" President and hordes of tRUMP goons and hitmen on social media.
I also salute the Dems who voted against it, and all of us who have been out there protesting Trumpcare—in cyberspace and the real world—because without us making our voices heard, those Senators, especially McCain, would not have voted "no."
Who knows what will happen with Obamacare, which tRUMP the Grump has tweeted he hopes will "implode," and which I wish we could tweak into Medicare for all. But for now, this is a great moment for female empowerment and the health of Americans, and cause for some celebration… and you know how we grab any excuse (though not any pussy… unless I consent, of course) to celebrate here in Bonoboville!
Tawdry: Art with Teeth
We are also celebrating the opening of TAWDRY: Art with Teeth with curator Keef Ward, an exuberant fellow, bon vivant and Resistance comrade who fits right in here in Bonoboville.
Keef is accompanied by Al Schulte, who was a guest on the The Dr. Susan Block Show back in 2004 as part of the sexy bellydance troupe, Desert Sin.
What a wonderful blast from the past it is to see her again; she's a little more voluptuous—in all the right places—and just as pretty and cheery as she was over a dozen years ago.
Keef and Al bring a few cool (and very hot!) pieces from "Tawdry: Art with Teeth," including a new giant Wondrous Vulva Puppet with faux leopard fur labia by "Vulvalutionary," Dorrie Lane, who also created my two "first edition" Wondrous Vulva Puppets that I've been using for over 20 years (with only slight repairs made by Del Rey) to teach female anatomy here in the studio I call the "Womb Room." They even bring a Wondrous Vulva Catsuit. Meow!
PHOTOS 1 & 2: JUX LII. PHOTO 3:NCHRISTINE DUPRE
We check out some of the other amazing "Art with Teeth," though much of it can't be seen until this Saturday's opening, including brand new works by one of our favorite contemporary, progressive artists, Abby Martin, whom I interviewed in the pre-Trump Era.
Resistance Art like this is wonderful therapy for those of us feeling culturally depressed by Trump and the realities and fears of these Trumpocalyptic times.

Keef and Al present me with a very personal art gift, paintings of my very own "wondrous" vulva, based on photos which I'd sent them just the day before. Keef gives me a splendidly sparkly mini-painting of my squirting vulva—It's Holy Water! Al gives me two adorable, even tinier paintings of my vulva in both the squirting and the closed-but-bare-and-ready position.
I'd say that this is "Art with Teeth." No, I don't have a "vagina dentate," that is, so long as tRUMP is not grabbing at my pussy.
If he tried, then my pussy might sprout some fangs to chomp down on those tiny, predatory hands, and not let go until he and Mike Pence resign.
Naked tRUMP Gets Spanked, Penis-Pumped and Spanked Some More
Just as I'm imagining the pussy-grab, bite and demand, in comes tRUMP—naked!—led by the gorgeous and sensuous Mistress Goddess Tamura Bettie, an "Art with Teeth" supporter.
Since the election, we've had several Trump impersonators on the show, most of them wearing the same Trump mask (which you can get on Amazon now for only $13.98). But this one brings a whole new dimension to the Orange One's dramatic parody portrayal on The Dr. Susan Block Show.
Several things set his performance a bit apart. First, he is our largest tRUMP yet—certainly in terms of width—bigger than the real tRUMP's Inauguration! Second, though others have gotten naked for special moments, such as small penis humiliation or receiving a golden shower, this tRUMP starts out naked and stays that way throughout the entire show. Third, he is Michael Q. Schmidt, a professional artist's model. Having posed nude for Jimmy Kimmel, among others, he knows how to strike a meaningful pose. Fourth, though his poses are often powerful and downright riveting, it is exceedingly difficult to get the big guy to change position, especially if it involves being on his hands and knees which is where we tend to like to keep our tRUMPs in Bonoboville.
And yes, it is Trumpocalypse Therapy for us—as well as for many of our Trump-traumatized viewers and listeners—punishing, gagging and humiliating  our various Trump surrogates. I know I relieve my own Trumped-up stress from the week by spanking their rumps with The Bonobo Way. Be well-read, or get, well… red!
It's not all about punishment. We practice the Bonobo Way, and sometimes, we give our tRUMPs some good bonobo love.
And they're not really Donald Trump, after all; they're just impersonators sacrificing their pride on the pyre of political parody to help heal the rest of us of our Trump trauma through live role play.
Perhaps they are submissives, exhibitionists or, in this case, a professional artist's model who reminds me of Orson Wells naked except for a scarf on the cover of Capt'n Max's old Beverly Hills, The Magazine.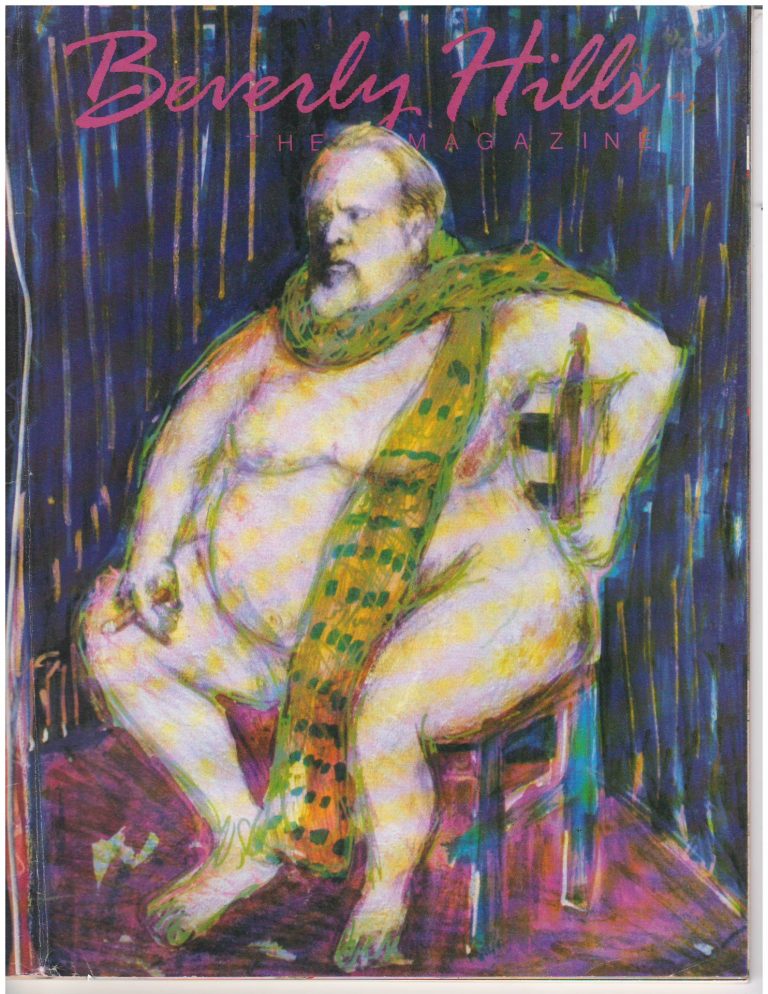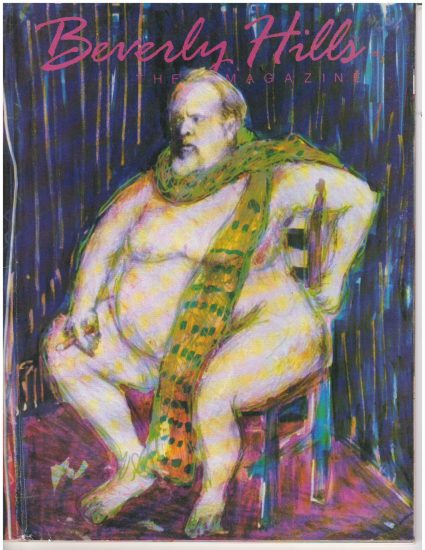 This tRUMP gets some hugs and cuddles, and he has a LOT to cuddle. Mistress Goddess Tamura even inflates his tiny penis with a penis pump (his own) and, being an artist's model, he isn't embarrassed to do it in front of everyone.
But after this awful week of the real Trump, and every awful week of the real Trump that we've had since the election started, even our fake Trump doesn't deserve such dick love.
PHOTOS: JUX LII
So we move that big lumbering naked body off his back onto his knees to spank him again: Erotic Theater Therapy in the Trumpocalypse.
Happy Birthday Gypsy Bonobo
Into the Womb Room strides Ana, bearing a birthday cake for Gypsy Bonobo, so very pretty in pink and blue (once again, our outfits match without either of us knowing what the other would be wearing).
PHOTOS: KZP
Our lovely little Leo is also sporting cat ears. Between Gypsy Kitty, Keef and Al's paintings of my squirting urethra, and the Vulva Puppets, it's Pussy Night in Bonoboville.
Gypsy sets her cake on The Donald's back. Yep, he's still on his hands and knees. What a trooper. Then she gives him her birthday spanking with a Jux Leather riding crop, as we all count-a long, lose count, and then count again. Unlike last Saturday's tRUMP whose rump was pretty delicate, this tRUMP has a pretty tough hide. Next time, we need to spank him harder, maybe with one of those Trump Steaks as a paddle.
Later in the show, we talk about Post-Trump Sex Disorder, which so many of us—especially women—have been suffering from since the November 8th Electoral Dysfunction that elevated a known Pussy-Grabber to the highest office in the land, and which the Therapists Without Borders of the Dr. Susan Block Institute specialize in helping people handle. Al opens up about her personal feelings, as a survivor of sexual assault, at having such a predator in the White House.

The Mooch Fandango & Trump Divorce
Aaaagggggghhhhh…..tRUMP is sooo depressing… At least, we get some comic relief with his new Communications director, Anthony Scaramucci! For those of us who miss the Sopranos or the Godfather, now we have Tony the Hit Man for the Mobster-in-Chief. He's the ultimate Mini-Clown for the Big Clown who he "loves."
Scaramuccia (literally "little skirmisher"), aka Scaramouch, is a stock clown character of the Italian Commedia Dell'arte, my favorite theater form which I studied at Yale and practiced post-Yale in a troupe called New England Commedia. The Scaramouch role combines characteristics of the zanni (servant) and the Capitano (masked henchman). Usually trying to affect being a powerful Don (the parallel couldn't be more appropriate), he is known for his boasting and cowardice.
Then there's the phrase from the Queen song, Bohemian Rhapsody:
I see a little sillhouetto of a man
Scaramouche! Scaramouche!
Will you do the fandango?
Thunderbolts and Lightning
Very very frightening…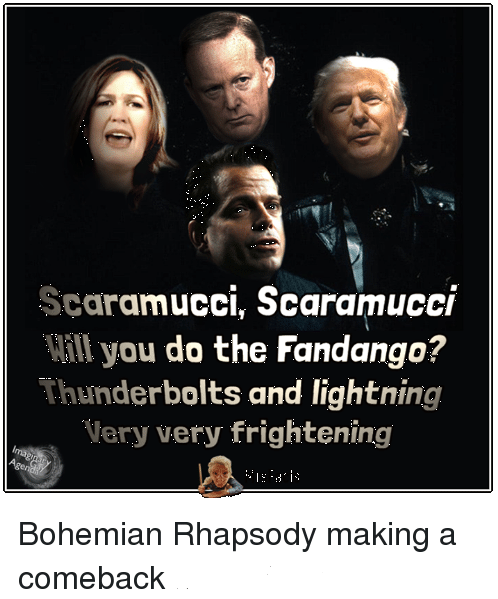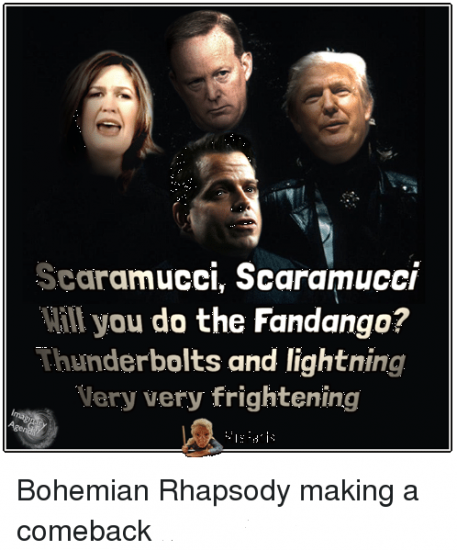 Tony Scaramucci has certainly been doing the Trump Fandango. He "loves" Trump so much, he can't stop talking about it, except to cuss out his rivals in the White House. For Tony, it's all about the leaks. No, that's not Trump's Golden Shower, though maybe it is. Trump is the Leaker-in-Chief. And most of the leaks are public knowledge. But then there's Russiagate…
Now the Mouch's wife Deirdre is divorcing him. Maybe it was the auto-fellatio comment, aka "The Self-Bro-Job," as in when he most explicitly and rather outrageously (even to my ears) informed New Yorker writer, Ryan Lizza, "I'm not trying to suck my own cock like Steve Bannon." If the Mouche means it, that might explain these long periods when we don't hear from the former Breitbart editor. Seriously though, check out Jay Toriko on DrSuzy.Tv to see how it's done…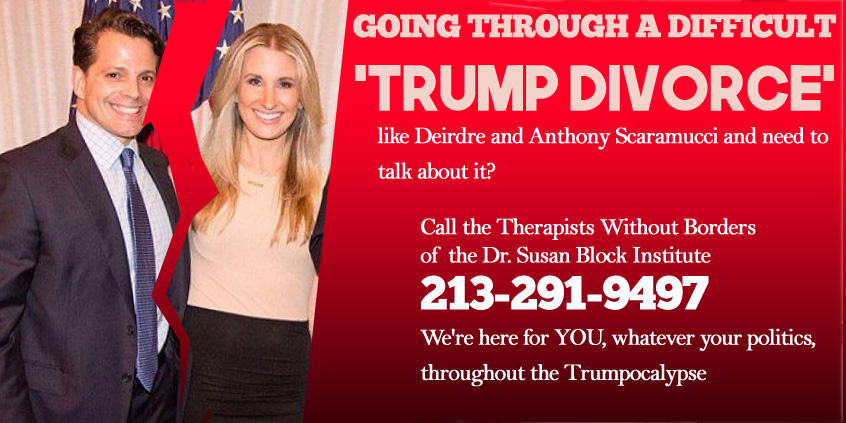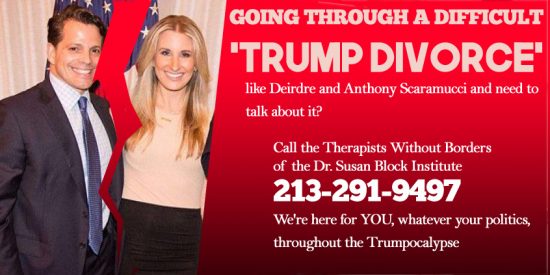 This brings us to a semi-commercial break. Are you going through a difficult "Trump Divorce"? Yes, it is a thing. Celebrities and politicos like the Scaramuccis and the Aronsons are splitting up their marriages over differences in Trumpian opinion. And yes, we can help. We are the Trump Divorce Therapy Specialists. Call us at 213-291-9497.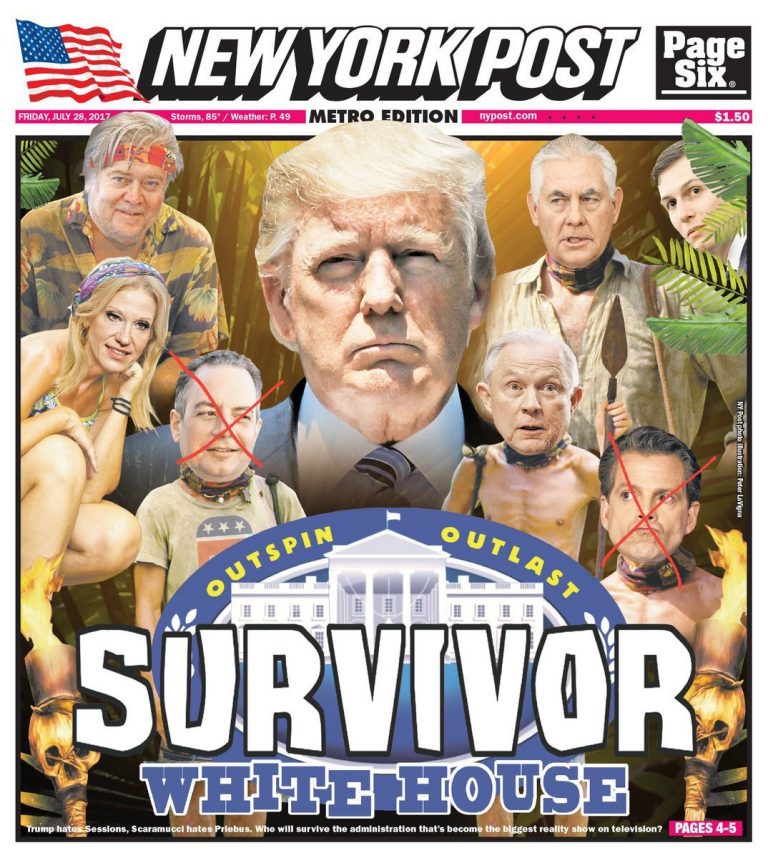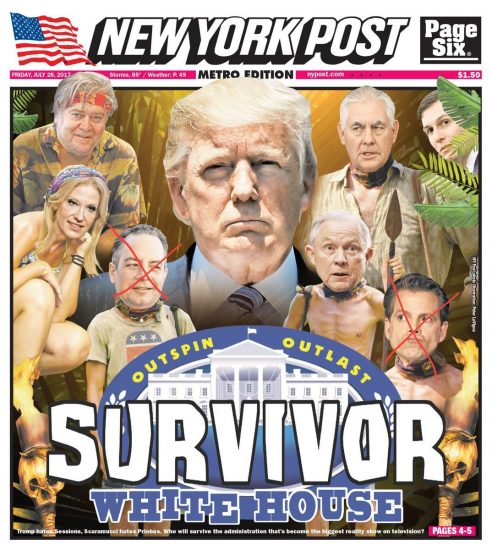 Breaking News Monday: The Mooch is on the loose! Less than 11 days into the job, Scaramucci has to scram, along with his "shiv." Did Trump say "you're fired" to his beloved? Is this a sign of sanity or insanity?  Who's next to be voted off the Island of Trumplandia? Stay tuned to the fake news as the glaciers melt faster and faster…
One thing we know: Thought Scaramucci does not "suck his own cock" like Steve Bannon, he is apparently very good at fucking himself in the ass.
Bonoboville Communions All Around
Then it's Birthday Bonoboville Communion with Agwa time for Gypsy who chooses to take it from Mistress Goddess Tamura Bettie's luscious, all-natural DDs. Actually, one is a DD and the other is a D. Vive la difference! Tamura's also given each of them a name, Lucille and Ethel, from "I Love Lucy." They've definitely got personality!
Tamura makes an excellent Altar Girl, which may have something to do with her strict Jehovah's Witness upbringing.
Speaking of that old-time religion, don't miss this coming Saturday's California Jesus.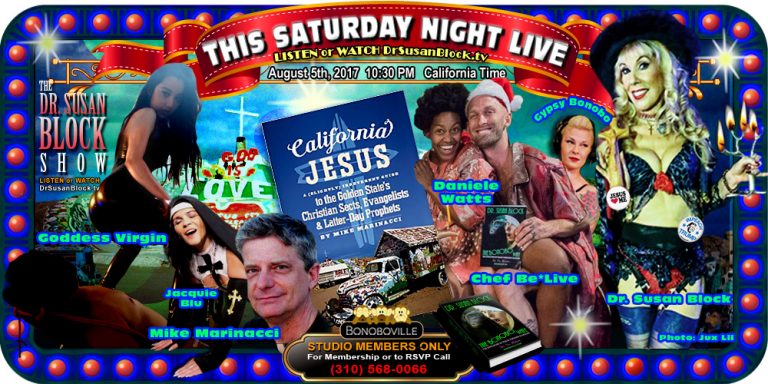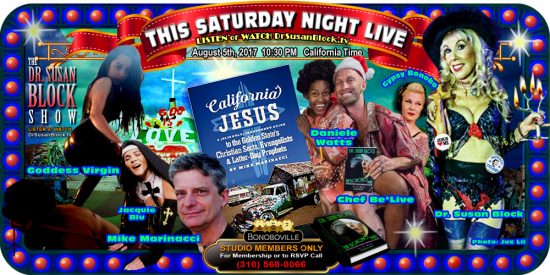 Then it's Keef's turn to quaff his Communion, which he takes, quite creatively, from the backs of Al's knees. Then he accepts his Waterboarding with Agwa, like a good Soldier of the Erotic Resistance.
In between Communions, we receive a surprise visit from none other than Aaliyah Corsets, without her corset or much make-up, but looking adorable as ever.  During the after-party, she reminds me that the little Squirting Lesson that I gave her after she rode the Sybian on my Birthday Bacchanal paid off, and she squirted for the first time. She'll tell us more when she comes back and, who knows, maybe give a demonstration!
She So Bad She Good

Then Ikkor the Wolf takes the Womb Room stage and sings a special round of "She Bad" for Gypsy the Birthday Girl.
Like Mae West said, "When she's good, she's very good, but when she's bad, she's better."
Ikkor is the Beat of Bonoboville, and Gypsy can twerk that birthday booty with the best of 'em.
Trans Americans
In between erotic activities, we talk about tRUMP's odious, ominous tweets banning trans people from the U.S. Military where they have been serving openly for about a year. I have mixed feelings about this, only because I have mixed feelings about the entire U.S. Military Industrial Complex and its multi-billion dollar death grip on America.
As Amy Dentata (yes, "Amy with Teeth" is her twitter handle) tweeted, "It's fucked that Trump is banning trans people from the military, and citing bullshit reasons for it. But also, fuck the US war machine."
As Lusky, one of the artists in "Art with Teeth," who made the Trump dollars we play with on the show, put it, "everyone should have the right to kill in our precious war machine."
But it's not just about joining the murderous, mercenary U.S. military, although in this economy, no opportunity should be denied anyone because of gender or sexuality. It's about the Mango Mussolini's ongoing assault on LGBT rights from January 2017 when he removed all content regarding LGBT civil rights from the whitehouse.gov websites, to February when he rescinded protections for transgender students on their use of restrooms in public schools, to March when he revoked protections for LGBT workers against discrimination in hiring and employment, and now to this.
Meanwhile, the generals haven't signed off on any of it. They still want time to study the effect of trans people in the military. The tweets were just a loud, mean, nasty, toxic signal to Trump's religious and bigoted supporters. It also shows that #GaysforTrump are #ChumpsforTrump, that T(he) RUMP's old tweet vowing to "fight" for the LGBT community was nothing but the easily broken promise of a lifelong con-man.  

Post-Show Pleasures
Before we can say "go bonobos," the show's over, but the after-party continues into kisses, caresses, art-viewing and orgasms, even among the old people, even in the Trumpocalypse.
Coming up in September: The Bonobo Way of Great Sex at AdultCon.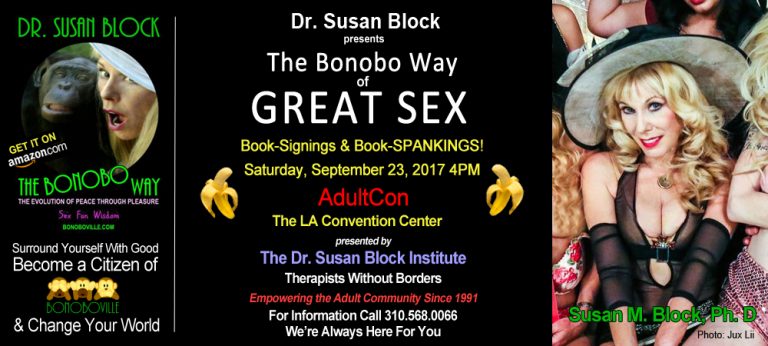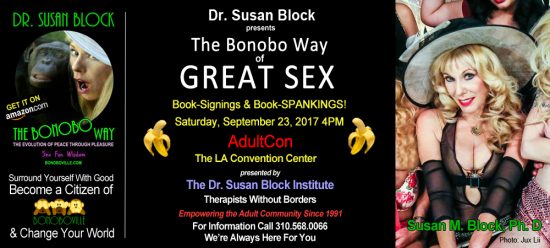 Thanks to Our Volunteers:  Videographers: Danny Hare, Jonathan Ibarra, Lamont Bellsarios, Johnny Jungle, Photographers – Christine Dupree, KZP, Prestalgia, Jux Lii;  On-Campus Bonobos – Abe Perez, Del Rey, Gypsy Bonobo, Harry Sapien, Jacquie Blu, MarsFX, Clemmy Cockatoo, Ana & Miguel. 
© July 29, 2017. Susan Block, Ph.D., a.k.a. "Dr. Suzy," is a world renowned LA sex therapist, author of The Bonobo Way: The Evolution of Peace through Pleasure and horny housewife, occasionally seen on HBO and other channels. For speaking engagements, call 310-568-0066.