Kinky Summer Summit in Bonoboville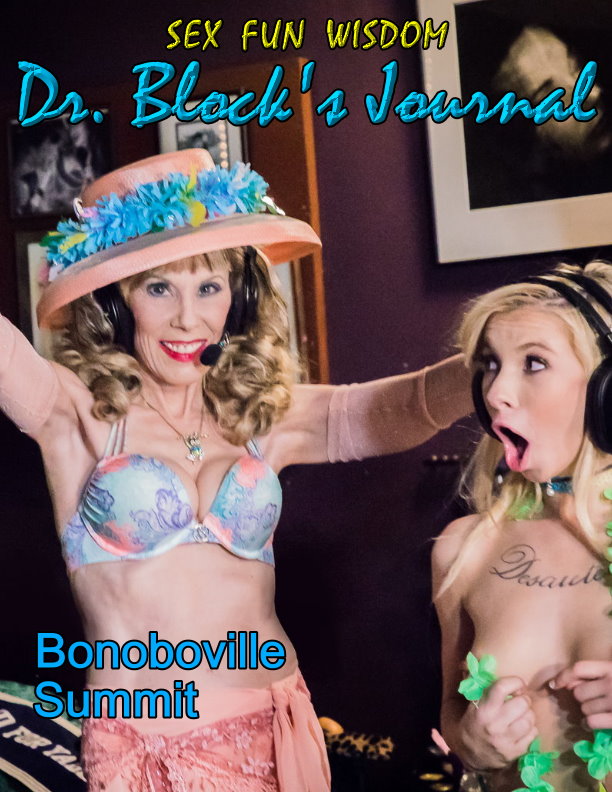 Length 01:47:01 Date: July 22, 2017
It's the G-10 Summit in the Womb Room of Bonoboville. We come together from all over this great country of ours, from New Hampshire, Michigan, Minnesota, North Carolina, Pennsylvania and several counties in the Golden State of California. We are brothers and sisters, lovers and sinners, raised in a variety of great and not-so-great American temples and churches (Mormon, Lutheran, Adventist, Jewish and Wiccan, to name a few). We are artists and exhibitionists, voyeurs and connoisseurs, kinksters and couples, porn stars and presidents.
That is, one of us is an unpresidented President Donald J. Trump, aka tRUMP, "impersonator."
Cheato the White House Bandito
Our Trump impersonator looks kind of like the real one, with his tangerine Caucasian complexion, stoplight-red "Make America Great Again" trucker's cap, matching tie (with Confederate flag pin), crazy urine-colored hair, golfer's paunch, double chin, shifty eyes and surly, whining, hungry-for-love attitude. He also seems a little overwhelmed and confused—kind of like the real Trump at G-20.
When I ask him, "Mr. President, if you can pardon yourself, as you seem more than ready to do, can you please fire yourself—and Pence?", he replies, "Nyet." Russian dressing with a Queens accent. Just like the real one.
As we all now know, the mendacious Mango Man-Child doesn't really care about anything but himself, and maybe his children and grandchildren, insofar as they are better-looking extensions of himself. So, on any given issue, he could go any which way, and has expressed every view possible in his long, embarrassing and (for me) extremely irritating "career" in the public eye, depending on which way the wind is blowing. Whatever his waffling rhetoric, as a president, he has shown himself to be a puppet in the pocket of the plutocracy. If that sounds like a lot of pee-pee, well, there's probably some truth to that urinating Russian hookers story that won't die, which doesn't bother me anywhere near as much as his support, both stated and implied, for the worst Republican policies that money can buy, putting more money into the already bursting pockets of the rich, ravaging the rest of us and hastening the ecological destruction of life on Mother Earth.
At least our tRUMP impersonator recognizes the benefits of going bonobos in Bonoboville… especially when a beautiful naked woman—acclaimed Hollywood actress Daniele Watts—sits in his big lonely lap. But then again, who wouldn't?
He's also a (relatively) good sport; he even gets down on his hands and knees for a Bonobo Way book–spanking (be well-read or get, well… red!), which is more than can be said for the real one. A lot more.
Porno Romance: Kenzie Reeves & Kyle Mason
My other guests at the Bonoboville Summer Summit comprise a great cross-section of kink, art, hardcore porn and bonobo love.
First up on my bed for Bonoboville Communion are porn star power couple Kenzie Reeves and Kyle Mason. Four months ago, when Kyle had been in porn for less than a year and Kenzie was brand new, they "met cute" on a porno shoot.
PHOTOS 1 & 3: WHOISBIGMAC.  PHOTO 2: DRAGON BLADE DESIGN
Speaking of cute, Kenzie is freaking adorable—all 90 pounds of her. She's just 4'10" in flip-flops and so sweet, one's immediate impression is that she's a junior high school gymnast. Therefore, I feel like I have to make clear that she's actually 20 years old.
This means that according to Cali state law, she not old enough to receive the Agwa de Bolivia Herbal Coca Leaf Liqueur "Waterboarding" that goes with receiving Bonoboville Communion. But she is old enough to be the Altar Girl. After I demonstrate the Communion Ritual on Gypsy's lovely mammarian altar, Kenzie bares her perky 30Bs for Kyle's talented tongue.
Kenzie is also old enough to remove her pants—and panties!—to the catchy SUZY award-winning tune of Carmina Formosa's "The Kinkster," and she remains delightfully pants-less throughout the rest of the show.
PHOTOS 1 & 2: WHOISBIGMAC.  PHOTO 3: JUX LII
The two of them, both up and coming stars on the adult entertainment scene, reveal more than *just* their physical attributes. As a young girl in New Hampshire, Kenzie's original career aspiration was to be a psychiatric nurse, but ultimately she chose porn in part because it's a more "honest" profession. The other part is that, just like her T-shirt says, she's always been a bit of a "Troublemaker."
Here in Bonoboville, we like Kenzie's kind of "trouble," but it may have been a bit much for the Latter-Day Saints in the New Hampshire Mormon community in which she was raised. To their great credit, most members of her family still love her (though how could you not love this charming little sprite?) and even respect her choice to employ her many skills and charms in the field of xxx-rated porn. At least, some of them do.
Kyle grew up Lutheran, like most Minnesotans, which isn't as sex-negative a church as many branches of the great tree of Christendom. On the other hand, he observes, Lutheran Communion is nowhere near as good as Bonoboville Communion.
Maybe I've got Trumpocalypse fever, maybe we all do. But Kenzie looks like a mini-Ivanka Trump. Kenzie is much prettier, not to mention smarter, than the real, partially plastic Ivanka, whom Bill Maher refers to as "Trump's daughter-wife." But Kenzie certainly gets our tRUMP impersonator gawking, drooling and muttering, "Incest is best." That's not an exact Presidential quote, though he's come pretty close, having said that the one interest he and Ivanka have in common is "sex," and that if she weren't his daughter, he'd "date" her.
Dating Kinky with Nookie & Jacquie
Speaking of dating, our next featured guest is "Dating Kinky" webmistress Heather Claus, aka "Nookie." Heather/Nookie's backstory is that she's known Jacquie Blu since she was eight years old when her parents and Jacquie were swingers in North Carolina. Now Nookie is all grown up, a self-professed "sex geek" (not a nerd!) deep in the creative process of developing a dating website to help fellow kinksters connect.
Nookie and Jacquie haven't seen each other in over a decade, so it seems fitting and rather poignant that they share a round of Bonoboville Communion. Nookie chooses to be the Communion Altar, providing the instep of her nicely pedicured right foot for Jacquie to lick up the sacred Communion Salt. Then Jacquie leans back against her friend's legs to receive her Waterboarding, Bonobo-Style with Agwa. What a beautiful, bonoboësque moment!
Also accompanying Nookie is her lovely, corseted and bespectacled assistant Selene. Quiet throughout most of the show, Selene approaches me and Capt'n Max (separately) and tells us that over the years, she has downloaded various cable TV episodes of The Dr. Susan Block Show (many now viewable on our "Sex Calls" channel on Youtube), and edited them for her goddaughter and son to watch and learn about sex. Wow, what a terrific mom!
Sorry, Donald and Ivanka, but I don't think Nookie's Dating Kinky site is kinky enough to match up fathers and their actual daughters. But far as fantasy roleplay, BDSM and other types of kink go, it sounds like the cyberplace to meet and mingle.
The Chef & Daniele: Shipwrecked Sailor & Trump-Besotted Actress
Just after Communion, pansensual power couple, Daniele Watts and Chef Be*Live, enter the Womb Room, to the adoring cheers of the congregation.
Daniele is wearing nothing but a torn white nightie which she soon pulls up over her head to reveal her magnificent, all-natural, yoga-fit body.
Unfortunately, our favorite "Rawk Star" Chef is rawking a right-arm cast over a hand injury sustained whilst trying to impress his beloved newly-wedded wifey by doing a fancy skateboarding spin that spun him right into the ER.  Misfortune or not, our beloved Be*Live is always willing to learn from his experience, and this one is teaching him a lot about pain management and how to turn pain into pleasure through meditation—kind of like "sub space" in BDSM. Feel better soon, Be*Live!

Meanwhile, Daniele expresses her naked lust for tRUMP which our impersonator laps up like a thirsty dog.
PHOTOS 1-3: JUX LII.  PHOTO 4: DRAGON BLADE DESIGN.
Then I spank him—and her—with the Bonobo Way. That's our Trumpocalypse Therapy for the day.
Sheree Rose & Dominatrixes Against Donald Trump (D.A.D.)
At some point during these shenanigans, the fabulous Sheree Rose slips into the Womb Room, just one week later than when she was scheduled to be here with her performance partner, Rhiannon Aarons, last Saturday. Both are flying off to Mother England with Jeffrey Vallance to do a series of performances at a London gallery next week. Sheree, Rhiannon and Mistress Tara Indiana are all members of D.A.D., aka Dominatrixes Against Donald Trump.
Like a pretty band-aid on a festering wound, Daniele shows our tRUMP impersonator some bonobo love. I must confess, it perturbs me to see even a Trump surrogate getting so much undeserved erotic affection from such a beautiful goddess, despite the fact that I know he needs it, since Melania won't even hold his tiny hands. Though he appears to have received a lot of it from French President Emmanuel Macron, about whom he couldn't stop gushing in his latest NYT interview that reads more like a confessional, or maybe a therapy session.
"Macron loved holding my hand!" our unpresidented President croons plaintively, not once or twice, but four times. Hey, I'm all for True Bromance and Hot Bro-Jobs, but the videos we've seen show Trump man-hand-grabbing and Macron acceding with as much French savoir faire as the new young president can muster.
Here in Bonoboville, we welcome Trump supporters (though keep your guns in your cars, please) as well as our comrades in the Resistance. We might like you better if you don't like Trump, but, as Ikkor the Wolf sings later in the show, "We Are One," no matter whom we might like or dislike. We are all responsible for the Trumpocalypse and we must all work and play together to navigate and perambulate ourselves out of it.  I'd like for this to happen, well, yesterday, but I can see now that it will take a while, because a part of us—all of us, his supporters and detractors—is reveling in the sordid saga of the Trump Crime Family drama.
Cosmo 69 Redux
Back to sex. After the break, I ask Kenzie and Kyle to act out the 69 position I describe in the July issue of Cosmopolitan Magazine, with a banana standing in for Kyle's cock which is, apparently, "signed out" for this show.   That's cool, as Kenzie looks like a blonde bonobo essentially inhaling the banana as Kyle enthusiastically devours her lady-parts.

Back again to politics. Don't miss Cosmo's September issue (out in August) when I will give some tips on what to do if you are suffering from Post-Trump Sex Disorder.
We Are One… Aren't We?
Ikkor the Wolf takes center-stage, wearing a snappy silver suit, like he's ready to take a meeting with Don, Jr. and some Russians in Trump Towers.
He's actually just come from a birthday party for Danny Glover, a really wonderful guy whom I interviewed at the Hollywood Show in 2015.
First, Ikkor, the son of pioneer film director Cliff Roquemore, raps "She Bad."
That gets Kenzie and Daniele popping their nudey booties, as the rest of us "bad" gals wiggle along.
Then, Sheree takes off Ikkor's jacket and shirt, and I ask him to sing "We Are One," for the sake of our tRUMP impersonator's Bonobo Way education and all of our inspiration.
It may seem like we're more divided than ever.
But we are, indeed, "one"— one family, one resource-sharing community, one erotic ecosystem, one society of gadget-dependent farmers who are, in many ways, returning to our roots as hunter-gatherers—and we are on the Bonobo Way.
As Sheree reminds us, the reactionary shitshow in the White House and Congress is just a backlash to the progress we have made and are still making toward becoming a more united, inclusive, tolerant, sex-positive, female-empowered, bonoboësque society. At least, we hope it is.
In this Bizarro World, we are grateful for Trump's grandiose incompetence because thus far, it has translated into not getting his dismal agenda accomplished. That can change any minute, but for now we celebrate the latest well-deserved failure of TrumpCare, though the battle for decent, equitable health care in America rages on… and limps along.
Meanwhile, the after-party picks up where the show leaves off. Here in Bonoboville, we will party on until The End.
Then Capt'n Max and I slip away for private pleasures, orgasms and fantasies arising from memories of another great, sexy night in the Garden of Bonoboville.
 And we become "one," which we always are, even if we don't always feel that way.
We
Are
One.
And, oh yeah: Happy Birthday Harry Sapien!!!
Thanks to Our Volunteers:  Videographers: Jared Liebenau, Michael Sullivan, Blake Adams (Facebook Cam); Photographers – Marcus, James,  Carter, Joseph Rivas, WhoisBigMac;  On-Campus Bonobos – Abe Perez, Del Rey, Gypsy Bonobo, Harry Sapien, Jacquie Blu, MarsFX, Johnny Jungle, Clemmy Cockatoo, Ana & Miguel. 
© July 23 2017. Susan Block, Ph.D., a.k.a. "Dr. Suzy," is a world renowned LA sex therapist, author of The Bonobo Way: The Evolution of Peace through Pleasure and horny housewife, occasionally seen on HBO and other channels. For speaking engagements, call 310-568-0066.