Jour de Bastille en BonoboVille!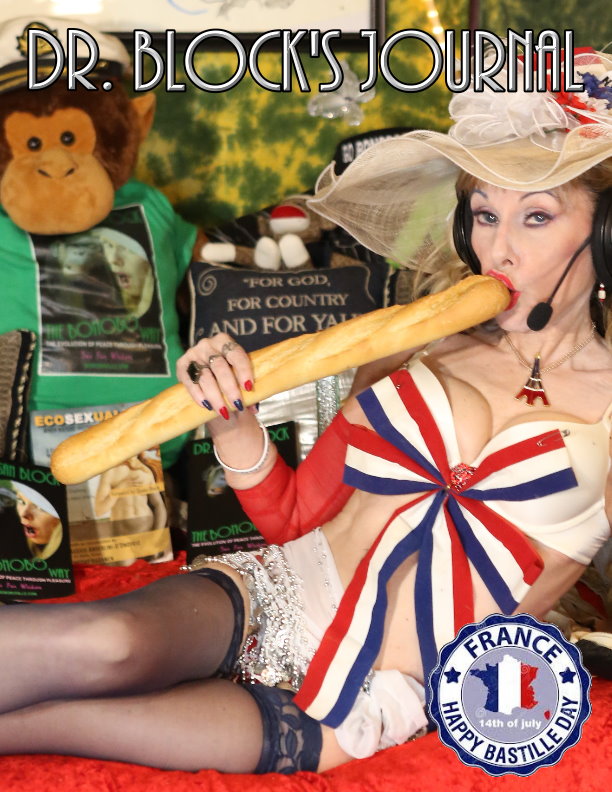 Length 01:31:13 Date: July 15, 2017
Liberté, Égalité, Fraternité…Sexualité!  Joyeux Quatorze Juillet! Joyeux le Jour de Gloire! Joyeux Jour Bastille!  Ou comme nous disons dans l'anglais "Happy Bastille Day!"
And what a Happy Bastille Day Saturday night it is in BonoboVille. Not that it goes according to plan, not my plan anyway. As I've often observed, even the best-laid plans may not get you laid the way you planned. One featured guest can't make it, but someone new fills in, and the show fairly vibrates joy, sex, fun, wisdom, politics, la résistance erotique, coquettes and baguettes (which make great spanking paddles!), as well as three screaming orgasms on the Motorbunny, the Bonoboville equivalent to the "storming of the Bastille."
That is the crux of Bastille Day, even though the French don't actually call it Bastille Day or even "Jour Bastille"; they prefer to say "Jour de Gloire," "la Fête Nationale de la République Française" or simply "Quatorze Juillet." The celebration does commemorate the 14th of July, 1789, one of the opening shots of the French Revolution, aka the "storming of the Bastille," when old ideas about hierarchy, monarchy and religious authority were overthrown by the new Enlightenment principles of Liberté, Égalité, Fraternité. Though the "storming of the Bastille" has a sexy ring to it, the event itself was rather bloody, including a mob lynching of the Bastille Governor, followed, over the years, by massive executions via the infamous French guillotine. Here in BonoboVille, we'd rather make love not war. Instead of the guillotine, we just spank your sweet derrière with a nice hard baguette.
Featured Guests: Rhiannon & Stormy                                                
First to wield the spanking baguette is the multi-talented Rhiannon Aarons, artist, publisher, real-life MILF, performance art collaborator with our old friend Sheree Rose and a recent graduate of California State University, Long Beach with a Master of Fine Arts (MFA) degree. She is also a proud member of Dominatrixes Against Donald Trump (D.A.D.), founded and directed by Mistress Tara Indiana. One of D.A.D.'s projects, entitled "Pissed Off," involves Mistress Tara performing an erotic art installation at the Trump Towers public space in which she urinates on a willing Trump surrogate/submissive. On Trump's inaugural weekend, Mistress Tara, Rhiannon, Jacquie Blu and I did a dry run… well, actually it was a very wet run which you can see in "Trump's Golden Shower: Therapy for the Trumpocalypse" now playing uncensored on Clip-O-Rama. If you're cheap or squeamish, you can watch the censored promo on YouTube.
For this show, Rhiannon brings her friend Stormy Squires, a pro-switch at The Dominion who takes a "spiritual" approach to domination and BDSM. The two of them, and Gypsy Bonobo, join me in our weekly Trumpocalypse Therapy session, spanking our Trump Doll's balls with a baguette, and squeezing our mini-Donald, aka Junior, the current center of attention in Trump Crime Family's ongoing RussiaGate fiasco.
RussiaGate & the Mini-Don
Apparently, Donnie Boy, who likes hunting endangered species, colluded with some Russians who are eager for the U.S. to overturn the Magnitsky Act and end sanctions against some of Putin's oligarch friends who probably arranged for this whistleblower named Sergei Magnitsky to be murdered mysteriously in prison. When the U.S. sanctioned his bros, Putin put a freeze on Americans adopting Russian orphans. This is why when Junior says "all we talked about was adoptions," that's all the Special Prosecutor needs to know.
So, the mini-Don is looking guiltier, as well as implicating other members of the Trump Crime Family, such as his beloved bro-in-law, who was at the meeting, and the current POTUS, though he denies knowing anything, even as he trumpets that there's really nothing to know.
Photos: Jun Tao
However, unless it's proven that these Russian Trump supporters hacked our voting machines, well… the Mango Man-Child is at the helm of far WORSE disasters, such as the Healthcare fiasco, tax cuts for the rich with nothing for the 99%, curtailments on women's reproductive rights, racist immigration policies, a casual disdain for our American freedoms, education and democratic institutions, a war on the press, an insanely high increase in military spending and, worst and most deadly of all, contempt for the environment in which we all have to live. An iceberg the size of the Great State of Delaware has just broken off from Antarctica, but Trump and his EPA chief (as well as most Republican congressmen and some Democrats) are flat-out climate changer-deniers openly committed to choking the very life out of Mother Earth for the sake of a few more dollars or rubles in their pockets. That's the real scandal of this Trumped Up administration. 
Honestly, the one thing I almost like about Trump is his "bromance" with Putin and his on-and-off desire to have a non-hostile relationship with Russia. And yes, he lies about his dealings with Russia, Junior lies about it, Jared perjures himself, Ivanka smiles; they all lie as often as their lips move. They are the lying, crying, denying Trump Crime Family, criminally involved with Russian mobsters since the 1980s, and they represent a deadly cancer growing and spreading through the sick body of America.
So RussiaGate, Schmussia-Gate; but hey, if this is the hammer (and sickle) that must be used to chop down this toxic House of Marked Trump Cards, then I'm all for it. Representative Brad Sherman (D-Calif.) just formally introduced an article of impeachment against Trump, accusing him of obstructing the Russian investigation. Even Shep Smith of Fox News and maybe Rupert Murdoch himself (influenced by his marriage to Mick Jagger's ex, Jerry Hall?) are jumping on the RussiaGate bandwagon, so full-speed ahead! Just please don't let it go nuclear.
A French Bromance or Man-Hand-Grabbing?

Speaking of Presidential Bromance, how about that 30 second Bastille Day handshake between an obviously affection-starved Trump (Melania won't hold his hand) and an extremely accommodating (or coerced?) French President Emmanuel Macron? This wasn't just a handshake; it was a full-body make-out session, including considerable chest-patting, cuddling and tugging to the point that Macron almost fell over into Trump's extremely accommodating belly. When Trumpty Dumpty then kissed and hand-grabbed French First Lady Brigitte Macron (Mrs. "Good Shape"), without letting go of her husband's precious hand, it became a ménage à trois aux mains, with the lovely Melania demurely assuming her designated role as voyeur.
Personally, I don't mind Presidential sex shenanigans like this. In fact, I think it's great—and very bonoboësque—if it's consensual and their wives approve. Hey, let them give each other bro-jobs, especially if it sways our touchy-feely Narcissist-in-Chief into signing the Paris Climate Accords.
By that time, maybe the impeachment proceedings will be underway. However, I know that with a Republican congress busy fellating the Koch Brothers and other billionaire super-polluters that it is an unlikely scenario, but a safety-pin, ecosexual liberal gal like me can fantasize, can't she? In the meantime, there's always my weekly dose of Trumpocalypse Therapy, which is really quite a hoot during this show with Rhiannon, Stormy and Gypsy all helping me to punish, gag and restrain the two Donnies.
Baguette Spankings & BonoboVille Communion
Then we break bread—and buns—with baguette spankings, a BonoboVille Bastille Day tradition.

First, Rhiannon baguette-spanks Stormy whose tough little buns break the bread. "My safe word is 'gluten'," says Stormy. She never uses it.

Then I baguette-spank Rhiannon, first with the cellophane wrapper on, which is kind of like having sex with a condom. When I take off the wrapper to give it to her "bareback," the impact is rather "stingy," and after a few well-placed wallops, Rhiannon calls it quits. So, you could say that "the bread breaks her buns."
She more than makes up for it by inducting her friend Stormy into the erotic and rather "spiritual" mysteries of BonoboVille Communion and Waterboarding, Bonobo-Style with Agwa. What a lovely bonoboësque sight to behold: just two friends sharing a lick and a drink, but really, so much more.
It's especially interesting for Stormy who was confirmed in the Catholic Church and whose First Communion sounds like it was a bit of a let-down. In contrast, Communion à la BonoboVille is a sexual revelation for everyone in our little Cathédrale BonoboVille.
Santé Bonheur! That means "To your health!" (not "may you get a boner").
Motorbunny Up the Rabbit Hole
After the break, Rhiannon rides the Motorbunny. Being a recent MFA grad, we decide to up the intellectual ante on her sapiosexual experience and interrogate her about her Master's Thesis as she rides the vibrating machine.
Nurse Gypsy changes the saran wrap that we always wrap around the Motorbunny; we are nothing if not sanitary and safer-sex oriented here on DrSuzy.Tv. Then Rhiannon mounts the machine and immediately notices that it feels "wider" than the Sybian.
As I slowly turn up the vibrations, I ask her questions about her thesis, which happens to be called "Rabbit Hole." Her master's performance art piece with collaborator Sheree Rose involved "pulling a rabbit out of (her) hole." Between the Rabbit Hole recitation and the Motorbunny vibrations, she has three rip-roaring orgasms.
Meanwhile, Stormy and I spank her jiggling butt with more baguettes. This time, Rhiannon's buns break my baguette. Trois Hourras pour Rhiannon!
The Porno Fairy & My Bastille
Just before we close the show (and wish Del Rey Bonobo a Happy Life Day!), Miss Aarons, who is wearing a pair of my wings, transforms into the Porno Fairy and, with Gypsy holding her giant treasure chest, she gaily distributes old adult DVDs to the needy in the Womb Room.
Then off we go into the after-party and the twinkling Garden of Bonoboville. As the crowd disperses, Capt'n Max and I ascend the stairs to "storm the Bastille" between my legs. Oooh-la-la! Liberté, Égalité, Fraternité…Sexualité! Vive la Résistance. 

Thanks to Our Volunteers:  Videographers: Jared Matthew, Michael Sullivan (Facebook Cam); Photographers – Slick Rick, Jun Tao, Ben Lolo, Oz;  On-Campus Bonobos – Abe Perez, Del Rey, Gypsy Bonobo, Harry Sapien, Jacquie Blu, MarsFX, Johnny Jungle, Clemmy Cockatoo, Ana & Miguel. 
© July 15, 2017. Susan Block, Ph.D., a.k.a. "Dr. Suzy," is a world renowned LA sex therapist, author of The Bonobo Way: The Evolution of Peace through Pleasure and horny housewife, occasionally seen on HBO and other channels. For speaking engagements, call 310-568-0066.