Hot Summer Power Plays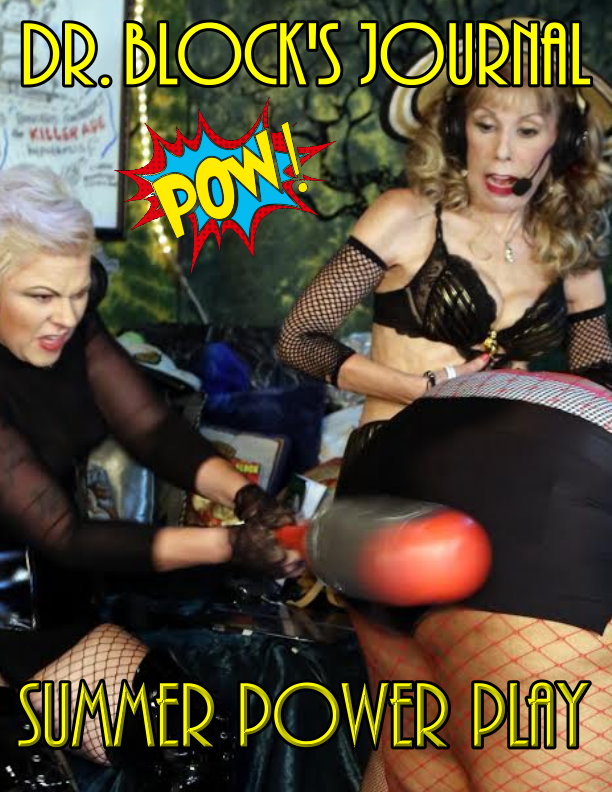 Length 01:39:15 Date: July 8, 2017
It's over 90 degrees in the Garden of Bonoboville, and my guests really turn up the heat with smoking hot naked bodies and blazing enthusiasm. This show sizzles, glows, power-plays and then explodes in your mouth, among other places, into a delicious icing-splosh orgy!
Trumpian Hypocrisy
Before we party, we pray. Not really, but we do hold our noses and take a peek at the week in the news: The Trumps do Europe! Why does this look more like a family holiday fashion show than a diplomatic trip? The Trump women, including Trump's wife Ivanka–I mean Melania—and yes, the "Crown Princess" herself, wear flamboyant dresses, showing off their bare arms in slinky sleeveless numbers that are banned from the lobby of Congress. Remember when the Right made such a sanctimonious stink about Michelle Obama's bare arms? Apparently, they're okay with Melania and Ivanka's naked biceps, and with Trump appearing to choke in yet another expensive, ill-fitting suit.
Sartorial codes aside, The Rump's Warsaw speech was a flagrant display of proto-fascist hypocrisy that has had most of the mainstream media, apparently spanked into submission as "fake news," now fellating our unpresidented President with ludicrous flattery for his "statesmanship."
"Do we have the desire and the courage to preserve our civilization in the face of those who would subvert and destroy it?" he intoned from a script. And what a crock of pure baloney coming from Donald Drumpf who embodies the most potent threat that Western Civilization faces today. Not Isis, not taxes, not "government bureaucracy," but this most powerful clown in the world is threatening and sometimes seriously attempting to "subvert and destroy" what were once considered the West's—and America's–most basic values: liberty, decency, fairness, environmental responsibility and freedom of the press, to name a few.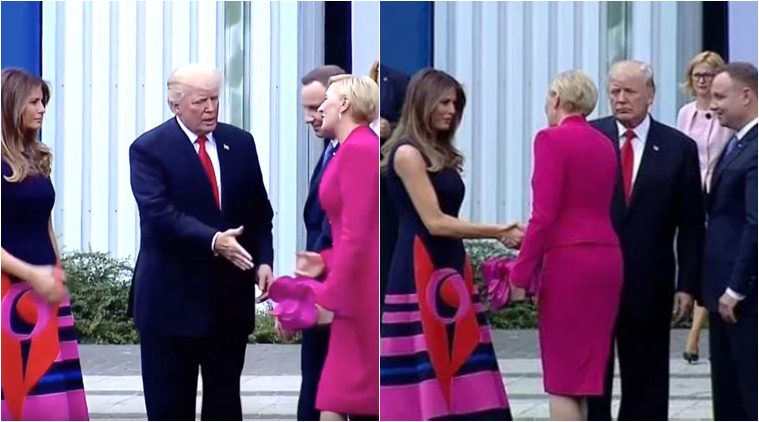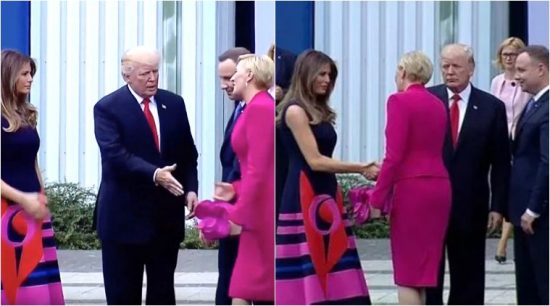 There he was—the crass plutocratic narcissist who would pull out of the Paris climate accords and slam the door on immigrants, who would take away women's reproductive freedom and LGBTQ rights just to please his right-wing religious base, who would let the poor and sick die without care just to put a few more shekels (or rubles?) into the deep, greedy pockets of fellow billionaires and defense contractors, and who also happens to be the first U.S. President in 25 years not to visit the Warsaw Ghetto Memorial, sending the Crown Princess instead. Preening like cock of the walk before a literally "fake audience" of cheering, white-Christian-nationalists bused in for the occasion. At least the Polish First Lady, proto-fascist or not, had the good grace to waltz past Trump's open, grabby little hand (after all, she doesn't know whose pussy it may have just grabbed) to shake Melania's hand first.
There were also some vivid protests, including a gaggle of gals dressed up like the breeding slavegirls in The Handmaid's Tale. Unfortunately for us, Margaret Atwood's brilliant, cautionary, dystopian story (which I read several times back in the 1980s and which is now a Hulu TV series), about a fantasy fascist, militaristic, Christian Bible-based government taking away women's reproductive rights rings all too close to home in our current political climate.
From this monstrosity of pomposity, T-Rump lumbered into G20 Summit where he utterly humiliated America, looking lost, pathetic and strangely alone much of the time, even surrendering his seat between fellow world leaders to Crown Princess Ivanka, when the appropriate thing for a world leader to do if he can't attend a session would be to have the Secretary of State or another government minister sit in for him, not his darling, unqualified daughter. Beyond that, Trumpty-Dumpty assumed no leadership role whatsoever, looking sheepish and ingratiating in front of a chuckling Putin, representing nothing less than the abject decline of the once-great USA as a moral and political world power.
Trumpocalypse Therapy for Madame Rose
What to do about this sad, brain-draining and genuinely dangerous state of American affairs? Well, there's a lot to do—protest, organize, resist, etc. Though there are no instant solutions, there is "therapy" for the Trumpocalypse. Here in Bonoboville, part of our "Trumpocalypse Therapy" involves keeping our collared, dunce-hatted Trump dickhead doll with the micro-peepee under gag order with a penis pacifier, so at least he can't spout his lies and, dare I say, "vulgarities," on our show.
Yes, it's just a surrogate for the real thing, but surrogates can be therapeutic. We also spank our Trump surrogate with The Bonobo Way, whacking some bonobo sense into his ignorant over-privileged ass! Actually, on this particular show, I delegate that honor to my first guest, vivacious Sanctuary pro-Domme, exhibitionist and fetishist, Madame Rose, all decked out, despite the heat, in shiny over-the-knee black boots adorned with a posh "Impeach Trump" button (designed by Clemmy).
Warmed up from the book–spanking, Madame Rose then passionately pummels the big, tiny-dicked prick with her fists. This is true "Trumpocalypse Therapy," and our guests—especially the FemDoms—seem to relish the opportunity to dish out some much-needed discipline to our Big-Baby-in-Chief with twitchy short fingers so dangerously close to the Nuke Button.
A Spanking for Switch Em
Next up on the bed is the very voluptuous Switch Em, also from Sanctuary. She's pretty decked out herself, especially on top, her enormous 42Js held together with red and black lace and topped off with a fashionable "Femocracy NOW" button.
A professional as well as lifestyle "switch," Em is sometimes dominant, other times submissive, depending on the situation and partners involved. On this show, she glides back and forth between the two roles with pleasure and enthusiasm for both.
She starts by submitting to a sound spanking from Madame Rose's personally labelled bat, actually a whiffle ball bat the color of Trump's complexion. Madame Rose whacks Em's butt pretty hard—just the way she likes it—but ultimately, Em's butt beats the bat… which breaks! Undeterred, Madame Rose then hand-spanks Em's ass and gives it a good flogging.
Bonoboville Communion for Boob-Lovers
All that spanking is thirsty work, so it's time for Bonoboville Communion with Agwa de Bolivia Herbal Coca Leaf Liqueur.

After a sapiosexually stimulating discussion about the religious roots of this beloved Bonoboville ritual, I demonstrate how it's done with Gypsy Bonobo's lovely tattas serving as My Altar of Deliciousness.
Just after the reveal, she tosses her bra at Ikkor the Wolf who catches it like Kobe, sniffs it and proceeds to wear it around his neck for pretty much the rest of the night.
Then Em unveils her altar. Wow. They are indeed "42Js," twin Mount Fujis of Fun.
Madame Rose is so excited to take Communion from them that she knocks over my shotglass of Agwa, the contents of which spill refreshingly into my hot lap. Sweetly and even somewhat submissively, she then licks up the Agwa from my sticky thighs. Nice tongue work, Madame Rose!
Then she suckles her Communion salt from Em's mammoth melons, and takes her Waterboarding, Bonobo-Style with a gulp, a good swallow and a big smile.
Even during the break, Madame Rose and Switch Em continue power-playing.
Happy Birthday Mom!
This show celebrates several Bonoboville birthdays. Not only is Ikkor the Wolf continuing his "Life Day" (aka birthday) celebrations (started on last Saturday's show), but it's his friend, sexy porn star Rachael Cavalli's birthday as well. It's also an audience member's birthday, or maybe he just said that to get a birthday spanking. Since my birthday, it seems like Bonoboville has become Birthday Central.
It does happen that the live broadcast of this show, July 8th, falls upon my late Mom's birthday. Happy Birthday Mom! She'd be 98 if she were alive, so I show some photos of her as a young girl, and with Max.
Capt'n Max and Capt'n Mom had a lot in common: both artists, ahead of their time in different ways, both into progressive politics, home decorating, good food, entertaining; both with a deep sense of fairness, generosity and profound goodness. They both loved the sea and, well, they both loved me. My Mom and Max, whom she called Mickey, are the two people in my life to whom I've been closest. They accepted me for who I was, and helped to make me who I am, for which I am grateful every moment of every day. Not that I was grateful as a kid. Actually, I was a pretty ungrateful brat, but my dear Mother taught me the joy and power of gratefulness, and I'm still learning it every day.
Like me, my Mom loved to celebrate holidays, but she wasn't religious. She wasn't a raving atheist, but she wouldn't want me to talk about her being in heaven or anything. So I just say, "I'm thinking about you, Mom, on your birthday. I think about you every day, in a way, but even you would agree that a birthday is a special day. So, I'm not just thinking about you, I'm talking about you, so that everyone who happens to be listening can know what a wonderful woman, artist, wife, friend and mother you were and, in my heart, you still are."
Then, we go back to our Bonoboville birthday celebrations, some of which Mom might find kind of outrageous, but I'm pretty sure she'd be supportive of the artistic and therapeutic nature of our work, play and bonoboesque philosophy of love.
Body-Licking Birthday Cake Communion
Rachael Cavalli is brand new to adult entertainment, fresh from Mike Pence country, the ultra-conservative cornfields of Indiana.

As she puts it, she's going "from corn to porn." With that hot, toned body, 34DDs, corn-colored hair, mischievous smile and positive attitude, we predict she'll go far!
She shares her DDs with Ikkor who dofs his #Bonoboville top for her. The two "Life Day" pals communing with each other's hot bodies and happy birthday spirits is a beautiful sight to behold.
Then it's Cake Time. Since we spent most of Ikkor's "Bonoboville Birthday Cake Budget" last Saturday, all he gets is a cupcake… which he has to share with Rachael, though as good bonobo sapiens, they don't seem to mind sharing.
And oh, what a cupcake it is! Bigger than Trump's inaugural and almost as huge as Em's boobs! Not really, but it does have eco-sexy green icing, which we soon put to good use, sploshing and licking it off of each others' nipples and other delectable parts, with Carmina Formosa's "The Kinkster," winner of the 2016 SUZY award for "Most Bonobo Song" as our soundtrack.
Into this oral kink-fest crawls Mpenzi Barbie, Sanctuary submissive (most recently seen riding the Motorbunny into four orgasms on Summer Magic) on her hands and knees. Soon she strips off her playsuit and becomes the naked dish for Ikkor to paint his green-icing fantasies on her Barbie-doll thighs and natural bush, as Madame Rose zooms in for the licks. Personally, I take my cake from Em's big babushkas. Mmmm-mmmm Em!
With all these lusty ladies of Sanctuary brightening up my Womb Room, I give a shout-out to Mistress Cyan, who gave me my first adult birthday spanking in 2005, for providing a Sanctuary for kinksters of all kinds, as well as organizing DomCon year after year.
Then, Rachael strips off her dress and celebrates her birthday in her birthday suit.
Ikkor sings "She Bad," and all of us so-bad-we're-GOOD girls dance, like we're on World of Dance: Naked Edition. That is, Rachael and Mpenzie are gloriously naked and Em is marvelously topless, and we all toss off our inhibitions into the heat of the steamy night.
As we wind up the show, we float on the heat wave out to the bar and the twinkling Garden of Bonoboville where Capt'n Max, ass. producer Jacquie Blu, my first radio show assistant Janelle Hopkins from my KIEV days, and a bunch of Ikkor's friends have been watching us and having a ball. Birthday spankings spice up the garden party which are lusty, but quiet, so as not to disturb the neighbors.
Whereupon the Captain and I bid adieu to the garden gathering, and take all that super hot body-mind-and-soul stimulation up the twinkling stairs and into a very orgasmic (for our age!) marriage bed.
The Trumpocalypse is upon us, Brothers and Sisters, Lovers and Sinners. Nevertheless, we persist and resist, and we're thoroughly enjoying another hot—and very grateful—Bonobo Summer of Love.
Thanks to Our Volunteers: Videographers: Jared Matthew, Jim Burz, Michael Sullivan (Facebook Cam); Photographers – Jun Tao, Whoisbigmac. Chris N Photos, Calvin F Photos; On-Campus Bonobos – Abe Perez, Del Rey, Gypsy Bonobo, Harry Sapien, Jacquie Blu, MarsFX, Johnny Jungle, Clemmy Cockatoo, Ana & Miguel.
© July 8, 2017. Susan Block, Ph.D., a.k.a. "Dr. Suzy," is a world renowned LA sex therapist, author of The Bonobo Way: The Evolution of Peace through Pleasure and horny housewife, occasionally seen on HBO and other channels. For speaking engagements, call 310-568-0066.
---
Explore DrSusanBlock.com
Need to talk? Sext? Webcam? Do it here. Have you watched the show? No? Feel the sex. Don't miss the Forbidden Photographs—Hot Stuff, look at them closely here. Join our private social media Society. Join us live in studio 😊. Go shopping. Gift shop or The Market Place. DrSusanBlock.tv, real sex TV at your toe tips. Sex Clips Anyone? FASHION, we have fashion! We also have politics. Politics? Have you Read the book? No? How about the Speakeasy Journal? Click here. Ok, how about some free sex advice?
---
---