It's Not TV. It's Dr. Suzy on HBO...

HBO SEX
Real Sex 11: The Dr. Susan Block Show, Radio Sex TV, Radio Sex TV 2: Off the Dial, & Real Sex 25: Dr. Suzy's Speakeasy on HBO +Vice on "Real Sex"
by Dr. Susan Block.
HBO was the place to go for adult entertainment that was as smart as it was sexy in those spicy, sex-exploratory years surrounding the turn of the 21st century. It also happened to be open-minded, informative, educational, empathetic, relatively nonjudgmental, funny and a lot of fun.
Real Sex was the flagship documentary series of HBO's rarely promoted but extremely popular sex-positive wing, and I was honored to have "The Dr. Susan Block Show" featured on Real Sex 11 and "Dr. Suzy's Speakeasy" on Real Sex 25, plus cameo-appearances in some of the first Real Sex segments with Annie Sprinkle and the Lifestyles Convention. The biggest jewels in our HBO crown were two half-hour #1 Nielsen-rated Real Sex spin-offs, Radio Sex TV with Dr. Susan Block and Radio Sex TV 2: Off the Dial.
Real Sex 11 features the Dr. Susan Block Show



Many sexual revolutionaries, sex educators, erotic artists, explorers, performers and sex-positive activists contributed to HBO's sex-revolutionary programming which was unprecedented in television history and unsurpassed ever since. Yes, with all due respect to Gil-Scott Heron, this mini Sexual Revolution was televised, and I was happy to be a part of it.
What's especially rewarding—to this day—is hearing how deeply viewers resonated with those shows and how much they learned from watching. Even the legendary Sheila Nevins herself, multiple Oscar and Emmy-winning "Real Sex" executive producer and HBO Vice President of Documentary Programming, said to me, "Thank you, Dr. Suzy, for showing me that sex education can be sexy."
Sheila also told an Emmys awards banquet that, with all her prestigious awards for her more "serious" documentaries, her true pride and joy was in her "Pussy Films," like Real Sex and Radio Sex TV.
After a couple of cameos, Real Sex director Patti Kaplan called, and the next thing we knew we were shooting our first full Real Sex segment was entitled "The Dr. Susan Block Show" on Real Sex 11 (see above). It featured me taking questions from callers on my radio show, syndicated on over 100 different stations around the country, as well as helping couples and other visitors explore their sexuality in my signature big brass bed.
Just like a TV chef does a show about cooking in a kitchen surrounded by pots and pans, I do a show about sex in a bed surrounded by the toys of the trade. Between segments, I'd relax by jilling off with a giant vibrator. We also had a great bar (we always have a great bar), couches and chairs for more guests in our home studio in a penthouse overlooking the Playboy Mansion that we called "Dr. Suzy's Speakeasy."
Radio Sex TV & Off the Dial on HBO

That first full Real Sex segment was such a hit that Sheila sent Emmy-winning producer (of "LAPD" and "America's Most Wanted") Dave Bell and an up-and-coming (soon to be Emmy-winning) director, Shari Cookson, to make a half-hour special with us… while Shari was six months pregnant! At first, Max and I didn't take this Cops dude and preggers gal too seriously. We were pretty wary of all *Hollywood People* who had been lying to us with a mediagenic smile for years already.
But Dave, Shari and Sheila won us over with their authenticity, sensitivity for our work, genius for compelling TV and—that rarest quality in Hollywood— honesty about what we were creating together.
Radio Sex TV took HBO viewers behind the scenes of my weekly sex talk radio show and into my bed to find out just how I practice what I preach and to see how I explored "Sex. Fun. Wisdom" with my callers and in-studio audience. As if that weren't enough, that first half-hour actually climaxed with me climaxing. That's right, it was the first real female orgasm broadcast on national TV!
Show Length 00:29:52 Date: 1997
I didn't win an Emmy (sex-positive programming hardly ever does), but RADIO SEX TV with Dr. Susan Block on HBO got great reviews and swept the Nielsen ratings, making viewers gasp with shock and delight. Amazed, amused, aroused and unable to move from their Barcaloungers, they even hung around to watch Dennis Miller, bumping him up to his highest ratings ever!
Enjoy some Full-Size video stills from
Radio Sex TV with Dr. Susan Block:


















Click on desired icon to see full size JPG.
And why not? Broadcasting live from my big brass bed in my beautiful boudoir-studio with
Capt'n Max
steering the MaxCam, we unleashed an exceptionally open forum on human sexuality with radio callers and television guests, discussing, demonstrating and engaging in all kinds of sex–from male and female genital anatomy to
ethical hedonism
,
secret love affairs
,
threesomes
,
vibrator
"addiction"
and
female ejaculation
.
When Radio Sex TV premiered, it received the highest ratings: a 9.3! Most shows achieved a rating of only 5 or 6 at that time. We swept the day, and landed third for the week. Over 10% of HBO subscribers watched me have a real live orgasm (among other activities); that's 2.5 million households! That certainly satisfied my exhibitionistic needs, to say the least.
Show Length 00:29:37 Date: 1998
Radio Sex TV2: Off the Dial received even higher ratings and better reviews. HBO called me "radio's sexiest, funniest, most outrageous sex therapist," and "if conversation is a sex act, then this Yale graduate has a very talented tongue."
Unfortunately, as we were rocking the ratings and blowing viewers' minds, HBO was changing CEOs—from Real Sex-positive Michael Fuchs to Jeffrey L. Bewkes. Their names rhymed, but they had rather different visions for HBO, at least as far as sex programming was concerned. Sheila's beloved "Pussy Films" notwithstanding, Bewkes and other new HBO executives decided to invest in programs that were *sexy* (though often subtly sex-negative) like Sex in the City, The Sopranos and Oz, instead of programs that focused on sex-positive sex education and real human exploration, like Real Sex and Radio Sex TV1 and 2.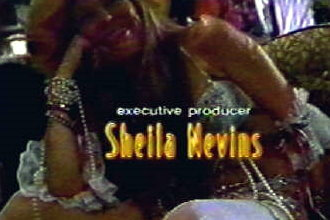 So, despite our high Nielsen ratings and rave reviews, we never did another Radio Sex TV. Within just a few years, Real Sex also quietly stopped making new episodes when it was still one of the most popular shows on cable TV. Then, after several years of highly rated reruns of both Real Sex and Radio Sex TV, they all vanished from the HBO airwaves.
Well, before it was all over, we did another Real Sex segment and wow, what a fantastic segment that was. Commedia Erotica in action!
Dr. Suzy's Speakeasy on Real Sex 25



We had long called our shows and gatherings "Speakeasies," because we "speak easy" about sexual topics that are not so easy to speak about. Then, in 1999, we moved into a real Speakeasy, built in the 1920s with an elegant vintage bar and lots of raw space in the "Soul" of Downtown LA (before it went corporate and pushed out the artists). Within a few months, we had our radio studio and art gallery built, more or less, and we invited a few friends to check out the new space.
At the time, U.S. President Bill Clinton had just been acquitted by the Senate after a neo-Puritanical Republican-controlled Congress had impeached him. I wasn't fond of many of Clinton's neoliberal policies, but as a sexologist, I didn't think a President should "lose his day job over getting a (consensual) blowjob," so we were also celebrating his acquittal with art, cigars and a big dildo sculpted in the President's likeness that I called Billdo.
As soon as we announced our Grand Opening Celebration, HBO called. They didn't want to miss this!
Of course, we wanted them to be there, and under Shari's direction and Sheila's supervision, HBO created an extraordinary, erotic, heart-warming, funny, subtly political, super bacchanalian and very sex-positive short documentary, "Dr. Suzy's Speakeasy" on HBO's inimitable Real Sex… unprecedented in television history and unsurpassed ever since.
Fun times!
Vice TV on "Real Sex"

For more behind-the-scenes tidbits on HBO's "Real Sex," watch "Sex Before the Internet" episode 5 on Vice TV featuring me, more stars and creators of the BEST mainstream TV human sexuality documentary series ever.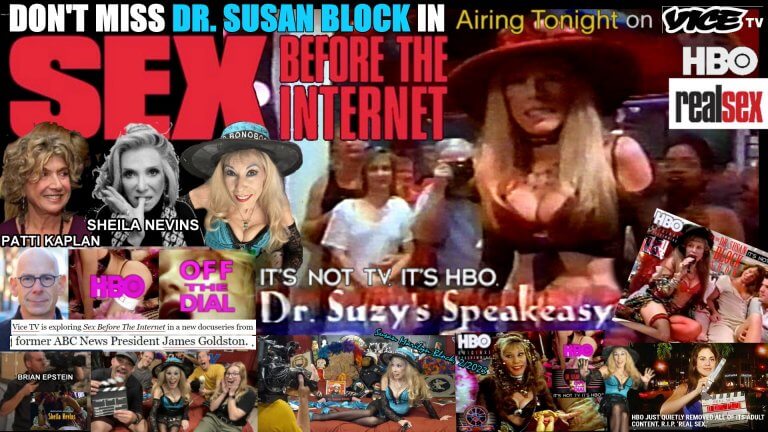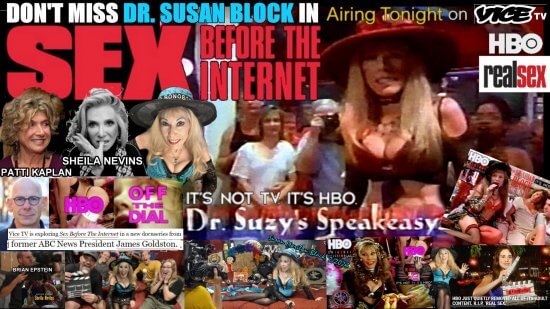 Also interviewed: the Emmy & Oscar-award-winning former Executive VP and Head of HBO Documentary Programming Sheila Nevins, former HBO President Michael Fuchs and "Real Sex" director Patti Kaplan. Series director: James Goldston. Watch it on Vice TV.
Want a taste? Here's a clip…
Sex. Fun. Wisdom!
© September 6, 2022 Susan Block, Ph.D., a.k.a. "Dr. Suzy," is a world renowned LA sexologist and sex therapist, author of The Bonobo Way: The Evolution of Peace through Pleasure, horny housewife, co-host of F.D.R. and host of The Dr. Susan Block Show. For information, call 626-461-5950.