Dr. Susan Block wins "Sexologist of the Year" (2021) for her third Glenny Award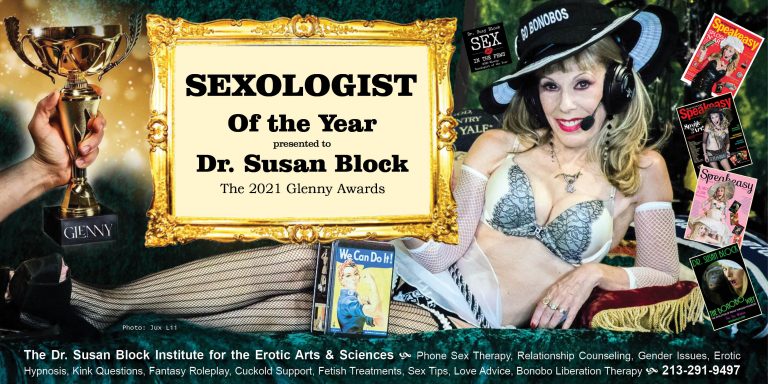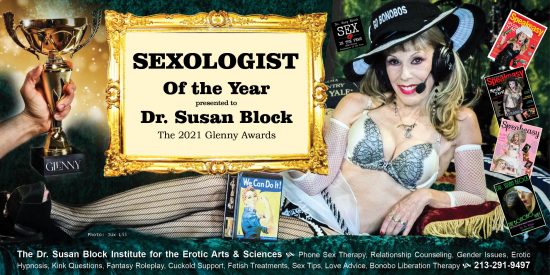 The Glenny Awards have announced that Dr. Susan Block is the winner of the "Sexologist of the Year" award 2021. Announced at the cusp of 2022, the Glennys are produced by Sex in the Pews and Glenn Klein Online host Glenn Klein.
Dr. Susan Block, a.k.a. "Dr. Suzy," has been a sexologist and sex therapist in private practice for 30 years. Perhaps best-known for her HBO specials, she hosts The Dr. Susan Block Show and co-hosts F.D.R. (F*ck Da Rich), along with her husband and collaborator, Pr. Maximillian R. Lobkowicz. She is also a bestselling author of several books, including her latest, The Bonobo Way: The Evolution of Peace through Pleasure, and an advocate for the highly endangered "Make Love Not War" bonobo apes. A longtime journalist and commentator, her columns on sexuality, politics, art and culture appear in Counterpunch and other publications, including her own Speakeasy Journal.
This is Dr. Suzy's third "Sexologist of the Year" Glenny award in a row! She won her first in 2019 for her premier "Sex in the Pews" interview (episode #58) based upon her bonoboësque philosophy of "Ethical Hedonism." The interview went "viral," according to Coach Glenn, scoring the most hits that year. In episode 270 of Sex in the Pews, "Sex is the Essence of Life," her illuminating answer to the question, "What happens when life gets in the way of sex?" garnered her second Glenny award.
Now three's the charm. "The great Greek philosopher Pythagoras considered 'three' to be the perfect number of harmony, wisdom and understanding," says Dr. Suzy. "Plus it's a hat trick, an honor and a pleasure. The Glennys are better and sexier than the Grammys or the Emmys, and not just because the Grammys and the Emmys don't give "Sexologist of the Year" awards, but because with Neo-Puritan fervor rising on the Right and the Left, it's important to acknowledge good sex. So, I will continue to use my platform as 'Sexologist of the Year' to speak out for love not war, freedom of speech, sexological research and sexual healing, as well as advocating for our highly endangered bonobo great ape cousins who show us the way to consensual sex-positivity, female empowerment, male well-being, sharing, caring, ecosexuality and peace through pleasure. There are so much to do this year, but I'll never quit my day job helping people privately with that most sensitive of subjects, human sexuality."
Find out more about Dr. Suzy's other "Sexologist of the Year" Glenny awards here and here.

To arrange an interview, call 213-291-9497 or email DrSusanBlock@gmail.com. For private telephone sex therapy sessions with Dr. Susan Block or one of her Therapists Without Borders, call 213-291-9497.
---
Explore DrSusanBlock.com
Need to talk? Sext? Webcam? Do it here. Have you watched the show? No? Feel the sex. Don't miss the Forbidden Photographs—Hot Stuff, look at them closely here. Join our private social media Society. Join us live in studio 😊. Go shopping. Gift shop or The Market Place. DrSusanBlock.tv, real sex TV at your toe tips. Sex Clips Anyone? FASHION, we have fashion! We also have politics. Politics? Have you Read the book? No? How about the Speakeasy Journal? Click here. Ok, how about some free sex advice?
---
---