Dr. Susan Block Gives "State of the Sexual Union" Address on WCAP-AM 98
Following a rousing reception to her 2021 "State of the Sexual Union" address, world-renowned sex therapist and "Sexologist of the Year" Dr. Susan Block, aka Dr. Suzy, returned to Active Radio with host Hartley Pleshaw on WCAP-AM 980 in the Massachusetts Valley to deliver a new State of the Sexual Union address for 2022.
Broadcast live 2/12/22, this special Valentine's Day weekend address and interview focused on some of the major themes and events of the past year, including
The ongoing Coronapocalypse, and how singles and couples are navigating the difficulties and opportunities of pandemic sex
2022 improvement: We don't have a grifting, sociopathic narcissist in the White House, but we do have a geriatric neoliberal corporate military industrial complex cheerleader, which is only marginally better
The 1/6/21 Insurrection and its noxious aftermath
The Afghan war and the monstrous American Miitary-Industrial Complex
The Massage Parlor Massacre and the general rise in misogynistic ammosexual violence and discourse
Andrew Cuomo, #MeToo and the backlash
Joe Rogan, Jordan Peterson and the masculinist incel movement
Distinguished leftist journalist Chris Hedges "plague of pornography" campaign is dangerously misguided
Neopuritanism rising on the Right and the Left
Toxic masculinity and toxic femininity
The American Conservative and the misogynistic Sexual Counterrevolution
The atrocity of Julian Assange still being imprisoned
Small win for sex this year: Onlyfans flipped
Stormy Daniels won her suit against Avenatti
The ominous anti-sex, anti-Free Speech "EARN IT" act is worse than the proven-to-be-bad SESTA/FOSTA acts
Lupercalia, the original pagan Valentine's Day
Happy World Bonobo Day! Help save humanity's closest great ape cousins, the bonobo chimpanzees, from extinction – and release your inner bonobo for better sex and a better life
Click here to listen to Dr. Suzy's 2021 State of Sexual Union address.
Listen to Dr. Suzy's 2022 version of her "I Have a Fantasy" speech on FDR Radio's Valentine Fantasies & Neopuritanical Nightmares.
Click the pic above to listen to Dr. Suzy's 2022 State of the Sexual Union address and chat with Hartley Pleshaw.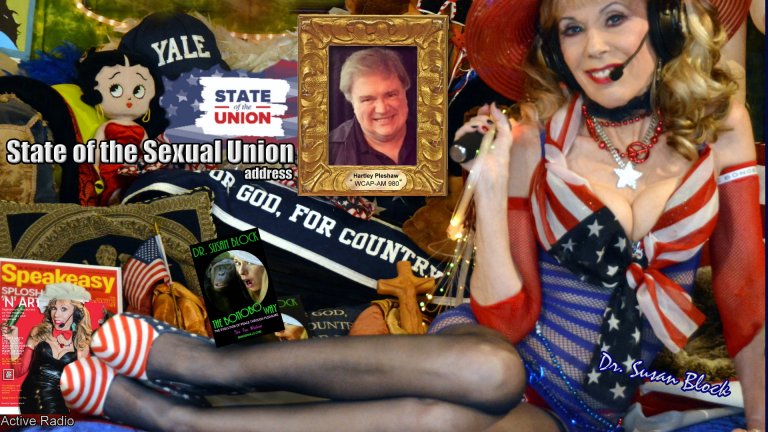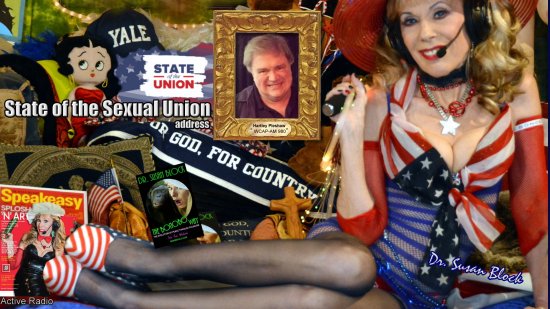 .
---
Explore DrSusanBlock.com
Need to talk? Sext? Webcam? Do it here. Have you watched the show? No? Feel the sex. Don't miss the Forbidden Photographs—Hot Stuff, look at them closely here. Join our private social media Society. Join us live in studio 😊. Go shopping. Gift shop or The Market Place. DrSusanBlock.tv, real sex TV at your toe tips. Sex Clips Anyone? FASHION, we have fashion! We also have politics. Politics? Have you Read the book? No? How about the Speakeasy Journal? Click here. Ok, how about some free sex advice?
---
---