Valentine Season in Bonoboville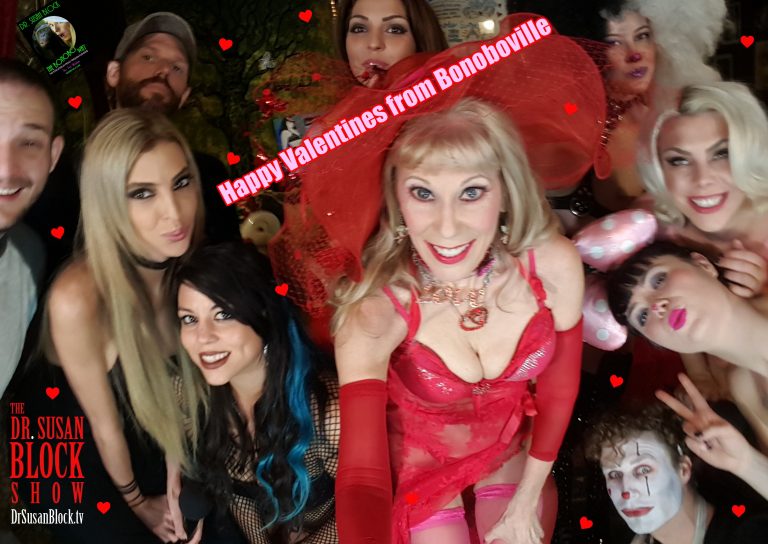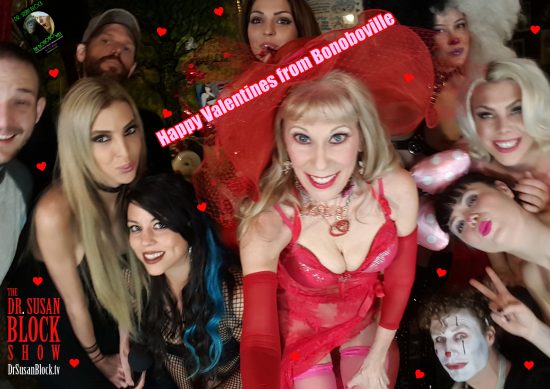 Three Ways to Celebrate from Sexologist Dr. Susan Block
Valentine's Day is coming—in every sense of the word. Are you ready?
Ah V-Day, the High Holiday of Love, is fraught with mixed emotions for many (me too) and may be especially tough to navigate in this politically divisive, sexually suspect, hyper-commercialized, economically inequitable, dramatically climate-changing and emotionally exhausting moment in human history.
Yes indeed, Brothers and Sisters, Lovers and Sinners, these are challenging times for love of all kinds. But here at the little Love Church of The Bonobo Way in Bonoboville, we accept the "Valentine Challenge" with a three-part erotic, artistic, therapeutic, cathartic, ecstatic, bonoboesque, somewhat politically charged but (hopefully) fun Valentine's Week 2019.
Of course, the best laid plans may not get you laid the way you planned, but here's the plan: 1) Valentine Splosh 2) World Bonobo Day 3) Lupercalia (the original pagan V-Day) and the launch of the spanking new SPANK 'n' Art edition of Dr. Susan Block's SPEAKEASY JOURNAL!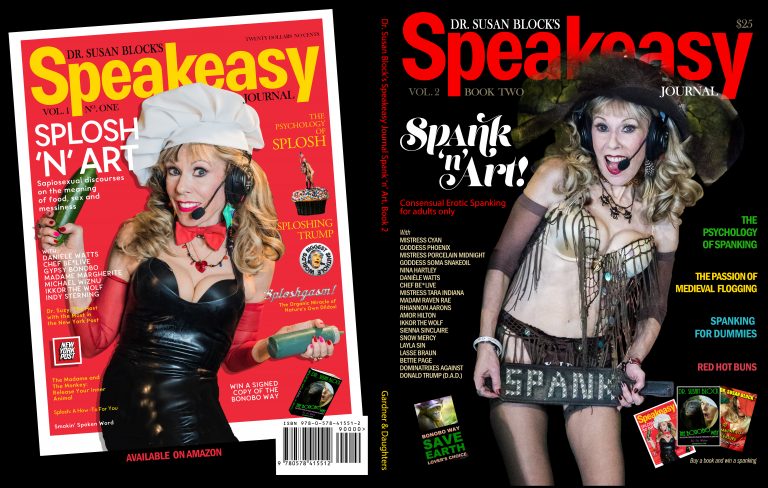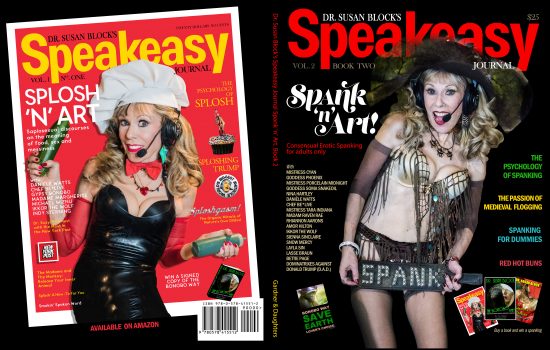 Keep reading for more about each, and let the Februa Festivals of Love play on…
Part 1: Valentine SPLOSH 2.9.19
For some of us, Valentine's Day means SEX. For others, it's all about the chocolate. Which do you prefer: Hersey's kisses or her kisses? Reverse cowgirl or tiramisu?
Why not mix them up and enjoy Valentine SPLOSH for lovers?
It's yummy! It's messy! It's silly! It's sexy! It's fun…
On the Saturday night before V-Day, February 9th, join us in Bonoboville—or just watch us on DrSuzy.Tv—for a very special pre-Valentine's Day Splosh Night, when we'll explore some scrumptious Valentine food and sex possibilities, and showcase the first edition of Dr. Susan Block's Speakeasy Journal…
SPLOSH 'n' Art
This deliciously nasty, visually rich and intellectually enlightening first edition of our new print magazine features acclaimed actress Danièle Watts, raw foods pioneer Rawkstar Chef Be*Live and a party of other celebrity sploshers, sploshees, chefs and food-players, Commedia Erotica stars in this "Paper Theater" from one very special, yummy, messy night in my Womb Room.
Of course, we splosh Trump. How could we not?
Splosh Your Valentine
Tired of trying in vain to be neat and Valentine-perfect when sexiness often lies in imperfection, and especially since perfection is just an idea anyway? Why not turn yourself or your lover into a human chocolate (caramel, vanilla or pistachio-flavored) Valentine? Splosh it on. Lick it off. Eat each other up with love.
No Jeffrey Dahmer stuff please; this is just très gourmet oral sex and sensuality.
Splosh can be romantic and sensuous—licking your favorite sauce out of each other's orifices—or kinky domination—dumping a casserole (not too hot now) on your submissive lover's head. We'll explore both kinds and more! If politics is a food fight, then true love could be a splosh fest… and may the best lovers get our just desserts.
"Valentine Splosh" on Dr. Susan Block Show, broadcasting live from Bonoboville 10:30pm-Midnight PST, on February 9th, 2019, will feature "Most Bonobo Couple" 2018 SUZY award winners and stars of SPLOSH 'n' Art, Danièle Watts and Rawkstar Chef Be*Live – who will create special raw chocolate and other Valentine's Day dessert sauces for sploshing – plus "Most Bonobo" and "Best Female Ejaculation" 2018 SUZY award winner Juici Jenni, "Best Sex" 2018 SUZY award winners Lexi Lore and Eric John of Erotique Entertainment, "Best Cosplay" 2018 SUZY award winners Dorian Black and Peggy Reynolds, Honey Dior, Malory Morgan, Ikkor the Wolf, my adorable assistant Blossom Green and more TBA.
Couples, Trouples, Singles and others are all welcome to join us! And no, you don't have to splosh or get sploshed, or you could just share a chocolate heart – that's splosh too!

Valentine Special for February Only: Get a free Splosh 'n' Art Speakeasy Journal with your Speakeasy membership. Membership Has Its Pleasures. RSVP: Call 310-568-0066
Our special Valentine gift copy comes with chocolate fudge topping for your personal sploshing enjoyment.
Can't join us in the flesh? Watch us free on DrSuzy.Tv.
Need to talk privately about your Valentine… or V-Day stress? Call the Dr. Susan Block Institute's Therapists Without Borders: 213-291-9497.
A portion of all proceeds goes to help save humanity's closest living cousins, the female-empowered, "Make Love Not War" bonobo chimpanzees, who swing through the trees as well as with each other. Bonobos also like to splosh, in their own bonobo way, often mixing food and sex, two of the most essential ingredients in life and two of the richest representations of love.
Part 2: Celebrate World Bonobo Day on Valentine's Day
Comes the big V-Day itself… don't panic!
Whether you're married, single, in a couple, a trouple, a commune or a convent, you can honor LOVE with the world's greatest lovers and officially Go Bonobos on Valentine's Day because Valentine's Day is now World Bonobo Day!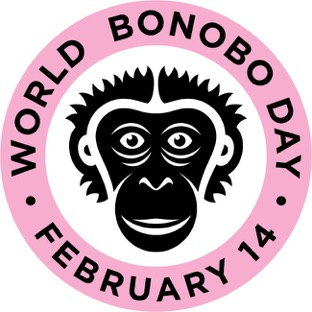 If any nonhuman animal embodies the spirit of Valentine love, it's the bonobo.

Gain Valentine inspiration to release your "inner bonobo" to live in more loving ways from the source: the amazing LOVE APES of the rainforest, where every day is Valentine's Day, and nights are filled with love.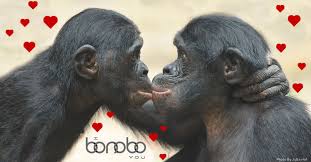 Our closest genetic cousins, bonobos are also the "peace apes." Having never been seen killing each other in the wild or captivity, they show us that peace through pleasure is possible for apes like us.
Here in our bonobo-inspired human "Bonoboville," we're delighted to support "World Bonobo Day," conceived by The Bonobo Project and recognized in House Resolution 738 by Congressman Scott Peters (D- San Diego), "resolved that the United States House of Representatives, encourages everyone to participate in activities that help to educate the public about the need to protect these uniquely matriarchal, loving and endangered great apes."
I BONOBO YOU = I LOVE YOU
Thursday, February 14th, Valentine's Day is World Bonobo Day
It's encouraging to see so many celebrities, most notably renowned actress and female empowerment advocate Ashley Judd, come out in strong support of bonobos, including our favorite bonobo conservation organizations, Lola ya Bonobo and Bonobo Conservation Initiative (BCI), actively helping to save the wild bonobos from extinction.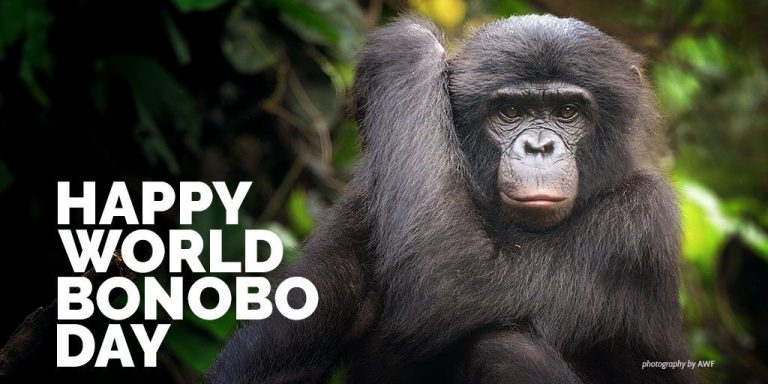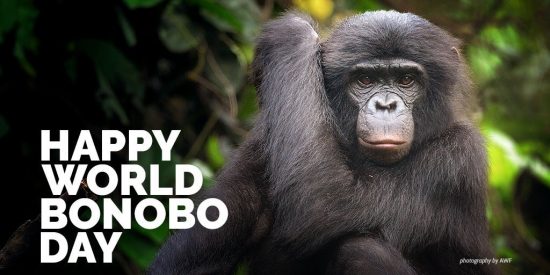 The Bonobo Project will celebrate World Bonobo Day 2019 with fellow bonobo lovers and friends at the Blind Lady Ale House in San Diego, Thursday evening, 2.14.19. There will be "bonobo brew," a silent auction and giveaway gift baskets filled with bonobo-oriented goodies, including signed copies of The Bonobo Way. All proceeds go to The Bonobo Project.

Gift Idea: Donate to help save the bonobos in your lover's name and give them the receipt inside a traditional Valentine card.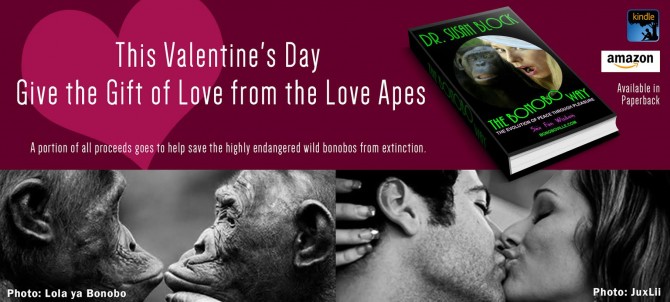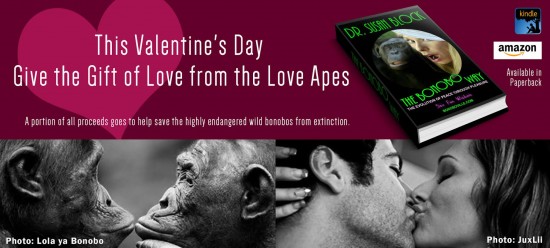 Gift Idea 2: Give The Bonobo Way this Valentine's Day to friends, lovers and your friends' lovers. Spread the Bonobo Word of Love from the Love Apes.
Part 3: Celebrate LUPERCALIA in Bonoboville 2.16.19

What if the candy-coated hype of Valentine's Day gives you a toothache? Don't beat yourself up over it—beat someone else! Well, what I mean is, give them a good consensual flogging in honor of the ancient Roman celebration of Lupercalia.
Lupercalia, the original pagan Valentine's Day, celebrates the coming of spring with the primeval howl of the wolf, stimulation, purification and the consensual crack of the sacred whip. All about floggers, not flowers, Lupercalia honors communal ecstasy rather than the commercialized romance of St. Valentine, Hallmark and Amazon.
The floggers are called Februa—little leather whips from which we derive our name for the month of February—for flogging heart-shaped buns.
Better to have your buns beaten on Lupercalia
Than your heart broken on Valentine's Day!
Then again, maybe you just want to enhance the romance with a little classical kink.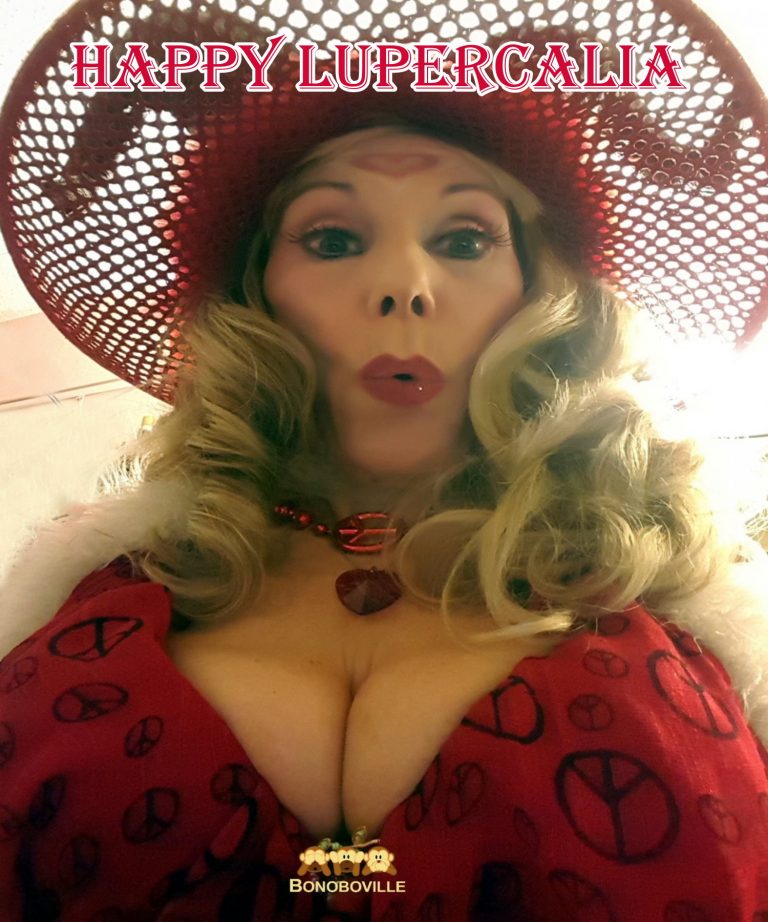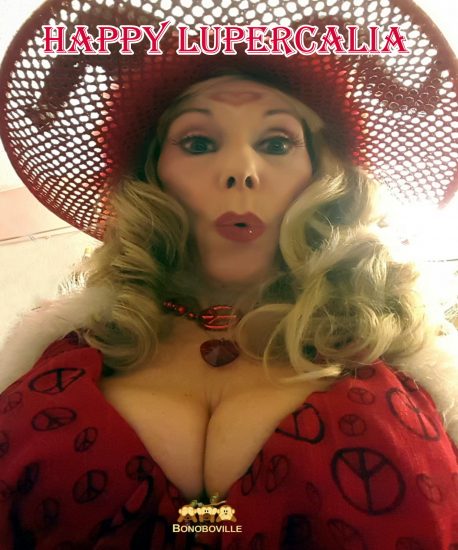 A holiday of spanking, Lupercalia is the perfect occasion to launch…
The 2nd Edition of Dr. Susan Block's Speakeasy Journal:
SPANK 'n' ART!
Presenting the dazzling new second issue of our Journal, more than twice the size of the first, featuring stunning, erotic, inspirational and hilarious images from over two and a half decades of Dr. Susan Block Shows, from Bettie Page in 1996 to Goddess Phoenix in 2019, as well as Nina Hartley, Mistress Cyan, Mistress Tara Indiana and Dominatrixes Against Donald Trump (D.A.D.), Danièle Watts, Chef Be*Live, Layla Sin, Sienna Sinclaire, Ikkor the Wolf, Snow Mercy, Sinn Sage, She God Claire, Goddess Soma Snakeoil, Rhiannon Aarons as Stormy Daniels, several submissive volunteers roleplaying Trump getting spanked, and many more.
Don't miss the LUPERCALIA LAUNCH PARTY for SPANK 'n' ART broadcasting live from Bonoboville on The Greatest Sexuality Show on Earth: The Dr. Susan Block Show, Saturday night, February 16th, 10:30 pm – Midnight PST. Our special guest list includes Goddess Phoenix, Rhiannon Aarons, Goddess Sydney Jones, She God Claire, Kacy TGirl and more TBA.
Become a Speakeasy Member, celebrate Lupercalia in Bonoboville and join us for our Launch of the new SPANK 'n' Art Speakeasy Journal.
For further information or to RSVP by phone, call 310.568.0066
Can't join us in the Flesh? Watch us Free on DrSuzy.Tv.
Season's Beatings!
Brothers and Sisters, Lovers and Sinners, I invite you to join us for these special celebrations of Valentine Splosh, World Bonobo Day, Lupercalia and the launch of SPANK 'n' Art—in the flesh, online or in spirit.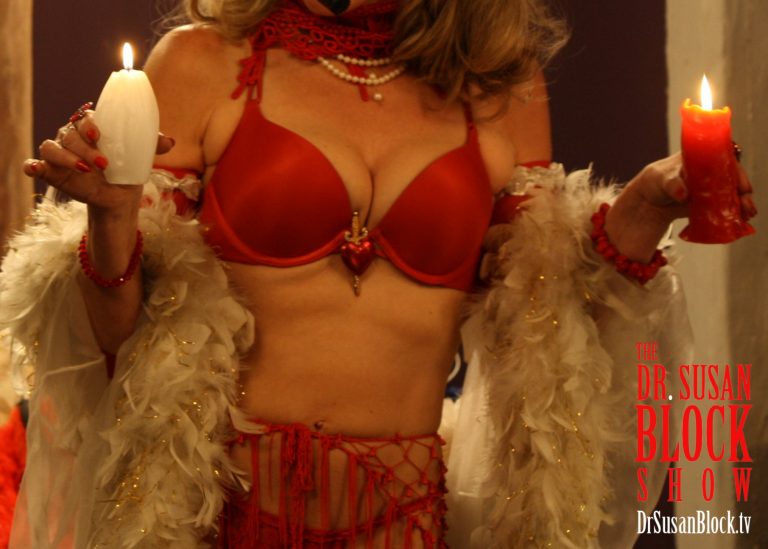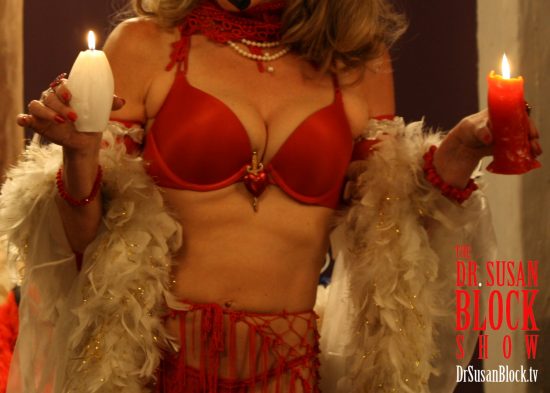 As multiple forces of hate, fear and alienation tear apart our hearts, relationships and communities, now's the time to share love of all kinds—altruistic, erotic, romantic, platonic, communal, bonoboesque. Whether you do it with diamonds or donations, flowers, floggers, a kiss, a hug, splosh, spanking, socialism, bonobos… tis the season to give and receive love. Don't miss out!
With Valentine Bonobo Lupercalian Love,
Dr. Suzy
---
Explore DrSusanBlock.com
Need to talk? Sext? Webcam? Do it here. Have you watched the show? No? Feel the sex. Don't miss the Forbidden Photographs—Hot Stuff, look at them closely here. Join our private social media Society. Join us live in studio 😊. Go shopping. Gift shop or The Market Place. DrSusanBlock.tv, real sex TV at your toe tips. Sex Clips Anyone? FASHION, we have fashion! We also have politics. Politics? Have you Read the book? No? How about the Speakeasy Journal? Click here. Ok, how about some free sex advice?
---
---