Is Reproduction Killing Us?
Would More Sexual Recreation Instead of Forced Procreation Be Better for Human Sustainability—as well as Sanity?
by Dr. Susan Block.
Most major religions preach "Be fruitful and multiply" (Genesis 1:28). But what if human reproductive sex is destroying life on Earth?
Are recent political and religious campaigns to exalt and increase human reproduction through procreation pressures and forced breeding—even as human population rises, along with intensifying climate catastrophes—racist, misogynist, selfish, greedy, diabolical or just plain dumb?
Is there an alternative? Could channeling our multi-splendored sex drives into various types of erotic recreation—as opposed to procreation—be a better, more sustainable way—the Bonobo Way?
Recreation vs. Procreation
If we could just put our erotophobia aside… wouldn't we and all the living things of the Earth be better off if more of us released our inner bonobos and expressed our sex drives through consenting-adult recreational pleasures, such as kink, outercourse, gay sex and sharing peace through pleasure—instead of ammosexual gun culture, perma-war, cutthroat competition, insatiable consumption and having huge, unsustainable, resource-consuming, trash-producing families?
These are some of the burning questions we ask each other as we ride the first Bonoboville Streamer of December 2022. All aboard the Love Train for a great eargasmic journey!
Capitalist Racist Fantasy vs. Overpopulation Reality

Racists, misogynists, grandparents who want grandchildren and greedy oligarchs who crave cannon fodder, cheap labor and hungry consumers may deny the facts of overpopulation for their own purposes, but the numbers speak for themselves.
Endless growth is a capitalist fantasy, but overpopulation is a harsh reality. When Capt'n Max was born on November 8, 1943, the world human population was a billion and a half. Exactly 70 years later, on Max's birthday, November 8, 2022, the population clock struck 8 billion humans, all of us crowded onto one very special planet which, unfortunately, hasn't grown any bigger.
Rightwing Population Reduction: Mass Shootings
Of course, the Rightwing has its way to reduce population. It's to sell everybody guns, make a profit, and let 'em shoot each other. War is even more profitable, and then climate catastrophes can just demolish whole villages and cities. Where we hear the pain and suffering of millions, the war profiteers hear the "ca-ching" of cash registers, so what do they care?
The Leftwing is more humane—at least rhetorically—but no fun. Our way is the Bonobo Way of peace through pleasure, ecosexual sustainability and fun—party like a bonobo, baby!
Not so incidentally, bonobos love their babies and are known for their excellent child care values. Interestingly, mothers tend to space their pregnancies at least five to six years apart, maybe because the females are in charge and the guys are busy with all kinds of fun nonreproductive, recreational sex.
Perhaps humans should follow the Bonobo Way in having lots of recreational sex and have more sex that leads to kink instead of kids.
Volcel No More

We also take a couple intriguing calls on this episode of our growing live Callin show (follow me on Callin). First up is "Obsolete," a nice guy who says he "looks like Brad Pitt," is "well-endowed," "good with his hands," and just wants to "get laid" (for recreation, not procreation), but works too many hours for too little money, and is currently residing in his mom's basement.
No, he's not an "incel" (an involuntary celibate), says Obsolete, though he was a "volcel" (voluntary celibate)—until now! This is one reason he calls us; he wants to get back in the swing of things, and we do our best to advise and encourage him to #GoBonobos in a not-so-bonobo world.
At first, we think a volcel would be better than an incel, since it's voluntary. But aren't Catholic priests volcels? Look at how well that's going for them.
Singing Dog
Then Brady, a friendly musician, handyman and martial artist who has rejected the murderous ways of his military family, now "loves" the Bonobo Way, calls in to say, "This show is cool as hell."
Brady's pretty cool himself, and not just because he also says, "This is my new favorite show" about F.D.R. One of the coolest things about Brady is his dog, Rufio, a big husky who looks like a giant black and white version of our Chico who barks early in the show as if he knows another dog will be on the air.
Rufio not only barks, but he also SINGS—well, howls—along with Brady's guitar. What a lovely and hilarious canine serenade.
Oy Ye

We also talk about Elona Musky turning Twitter into a Rightwing gab fest by "breaking" Hunter Biden laptop news that turns up nothing but a rumor of dick pics and blow, conveniently ignoring Jared Kushner's laptop that might tell us how he got $2 billion from the Saudis (Trump Nukes for sale!).
Then there's Ye (aka Kanye) wearing a hood and Neo-Nazi-to-the-Stars Nick Fuentes praising Hitler (yes that Hitler) like he's Jesus, or at least cool, and still complaining strenuously about "the Jews," leaving us to grapple with the question of: Who exactly are "the Jews," and what can the rest of humanity blame us for?
Of course, I don't want to censor anyone, but… Oy Ye!
One thing I'd like to clarify: Not all "the Jews" are Zionists. Not me, for instance, and I take this opportunity to once again call for apartheid Israel to free Palestine now.
And free Julian Assange! While war criminals walk free, he is imprisoned for reporting the truth about war. This week, a bunch of major media outlets called for the U.S. government to drop its ridiculous, heinous charges against Wikileaks journalist Julian Assange. Better late than never; we've been calling for it since 2011. C'mon Joe, let's go! Free Assange already.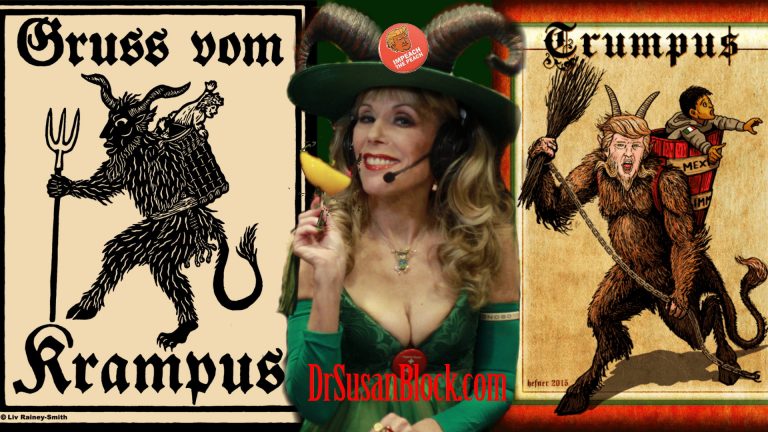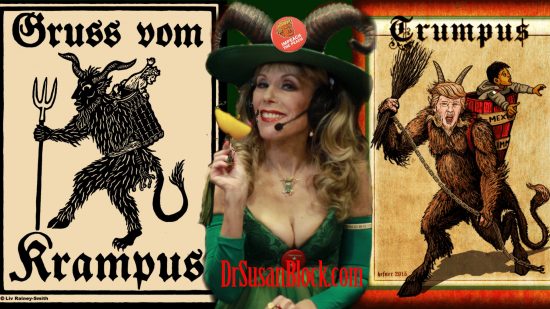 Make Kink Not War, all you war porn lovers. Beware the Trumpus and a very Merry Kinky Krampus to all!
© December 3, 2022 Susan Block, Ph.D., a.k.a. "Dr. Suzy," is a world renowned LA sex therapist, author of The Bonobo Way: The Evolution of Peace through Pleasure and horny housewife, occasionally seen on HBO and other channels. For speaking engagements, call 626-461-5950.
---
Explore DrSusanBlock.com
Need to talk? Sext? Webcam? Do it here. Have you watched the show? No? Feel the sex. Don't miss the Forbidden Photographs—Hot Stuff, look at them closely here. Join our private social media Society. Join us live in studio 😊. Go shopping. Gift shop or The Market Place. DrSusanBlock.tv, real sex TV at your toe tips. Sex Clips Anyone? FASHION, we have fashion! We also have politics. Politics? Have you Read the book? No? How about the Speakeasy Journal? Click here. Ok, how about some free sex advice?
---
---