ECOSEXUALITY Book Launch on DrSuzy.Tv with Dr. SerenaGaia, Collaborators & Earth Lovers ♥
Length 2:23:30 Date: June 13, 2015
by Dr. Susan Block
This very special DrSuzy.Tv show launches the widely anticipated new collaborative manifesto for the burgeoning ecosexual movement, Ecosexuality: When Nature Inspires the Arts of Love. Like the book itself, the show is a sumptuous feast of inspirational stories and challenging ideas about love, ecology, sex and sustainability—topped off (in the case of the show) with a delicious dessert of "Bonoboville Communion," #FreetheNipple fun and an orgasmic after-party Sybian ride.
My featured guest in-studio is Ecosexuality's co-editor, the dazzling Dr. SerenaGaia Anderlini D'onofrio, a distinguished professor of humanities at the University of Puerto Rico and a pioneer with this rapidly growing worldwide movement connecting art, eroticism and environmental activism in myriad ways—both personal and political. In the first part of the program, Dr. SerenaGaia discusses the work, philosophies and fertile collaborations that led to the book's creation. Then the esteemed professor delights us with how physically open she is—unlike so many other, stuffier academics who have promoted books on my broadcast bed—as she generously and joyously participates in our nipple-freeing rites and bonoboësque pleasures.
I should add that I was privileged to have written the foreword to Ecosexuality. And, speaking of free and unfree nipples, careful readers will notice that my byline serves as the "bra" of Botticelli's Venus on the book's cover (design consultant: Capt'n Max). Moreover, having just celebrated a birthday (making love in a cave at the rather eco-sexy Madonna Inn), it feels like the publication of this book is a lovely, accidental birthday "gift"… which is only fair, since The Bonobo Way was launched as a present to Max on his birthday.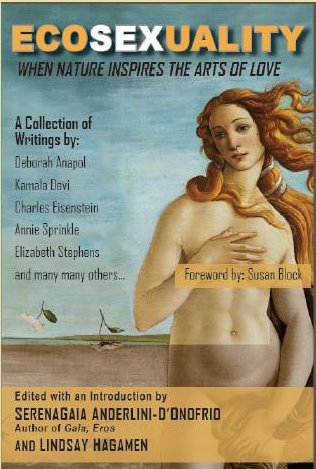 As the Ecosexuality launch continues, calls come in from a number of other collaborators, starting with Dr. SerenaGaia's co-editor, Lindsay Hagamen, an organic farmer, eloquent writer and a member of an "intentional community" in the forests of Oregon, her hands-on Earth Love complementing SerenaGaia's transformative vision. With deep passion and a few giggles, Lindsay confesses that her final editorial read-through induced multiple orgasms! Talk about a literary turn-on. Forget 50 Shades. Ecosexuality gives you a lot more than 50 ways to love the earth you make love on… plus many more colors than grey.
Next, we take a call from Veronica Monet, who has joined us on the show before, and whose Ecosexuality essay, "Orgasms as an Antidote to a Mean World," includes an eye-opening and heartwarming tale of non-reproductive sexual play between dogs (one of whom has been neutered), as well as fascinating facts about masturbation in-utero and the wonders of orgasmic childbirth. Then a call comes in from Bruce Bartlett, an active member of Portland's ecosexual community, along with a few poly friends and lovers, all tuned into the live broadcast in a "puppy pile." One of these happy cuddle-puppies who joins us on the air is Ecosexuality contributor Karen Hery whose clarion call poem, "Open Wider," opens the collection's first section, "When the Earth is Our Lover."
All this earthy ecosex talk makes us thirsty for a round of Bonoboville Communion with salt (our answer to the Catholic Communion wafer) and Agwa (instead of the wine). As for the "altar," it can be any body part, from the wrist to the butthole (see Sienna Sinclaire at our 23rd wedding anniversary). But the most popular altar is the bare breast, and that is the body-part-of-choice on this show, unveiling a bevy of boobies, large and small, all-natural as well as surgically enhanced.
Joining SerenaGaia and I for this erotic bonoboësque ritual are the very ecosexy Crystal Green, who rode the Sybian to orgasmic heights during last Saturday's "Spearmint Rhino Royalty" after-party. Crystal brings her friend, porn star and mother of five, Zoey Portland who, ironically, has never been to Portland, a center for the Ecosexual RƎVO˩ution, though she does take on that Sybian like a cowgirl straddling her favorite horse—with an attachment that is well-protected by a very ecosexual GLYDE America animal-cruelty-free, vegan condom.
Then who emerges from the studio audience but Goddess Maya (whom DrSuzy.Tv fans will remember from her always smoking hot appearances through much of 2014), looking especially gorgeous and almost virginal in a little white dress which she takes off pretty much as soon as I make the request, revealing those perfect little naturals everyone loves to lick and admire.
But the biggest, beautiful surprise is when Dr. SerenaGaia, a scholar who is apparently not imprisoned by her ivory tower (or a bra), takes Communion with us. I only wish I had professors like Dr. SerenaGaia when I went to Yale. The movement is well-served by a leader who is not afraid to walk the walk of ecosexuality as well as talk the talk. We all drink to that and say "Amen" and "Awomen."
Show producer Biz Bonobo and Institute therapist Chelsea Demoiselle, looking ecosexy in leafy green and earth tones, round out the Bonoboville Communion circle, as ex-producer and former Catholic altar boy, Dark Phoenix, pours the Agwa. Mid-communion, we are joined on the phone by a member of the current clergy. No, not a Catholic priest, ayatollah or rabbi, but a real-life "Priestess of Aphrodite" and the "Living Love Revolution," the Reverend Teri D. Ciacchi who writes "quantum is communion" in her Ecosexuality essay, "What's Sexuality Got to Do With Ecology?" that she collaborated on with her two housemates. "Sex for communion deepens intimacy and connection through the act of sharing both touch and emotions." Yes indeed, Rev. Teri, that's Bonoboville Communion in a shotglass.
Communion flows into conversation (some of it heated!) which turns into the multiple-pleasure-filled, Sybian-orgasmic after-party. Some of the more prominent Weapons of Mass Discussion include: marrying the beach; the meaning(s) of ecosexuality; mentoring young people in the field of ecosexuality; the influence of Sex at Dawn on the ecosex movement; the relationship between polyamory and ecosexuality; the concept of "Orgasmic Earth"; Gabriella Cordova's line in "Reclaiming Your Erotic Nature" about how the ecosexual perspective transforms walking in the forest into watching a giant pornographic film"; the PR value of connecting sex with ecology; Annie Sprinkle's remarkable transformation (aided by Max and Willem de Ridder) from porn star to artist to ecosexual leader; cucumbers as nature's own dildos; sex for procreation vs. recreation; whether or not the "smart" are obligated to reproduce despite drastic human overpopulation; The Bonobo Way of peace through pleasure as a new great ape paradigm for humanity; Dr. SerenaGaia's story of how the 16th century courtesan and poet Veronica Franco saved Venice through her Weapons of Mass Seduction (sleeping with Johns in high places); the meaning of amrita; Learning the language of the Earth; police brutality; how we can change the destructive, violent, eco-toxic and sex-negative tendencies of human civilization—preferably at the same time and before it's "too late."
Many thanks to all my guests on this very special night, especially my guest of honor, Dr. SerenaGaia, whom I met on Facebook and now feel is a friend. Get our awesome book Ecosexuality!
And speaking of ecosexy things, Summer Solstice is coming, when our featured guest will be Nina Hartley (who plays the title role in a timely new porn film, "Hillary Clinton Gets the Black Vote") RSVP: Call 310-568-0066 or just tune in Saturday night, 10:30pm PST. Don't miss another great episode of the "Greatest Sexuality Show on Earth."
In the meantime, I'm going to marry the nice big palm tree in the Garden of Bonoboville. I don't think Max will mind…
© June 14, 2015. Susan Block, Ph.D., a.k.a. "Dr. Suzy," is a world renowned LA sex therapist, author of The Bonobo Way: The Evolution of Peace through Pleasure and horny housewife, occasionally seen on HBO and other channels. For speaking engagements, call 310-568-0066.
---
Explore DrSusanBlock.com
Need to talk? Sext? Webcam? Do it here. Have you watched the show? No? Feel the sex. Don't miss the Forbidden Photographs—Hot Stuff, look at them closely here. Join our private social media Society. Join us live in studio 😊. Go shopping. Gift shop or The Market Place. DrSusanBlock.tv, real sex TV at your toe tips. Sex Clips Anyone? FASHION, we have fashion! We also have politics. Politics? Have you Read the book? No? How about the Speakeasy Journal? Click here. Ok, how about some free sex advice?
---
---