Hanukkah Xmas Bedside Chat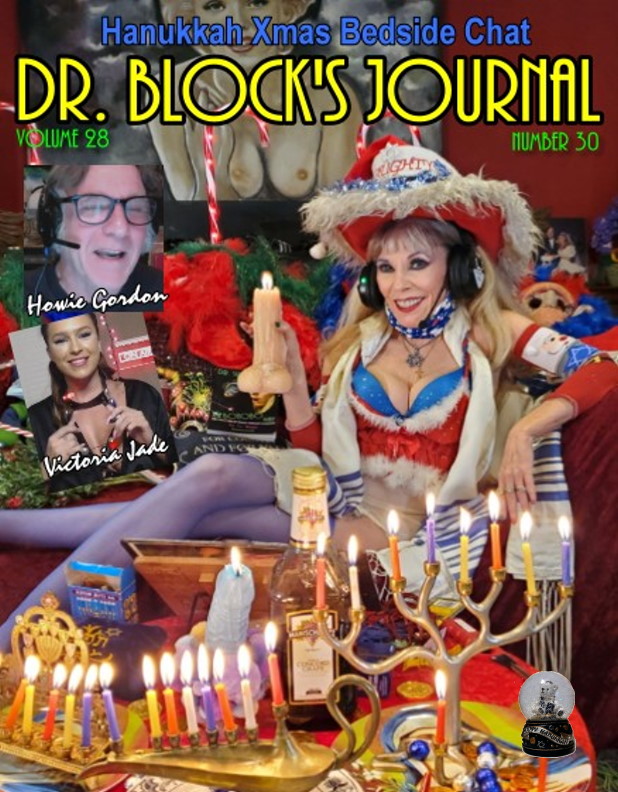 Length 1:27:36 Date: Dec. 12, 2020
by Dr. Susan Block.
Season's Beatings! Yes indeed, Lord and Lady, we are taking some crazy Coronapocalyptic beatings this season.
Reality is taking a beating, and the truth is getting Trumped in the minds of many of our fellow Americans out in the streets, on social media and in Congress.
Stir in an extra dose of the usual holy-dazed pressure mixed with 2020's signature cabin fever, a rising death count and mask hysteria, and you've got a festive stew of Xmas stress.
Even if all's well in your lucky little life, it's frustrating not to be able to physically share the Holiday Cheer with those you hold dear this year.
No Nude Caroling! No kissing cousins under the mistletoe! No strip-dreidel with your hot neighbor!
It sucks a big candy cane!
But hey, it's still the Holy-Daze, so Merry Xmas, Hanukkah Sameyach, Happy Kwaanza, Pancha Ganapati, Bodhi Day, Winter Solstice, Saturnalia (Saturn's cry of "Io Io Io" foreshadowed Santa's "Ho Ho Ho") and a very Happy Nude Rear.
If I left out your favorite Winter Holiday, so sorry. FYI, there are no Muslim winter holidays; they're on the lunar calendar, so the timing of Islamic holidays change every year. So, please check your "wokeness" before you sling your accusations, Slugger.
Maybe I'm a little sensitive about that, having been accused of being *unwoke* by one flaking-the-day-of-the-show guest just after being accused of being *too* woke (too liberal) by another guest who flaked during the Spanksgiving show.

Whatever your politics, religion or celebration inclinations, ooh Baby, it's Cold Outside… though it's more contagious inside.

Wow, being dissed from ignorant folks on the Right and Left is making me a centrist!
Not really, but whatever your politics, religion or celebration inclinations, ooh Baby, it's Cold Outside… though it's more contagious inside.
So mask up, dress up and cuddle up for my 27th Bedside Chat of the Coronapocalypse, inspired by FDR's Fireside Chats from another time of great calamity and unnerving uncertainty.
Hanukkah, Chanuka or Januka?
I'm certainly dressed up for a Happy Horny Hanuka in Jew-y Blue, Stars of David with a sacred tallit, traditionally only worn by men, jauntily wrapped around my shoulders.
And yes, I spell Hanuka in all different ways throughout this blog for the sake of variety and to honor all the phonetic traditions, though I think the guttural sound that is represented by "H" or "Ch" would be better spelled with a "J," according to the Spanish pronunciation.
But as far as I know, no one spells it "Januka." Too bad; then we could say "Jappy Januka!"
It being the Xmas Season, I'm also in my red and white Christmas Santa garb, ready to rumble in my One-Horse Open Sex Fantasy Sleigh.
Yes, red, white and blue is more fitting for the 4th of July, but that's always the challenge of mixing religious traditions this time of year.
Call me "Dr. Suzy Claus"… with a Yiddishe flair and a Saturnalian spirit.
Usually, around now, we have big, rollicking Holiday Bacchanals here in the Womb Room Sanctuary of the little Love Church of the Bonobo Way in the village of Bonoboville.
No bacchanals this year; we're in lockdown!
Even us Bonobovillians are masked up and physically-distancing… well, trying to.
We're all for "staying safe," but it's not an exact science, especially when you're guzzling 11% proof Manischewitz and addictively sweet Remy Martin-filled chocolates.
Even though we have no outside guests over this year, the Bonoboville Xmas tree graces us with its (plastic) evergreen charm, festive lights and ornaments decorated, with loving care, by Ana.
In front of it sits the Dildo-Bonobo Nativity Scene in a shiny golden manger, which I, having never grown up in multiple ways, treat like a perverted doll house.
It features the Divine Interventions Baby Jesus Butt Plug as "the Holy Child" of Bonoboville who brings "Peace on Earth. Good Will to Men."
Yes, men.
It's a sexist old phrase, but in this case, it's appropriate, because a few billion well-placed butt plugs would cool off many of the world's hotheads, most of whom are "men."
Male well-being is the Bonobo Way. And we'll all be better off when we get that.
Hovering in the rooftop like an angel is "Jesus grown-up," that is the *adult* Jesus Jackhammer dildo, also made by Divine Interventions, fine silicone sex toys for kinksters with a faith fetish.
Straddling the roof is a different kind of angel, a Miguel-created winged blue bonobo.
Surrounding the Baby Jesus, the "Three Kings" are embodied by three dildos (of course): a Buddha dong, a Bad Dragon schlong and Billdo, one of our favorite U.S. Presidential Dickheads.
I can't find my Mother Mary dildo (hopefully, she's giving someone a nice "religious experience"), so Jesus' Holy Mother is represented by a stuffed bonobo. This is quite appropriate, since the real bonobos, besides being great lovers, are also great mothers.
But no, they're not virgins.
Surrounded by the dildonic kings, Mother Mary Bonobo and Baby Jesus Buttplug play with a Dreidel because after all, they're Jewish.
As a Muslim friend pointed out the other day, I practice "equal opportunity blasphemy."
Being devoutly agnostic, I don't pray; at least, not in a devout sense.
I do enjoy singing the Hebrew Hanuka prayers, but I don't *believe* in what I'm praying any more than I believe in the scientific reality of the fairy tales and "myths" that I love to tell and retell.
Speaking of science, a study actually showed heart patients who are prayed for are less likely to get well than those who are not.
So, I don't generally pray *for* anything.
I do often express thankfulness, though, and as I open the show, I take a moment to thank God and the Gods, the Hebrew God (interestingly, one Hebrew term for "God" is Elohim which translates to "Gods"), the Greek Goddess, the Baby Jesus, Mother Mary, the Virgin of Guadalupe and all the other Gods, gods and angels that may have been involved, for granting us the miracle of Trumpty Dumpty's Fall off his awful Wall.
Though Joe's no Messiah, he's got one great virtue that makes him a winner: He's NOT you-know-who.
Speaking of the Big Marmalade Mussolini Crybaby, we did such a good job Smashing Trumpkins (on DomCon Halloween and Spanksgiving), that he LOST big-time.
Nevertheless, he's not quite gone, still holing up with his Trump Virus-infected posse in the White House (going through deep-cleaning before Joe and Dr. Jill move in). More problematically, he's still holing up in our minds, still commanding rapt media attention with his sore loser rants, his more rabid supporters wreaking thuggish havoc on the streets of our nation's capital on the day of this live broadcast.
Though I must say I support them when they scream "Destroy the GOP! Destroy the GOP!"
This is tRump's great Xmas Gift to the Dems; will they use it wisely?
Whatever becomes of the ReTrumplicans, there are a couple of good things the Trumpus himself could do before he goes, both things he's talked about, but no backbone to actually accomplish. These are:
Withdraw all U.S. troops from foreign lands. Don't just move them around! "Stop the Steal" of natural resources and human lives in various countries by unjust American occupations for corporations.

Pardon Julian Assange.

The man is a journalist and publisher, not a criminal of any sort. He is slowly being tortured to death (since 2010!) for the "crime" of exposing uncomfortable truths about American military occupations.
C'mon Donny Boy… Isn't Pamela Anderson in a bikini worth it?

While you're at it, pardon American Patriots and whistleblowers Chelsea Manning and Edward Snowden.
Pardoning these three would be a big win for you, Trumpty, as well as a win for truth, peace, real (not fake) news and the value of human life.
Like Bush the Younger, but in different ways, the Trumpenstein, though publicly "Pro-Life," is really very pro-death.
Bush blew up two countries with major invasions, unjustified wars we never won, though we still haven't left the battlefields.
Trump, though promising to end America's Perma Wars, has instead increased airstrikes and the civilian body count.
But his claim to the title of America's "Death President" is based on having presided over more unnecessary American deaths than any other Commander-in-Chief, mostly from the Trump Virus, but also border deaths and mass murders in his name, or at least, in his spirit.
Now America's Death President is rushing to execute people, most recently killing Brandon Bernard who hadn't even pulled the trigger in an admittedly horrific double murder he participated in when he was just 18, and for which he's expressed remorse. Our Federal government has killed more people in 5 months, under tRump's direction, than in the previous five decades.
Speaking of executions, #GoBonobos for new LA District Attorney George Gascon, who just ended the death penalty, cash bail for nonviolent crimes and some other stuff the LAPD is mad about.
The blue and white Star of David around my neck, made from the blue and white threads of old prison uniforms, woven especially for me by a DrSuzy.Tv fan who also happens to be a prisoner in LA's Twin Towers Jail, for the price of "two soups," always reminds me of the horrors of LA's and America's Prison-Industrial Complex.

Not every sexless human can be (or wants to be) the Virgin of Guadalupe.

Putting the Christ into Judeo-Christian," I'm also wearing a gold cross given to me by a devout Catholic sex therapy client who was a 40-year-old virgin when he came to me, as a gift for helping him *lose* his virginity, despite his intensely sex-negative religiosity.
Not every sexless human can be (or wants to be) the Virgin of Guadalupe.
Speaking of sex, it's a "mitzvah" (Yiddish for "good deed") to have sex on most holidays, at least for married people, which are the only ones *getting any* in the Coronapocalypse anyway, assuming they're not suffering from cabin fever, intimacy overload or Post-Trump Sex Disorder.
So… Happy Horny Hanukkah!
Chag Sameyach Chanuka!
Actually, Hanuka (or however you phoneticize it) is not a major Jewish holiday, celebrating one battle the Hebrews won in the midst of a war against the Greeks that they ultimately lost.
But it's a Winter festival, so it piggybacks on Xmas, making little unimportant Hanukkah the most world-famous Jewish holiday.
If the symbol of Xmas is the trimming of the tree, the symbol of Hanuka is the lighting of the menorah.
So, of course, we GET LIT.
Actually, that comes later with the Manischewitz.
Hanukkah with Rabbi Howie
To avoid making California's horrendous fire season even worse, we light the menorah before imbibing.
We also say a little prayer. For someone who doesn't believe in the power of prayer, I do a lot of praying, especially around the holidays. I may not subscribe to its dogma, but I appreciate the music of prayer. If Rock 'n' Roll is a religion, Tutti Frutti is a prayer.
To help me sing the Hanuka prayers as I light the candles, I welcome Howie Gordon aka, Richard Pacheco, who was born and raised in an Orthodox Jewish household.
Originally, Howie wanted to be a Rabbi, but he became a porn star instead.
When I ask him how that came about, he tells the story of being "the fat kid" with the "biggest breasts" in his junior high school, and the psychological trauma that entailed.
Eventually he lost weight and toned up, transforming himself into a hot body worthy of gracing the cover and centerfold of Playgirl Magazine back in 1980, when that was a pretty big honor, even for Burt Reynolds (side note: Capt'n Max also did a nude centerfold, pre-Burt Reynolds, for the L.A. Star).

Richard Pacheco was "The Thinking Girl's Stud"

Something of a thespian, desperate to live out the orgiastic fantasies of his repressed youth, he found his way into the Golden Age of Porn as porn star Richard Pacheco.
Despite sporting a very nice, but not porn-star-huge, average size cock, Richard Pacheco was a hit, especially with the ladies, for his boyish good looks and sensitive, "method acting" style in a genre that generally eschewed any acting style in favor of getting and keeping "wood."
Richard Pacheco was "The Thinking Girl's Stud," according to our old friend, another sex-revolutionary Jewish pervert, the late great Al Goldstein, publisher of Screw Magazine.
Now "Richard Pacheco" is just a character in Howie Gordon's continuous stream of stories about his rather extraordinary, and yet very relatable, life and times.
A lot of those stories are in his wonderful book, Hindsight: True Love and Mischief in the Golden Age of Porn (with a forward by his old pal Whoopi Goldberg!), which I interviewed him about in 2013, as well as at the Hollywood Show.
A proud and faithful husband to a sex therapist wife, a father, grandfather and generally family-oriented mensch, Howie lit the Hanukkah candles with his family over Zoom just before joining us.
The Winter Solstice is all about miracles, the basic one being that a cold, dark, half-dead Earth is now coming alive with warmth and light, and soon it will be Spring.
The Christian miracle is the virgin birth of "God" in human form.
Hanuka's miracle is not so dramatic, yet still scientifically impossible, testing its devotees in their willingness to "believe."
The Miracle of Hanukkah is the "everlasting light," the sacred oil lamp of the Jewish Temple, which had only enough oil to burn for 24 hours; yet miraculously lasted eight days, enough time for the Maccabees, the heroes of Hanukkah (whom today we might call terrorists), to defeat their so-called "enemies" in battle and get fresh oil to replenish the eternal flame.
This is why we light eight candles, plus one for good luck, the shamus, also called the "slave" candle; sorry, woke folks, but that unwoke term is traditional because the shamus is used to light all the other candles.
Technically, if you're tuned in live, it's the third night of Hanukkah, so we're supposed to light just three candles, plus the shamus, but I'm always more for the spirit than the letter of the law, and I want to GET LIT, so we light all eight plus one and, since there are three menorahs, plus two partially used cock candles, plus the three devotional candles around the Virgin of Guadeloupe, we've got 32 candles burning in Bonoboville.
Good thing nothing tips over in my pyrophiliac excitement, or we'd have a bigger fire than a gender reveal party.
Howie's version of the Hanuka prayer over the candles is slightly different than the one I grew up with, but we harmonize well enough to get the job done.
Baruch Atah Adonai – Elohenu Melach Ha Olam – Asher Kid'shan Mimitzvotav – Vitzi Vanu L'hadleek Nair -Shel Hanukkah
Amen! Awomen!
Though I don't believe in the power of prayer, I do believe in the power of music, especially the music of your childhood. These prayers (or bracha) are the music of my childhood. I learned to sing these prayers when I was young, so singing them makes me feel young. Apologies if my attempts at cantoring strain the eardrums of my fellow revelers. Some might think I sound like a terrorist preparing to commit an atrocity, but those who know me know I'm too bonobo.
As we two aging sexual adventurers with traditional Jewish roots share our prayers, I recall that we *met* in 1996 when Howie/Richard gave a wonderful—and very witty—review to my third book, The 10 Commandments of Pleasure (better and more fun than the ones Moses got on Mount Sinai and then smashed on that rock) in a Spectator article he called "Dr. Suzy's Sermon on the Mound," both of us prone to invoke Biblical sources as we provoke the world with our erotic explorations.
Usually, we don't just light the candles on Hanukkah in Bonoboville.
Irreverent boho-bonobos that we are, we also drip the melting candlewax on the beautiful buns and bared breasts of our sexy guests, calling it "Hot Wax Hanukkah."
But we don't have any guests, let alone any sexy guests in-studio for our Coronapocalyptic Hanuka 2020.
Moreover, Howie isn't interested in hot wax play.
However, my new associate producer, Mariah, is interested in embarking upon her first hot-wax experience, and Hanukah is the perfect night to do it.
But Howie's not interested (just saying "hot wax" seems to make him sweat); he'd much rather just keep telling stories—and we love to hear them!—so I put off Mariah's First Hot-Wax experience until the end of the show.
This means we get the chance to hear a few more of Howie's great tales of love and porn. Listen above or watch below for more.
A couple Gordonian Yarns that stand out for me:
His meeting with the late great Dr. Betty Dodson when, at a party, she suddenly sat in his lap (shortly after that Pornucopia party at the World Pornography Conference in 1998, they both appeared on my show at the Villa Piacere)! An teasingly enthralling tale ensues, and my coda to Howie's story is that when I met Betty, I impulsively sat in her lap. Betty was such a wonderful sexual soul, the very independent Godmother of Masturbation, but also a very touchy-feely connective spirit in the sex-education community.
Too bad, we can't hop into strangers' laps with such ecstatic abandon in the Coronapocalypse. Not only is it risky for Covid, it could be perceived as nonconsensual. Then you'd have to resign.
In so many ways, life is getting less sexy.
Except in the virtual world. Howie gives a thumbs-up to all the porn performers, especially the women (he always was and will be a "ladies' man") who are making it through these trying times through marketing their erotic expression online.
He also tells a story of practicing "sensate focus" exercises with his wife, a publicity-shunning sex therapist (unlike this sex therapist), who taught him that it's okay for you, as a man, to relax and experience pleasure.
Sounds simple and obvious, but for so many people—especially, these days, for so many guys—it's extremely complicated.
We talk about how bonoboësque it is to honor consensual male sexual pleasure. The bonobos empower the females, but also take care of the males. Male well-being is as important as female empowerment. Indeed, they go together and help create peace through pleasure.
When we tell men that they shouldn't relax and enjoy consensual sexual pleasure, that they must always be *manly,* stoic and heroic, then we shouldn't be surprised when a lot of them warp into abusive ammosexual incels.
Not that this is any excuse for bad behavior, just a reason.
We talk about Howie's second appearance on DrSuzy.Tv with Nina Hartley, and his son Bobby who wrote and starred in a hilarious, poignant, one-man show, "Debbie Does My Dad."
Howie also reminisces about his "Sex Play" (1984) scenes with the amazing Kay Parker, who I interviewed at the Hollywood Show, as well as more in-depth on DrSuzy-Tv.
We talk a bit about the politics of the moment, "shepping nachus" that Trumpty Dumpty has fallen, but also kvetching about what a sore loser he and all his gun-toting people are.
At least, our favorite sexy congresswoman AOC is walking all over the hapless Trumpublicans as this cartoon posted without irony—or permission—by a frightened Trumper indicates.
#GoBonobos for AOC!
So, despite the crazy Coronapocalyptic goings-on, we've got a lot to celebrate, including our almost quarter-century friendship with the marvelous Howie Gordon, aka, Richard Pacheco.
Victoria is Fit – & Lit!

Our next guest is one of those resourceful erotic entertainers making it through the Coronapocalypse: the lovely, slinky, slightly kinky and very sexy Victoria Jade.
And wow, talk about getting lit! Truly in the XXXmas spirit, Victoria is a human ornament with a garland of lights blinking around her neck.
She starts out garbed in a discreet black robe for the benefit of our censorious PG platforms, mainly Youtube and Facebook.
We talk for a few minutes with her thus clothed about her life, times and turn-ons.
Then the PG camera turns away as she doffs the robe to reveal a leather harness perfectly strapped around her breasts.
It really is quite a dazzling sight with the blinking lights.
Fitness trainer and bikini competitor by day, CamGirl and Switch Dom by night, Victoria's fitness training really shines through her impressively toned physique.
A bit of an exhibitionist, Victoria shows herself off with panache.
Wow, what abs!
Nice butt too.
Happy Nude Rear!
She even shows us the soles of her socks.
Check out the photo gallery below for all the intimate views.
Collared as well as harnessed, Victoria is submissive to her Dom who is also her fiancé.
But she enjoys dominating others to please him, as well as for her own pleasure.
She's especially turned on by the control she exerts as an online FemDom.
Victoria started stripping and personal training after college. Trying to be a "good girl," she also took a corporate job, but when COVID-19 hit, she began camming full time, while still doing personal training on the side, though now that's pretty much all online too.
Raised by "liberal" parents in Portland, Oregon, Victoria is full-speed ahead with erotica now.
When I ask her favorite sexual turn-ons—besides control—she gives me an image that appears very out-of-control, though I support if it's your fantasy roleplay, you could be controlling it. I'm paraphrasing, but essentially her fave sex position is:
Having sex doggystyle with a dildo in my pussy and a cock in my ass while I'm being choked out.
Wow, very dramatic. And exciting!
Nevertheless, I feel the need to say, "Do not try this at home," particularly the choking part.
Choking is a big turn-on for some people. I tried it a few times as a teenager in synagogue, of all places, with my fellow idiotic teens because cutting off each other's oxygen made us "high." But it's incredibly dangerous and if you think Covid kills you fast, consider how quickly the Boston Strangler put his victims away. As a sometime consultant to the LA Public Defenders office for people accused of murder-with-torture when their little choking games have gone awry, I say, stay away from this fetish, unless you're determined, in which case, you should take a class in how to do it safely.
Victoria seems to know what she's doing though, and she certainly looks great doing it.
We wish her all the best for the new year (and that fabulous Nude Rear of hers) and hope to have her back on DrSuzy.Tv in 2021.
The Virgin Mary & Hot-Wax Mariah
Then we turn to something completely different: the revelation of the Christmas Virgin of Guadalupe in the little Love Church of the Bonobo Way.
Ana the Christmas Queen, her head lit up like Victoria's chest, tells the story of the Guadalupe Virgin (as well as the celebrations that include a lot of drinking and smoking) with the help of Mariah, looking festive in an off-the-shoulder red dress.
That's one of the things I like about Catholicism: the elevation of the female through Mary.
Protestant denominations tend to focus on the devotee's direct relationship with God who is pretty much portrayed as male, maybe sexless, but always male.
The Catholic Holy Father and Son are also male, of course, but then there's Mother Mary. She's a virgin, which is kind of too-bad for sex which is given a little kick in the nuts by this fake-news "alternative fact" indicating that having a baby without having sex is more pure and superior than doing it the regular way.
Still, the deification of the female through Mary is a form of female empowerment, especially for mothers, and in an unspoken way, for young mothers who aren't sure who fathered their children.
With just a few more minutes left, we have just enough time to give Mariah her first Hanukkah Hot-Wax experience.
I'd say it's her first hot wax experience, but I'd given her a candle the night before, encouraging her to try it herself to get comfortable with it before doing it with me on camera.
That's a good course of action with a lot of kinky activities. For instance, it's often best to try anal play on yourself before doing it with someone else.
I sit up on a bar stool, so I'll be high enough for the wax to cool off a little before hitting her skin.
We keep it PG, just dripping the wax on her sexy shins.
As each drop hits her flesh, she squeals with what sounds like delight.
It probably is delight, because it's hard to fake that kind of visceral reaction.
So, it's a win-win for everyone. Nothing too sensational, but safe, masked up, somewhat physically distanced, somewhat mystical, kinky play you could try for your holiday Covid-safe fun, should you have a willing partner and a sacred candle.
Puppy for Hanukkah
As we wind up the live broadcast, we continue the masked up, somewhat physically-distanced fun with our staff and Chico the Pomeranian Xmas Dog.
Though maybe for this show, he's that "Puppy for Hanukkah" that Daveed Diggs is singing about, climbing into my lap to beg Dr. Suzy Claus for a doggie treat.
The song is so shmaltzy, but also kind of cool the way it explores a "Black Jewish" experience, and really conveys the anticipation of each Hanukkah night of gifts and flaming candles until that climactic eighth night when you get what you really want… hopefully.
Like everything else, Hanukkah wishes aren't always granted, especially in an economic collapse with the rich getting a LOT richer, the middle class sinking into poverty and the poor just sinking into Covid death, eviction, imprisonment, homelessness and wretchedness.
It's unconscionable that the richest country in the world (at least, I think we still might qualify as one of the richest) allows such extreme economic inequality.
Speaking of which, "Fuck the Rich" is the title or maybe the subtitle of a show, an audio podcast or, as Max calls it, a radio show, that we're going to start doing this Saturday.
And when we say "fuck the rich," we mean it in a good way… and a bad way. In a Bonobo Way. Fuck the Rich. That's "FTR" for short. Like FDR, but with a "T" instead of the "D."
After the live broadcast, Mariah suddenly tells us it's her birthday!
The little minx kept it a secret until after the show, so we don't have a cake for her.
I sympathize with her desire to keep her birthday on the down-low. It's demoralizing enough to get an avalanche of "Happy Birthday" and "HBD" messages from "friends" you don't know on social media without announcing it to the world (Facebook does that for you, pretty nonconsensually).
Nevertheless, I don't let her escape all the "Happy Birthday" mishegoss ("craziness" in Yiddish).
Since we have no cake, Ana and I create a banana split with ice cream, cherries, chocolate sauce and three Hanuka candles stuck in the banana flaming with Birthday Gal glory.
It's Mariah's First Hanuka Birthday!
Her Hanuka Hot-Wax experience is even more meaningful now that I realize it's her special day.
As I drip the wax on her legs, little do I know that, in a way, these are her birthday candles.
The celebrations continue with Manischewitz and Sangria, two ridiculously sweet and powerful wine drinks for winos.
I never got a puppy for Hanuka (I had cats), but I did get blitzed a few times, drinking the Manischewitz instead of the grape juice because it tastes like… grape juice. Heavily sweetened grape juice.
I do get a gift for Hanukkah 2020 from my brother and sister-in-law: a well-dress polar bear in a sparkly "made in China" snow globe that plays "The Dreidel Song" (no not the South Park version).
I'm still staring into the crystal ball, shaking the snow, trying to discern the hidden meaning of this mystical musical surprise.
Thanks Steve and Tiya!
The afterparty is no orgy, or even a softcore bacchanal.
We try to keep our physical distance, even while imbibing (not easy) and chatting deep into the dark and wintry night.
I kick off my heels and dance with Chico who is entranced by my tallit tzitzit.
Then the Captain (wearing his own Twin Towers-made Mogen David, also purchased at the bargain price of "two soups") and I commit the great mitzvah of holiday sex, exploding almost simultaneously (at our age, nothing's perfect) like the shooting flame of a curly-wicked candle, like the Northern Lights, like the twinkling stars of the evergreen or the fireworks of a bright new year.
But no, I'm not praying for a better world, just hoping and trying to do my small part.
Happy Horny HEALTHY Holy Daze!
Peace on Earth. Pleasure for All.
December 12, 2020 Susan Block, Ph.D., a.k.a. "Dr. Suzy," is a world renowned LA sex therapist, author of The Bonobo Way: The Evolution of Peace through Pleasure and horny housewife, occasionally seen on HBO and other channels. For speaking engagements, call 213-291-9497.
Hanukkah Xmas Bedside Chat PHOTO ALBUM