Last Supper Seder at the Speakeasy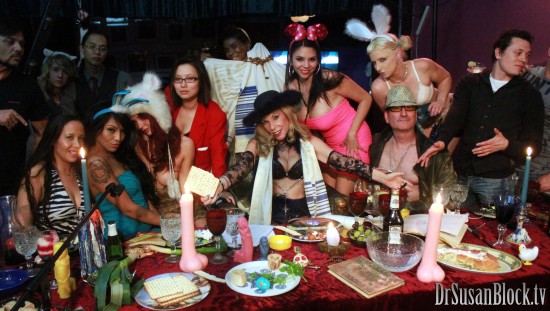 Length: 122:15 minutes        Date: 04/07/2012
Click here for PG pix.  X pix and video coming to DrSusanBlock.tv
This year, Passover not only coincides with Easter Eve, but overlaps another ritual—Saturday night's live broadcast of The Dr. Susan Block Show….So, blending ancient traditions from different religions with a generous helping of Speakeasy-style Commedia Erotica and ethical hedonism, I host my own exotic, erotic, comic, agnostic interpretation of a Passover Easter Eve Last Supper Seder Bacchanal with porn stars, friends and lovers—and guess who is coming to dinner? Back from the undead, He rises….Zombie Jesus! Or is that Elijah?  Max?  Whoever's Res-Erection this is, He's not the only Jesus at the Seder; from Last Supper Jesus to Bunny Jesus to naked-and-bound-to-the-cross Jesus to Divine Interventions adorable Baby Butt Plug Jesus (who just sits quietly on the table throughout the Seder, but gets quite a bit of X action in the after-party), Christ is all around us.
All of this doesn't sound very hamish, but my fellow lonsmen who were raised on their Daddy's knee as he droned through a traditional Passover Seder might appreciate the way we do most of the Haggadah's important prayers and songs in the original Hebrew, with all the proper trimmings of matzo, Manischewitz for the alcoholically adventuous, and three Seder plates filled with marror (bitter herbs), haroset, green vegetable, shank bone and roasted eggs.  Although our eggs are colored for Easter.  I wonder if anyone else puts an Easter egg on their Seder Plate.
Also, our partaking of the "green vegetable" includes both the eating of the green (parsley) dipped in salt water and the smoking of the green (kush) from the Adult Play Parlor Peter Piper dipped in Tasia's salty sweet yoni.  We figure if God wants us to ingest a green vegetable, why can't we smoke it?  And then there's the Blessing of the Titties, a new Mother Earth Goddess-oriented Seder ritual we come up with somewhere between the third and fourth cup of wine, whereupon almost all of my beautiful porn star Passover Seder Easter bunnies bless us with their generous boobage (read further to find out who is the "Contrary Son/Daughter," refusing to bless us with her boobs until the after-party).
Persian Jews will recognize our scallion flogging ritual during the singing of "Dayenu," representing the beating of the Hebrew slaves by their Egyptian taskmasters, a delightful custom I picked up when I spent a Seder with Rabbi Shmuley Boteach's family, green onion leaves flying like one of the 10 Plagues around the Womb Room.  Between the scallions, the horse radish and the gefilte fish, Passover is a super smelly holiday!  In a sense, it's not easy to make it erotic.  It's the ultimate "family" celebration.  But it's a mitzvah (good deed) for a couple to have sex on a holiday, including Pesach, so why not turn the Seder into culturally meaningful foreplay?  After all, there are two Seder nights.  Why not do a PG one for the kids and a wild one for the adults?  It sure works for Max and me….
Of course, there are those who call my interpretation blasphemous. I apologize if I offend anyone.  I don't mean to offend. But this isn't the Santorum Seder; it's the Speakeasy Seder, an exploration of ritual and its meaning while having an adult, erotic, rather mystical, pagan experience.  Indeed, long before Jesus was Born Again on Easter Sunday, long before Moses told Pharaoh to "Let My People Go"–if either of these myths even actually occurred–pagan peoples came together in small groups and large inter-tribal gatherings to welcome the rebirth of Mother Earth and freedom from the harsh slavery of winter, while celebrating the blessed, born-again beauty of nature in the original passion play.
This involves indoctrination through intoxication.  One of the first, grandest prayers of the Seder is recitation of the Kiddish which is essentially, a toast to the God of Wine
Baruch atah adonay eloheynu melach haolam boray peree hagafen.
Blessed art thou, Eternal our God, Lord of the Universe who brings forth the fruit of the vine. 
Wine is essential to Passover, as well as Easter and the ancient Bacchanals.  Why?  Simple: Wine gets you drunk.   Wine makes you feel free, redeemed from the bondage of your sobriety, and the Spring holidays celebrate freedom and redemption.  On Passover, we are commanded to drink four cups of wine. In Church, wine is the blood of Christ who, according to the Gospel of Matthew, said at the Last Supper, 'Drink ye all of it; for this is my blood of the covenant..'
And long before Jesus turned water into wine, wine into blood and other such magical vampire stuff, there was another great Wine God, Dionysus.  The Romans call him Bacchus which is why we call our Seder a Bacchanal.  Bacchus/Dionysus was the God of fertility, ecstasy and revolution as well as wine. Like Jesus, Dionysus/Bacchus was a really cute baby with a divine father and human "virgin" mother. Like Jesus, Dionysus/Bacchus was an androgynous man-god of the people who died a painful death and was resurrected as a God in Spring.  And, as we drink the wine, we drink the blood of Bacchus, Dionysus, Jesus, Lord Dracula and the Children of Israel throughout our Passover Easter Eve Last Supper Seder Bacchanal.  And that's just the beginning!
Amen. And a-women.  And A-woman-who-surprises-us all-by-having-a-dick! Talk about res-erection…
Featured Guests:
Veronica Ricci: This divinely beautiful Penthouse Pet, Playboy and Girls and Corpses model makes her big first-time Speakeasy entrance when she greets us with "Shalom!" while strapped to the bondage cross for the opening of the Seder as Bunny Jesus, a white-chocolate cross slowly melting between her sacred bosoms. Raised Italian Catholic, she is far more salami than shalom.  But after coming down from the cross to let another participant "play Jesus," she partakes in all the Seder rituals with relish.  During the post-Seder after-party, I take her for a ride on the Sybian and penetrate her sacred yoni with my Divine Interventions Baby Jesus Buttplug.  Jesus is in her now!
Corpsy: Back on RadioSuzy1 is another undead Jew besides Jesus, our good friend and Deaditor-in-Chief of Girls and Corpses magazine. Corpsy lends a mummy costume to a member of our camera crew, and his own shirt to the topless pretty apostle cause.  He grew up with traditional Seders, so he knows some of the prayers and mumbles along with me rabbinically, but he must admit he's never been to a Seder like this, among the living or the dead.
Missy Martinez: This may not be her first time at the Speakeasy, but it is her first Seder, which she attends dressed up as an adorable hot pink Easter Bunny while offering numerous interesting biblical factoids.  Sister Missy is first (after me) to reveal her generous boobs during the ritual "Blessing of the Titties."  Only at the Speakeasy Seder!
Natalie Foxxx: Virgin to both the Seder and Womb Room experience, this barely legal bunny isn't allowed to have the wine, nor does she seem to relish the bitter herbs. But she does enjoy the Commedia Erotica "atmosphere" and delivers the best surprise line of the night in response to Corpsy's attempts at cajole her boobage out of her dress for the Blessing of the Titties: "I'll show you my tits, if you suck my dick." It's a lovely retort that renders Corpsy momentarily speechless and gets a number of cock-sucking volunteers from the audience and our Seder table—plus a sexy kiss from Bunny Jesus.  P.S. Natalie graciously reveals her boobs to me during the after-party, and they are just delicious!
Amina Noir: This may not be her first time at the Speakeasy, nor is it the first Passover Seder she has attended. But it is indeed her first Seder at the Speakeasy.  And her Islamic inflections lend a sultry flair to the Hebrew prayers, and her luscious natural rack is a great offering during the Blessing of the Titties.
AfroDisiac: Another RadioSuzy1  regular, Afro attends our Last Supper Seder appropriately attired—in a gold yarmulke that my brother wore at my cousin's bar mitzvah, a mustache bowtie and packing her big 8-incher in her Passover pants.   She also reminds us all that Moses, Jesus, Elijah and the rest were African, if they even existed.
Captain Jesus Max Zombie: Risen from the dead where he walked the waters against the evils of the Big C, Lord Jesus Christ Zombie, aka Captain Max, Elijah the Prophet (Eliahu Hanavee) appears from the darkness to take a sip of wine from His Cup and delivers His message of Peace on Earth, Peace through Pleasure, Peace of Ass and a Piece of Lamb!  L'chaim! Time to eat….
Weapons of Mass Discussion: The Last Supper of Jesus was a Seder, "Seder" Means Order, Indoctrination & Intoxication, Obama Seder in the White House, 20 Years of Speakeasy Seders, Spring Equinox Is a Pagan Holiday, Sorry About the Blasphemy, Importance of Wine in the Mystical Experience, Blood of Christ, Dionysus/Bacchus the God of Wine & Spring, Jesus Took a Page out of Dionysus/Bacchus' Book, Back when Men Wore Dresses, Swarthy Moses, Lack of Evidence that Hebrew Slaves Built the Pyramids or Were Ever Slaves in Egypt, Paraphrasing the Plot of The Prince of Egypt, Intensely Cruel Plagues on Innocent Egyptian Citizens, Hebrew Bible Filled with Murder and Mayhem—Much of It Commanded by God, Getting Caught Masturbating During Seder, Rabbi Hoodwinking Baby Suzy, Sexy Black Androgynous Rabbi Jesus, Hippy Jesus Hanging Out with Hookers, Peace on Earth, Peace through Pleasure, Piece of Ass & Piece of Lamb, Bonobos.
Performance Erotica: Hanging Bunny Jesus on the Cross, Pointing Heavenward to the Big Matzo Ball in the Sky, Lighting Candles & Saying Prayers, Washing Hands, Pouring & Drinking Buckets of Wine, Presenting Baby Jesus Butt Plug by Divine Interventions, Leaning to the Left like the Romans, Bunny Butt Plug for Easter, Placing White-Chocolate Cross Between the Boobs, Eating the Green Herb, Smoking the Green Herb through the Peter Piper, Flash of Jesus' Panties, Double Plugged Easter Bunny, Ass on the Table, Breaking Matzo, Spilling Wine, Calling out Plagues, Finger Sucking, Chocolate Melted Cleavage, Scallion Flogging: Getting Beat to the Dayenu Beat, Potent Horseradish Parfait, Terrible Smells of Passover, Blessing of the Titties, Body of Christ Cannibal Penis Cake, Man Udders,  Jesus the Lamb Sacrifice Dinner, Naked Jesus in Bunny Ears, Rushed Egg Ritual, Elijah-Jesus-Max Drinks from the Cup, , Holy Tranny Revelation, Jesus Make-out Scene, Hooping & Rickshaw Rides, Cock-sucking Contest, Fake Corpse Play, Snake Play, Sybian Rides + More Scallion Flogging & Baby Jesus Penetrates a Penthouse Pet.
---
Explore DrSusanBlock.com
Need to talk? Sext? Webcam? Do it here. Have you watched the show? No? Feel the sex. Don't miss the Forbidden Photographs—Hot Stuff, look at them closely here. Join our private social media Society. Join us live in studio 😊. Go shopping. Gift shop or The Market Place. DrSusanBlock.tv, real sex TV at your toe tips. Sex Clips Anyone? FASHION, we have fashion! We also have politics. Politics? Have you Read the book? No? How about the Speakeasy Journal? Click here. Ok, how about some free sex advice?
---
---