Sex Appeal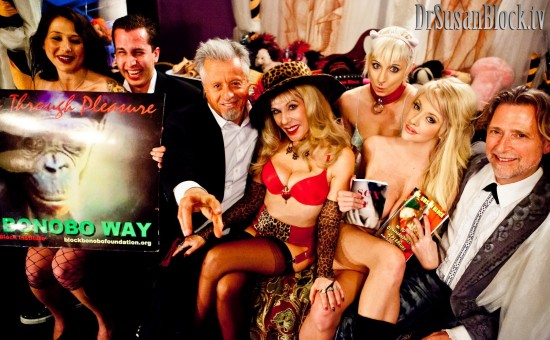 Length: 100:34 minutes        Date: 03/31/2012
Free PGish Pix Page… X Pix and Video coming to DrSusanBlock.tv!
Honoring the second principle of Sex Appeal: Six Ethical Principles for the 21st Century, we "celebrate sex" in the Womb Room once again, trying, as always, to get to "know ourselves" (fourth principle of Sex Appeal) while "doing no harm" (first principle), "being careful" (third principle) "not to throw stones" (sixth principle), but "speaking up and out" (fifth principle) with some seriously sex-laden discourse—not to mention, Sybian-riding intercourse. My two featured guests, a distinguished professor and a dazzling porn star, present their interpretations of "sex appeal," delving into such stimulating subjects as sodomy, condoms, courtroom dramas, BDSM, bonobos, ethical hedonism, unethical Puritanism and how to ride a giant vibrator for maximum orgasmic potential.
Featured Guests:
Captain Max: Back in the Womb Room after battling the Big C, my beloved captain is sailing the airwaves with me again, cancer-free, with a brand new bladder and 40 fewer pounds. Not quite up to engineering yet, he takes the best show-guest seat in the house—front and center under the pole-dance action.
Dr. Paul Abramson: UCLA Psychology professor, author of Sex Appeal: Six Ethical Principles for the 21st Century as well as several articles for The LA Weekly, including one which unsheathes a message that every man who has ever wrapped his member can firmly support, "Condoms Suck." Professor Paul chats with us about sexual ethics, giving me an A+ for my interpretation of his Sex Appeal principles.  We play some jams from his punk band, Crying4Kafka, included such seemingly unprofessorial titles as "Fuck Mom, Fuck Dad" and, my favorite, "Give Sodomy a Chance," penned in honor of the 2003 Supreme Court ruling in Lawrence vs. Texas.
Courtney Taylor: This Speakeasy virgin demonstrates the meaning of the title of this show and Professor Paul's book as soon as she walks in the door, brimming with enthusiasm, wonder, charisma and that je ne sais quoi we call "sex appeal."  Inspired by Professor Paul's quasi-punk beats, she strips down to pink lace panties for Panty Boy, dances on the stripper pole and rocks out on the Sybian which she finds to be absolutely "amaze-balls."  Then after a few rounds of Agwa titty shots, she removes the panties to reveal her "perfectly" shaved vulva and rides the Sybian again, this time with a dildonic attachment that sends her into the stratosphere of orgasmic excitement and sex appeal.
Other Guests
Catherine Imperio:  Here as Crying4Kafka's manager (her management company operating under the Sybian-friendly name of "Electric Sex," Catherine shows off her fishnets and tattoos, upon request, and then offers her perfect little tits as a surface for Agwa salt suckling.
Brandon Thibeaut: Drummer for Crying4Kafka, this Speakeasy newbie not only gets his taste of Sex Appeal with some salty tit licking from two different racks, he also takes a few lickings during the post-show party when his manager ties him to a bed post.
Terry Gross: Every good entourage needs an attorney and Professor Paul's is Terry—but you can call him Lightning Clearwater if he's out on the playa, representing his well-known client, Burning Man.
Callers:
Adam, a devout Catholic calling in from Chicago, asks our panel of ethical sex experts if it's all right to be turned on by BDSM. No, Adam, it is not. And because you asked, you will be punished! He's specifically interested in being done by a woman with a strap-on, picking up the sodomy theme. Seriously, all these interests are perfectly permissible, and acting them out is okay too, as long as it's consensual—and as long as you've got lube.
Panty Boy gives his best to Max and his hots for Courtney Taylor. Courtney donates her pink laces panties to the Panty Boy Collection. Max offers to contribute his extra Executive-Grey Depends (don't worry, Panty Boy, they didn't make it in!).
Brad calls into to ask Courtney cum on the Sybian which she readily does in time to music.
Weapons of Mass Discussion: Professors & Porn Stars, Captain Max's Return Voyage from the Cancer Spa, Sex Appeal, Giving Sodomy a Chance in Court, Different Types of Sodomy Including Fisting & Sex with Vegetables, Joycelyn Elder's Promoting the Teaching of Masturbation but Hating on the "Condoms Suck" Article,  iWrap User-friendly Condoms, Original Fish-intestine Condoms, Gray Area in the Dangers of Sex, Quasi-Punk Band, Sucking a Dildo to Impress a Boy, It Always Starts with the Finger, More Sex Toys for Men, Incestuous Crimes, Molesting Children vs Blowing Their Brains Out,  Hot Student Nurse Sexy Cock-sucking Irrigation, A Dangerous Method, Bonobo Appearances in Sex Appeal, Bonobo Talk at SSSS and SSSS After-Party at the Speakeasy, Republicans Hating on Hippy Apes Getting Laid, Hoka-Hoka Hugging in a Matriarchy, Ethical Hedonism
Performance Erotica: Salami Munching, Stripping on the Pole to "Give Sodomy a Chance," Professor Dropping Lyrics, Exposed Producer Pussy, Dropping Pants Before the Pole Dance, Leaving the Boots On While Taking Everything Else On, Pre-Sybian Panty Change, Spankings on Sybian, Sweaty Boobs, Rotating Sybian Demonstration, Penile Platter on Saran-Wrapped Tray, "Fuck Mom Fuck Dad"  Stripper Pole Striptease, Adult Play Parlor Toy Giveaway, Adult Play Parlor Lube on the Sybian, Screaming "Fuck Balls," Sybian Attachment Stuck in Pussy, Amazing Multi-Faceted Sybian Orgasm, Agwa Salt-Licking Demonstrations, Leaving Lipstick on My Boob,  Double-Boob-Licking Shots,  Boob Lick for the Album Cover, Book Swapping The 10 Commandments of Pleasure for Sex Appeal: Six Ethical Principles for the 21st Century, Getting an A+ for Paraphrasing the Six Ethical Principles of Sex Appeal, After-Party Flogging and Bondage Lessons, Erotic Yoga, Naked Trapeze, Nude Rickshaw Rides, Return of the Hula Hoop Harem, Drunken Ballerinas, Ballet Babes, Pussy Pipe in a Porn Star, Blow Job Slave, Tying Up the Drummer
---
Explore DrSusanBlock.com
Need to talk? Sext? Webcam? Do it here. Have you watched the show? No? Feel the sex. Don't miss the Forbidden Photographs—Hot Stuff, look at them closely here. Join our private social media Society. Join us live in studio 😊. Go shopping. Gift shop or The Market Place. DrSusanBlock.tv, real sex TV at your toe tips. Sex Clips Anyone? FASHION, we have fashion! We also have politics. Politics? Have you Read the book? No? How about the Speakeasy Journal? Click here. Ok, how about some free sex advice?
---