Seder Sex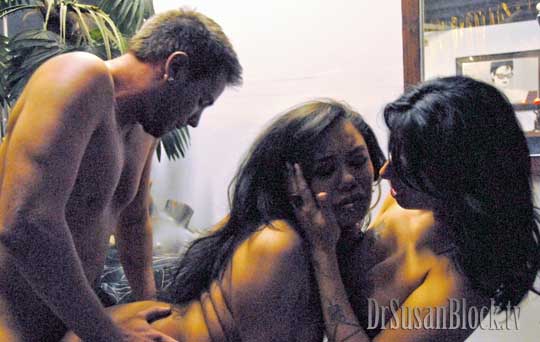 Length: 68:31 minutes
Date: 04/03/2010
Seder Sex
Sandwiched between our awesome Speakeasy Seder and a hardcore, screaming, pounding, porn star threesome, this radioSUZY1 show is both hot and warm, laugh-out-loud funny and balls-out sexual (literally).  Hot on the heels of leading a 25-person Seder with a 7-course feast engineered by Chef Max, I segue into the live broadcast with Nice Jewish Girl and budding comedienne Laura Levites (a Levite!) who gushes that this is the sexiest—not to mention most scrumptious—Seder she has ever attended.  Little does she know, the evening is about to fly off-the-charts in terms of Passover porn (they do chart that, don't they?).  Laura is accompanied by Dane Cross, AVN-award-winning porn star and, heretofore, Seder virgin.  We're then joined by Annie Cruz, whom we haven't seen since she was married to Jack Lawrence, squirting up a storm for our 14th wedding anniversary in 2006 (see Double Annie Squirting Anniversary).
Annie Cruz is sexier than ever, as naked and natural as an island girl, but as nasty—in word and deed—as the baddest Pinay in the neighborhood (and we love her for it!).  Annie regales us with vivid tales of hot sex, Filipina style, from Squirting to Gang Bangs to Erotic Hypnosis to DPs and Double Anal to Coping-with-your-Catholic-Uncle-Watching-your-Porn, oh my!  It's all quite a far cry from matzoh ball soup and day-dayenu, but that's how we roll here at the Speakeasy—from the culinary to the carnal, the sexual to the spiritual.  Speaking of spirits, a round of Agwa shots gets Annie and Dane licking lime salt off each other's genitalia (they skipped desert at the Seder feast, reserving their hunger for each other).  Suddenly, statuesque porn star Zoey Holloway shows up to join us for the climax, as we find the erotic Afikomen and the Seder Sex party turns into an explosive threesome that Laura can't even imagine describing to her darling Bubbe—though I'm looking forward to it working its way into her next comedy act.  Oy vey!
---
Explore DrSusanBlock.com
Need to talk? Sext? Webcam? Do it here. Have you watched the show? No? Feel the sex. Don't miss the Forbidden Photographs—Hot Stuff, look at them closely here. Join our private social media Society. Join us live in studio 😊. Go shopping. Gift shop or The Market Place. DrSusanBlock.tv, real sex TV at your toe tips. Sex Clips Anyone? FASHION, we have fashion! We also have politics. Politics? Have you Read the book? No? How about the Speakeasy Journal? Click here. Ok, how about some free sex advice?
---