RubberNecro's Airwave Orgasm & BDSM Religion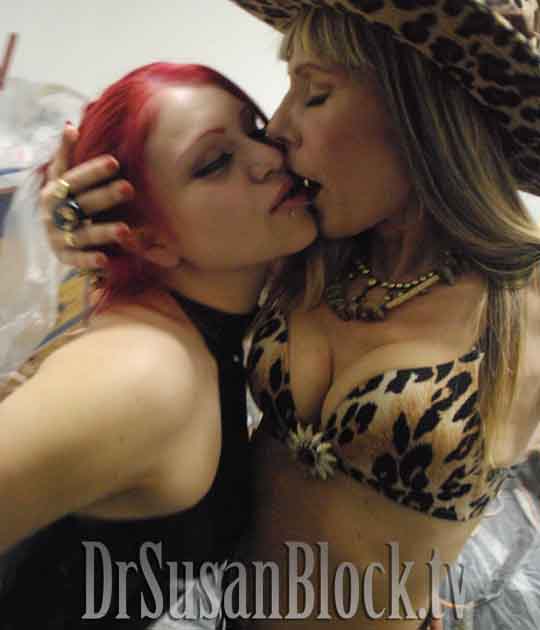 Length: 89:03 minutes
Date: 03/27/2010
RubberNecro's Airwave Orgasm & BDSM Religion
In her fifth electrifying appearance on The Dr. Susan Block Show, RubberNecro knocks our latex socks off with a live airwave-shattering orgasm, thanks to a violet light-flashing Pyrexions glass vibrator, Dr. Suzy's elbow grease and RN's own tremendous erotic passion.  But that doesn't cum until the climax of this broadcast.  Dr. Suzy begins by delving into what makes our favorite latex princess tick, starting with how she developed her trademark fascination for rubber five years ago at the age of 16, when she snuck into Mom and Dad's boudoir and found a rubber fetish porno.  As for the "Necro" part of her name, that came from living through the deaths of several friends and family at a tender age, and now influences her ambition to become a forensic psychologist.  RubberNecro's mesmerizing  beauty, submissive nature, preternatural maturity and hedonistic desires opened the door to fetish modeling where she developed an additional talent for taking high voltage shocks from Tens units, violet wands and other electrical paraphernalia.
 Thus electrified, up to the radioSUZY1 microphones step a couple from our Speakeasy studio audience, Frank and Betty, who happen to have considerable experience with electrical eroticism as well as other forms of BDSM.  The show turns into a discussion of BDSM philosophy and religion, Frank, Betty, RubberNecro and Prince Max all having been raised Catholic.  RN still considers herself a girl of The Church, which makes total sense, the Catholic image of Jesus on the Cross being a necrophiliac's wet dream.  Frank and Betty decided to create their own personal religion: "8 Day Hedonism," because just a week of pleasure is not enough. The subject of Sex and God takes an even tastier turn as RN fellates the Jesus Jackhammer dildo and Dr. Suzy declares "Jesus is in her now!" Kyle calls in from NY to switch gears into the ups and downs of drunken sex.
 Then, with the inspiration of a little Agwa (RN's new favorite drink) and the fact that she has no panties on under her very revealing rubber dress, Dr. Suzy propels the Pyrexions vibe into her guest's very moist pussy (you know how wet skin gets under rubber), resulting in the now legendary airwave climax.  Hardcore RubberNecro fans will want to know that during the after-party, our Latex Lady took it up a notch, engaging in full-throttle rough sex from Dr. Suzy's lap with recent Speakeasy regular and AVN award-winning porn star Dane Cross (pics and video coming soon!), surrounded by a group of Dane's friends, RN's fiancé and several appreciative Block Studio members.
---
Explore DrSusanBlock.com
Need to talk? Sext? Webcam? Do it here. Have you watched the show? No? Feel the sex. Don't miss the Forbidden Photographs—Hot Stuff, look at them closely here. Join our private social media Society. Join us live in studio 😊. Go shopping. Gift shop or The Market Place. DrSusanBlock.tv, real sex TV at your toe tips. Sex Clips Anyone? FASHION, we have fashion! We also have politics. Politics? Have you Read the book? No? How about the Speakeasy Journal? Click here. Ok, how about some free sex advice?
---