Busty Sara Jay & Austin Taylor Meet Vibrating Vegas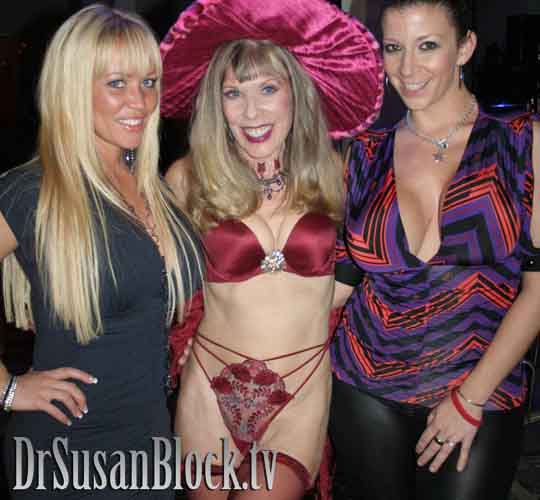 Length: 93:14 minutes
Date: 03/20/2010
Busty Sara Jay & Austin Taylor Meet Vibrating Vegas
RadioSUZY1 welcomes Spring with boobalicious porn stars Sara Jay and Austin Taylor, as well as Vegas, one of the Dr. Susan Block Institute's very own webcam and phone sex therapists.  Sara Jay turns up the heat with a detailed explanation of how she gives ones of the best blowjobs in porn, demonstrating her vacuum technique on a well-hung dildo with the help of a little extra-virgin olive oil and her gigantic nude boobs.  Dr. Suzy marvels at how porn stars are taking over the world—or at least the news–by publicly screwing huge mainstream celebrities like Tiger Woods or their husbands like Sandra Bullock's Jesse James, and Prince Max rants against Tea Party racists and Health Care Reform haters.
 Calls pour in like Spring Showers; first Chad, currently having a love affair with his penis which he affectionately refers to as "Penis Man." Billy calls in from Georgia wondering if it's ok to take the term "kissing cousins" literally. Turns out he's got a major incest fetish and also wants to do his mom.  Dr. Suzy persuades him to abstain from trying to have sex with his real mother and "come" to terms with his naughty desires via the fantasy of her and her guests all role-playing his Hot Moms. Inspired by maternal feelings and Dr. Suzy's coaxing, Austin introduces her generous, naked breasts (Kelly and Cindy) to the audience, sucks down a few loads of whipped cream with strawberries, a big black dildo and a shot of Agavero, then helps Brad, an admiring caller, spread the love all over his hands, making radioSUZY1 the official Masturbation Station of the Nation.
 Meanwhile, Vegas plays happily with her Doc Johnson Pocket Rocket and shows off her lovely, not-so-huge boobs, and radioSUZY1 longtime callers Rita and Ralph of LA provide a riveting climax with their stranger-than-a-soap-opera, hotter-than-Spring-Fever, real-life story of love and passion.
---
Explore DrSusanBlock.com
Need to talk? Sext? Webcam? Do it here. Have you watched the show? No? Feel the sex. Don't miss the Forbidden Photographs—Hot Stuff, look at them closely here. Join our private social media Society. Join us live in studio 😊. Go shopping. Gift shop or The Market Place. DrSusanBlock.tv, real sex TV at your toe tips. Sex Clips Anyone? FASHION, we have fashion! We also have politics. Politics? Have you Read the book? No? How about the Speakeasy Journal? Click here. Ok, how about some free sex advice?
---