MetaSex, Meta Politics & a Perverse Metaverse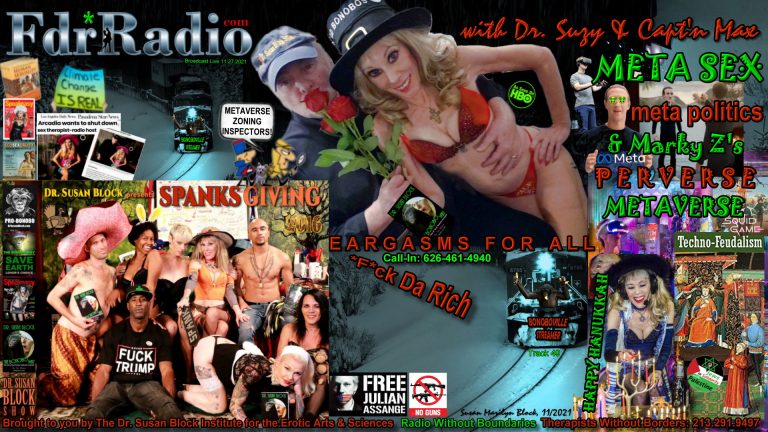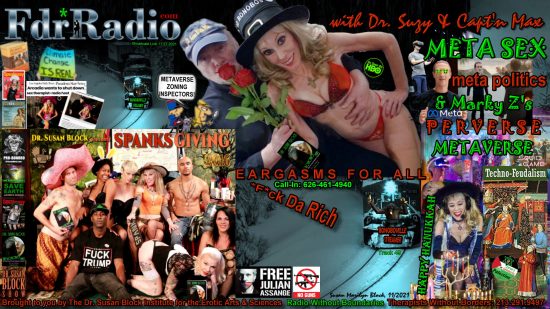 Length 01:18:09 Date: November 27, 2021
by Dr. Susan Block.
It's the last Love Train of Naughty November 2021 out of the Bonoboville Station, and we are riding through Techno-Feudal Lord Zuckerberg's fright-filled META-Manor, then into a stimulating, sapiosexual exploration of interracial group sex; justice for Ahmaud Arbery (yay!); Killer Kyle doing the Tucker/tRump Ammosexual Media Circuit while Killer-Exposing Julian Assange remains imprisoned (boo!); Omicron around the bend; RIP Stephen Sondheim and Capt'n Max's friend Milva; Italian-accented senior romance; Thomas Morton the Anti-Pilgrim; continuing Mattress Madness from the Arcadia Zoning Politburo; the piquant pleasures of audio erotica; Abby Martin trying to talk to Nancy Pelosi about the U.S. Military's part in Climate Change; why The Bonobo Way is the best way; a crash course in "How to Initiate Phone Sex (for Dummies)" and another great bacchanalian Spanksgiving throwback (Seasons Beatings!) and more.
Lots of exciting topics on a rollicking ride through the Tunnels of Love!
But our main focus is how Facebook's marriage to IG is giving birth to the monster baby, "META," and what, if anything, we can do to abort it.
A Perverse Metaverse
Let's take sneak peek into the perverse Metaverse—or at least, Zuck & Co.'s projection of what it "will" (not might) be. It's a bright, colorfully horrible place, like being inside a Squid Game… only instead of getting shot to death for losing, the life is slowly sucked out of you until you are nothing but an avatar shell of your former self—and that's only if you win.
Let's face the future: Marky Z's Metaverse will drive us even more insane than we already are.

Zuck… is one of [several] techno-feudal lords of the Metaverse… What does that make the rest of us? Serfs condemned to surf this inorganic, capitalogenic, fake world.

And for what?
To distract our minds with virtual *adventures* while our real-life bodies and environs are bombarded by climate catastrophes, increasing inequalities, choking Covid variants and Perma War, driven by this infernal capitalogenic technological determination to grow, do more, go further, make more money (for somebody) and create greater damage (for everybody), trampling real humans on our way to artificial ecstasy.
I've got nothing against ecstasy, the feeling or the drug. In fact, I love it (who doesn't?). However, if the ecstasy is killing me or others, I'll take agony.
Speaking of agony, that's what I felt watching Facebook-Fiend-Turned-META-Mad-Scientist Mark Zuckerberg describe his vision for our techno future. It was like having Dr. Strangelove—without the mechanized Nazi salute or accent, but with the same creepy smile—telling me, while I was helplessly strapped down and plugged into his infernal mind-melting doomsday machine, just how he was going to poison me, as well as most of life on Earth.
Zuck, though particularly odious, is just one of many techno-feudal lords of the metaverse. Well, there's not that many. Only a handful of billionaires with troubled childhoods control our lives.
And what does that make the rest of us? Serfs condemned to surf this inorganic, capitalogenic, fake world.
Meanwhile, our minds are being mined for that "spice," aka revenue, they bring the techno-lords and their royal families.
While some billionaires are flying their rocket-dicks into outer space, Zuck is penetrating our inner space. Yikes, mind-rape!
Moreover, the whole colorful, experiential and immersive experience doesn't look like much fun—even though "fun" appears to be its primary purpose. I'm sorry, but virtual swimming with fake dolphins just isn't the same kind of fun as swimming with real ones. If I could choose, I'd steer clear of the whole Meta Realm, but if Marky Z's will be done, it'll be pretty tough to escape, and—fun or no fun—it'll be a lot of work just to keep up. It already is…. was that a dolphin that just swam by?


Soon we'll all be herded in there—at least, those of us who can afford thoe dorky goggles—living our Best Second Life… because our first one will have gone to meta-shit.
Meta Nuts
We also explore "metasex," defined (sometimes) as being "above and beyond physical sex." Sounds like ecstasy… or magic mushrooms.
I love phone sex, and webcam is cool, but metasex? I might like to try it, but I wouldn't want to live there. Though it's a slippery slope, as it has been with social media…

Phone sex ignites the piquant pleasures of sensory deprivation. The metaverse is all about sensory overload.

Moreover, phone sex can be very intimate and, with all the avatars and three-dimensional fake imagery floating around, metasex seems to be the opposite.
Phone sex ignites the piquant pleasures of sensory deprivation. The metaverse is all about sensory overload. Maybe I just need to get "into" it.
"Meta" also means "self-referential," aka a working copy. A very meta art piece would be a picture of a lamp that actually lights up. Meta News is news about the news, and metapolitics is a political dialogue about politics itself.
How about Meta fascism? That's just Tucker Carlson's avatar.
What about Meta violence? Will some folks confuse Meta with reality and accidentally kill real human beings when the "immersive" sensory overload makes them think the murder they're committing is just another Meta Game? This points to the opposite direction of The Bonobo Way of PEACE through pleasure.


Besides delving into the meta-issues listed above, we take calls and comments, including a call from a dude named Ambush who ambushes me with his opening line, "First of all, Dr. Suzy, I've been a fan since I've been in my early 20s and shit."
The "shit" turns out to be Ambush's passion for "playing with stereotypes" via interracial group sex with friends and "intellectual" white women. Ambush himself is black, from Belize, and now a "lucky musician in Los Angeles."
Between his instrument and his tool, Monsieur Ambush gets the job done.
When he tells me he wants to pay me a compliment, I tell him he'd better praise Capt'n Max too, and smooth as cream, he says, "Max, you're a really cool dude… Dr. Suzy, you got some sweet ass titties."
A lesser intellectual might be offended by Ambush's "compliment," but it reminds me of Dr. Desmond Morris' somewhat discredited, rather sexist but still plausible theory that breasts evolved to mimic the butt so men would have sex face-to-face instead of just doggy-style.
In that context, "sweet ass titties" makes total meta-linguistic sense.


Ambush's interracial sex parties remind me of Thomas Morton the Anti-Pilgrim, a jovial, Shakespearean sort of fellow who arrived in New England soon after the Mayflower but had a very different idea of how to engage with the "New World" than the Pilgrims and their Puritan relations. While the Pilgrims sought to mostly shoot-to-kill the local Wampanoag tribe they encountered or give them smallpox-infested blankets, Morton ate, drank, partied and had sex with various Native Americans. A big believer in interracial sex for recreation and procreation, he thought mixing European and Native American genetics might create a better, stronger race. Certainly it would have created better, stronger race relations than the Pilgrims and Puritans. Plucky Thomas Morton even erected a giant Maypole for all to dance around that the Puritans despised, running the visionary Elizabethan out of town and out of (their) history books.
After I tell Morton's tale, Ambush says "Wow, I wish I was around for some Pilgrim pussy."
Oh, those Pilgrims! As we discussed last week, and every Turkey Day this millennium, it's much less likely they celebrated a feel-good, food-sharing Thanksgiving with the Natives than it is that they practiced Spanksgiving, chastening its citizens with spankings, whippings and other corporal punishments, especially for sexual transgressions.
In keeping with these historic events, we feature another one of our great, star-spangled, spanktastic throwbacks, Spanksgiving 2016.
Don't miss it!
Though we're wary of Meta-Sex, there's no doubt Max and I both love phone sex, though we go about it in somewhat different ways, highlighted when shy David D. asks us, "How should I initiate phone sex?"
My method is to ease into it slowly, always maintaining a plausible excuse to bail, starting with a leading non-sex question like, "Where are you right now?"
Max's method is to ask your intended right out the gate, "Want to have phone sex?"
Choose your method. And if you need more details, listen to this show, above or below.
And Happy Hot-Wax Hanukkah to all who celebrate!
Keep those sexy lefty fires burning…
© November 27, 2021 Susan Block, Ph.D., a.k.a. "Dr. Suzy," is a world renowned LA sex therapist, author of The Bonobo Way: The Evolution of Peace through Pleasure and horny housewife, occasionally seen on HBO and other channels. For speaking engagements, call 213-291-9497.