Spanksgiving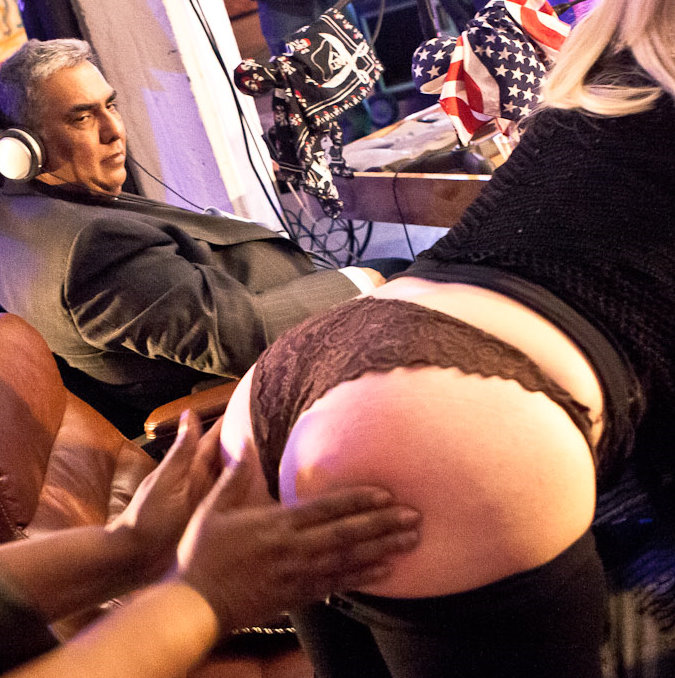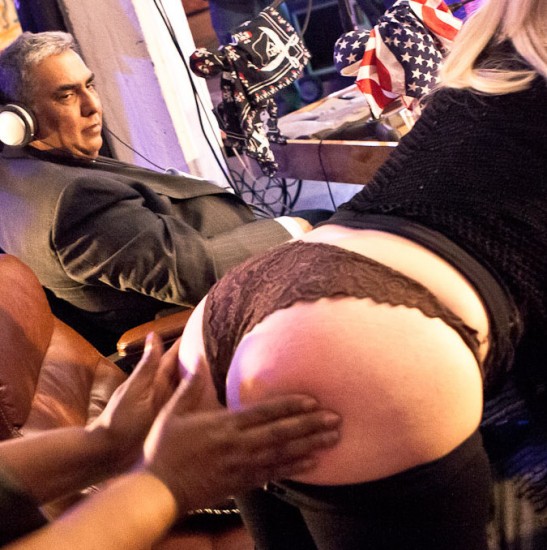 Length: 92 minutes
Date: 11/27/2010
Spanksgiving
Ah, the holidays! Times for family and friends to gather around a table, some of whom have traveled from afar, as the celebratory drinks start flowing, conversations turn to the dreaded "politics and religion," and people start getting punchy… and that's pretty much what happens here. But this "Spanksgiving" edition of the Dr. Susan Block Show is not your typical holiday get-together: discipline's for the adults, not the kids; stuffing's a verb, not a side dish; and instead of Grandma Betty snoozing in a rocker, we've got hot Double Monkey Rocker action in the post-show Erotic After-party!
Before we get that far, though, there's a feast of hot guests that serve up a potluck show stuffed with everything from tops to bottoms, leather to bare skin, Disney to Nazis, and spanking to ass punching! Seated around the guest table are 2010 International Miss Leather Mollena Williams and 2010 Southern California Leather Woman Serene Sin, radioSUZY1 frequent caller and sometime visitor Imtiaz Waris, back from a jet-setting journey around the world, show veteran Katie Kinns, and audience member Helane, recruited last minute by Prince Max, engineer and devoted husband of yours truly. Imtiaz warms us up with an appetizer, sharing how he recently (platonically) wined and dined Miss New Zealand, Ria van Dyk, on the Down Under leg of his global journey, before Mollena and Serene describe their roles as participants and title-holders in the fetish community for our first course. Mollena describes her winning performance for the International Miss Leather competition; transforming the traditional imagery of racial oppression and bondage into the empowered and consensual BDSM restraints, proclaiming her identity as an African-American woman whose bondage symbolizes her strength, not her weakness–much like our Whore Chic guest Ginger Murray sought to reappropriate a negative word into a positive, assertive characterization. As confident a personality as she is, Mollena is a submissive in the bedroom, enjoying the power dynamic shift that happens with relinquishing control; Serene, on the other hand, is a dominant, and describes how her marriage to another dominant requires non-monogamous play to keep themselves fulfilled.
Next up on the menu is a little political fodder as Prince Max and Imtiaz skewer the Military Industrial Complex & Imtiaz uses the N-word (Nazi) to describe American policy after 9/11, almost causing a couple of the other guests to leave in protest, in good Thanksgiving fashion, until I somehow manage to mash up all the political hot potatoes into something delicious.  Though we hate the wars, we love our men and women in uniform like Lord Artimus Foul, Box Cutter, Dia Zerva, and Jack Hammer who are always welcome to get their kink on at the Speakeasy (the "friendly Abu Ghraib," as Max puts it). Imtiaz shares his own views on the comparative kinkiness between Shi'ites and Sunni Muslims, and I explain spanking's earliest literary roots in the Kama Sutra, and mentions a later Sephardic Jewish tradition of scallion flagellation (which I learned from Kosher Sex Rabbi Shmuley Boteach) which everyone present at this year's Speakeasy Passover Seder was lucky enough to experience. All this talk about spanking excites wild card Helane, who turns out to be a Disney animator by day, kinky submissive by night, and a Jewish Sunday School teacher to boot! Helane reveals some amazing portraits she did at the bar before the show, and then reveals her rear end, with brown lace panties and without, for an enthusiastic spanking by yours truly that leaves her pink and smarting but definitely wanting more. Dominant boxing enthusiast Serene admits she enjoys doling out the punishment more than receiving, and Mollena admits she enjoys getting punched in the fleshy areas of the body (not the face!) in a manner akin to a deep-tissue massage: both painful and pleasurable at the same time, the hallmark of S/ M play. Intrigued, Helane volunteers to be the test subject, and her butt-pummeling (or "bummeling," as we now call it) looks so enjoyable that I drop my initial hesitance and volunteer as well, to successful results!
Latecomer Katie Kinns arrives in time for the Agwa shot ritual, having just missed the bummeling demo, but makes up for it by taking her top off and licking Agwa salt off the still-pink slope of Helane's bottom; Helane completes the circuit with some licks of her own off my lucky cleavage. Our old friend Dark Phoenix, (whose last appearance on the show left his submissive Sasha Knox screaming "Daddy, Please!"), drops in for a quick check-in, introducing his new friend Alena Dawn, before the night's main course of the show comes to an end. As with any good holiday meal, though, there's always room for dessert–and what an Erotic After-party dessert it is! Helane gives a very public blow-job to her quite well-endowed chaperone, then hops on the Double Monkey Rocker with Katie Kinns; after that wild ride, Katie gets ridden by her boyfriend Mona Sunoy on the red leather couch, and then gets tied up Shibari-style by Bondage Dave. Stuffed and sated in every way, the Bonobo Gang retires at the end of the night to give thanks for good health, love, and everything that gives us pleasure in the world.
A Merry Spanksgiving to all, and to all, a good bummeling.
---
Explore DrSusanBlock.com
Need to talk? Sext? Webcam? Do it here. Have you watched the show? No? Feel the sex. Don't miss the Forbidden Photographs—Hot Stuff, look at them closely here. Join our private social media Society. Join us live in studio 😊. Go shopping. Gift shop or The Market Place. DrSusanBlock.tv, real sex TV at your toe tips. Sex Clips Anyone? FASHION, we have fashion! We also have politics. Politics? Have you Read the book? No? How about the Speakeasy Journal? Click here. Ok, how about some free sex advice?
---
---