A Very Slappy SPANKSGIVING 2020 in the Coronapocalypse!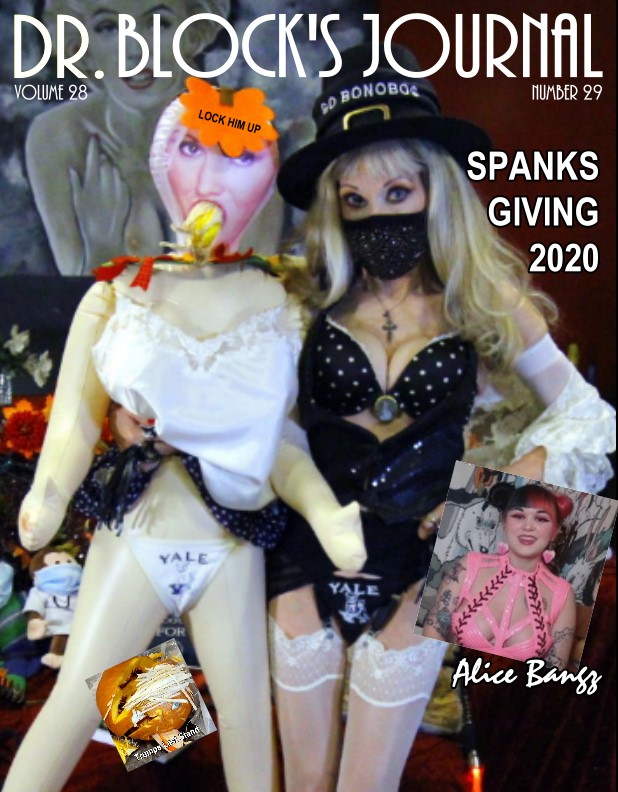 Length 1:29:30 Date: Nov. 21, 2020
by Dr. Susan Block.
Season's Beatings, Brothers and Sisters, Lovers and Sinners, Puritans and Libertines, Native Americans and Immigrants… Unless we are full-blooded Native Americans, we are all immigrants in America.
Happy Thanksgiving and Slappy Spanksgiving!
It's my 26th Bedside Chat of the Coronapocalypse, inspired by FDR's Fireside Chats, here to comfort, inform, eroticize and incite you to seize the day, in a Bonobo Way.
Also in a naughty way. After all, it's Naughty November, which is not only lusciously alliterative, but fittingly climaxes with Spanksgiving.
A Very Impactful Spanksgiving
Here in Bonoboville, where we love to eroticize all the holidays, ever since we realized that "spanks" rhymes with "thanks" (back around the turn of the 21st century), we've been celebrating Spanksgiving, usually on the Saturday after Thanksgiving, though sometimes the Saturday before.
In some ways, Spanksgiving 2020 is like all the others—lots of spankings, whipping, laughing and Pilgrim/Native American themes—but in some ways, it's starkly different.
In the Coronapocalypse, much of human life is starkly different.
The first thing that fans of DrSuzy.Tv might notice that we're missing is a spanking orgy!
In Bonoboville's bright orgiastic past, we've had full houses of impact-playful guests to celebrate the late fall/early winter all-American Festival of Flogging.
But in 2020, it's just us Bonobovillians; no outside guests, except the lovely, enthralling Alice Bangz, Zooming in from Texas. So near and yet so far, too far to spank.
Indeed, since we're all trying to maintain physical distance, I can't very well give an OTK (over-the-knee) spanking to anyone, except *The One* with whom I'm "sheltering in place," which would be Capt'n Max who doesn't particularly like spanking, at least not in public or to Spanksgiving levels.
I, on the other hand, relish a good spanking—giving or receiving, though mostly, as I get older, giving. Over my 28-year marriage, I've been able to channel those spankaphiliac desires through my kinky interactions with other people, and fortunately, my husband not only doesn't mind, but if it's a hot lady I'm spanking, he gets turned on by watching it.
With no one to spank now, what to do?
This is a constant refrain in the Coronapocalypse. The answer is usually some variation on "Do it yourself."
So, I try spanking myself.
It's a good torso stretch, like the Bharadvajasana spinal twist yoga position.
Nevertheless, spanking your own butt is not as erotically effective as, say, spanking the monkey.
Enter Stormy the Blow-Up Doll. She was given to us as a gift from the good folks at Adult Warehouse Outlet to Bonoboville when Stormy Daniels' story was picking up steam, exposing her night of passionless sex with the Trumpus, who was a new father (Melania was home, nursing Baron) and not a very good lay.
I recall Stormy also mentioning that Trumplethinskin enjoyed being spanked before sex with a Forbes featuring a cover with his photo on it (so he could kiss his own ass?), and that little spanking actually turned the big blowhard asshole into more of a garden variety rich dork, so they could finally get down to business.
Spanking can have that calming effect on some people.
But back to the doll; with great honor and respect for the original, we named her "Stormy." We didn't have her *do* much besides stand there—and she couldn't even really stand, so we'd hold her up with ropes and tape—a great plastic Goddess of Sex Workers hovering above us.


Let us spank away the hate, greed and fear that divide us.

Now, in the Coronapocalypse, Stormy the Blow-Up Doll, serves a greater purpose. With no human to spank safely, I resolve to spank her.
First, I dress "my girl" up in a flowy polka dot spanking skirt, a virginal white camisole and a Yale University thong (in my perverted fantasy, we're sorority sisters).
My lovely new associate producer Mariah sticks a phallic corncob into Stormy's eternally open mouth.
When it falls out from getting spanked, she shoves it in again.
We put a turkey headband on her head, though it keeps falling forward, hitting her in her eternally open eyes.
Then I put her over my knee and spank away.
As befits even the most basic Spanksgiving celebration, I use various implements from Threshold spatulas and The Bonobo Way to Jux Leather finger floggers and the properly cupped palm of my hand across tight plastic skin.
What Stormy the Blow-Up Doll's skin lacks in human warmth, it makes up for in bounce-ability.
It's not perfect, and it's actually kind of pathetic. But it gives me someone/thing to spank on Spanksgiving, which has always made Thanksgiving somewhat bearable for me.
It's not that I'm not "thankful." Well, not every minute. Sometimes I'm just pissed off.
But I'm very thankful, in 2020, for my life, especially the love of my life, Capt'n Max, for the sex (married 28 years and still getting stuffed from both ends!), for our amazing, resilient little community of Bonoboville, and for the American voters smashing Trumpkin at the polls.
Of course, he's too conceited to concede. But the fact remains, we did that.
A great many of us from all walks of life and points of view—came together to defeat the fascist, and for that I am thankful.
But I'm also spankful.
Yes indeed, Brothers and Sisters, on Thanksgiving, let us give thanks, and on Spanksgiving, let us give spanks.
Let us spank away the hate, greed and fear that divide us.
And let us practice the Bonobo Way of peace through pleasure, with a little spanking.
Consenting adults only. Don't spank kids. They can't consent. And spanking shouldn't be a real-life punishment. It should be a fun grown-up activity, though it might be intensely roleplayed as a very serious occasion indeed.
Like pious holiday observation, spanking can be ritually enjoyed.
It's our duty to spank booty on Spanksgiving!
Come let us play…
And let us sing: Amen and Awomen.
Praise be to the power and glory of spanking. Consensual adult spanking. None of this kid stuff. Just us grown-ups.
And let us spank our hands together across a nice warm willing bottom, singing "Oh God!" or "Oh Goddess!" or "Bringing in the Sheaves."
Indeed, Spanksgiving is more authentic and reality-based than Thanksgiving.
It's far more likely that our Pilgrim ancestors practiced Spanksgiving than the mythical love-in with Native Americans that we call Thanksgiving.
Most legitimate historians agree that the Thanksgiving Story of a feel-good Turkey-Day gathering of friendly Pilgrims and Wampanoag Native Americans is whitewashed hogwash. Sure they ate Squanto's corn when they were starving, but once those pious Pilgrims got their land legs, they slaughtered as many "savages" as they could with their matchbox muskets and "gift" blankets filled with smallpox. Thanks, but no thanks given.
Talk about "hoaxes" pulled on the American people. The Thanksgiving Story is one big hoax.
Spanksgiving is no hoax. It's based on fact. Those Pilgrims and the Puritans who came soon after them were into punishment!
They punished the Native Americans and each other.
Punishment for sexual sins was a specialty of the pious Pilgrims and Puritans. Even now, we feel their perverse, hypocritical legacy of guilt for natural, healthy sexuality.
Of course, all of these colonial punishments were administered without consent. Nevertheless, they were pretty kinky! According to their own town records, the Pilgrims and Puritans administered many spankings, paddlings, canings, whippings, stocks, "tar and feathering," "public disgrace," Pilgrim-style.
Imagine what they'd do to Jeffrey "Zoom Dick" Toobin!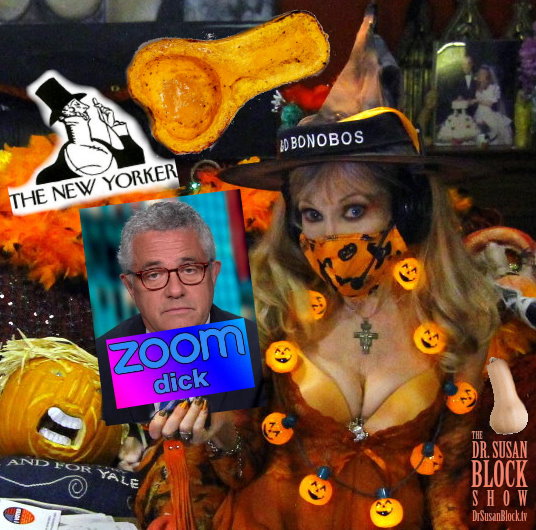 Also Pilgrims appear to have had a fetish for buckles (on shoes, belts and even hats!), as do modern kinksters.
Here in Bonoboville, we enjoy roleplaying our kinky vision of such historic Puritanical punishments; the big difference being that our "sinners" are consensually spanked.
Well, except Stormy the Spanksgiving Blow-Up Doll. One day, they'll make sex dolls who can consent. Stormy's not that evolved.
Back to Thanksgiving, which can be delicious (I love getting stuffed from both ends), but also difficult to digest.
For many the Feast of Thanksgiving is a delightful reunion with those they love, and for others, it's a conflicted, stressful, deeply hypocritical and downright nauseating family feast of carbs and schmaltz, where we have to repress our real feelings for fear of triggering Uncle MAGAt's Loser Trauma.
One gloriously silver lining to the black clouds of 2020 is that, if you don't salivate for Thanksgiving with the fam, you now have the excuse of the Coronapocalypse to stay home and choke your chicken instead of swallowing their turkey and taking their crap.
Spank the Monkey for Spanksgiving!


On the Native American side, many indigenous tribes have long incorporated ritual pain into cultural practices—maybe not spanking, but piercing and other challenging purification rites that open the doors of perception to altered states of consciousness. Modern Spanksgiving revelers and BDSM kinksters call it "sub space"… on steroids.
For kinky consenting adults with a conscience, Spanksgiving provides a playful but meaningful form of Commedia Erotica "penance" for the Pilgrims' original "sin" against the natives of this land, raising awareness of the genocidal, ecocidal history of the holiday.
Of course, it's only a symbolic acknowledgment. We can't just spank away America's ongoing sins against indigenous tribes, the descendants of slavery among us, the people America has bombed in foreign lands, nor even our own smaller sins against each other. These sins are far beyond the scope of little spanking.
However, we can "spank away" our personal sins, especially those false "sins" enumerated by the Puritans among us, such as spanking the monkey, loving someone of your own gender or engaging in any kind of sex without procreation as the goal.
We can also spank away our fears, phobias, even traumas, and certainly stress and frustration. As Mistress Cyan, Madame Margherite and I discussed "In the Spotlight," kink itself can be therapy, and spanking and other forms of impact play are some of the most popular forms of kink.
A good consenting adult spanking is therapy. It can *alchemically* transmute leaden pain into golden endorphins. Given with love, trust and care, pain really leads to gain, conquest of our paranoid fears, giving us confidence and courage we didn't know we had.
Wild spanking orgy or pared down chat for the Coronapocalypse, Spanksgiving puts Thanksgiving into perspective.
Bottoms up!
Turn the whole plutocratic, ecocidal oligarchy upside down and spank its ass.
Fuck the Rich.
We mean it in a good way… and a bad way. In a Bonobo Way.
Fuck the Rich.
Spanking Hot, Whip Smart Alice Bangz
Our first guest and, as it turns out, our only guest actually does "fuck the rich"… in a way.

But she does a lot more than that….
A bright, beautiful, multi-colorful, erotic entertainer, Alice Bangz is also a graduate student at Sam Houston State University (SHSU) going for her Master's degree in Clinical Mental Health.
Like Merrick Deville on Protest Kink, she's very politically active and socially aware.
Akin to many young people these days, Alice Bangz is a real-life super hero: mild-mannered student by day and wild whimsical sex worker by night.
But the first thing you notice about Alice is that she's a human canvas for a veritable rainbow of color, like one of the characters in her Hayao Miyazaki-inspired backdrop.
Alice is in her own Wonderland.
At least, that's the visual effect she creates… Through the Looking-Glass of erotic theater and fantasy imagery.
Reality or fantasy, Alice certainly puts the sugar in eye candy.
She's rocking red and black bangs, hot pink eye shadow, a menagerie of tattoos, her upper half poured into a super-sexy bubblegum pink bustier that looks like latex, but is really some kind of shiny faux latex, which is all you need in the Coronapocalypse when nobody can (or should) touch anybody to make sure it's real latex anyway.
Impressively, the bubblegum pink of her bustier is the exact same shade of her stripper pole.
Yes, she has a stripper pole.
Such a Renaissance Woman, she even films herself taking a spin around the pole for us. Watch the show below to check it out!
She also enjoys bathing in milk, at least, on photoshoots.
Only 21, Alice had a tough, tempestuous upbringing with a sex worker mom who sounds like, while she had some great qualities (who doesn't? Oh yeah, there's the Trumpkin…), she was physically, sexually and emotionally abusive towards Alice. She escaped her mom only to go in and out of foster care. Then, while attending Texas A&M University, she was sexually harassed by Omega Delta Phi Frat Boys (who remind me of the frat boys who marched through the Yale campus shouting, "No means Yes! Yes means Anal!" and ruined Sex Week at Yale).
Fortunately, Alice survived her difficult upbringing and now appears to be flourishing as a grad student and sex worker who knows and forcefully defends her rights and helps fellow sex workers and survivors of sexual abuse and fraternity assault in a multi-sorority group called Sisters Against Assault (SAA).
Listen above or watch below for more about what SAA does and how you can get involved.
They're a little like the Cupcake Girls, a support group that sometimes take action, especially when the police are lacking. Speaking of police, when Max mentions "good cops," Alice says, "Good cops aren't cops." In most American towns, the law enforcement system is too toxic for a "good," ethical person to stay in the police force. SAA fills in for victims of frat house assault where police miss the boat, preferring to target sex workers as criminals rather than helping them when they're victims of crimes.
Though it's a bit controversial among professionals in the field, Alice hopes to counsel both sexual abuse victims and offenders.

Time for a new era of accountability. Leave fantasy to the phone sex operators.

More about Alice: She likes women for dating, but guys for sex.
She's also an active Black Lives Matter and trans ally.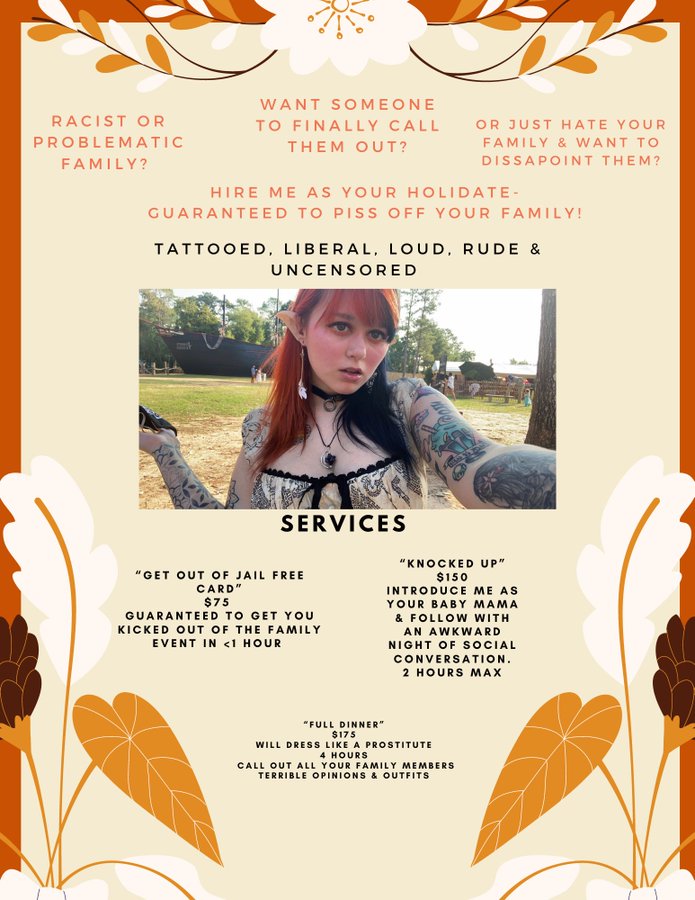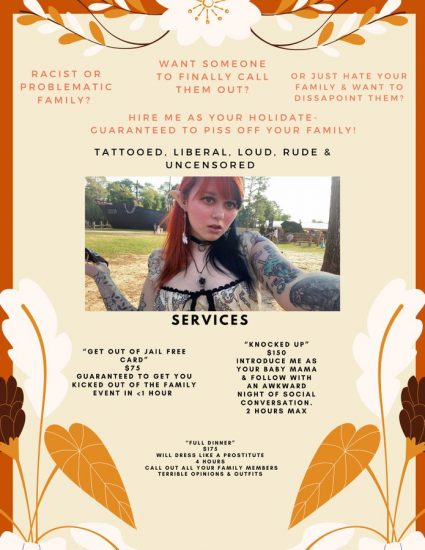 And she hires herself out as a "Holidate Guaranteed to Piss Off Your Family." It's mainly a goof, but she's actually been kicked out of a few Thanksgiving family gatherings for speaking her mind against the racists and hypocrites, like Cassandra among the Pilgrims.
And yes, she enjoys spanking. Though she's spending Thanksgiving with her Grandmother (who, unlike her troubled mother, never abused her), and she didn't take too well to a middle-school tradition called "Slap-Ass Friday" (um… we're all for sexual freedom, but "Slap-Ass Friday" in junior high?), she's a Slappy Spanksgiving kind of gal.
She's one of those spanking enthusiasts who was spanked as a child. Some of us were and some of us weren't. Learn more about your spanking fetish in Spank 'n' Art Speakeasy Journal.
Alice's spanking fetish is quite exhibitionistic. That is, she enjoys spanking—or fucking—for an audience, whether on stage or OnlyFans.
And why not? She's way too cute to keep in the dark.
It's also possible that she feels safer that way. It's less likely she'll be harmed by someone when an audience is watching.
Alice's cartoony Betty Boop voice is as cute as her smile. Listen above or watch below to hear what I mean.
Too Trumpy to Talk Turkey

Suddenly, as I'm winding up my Bedside Chat with Alice, segueing into my next chat with porn star/MILF/Cougar Cyndi Sinclair, I receive a note informing me that Ms. Sinclair will be backing out of her scheduled guest appearance on DrSuzy.Tv because she now feels it is "too political" for her and her "fans."
This, after my team told her that the show is very political, sending her links to previous episodes so she could see exactly how political. When she told us she personally is "not political," we promised we wouldn't talk to her about politics during her segment.
Of course, I'd intended to honor that promise… until she last-minute flaked, which effectively negated the whole deal. So essentially, in a supposed effort to be "not political," Cyndi Sinclair made herself very political.

The Dr. Susan Block Show is not everyone's flute of champagne. If ya don't like it, don't sign up for it!
Cyndi signed up for it, with enthusiasm. Then, after all the free promotion, moments before she's to go on the air, she decides she doesn't like it. That's not very professional, to say the least. But then, neither is refusing to concede an election you clearly lost.
When someone claims they're "not political," I take that to mean they don't want to discuss politics, not that they have no political opinion. Everyone with a pulse has a political opinion, especially about the current U.S. Presidential Debacle.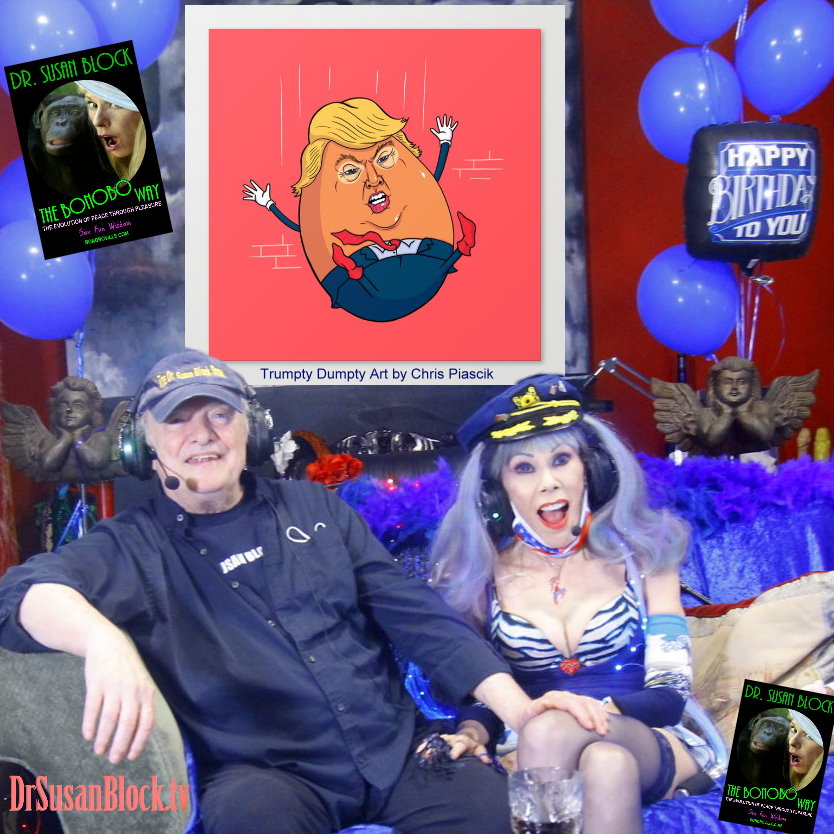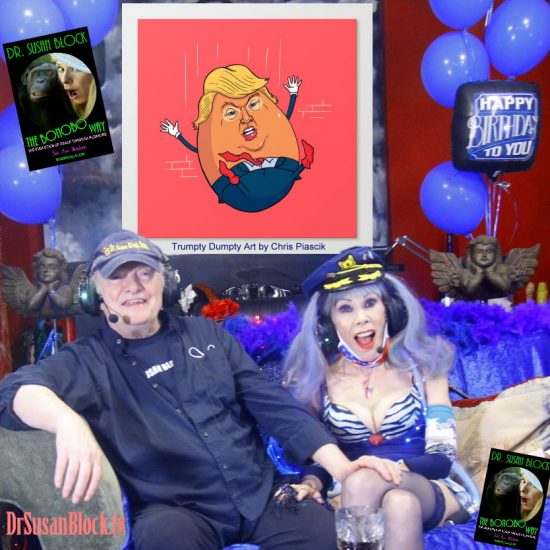 So, I assume she's a tRump supporter and was offended by my mild mockery of Trumpty Dumpty's fall off his wall (even though, if she'd done a shred of her homework, she'd have seen me doing that on almost every episode of DrSuzy.Tv since 2016), getting a lot of egg on his face. Now the yolk's on Cyndi.
I feel bad for her. My politics are 180 degrees from hers, yet we're both human beings, and I remember how badly I felt in 2016 when the Trumpsters were celebrating and I was trying to figure out a way—any way—to get Adolf Twittler out of there.
In that sense, I sympathize with Cyndi and the Trumpsters a little… but not too much. Not enough to excuse flaking. And not enough to let them off the hook. I'm pretty sure they wouldn't have much sympathy for me, as they didn't in 2016, when the roles were reversed.
Time for a new era of accountability to reality. Leave fantasy to the phone sex operators.
To be honest, since Cyndi didn't want to talk politics, and I intended to respect that limit, I'm a little relieved that she flaked on me. I was afraid it was going to be like one of those Thanksgiving dinners where you avoid talking politics for fear of upsetting your Great Aunt MAGAt (Uncle MAGAt's mom).
Besides, Cyndi's last-second flakery means we get to spend more time with smart and sexy Alice Bangz.
It also means we can talk more about politics!
Alice—delightful, political, authentically artistic creature than she is—is more than happy to continue our ride on the Coronapocalyptic airwaves.
Yes indeed, though the Trump Turkey's still squawking, he's DONE. Stick a fork in him.
Sorry Cyndi (since Cyndi flakes as my guest, she can at least be my foil), but he LOST.
As the song sings, Trumpty Dumpty had a great fall off his big, stupid, divisive wall. Now he's trying to wall himself into the COVID-infected White House.
It's a Commedia dell'Arte performance piece. The Trumpus as Il Capitano (the bombastic Commedia stock character closest to him) is kaput as Il Presidente, and now Rudy "Oozy" Giuliani—Pantalone, the crookedest of the crooked in Commedia dell'Arte—his hair dye (or is that turkey gravy?) dripping down his crazed face, his son catching Covid, his desperate nonsense about election fraud, rejected by courts, as he wails and flails, humiliating himself, but commanding the media's—and our—attention, wearing down our sense of reality, let alone democracy.
Il Capitano or Pantalone, Capt'n Max calls you all cafones.
Why are we still dealing with this Lame Duck Trump Turkey?
We know why. He's a sore loser, a big whiner, scared of going to prison when he leaves the White House without a care for anyone, except himself.
Alarmingly, enough Americans like Cyndi identify with that adult baby attitude and/or support his racism, encouraging him to make a "mess" of Biden's obvious win and he, in turn, is encouraging them to distrust anything and everything they hear on CNN, ABC and even Fox news now.
Smashing Trumpkins (They're Multiplying) Again!
Two weeks ago, we were congratulating ourselves that our Halloween-in-New-Orleans Smashing Trumpkin(s) Voodoo really worked. And it did! The Big Loser lost.
Now he's baaack and threatening our democracy at its fundamental levels.
It's eerie, and this refusal to concede or leave is represented by two more Trumpkins, designed by Miguel, our Bonoboville artist-in-residence.
They're smaller than the Halloween Trumpkin and more pathetic, but still whining about the election like it's a disaster of Biblical proportions and losing badly in every court of law.
So, it's Smashing Trumpkins time again! And this time I'm actually smashing more than one.
The evil selfish Trumpkin doesn't deserve to be spanked on Spanksgiving. We know he likes spanking from Stormy, so it's no punishment and certainly doesn't put out the Trumpster Dumpster fire engulfing our nation.
For what he's deliberately doing to the American people in a vain attempt to save his own skin, he deserves to be SMASHED.
Metaphorically speaking.
I'm just Smashing Trumpkins, after all.
I'm NOT driving my son across state lines with an illegally purchased firearm so he could murder two BLM protestors. Here's looking at YOU, Wendy Rittenhouse.
I understand that it's difficult being a Mom, especially a single mother of three. It's a job and a half.
That's one reason we need to preserve a woman's right to choose.
Thanks to the Trumpkin, we have a reactionary Supreme Court that's bound to smash that right.
So, out comes the plastic tarp and "Smashing Trumpkins" is what I do, one right after the other.
Though first, I relish forcing each of these grotesque gourds to fellate a corn cob before meeting their culinary guillotine.
I *tell* them the corn cobs have been part of Mike Huckabee's pandemic toilet regimen.
Then I smash them up.
It's very cathartic.
Also, pretty funny. Alice laughs up a storm as I smash away.
Pro tip for those of you smashing trumpkins at home: Don't try to cut from top. The stem is too tough and Combover Caligula's straw hair makes it tougher. Cut from the side.
Also, I use a cleaver this time, not a machete, so the slice is very nice.
Very nice.
Hopefully, it will have the desired voodooistic effect.
It certainly makes a mess.
We juice those Trumpkins.
I stomp on the pulp and shell, like possessed Pilgrim grape-stomper, breaking my buckled high heel in the process.
Breaking News: As I write this, the Big Gourd in the White House has finally authorized the transition to the Biden administration, proving that Smashing Trumpkins Voodoo works!
Chico the Pomeranian Power Puppy ambles through the mess wearing an adorable red plaid holiday jacket.
When Alice sees little Chico, she decides to show us her pussy.
See how easy it is to seduce a hot girl?
At least, to get her to show you her cat.
The pussy in question is named Luna Lovegood, as quirky and serene as her Harry Potter series namesake.
With just a few minutes left, as a grand finale, I give a few Spanksgiving strokes of the whip to my lovely and slightly kinky, brand spanking new DrSuzy.Tv associate producer, Mariah.
I "roleplay" that I'm punishing her for Cyndi flaking.
Of course, it's not at all her fault. But it helps motivate the spanker to have a "reason" to spank the spankee, even on Spanksgiving.
Masked up and physical-distancing, Goddess Phoenix's long fiber optic flogger comes in handy as a way to stay kinky safely in the Coronapocalypse.
Plus, it's very sparkly and festive, as Spanksgiving holiday floggings should be.
Each flog is like a long tongue of fire reaching out to lick Mariah's butt, modestly covered by her short-but-not-too-short skirt for her virgin appearance on DrSuzy.Tv.
Spanksgiving Dragon Tongue!
Then it's Ana's turn to take center stage with a pre-Thanksgiving/Spanksgiving Feast, after which the Captain and I celebrate privately with spanking hot explosions of love.
2020 is certainly not our biggest or wildest Spanksgiving.
But I give thanks to be able to give spanks of any kind—a vestige of erotic "normalcy"—during these very strange times.
Happy Thanksgiving and Slappy Spanksgiving from all of us in Bonoboville.
Whatever your "politics," or lack thereof, we love you and hope that all of your wishes come true… except if your wishes involve the Trumpkin stealing this election.
In which case… please just sit there and eat your food!


November 21, 2020 Susan Block, Ph.D., a.k.a. "Dr. Suzy," is a world renowned LA sex therapist, author of The Bonobo Way: The Evolution of Peace through Pleasure and horny housewife, occasionally seen on HBO and other channels. For speaking engagements, call 213-291-9497.
SPANKSGIVING 2020 PHOTO ALBUM
---
Explore DrSusanBlock.com
Need to talk? Sext? Webcam? Do it here. Have you watched the show? No? Feel the sex. Don't miss the Forbidden Photographs—Hot Stuff, look at them closely here. Join our private social media Society. Join us live in studio 😊. Go shopping. Gift shop or The Market Place. DrSusanBlock.tv, real sex TV at your toe tips. Sex Clips Anyone? FASHION, we have fashion! We also have politics. Politics? Have you Read the book? No? How about the Speakeasy Journal? Click here. Ok, how about some free sex advice?
---
---