"In the Spotlight" at DomCon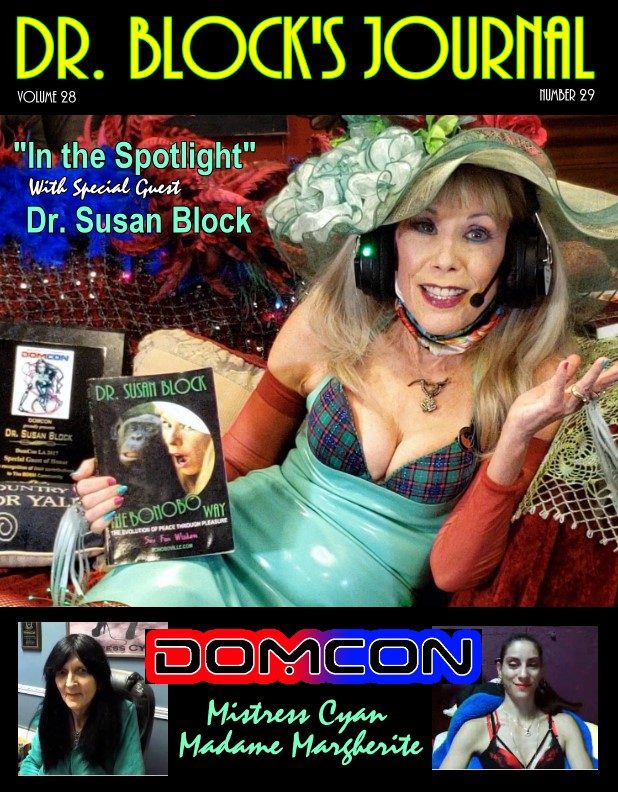 Length 1:18:57 Date: Nov. 16, 2020
by Dr. Susan Block.
The tables are turned when Mistress Cyan and Madame Margherite, two frequent guests on The Dr. Susan Block Show, invite me to be their guest on DomCon's brand spanking new interview show, "In the Spotlight."
Just in case you don't know, Mistress Cyan is the Headmistress of DomCon, the "World's Premiere Lifestyle and Professional Domination Convention," which I have joyfully participated in for the past five years, loving every minute, even when my skin chafed from wearing tight latex (mostly Demask) all day and my feet ached from strutting around the play parties in skyscraper heels.
But this year is different from all other years (in so many ways). In the Coronapocalypse, Mistress Cyan, always in charge but constantly caring about the health of her fellow kinksters, has taken the DomCon show on the road.
Yes indeed, she's driving down the Information Highway with the top down.
Intrepid entrepreneur that she is, Mistress Cyan has produced both DomCon LA 2020—where I was honored to be Mistress of Ceremonies and deliver The Bonobo Way of BDSM: FemDoms of the Wild (for the fifth time!) and DomCon New Orleans 2020 (where I hosted "Ask Dr. Suzy," a Halloween Q&A) in what I call the DomCon-O-Sphere.
Like most of these booming, zooming, camming systems, it has its technical hiccups. At least, there are no reported Zoom Dick cases… so far!
Of course, we miss not being able to touch, hug, spank and whip each other good, but Virtual DomCon is better than no DomCon.
And there are quite a few perks to virtual conventioneering—such as no hotel expenses and no aching feet.
Amen and Awomen to that!
Plus you can take part anonymously from anywhere in the world.
One way or another, it's important to keep DomCon going through these tough times.
In a roiling sea of corrupt, greed-driven, militaristic, misogynistic, racist, kleptocratic, ecocidal patriarchies, DomCon is a bonoboësque island of female empowerment, male well-being and peace through pleasure… with a little bit of pain.
Along with DomCon, Mistress Cyan has also taken her world-renowned dungeon, Sanctuary LAX, Southern California's best venue for in-person BDSM, into the virtual realm, holding private sessions, play parties and seminars online.
Now, drum roll please… the Headmistress has her own show.
And it's a good one!
Everyone Has a Show
I remember back at the turn of the 20th century (circa 1999), one of my regular DrSuzy.Tv guests was the amazing Tony-award-winning (for Biloxi Blues) actor Barry Miller, who also played John Travolta's friend "Bobby C" (who jumps or falls—depending on how you see it—off the Brooklyn Bridge) in Saturday Night Fever, Jerry Rubin in Conspiracy: The Trial of the Chicago 8, Ralph in Fame, and much more. After he'd visited Bonoboville a few times (and fallen in love with one of my other guests), I was encouraging him to host his own show, and he replied, "Why not? Soon everyone will have their own show."


Now you too can become an "influencer" independently of Hollywood.

Immediately, I realized he was right, and I've been repeating that line ever since. Now it's really true.
This phenomenon has it's pros and cons. Speaking of con jobs, Trumpty Dumpty managed to turn the whole executive branch of the United States government into a "show," a very bad reality show which, like most "reality" shows, is mostly fantasy, fake news, drama, smoke and mirrors, The Apprentice crossed with Breitbart News and Wrestlemania.
But Trumplethinskin isn't the only show in town. Everyone—or, let's just say, LOADS of humans (and some super cute pets) from all walks of life and every corner of the globe—has some sort of "show"—podcast, TikTok series, Facebook Live or YouTube channel.
After all, in the Coronapocalypse, if you're not an "essential worker"—and very often, even if you are—what else is there to do?
If you don't have a show of your own, you probably work, play or have appeared on somebody's show (sometimes without your knowledge).
Many of these shows are terrific. Some simply *speak to you.* Unfortunately, more and more preach violence, the supremacy of idiocy or a toxic combination.
The common denominator is that you don't have to be blessed by the entertainment "industry" anymore.
Now you too can become an "influencer" independently of Hollywood.
The MSNBC of BDSM
Into this international melting pot of "shows" steps DomCon. And why not?


The questions flow like gentle flicks of a Pro-Domme's whip across my psyche.


I've called DomCon the ComicCon of Kink, the Met Gala of Fetish, the Ted Talks of Power Exchange and the Bonobo Way in latex.
So why not the MSNBC of BDSM?
Why not, indeed. Welcome to show biz, Mistress Cyan.
Actually, Mistress Cyan has been in show biz many years, but usually before a live audience. She's relatively new to cybercasting, though her naturally dominant yet extremely respectful persona works quite well for the podcast-style interview format of "In the Spotlight."
Powerful, yet soft-spoken, enthusiastic and wise, she puts everyone at ease.
She's more than ably assisted in the task of making sparkling conversation by the marvelous Madame Margherite.
I'm proud to have had MM as a guest on my show when she was brand new to LA.
In fact, that show became Splosh 'n' Art, our first edition of Dr. Susan Block's Speakeasy Journal.
Being interviewed by this Dynamic Duo is like having a drink with old friends—without the drink.


Indeed, I have a drink and a joint "standing back and standing by," ready to consume three/quarters of the way through the interview just to *make things interesting.* But I forget all about my mood-enhancing paraphernalia because things are so interesting on their own.
Mint Green Kink, Tiffany Blue Fetish

Of course, the biggest decision to make for a date like this is what to wear.
Even though we're not getting together in person, and this isn't technically a "DomCon," I feel like I have to wear latex. Actually I just want to wear latex. Tight and uncomfortable as it can be, it makes me feel sexy and, dare I say, kinky.
Too bad I wore all my latex outfits at DomCon 2020 Virtual, and who can goes out latex shopping in the Coronapocalypse (well, some people, but I'm not that kinky)? So, I rerun the mid-calf mint green, aka "Tiffany Blue," Blacklikorish dress (thank you, Goddess Soma), which I wore at the 2020 Mistress Tea with leopard print accessories and at the Mistress Photo in 2018 with black boots and a pink bustier. This time I dress it up for a holy-dazed holiday with cranberry red gauntlets, fishnets and green, red and blue Xmasy Scottish plaid bra.
Mint green is not exactly your classic shade of BDSM, but lo and behold, when I join my hosts "In the Spotlight," there's Mistress Cyan live from her office, wearing the same color top.
Did I mention the Mistress has a sixth sense for making her guests feel comfortable… and fashionable?


Madame Margherite is looking ravishing as always in a sexy red bra and black lace with straps.
An Enjoyable Interrogation
After pleasantries, the questions flow like gentle flicks of a Pro-Domme's whip across my psyche.
What fun!
I'll let these ladies interrogate me any day.
Wish they could Waterboard me, Bonobo-Style, like the pre-COVID days.
Instead, they just probe my short and long-term memories of my life and times thus far on Earth.
If you're interested in that, listen above or watch below.
Topics & Revelations
Here are a few of the subjects we discuss (not in order of the show, where we skip around):
Of course, they ask me for the catalyst to my career. Almost every talk show host asks me that, and I must admit there are many, so I give different answers pretty much each time I'm interviewed. Since we're talking kink "In the Spotlight," I tell the story of my first—and only—childhood spanking as being quite the catalyst to my adult kinkiness. I was about six years old at a party in a big frilly party dress and I must have done something very naughty, as my Dad pulled me out of the party, upstairs and across his knee, the party dress flying dramatically over my head, with my brother watching and laughing. I remember it being embarrassing but exciting, not painful at all (my Dad was not abusive in the least), and preferable to being grounded or other punishments. Afterwards, I pleaded with them to spank me when I was bad instead of using other disciplinary measures, but my Spock-influenced parents never spanked me again, which apparently left me wanting more, since as an adult, I do enjoy impact play, both giving and receiving.


What was the spark that ignited my first shows? Inspiration from God or the Goddess? Horniness? Loneliness? Lack of a strong career goal? All of those things?

When I was about 11, my neighbor Ronnie asked me to go steady, and when I said no, thank you, he pushed me down in the snow and threw a piece of ice in my face, leaving a gash across my nose and lips that took six months of agony and mortification to heal. That taught me a bitter lesson: Boys who like you can hurt you. If you can't (or don't want to) fight back with your fists (I was and still am a tiny thing), best learn to be quick and fight back with your wits. During the interview, I talk about incels, how dangerous they are, and how important it is for us as sex workers and therapists, to reach out to them—safely—with love.
RIP Dr. Betty Dodson, Godmother of Masturbation. She gave me my first orgasm. Read all about it here or watch or listen to the interview.
What was the spark that ignited my first shows? Inspiration from God or the Goddess? Horniness? Loneliness? Lack of a strong career goal? All of those things? I was a freelance writer writing about things that interested me, and I was single, so dating interested me, especially this *new* way of dating that involved writing. So, I wrote Advertising for Love: How to Play the Personals (which includes a section that predicted the online dating boom back in 1984), and that led to my first radio show.
Dating segued to relationships and swinging, including participating in a few giant orgies. One of my swinger boyfriends took me to my first BDSM party at the venerable Threshold Society, where I ignorantly asked a happily bound woman, "Are you all right?" Fortunately, she was nice about my naiveté, as most kinky people are, and provided me with a wonderful introduction to the BDSM arts and sciences. Many years later, one of our guests gave us a few kinky toys, like a copper spatula that's great for spanking, with the Threshold insignia, which I show during the interview, much to the delight of my interviewers. A spanking spatula! We love sex toys that double as kitchen utensils.
How did I develop the erotic "Dr. Suzy" persona? Though I had a lot of sex in my younger years, I didn't often dress in an overtly sexy way. I broadcast my radio show in jeans and work shirts until Capt'n Max entered my life and started filming the show. Then I wanted to dress up for him—as well as, secondarily, my audience—and my inner exhibitionist came out. Over time, the radio show grew into a public access TV show and HBO specials. It was all part of Max's and my wild romance. I was a little nervous at first, wearing two pairs of panties just in case I had a wardrobe malfunction, but eventually I was sporting thongs or nothing at all, squirting on camera in a sparkling arc of Holy Water.
Of course, we talk quite a bit about bonobos, and I won't go into all of that here. Read the book or watch the videos for more.
We chat about my work as a sex therapist. That's segues into a discussion of kink itself as therapy. Check it out above or below for details.
All three of us talk politics. There's no political apathy here! Shout out to Mistress Tara Indiana and A.D. (Dominatrixes Against Donald Trump) who brought Russian Hooker Pee Parties and so much more invigorating political theater on DrSuzy.Tv. I feel that the combination of all of our efforts, from sex worker protests to the Lincoln Project Republicans Against Trump, finally made Trumpty Dumpty fall off his stupid wall.
At DomCon 2020, Madame Margherite presented me with her "Best Animal Activist" award, and "In the Spotlight," I praise her for helping so many people to release their inner animal through kinky play. We humans are animals too, but we often forget that we are, which is the source of a lot of human problems, from loneliness to climate catastrophe. So release your inner bonobo, tiger, puppy dog or platypussy.
I can't see the screen during the interview (not sure whether to blame my beloved crew or my false eyelashes for obstructing the view), but later, in a screenshot, I happened to see some comments from participants, including one from Siren SaintSin recommending Christopher Ryan's classic 2011 book, Sex at Dawn, which I quote quite a bit in The Bonobo Way. If you haven't already, read it now.
There's lots more, and you can listen above or watch below for all of it.


It's a fun interview!
Pomeranian Pussy Hat Orgasms
All that talk about releasing your inner animal must penetrate the inter-species barrier, because suddenly, out of the Bonoboville Green Room, a real nonhuman animal scampers out to take center stage.
It's Chico Peggles Quintana!
He looks like a cat crossed with a fox crossed with a miniature Siberian husky.
But he's just a very cute Pomeranian puppy. Ana and Miguel are his Mom and Dad. I am one of his many doting aunties here in Bonoboville.
Now weighing in at a hefty 10 pounds, Chico is in training to be a Bonoboville guard dog, inspecting every public and private room for treats 10 times a day, chasing pumpkins and guarding people's laps.
In between Chico's antics, I do a little photo shoot for a fan who happens to have a fetish for tight skirts and fishnet pantyhose, and loves the images of me pulling the skirt up above my fishnet butt to show him that special *secret* place.
PHOTOS FOR A FAN: UNSCENE ABE
Since he's a musician, I pose by my great grandmother's Steinway baby grand piano.
Meanwhile, Max's big Bohemian head is shivering as winter blows through Bonoboville, and he's forgotten his hat.
So, resourceful "horny housewife" that I am, I create a hat for him (and me) out of one of my Wondrous Vulva Puppets.
It actually makes a pretty nice hat, a real pussy cap.
Or maybe more of a beret.
Much cooler than the Pussy Hats of the Women's Marches (though they are pretty cool) that are more like cats than vulvas.
Our pussy hat is vivaciously vulvular.
Now on sale at Dr. Block's Pleasure Shop!
Then I take my pussy-hatted puppy (horn)dog Prince to bed where we make orgasmic kinky love… out of the spotlight.
November 16, 2020 Susan Block, Ph.D., a.k.a. "Dr. Suzy," is a world renowned LA sex therapist, author of The Bonobo Way: The Evolution of Peace through Pleasure and horny housewife, occasionally seen on HBO and other channels. For speaking engagements, call 213-291-9497.
"IN THE SPOTLIGHT" PHOTO ALBUM
---
Explore DrSusanBlock.com
Need to talk? Sext? Webcam? Do it here. Have you watched the show? No? Feel the sex. Don't miss the Forbidden Photographs—Hot Stuff, look at them closely here. Join our private social media Society. Join us live in studio 😊. Go shopping. Gift shop or The Market Place. DrSusanBlock.tv, real sex TV at your toe tips. Sex Clips Anyone? FASHION, we have fashion! We also have politics. Politics? Have you Read the book? No? How about the Speakeasy Journal? Click here. Ok, how about some free sex advice?
---
---