Zoom Dick Broomstick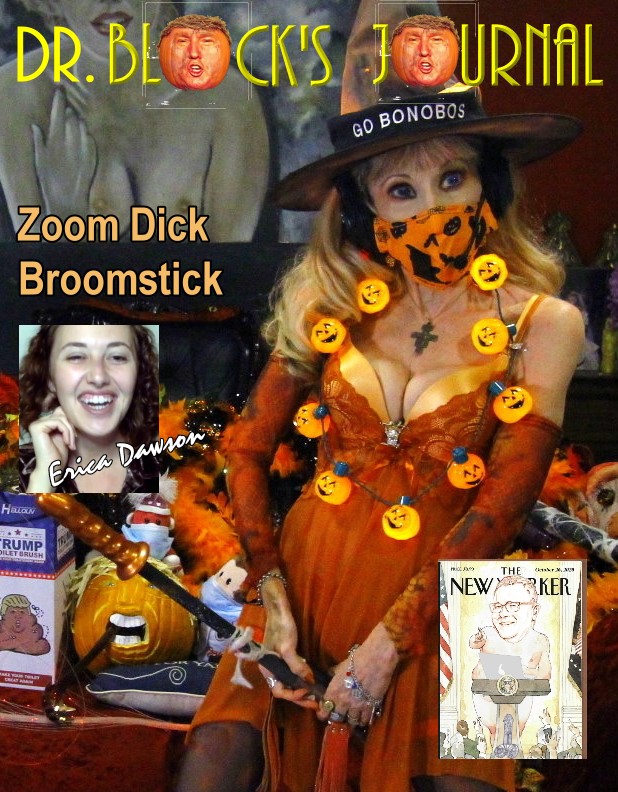 Length 1:24:59 Date: Oct. 24, 2020
by Dr. Susan Block.
From scary sex to a ghosting guest, spooky to kooky, broomstick to Zoom Dick to anal ick… it's my 24th Bedside Chat of the genuinely haunted, thoroughly creepy, sporadically masked and always gaily costumed Coronapocalypse.
Edging toward another Halloween, in BOOnoBOOville, I hop on my Magic Dildonic Vibrating Broom and ride into the Womb Room, calling upon my virtual coven of "witches, bitches, tramps and vamps" with my traditional Halloween Ode to the arousing agitation and piquant pleasures of scary sex and erotic revolution.
It's The Bonobo Way.
It helps that the guest who didn't ghost us is a fun one: "Kooky Cookin'" comedienne, singer and burping (yes burping!) fetish model Lady Erica Dawson.
Later, as the title for this show appears to me like a ghost in a dream, it occurs to me that Zoom Dicks and broomsticks are both phallic objects with seemingly magical powers that can be used for good or evil.


It all depends on the context and the weather conditions through which you're flying.
Zoom Dick Follies
So, talk about scary sex… As the Coronapocalypse continues to kill (the American death count surpassing 224,000 as I write this), maim and bankrupt multitudes, there's a new affliction in the land of the free-to-be-foolish, and its name is Zoom Dick.
Forget blue balls, erectile dysfunction, premature ejaculation, Priapism, Peeping Tomfoolery, Peewee's peepee, Weiner briefs, and liar-liar pants on fire.
Zoom Dick is America's #1 penis problem, at least (on that fateful day of 10/19/20) according to Twitter.
Just in case you were looking at porn or pics of cute Pomeranians instead of the gossip we call news, allow me the honor of spilling it: Esteemed best-selling author, Emmy-winning New Yorker staff writer and CNN legal analyst Jeffrey Toobin was caught with his pants down, literally, masturbating, as so many of us do these days and every day—except most of us don't do it on a New Yorker staff Zoom call, which is what Mr. Toobin was doin'.
I don't think too many of us wank on work calls, but then again, I don't know. Maybe lots of folks are savvy enough to turn off their cameras when they're bopping the bishop or polishing the pearl as the team talks strategy.
Toobin—a man who has crafted for himself a very successful career out of writing and talking about other people behaving badly, ie., O.J., Trump, Elliot Spitzer, Roger Stone—was not so savvy.
The work call in question involved "election simulation," which some have teased that Toobin misheard as "erection stimulation." Hey, it's an honest mistake—call it Toobin Confusion—or a lawsuit-stimulating case of brazen sexual harassment, depending on your point of view.
This election simulation is said to have involved several New Yorker luminaries engaging in "roleplay." See, right there, it sounds a little kinky, but no, it wasn't sexual roleplay; it was political roleplay. For example, bestselling Dark Money author Jane Mayer (who happens to be a member of my class at Yale, which makes me feel even more spookily tied into this ridiculous story), was roleplaying "establishment Republicans," Jelani Cobb was taking the part of "establishment Democrats" and Toobin the legal analyst was roleplaying "the Courts."

Zoom Dick is one thing, and Zoom Dick mockery is another. It's obviously more fun to laugh at some naughty fool's erection than worry about this scary election.

Everything was moving along in typically erudite, businesslike fashion, and at a certain point, when all the party-affiliated roleplayers went into their respective "break rooms" to conspire, Toobin, being The Court and ostensibly unaffiliated, took a real break and seemed to go on another video call.
My guess is this "other" call was with a virtual lover (married over 35 years, Toobin is a well-documented philanderer), perhaps a saucy dominatrix commanding him to fap for her, or maybe he was just watching porn. Whatever his particular activity, when everyone returned to the main screen after their break, lo and behold, there was Toobin's camera lowered to a bird's eye view of his crotch and what could be called, in keeping with the roleplay, "packing the Court."
The distinguished roleplayers later reported that they could see Toobin touching said package. I wonder if another one of those Wikipidia synonyms for "masturbation on a Zoom call" will soon include "Toobin'."
One funny thing is that apparently no one piped up to say, "Whoa Jeffrey, your briefs! Not your legal briefs, your underwear! Put that subpoena—I mean your penis—back in your pants please!"
Why didn't they say something? Were they too shocked? So outraged they couldn't speak? Virtually transfixed by the wanking wonderworm? Already thinking of jokes they could crack about it later?
Thus, Courts roleplayer Jeffrey Toobin choked his courtly chicken, seemingly oblivious, though who knows what he really knew, since it wasn't his face on camera, just that now-notorious Zoom Dick for an unspecified (in the news) amount of time and, at a certain point (when he was "finished"?), the Toobster reportedly left the call for a moment (gotta wash up!), then called back in, all dressed and ready to play the Court, acting as if nothing injudicious happened.
Maybe he really didn't know what happened. It's a spooky time of year, after all. Witches, bitches and bugs fly through the Coronapocalypse, as Rudy Ghouliani unzips his fly, Mike Pence's hair attracts flies, while the very air they fly through is laced with lethal poison, all of us flying headlong into a very scary election, continuing climate catastrophe and Goddess knows what else. Almost everyone but Kim Kardashian is feeling pretty stressed.
Some people's response to stress and pressure is to escape into self-pleasure, which is great—but (do we really have to say this?) not during a work call. That is, unless you're ready and willing to take a principled stand and say, "Take this snotty New Yorker job and shove it where the sun don't shine. I'm a free masturbating man and I am not ashamed!"
Of course, that proclamation would certainly get the guy fired, not just suspended. But at least, I'd say Toobin's got balls… in addition to Zoom Dick.
Maybe then, with a little courage, humility and a really good sense of humor, he could reinvent himself as a celebrated commentator, though now with a specialty in sexual peccadillos earned by personal experience and professional sacrifice.
But no, Toobin did not show Wanker Pride; he wailed like a big blubbering baby in his abject mea culpa, "I made an embarrassingly stupid mistake, believing I was off-camera… I apologize to my wife, family, friends and co-workers…. I believed I was not visible on Zoom… I thought no one on the Zoom call could see me. I thought I had muted the Zoom video."
How many ways can you say "I'm an ignorant, excuse-making, Luddite asshole…" with Zoom dick?
Yes, it's quite possible that while on break from the New Yorker call, Toobin figured he could squeeze in a quickie with the Domme in another window or catch a snippet of porn on his phone, not realizing his New Yorker cam was still on. Got to put a sock on that thing, Jeff—no, the other thing…
However, another distinct possibility is that Jeffrey Toobin is a risk, danger and dopamine-craving exhibitionist who flirted with the rather common, very potent fantasy of getting caught in the act.
If that's the case, it's likely that he almost exposed himself various times over these last nine months of Coronapocalyptic Zoom calls, keeping Willy just out of the work cam's view while playing on the other cam, edging his excitement like a daredevil doing exhilarating, death-defying, pushing-your-luck stunts.
But luck like that has a way of running out, and then this one time—oops! There it was, clear as a pickle (or a summer squash?) on the work cam: Zoom Dick! Whoa, how'd that happen? Did he even see it? Beware: the cock that shocks may be your own.
At that point, the exciting scary sex fantasy of getting caught quickly devolved into grim reality.
Execution was swift, no trial necessary in the court of public opinion. Shortly after the call, Toobin was suspended by the New Yorker, he took a leave of absence from CNN, and Twitter exploded into an orgy of mockery, or as they say in the fetish world, public disgrace.


The ultimate fetish of privilege is risk.


Zoom Dick is one thing, and Zoom Dick mockery is another. Hey, it's more fun to laugh at some naughty fool's erection than worry about this scary election. Folks on all sides, politically speaking, just adore humiliating the elite white male and, in a way, this one asked for it.
Many of my exhibitionistic sex therapy clients love the idea of showing the world their beloved joysticks, with or without consent. They dream of exposing themselves in parking lots, locker rooms, trains, planes, while driving, at the MILF-next-door's window sill, emerging from showers at opportune moments, leaving their bedroom doors open so unsuspecting family members or housekeepers will walk in on them mid-stroke, on balconies, and yes, on Zoom calls.
Most only fantasize about such brazen displays, but some actually do it. Many simply long to be seen, craving just a little attention, but most are also aroused by the risk. The ultimate fetish of privilege is risk. Regular people face serious risk every day, but wealthy, successful individuals tend to be so sheltered in their somewhat boring, unchallenged bubble of privilege, they often crave the erotic thrill of risk, the more danger involved, the better. As a sex therapist, I try to help my risk-compulsive clients to enjoy their scary sex fantasies in the movie theaters of their minds (they're always open, even in lockdown), but practice impulse control in real life.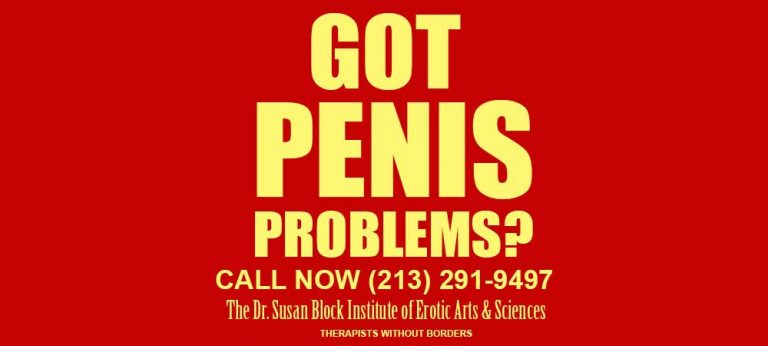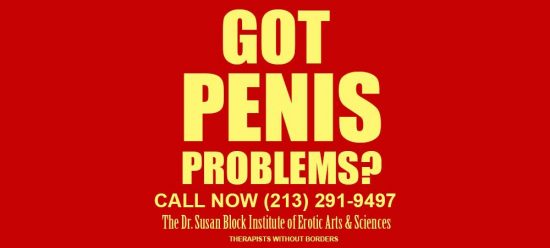 Because in reality—unless you're at a bonoboësque nudist swinger resort (which, sadly, is increasingly rare these days)—you've got to keep it in your pants. In a way, it's kind of sad that there are so few places in our increasingly Puritanical society where the average penis can comfortably and consensually be out and about, like Adam and Eve in the Garden of Eden before the Fall.
It's even more disturbing that We the People—worked up into a veritable Sex Panic—are more collectively outraged by public exhibitionism than by peaceful citizens getting gassed, clobbered and killed by police.
But that's the so-called civilization we live in.
So, for their own good and the good of their coworkers, exhibitionists need to put the brakes on their natural physical openness. Most can manage this with a little discipline and awareness or just because they are considerate of others. Toobin doesn't appear to be blessed with these attributes.
I even find myself agreeing with the odious O.J. Simpson (who has a longstanding beef with The People Vs. O.J. author) when he says "Damn, Jeffrey Toobin. At least Peewee Herman was in an X-rated movie theater."
I love Peewee Herman. Back in 1991 when Peewee got busted for masturbating in an adult theater, I felt it was so unfair, I masturbated in solidarity with Peewee right on the air—and I was on real radio back then.
But no, I'm not masturbating in solidarity with Jeffrey Toobin. Though I often agree with his liberal "perspectives," he ain't no Peewee Herman.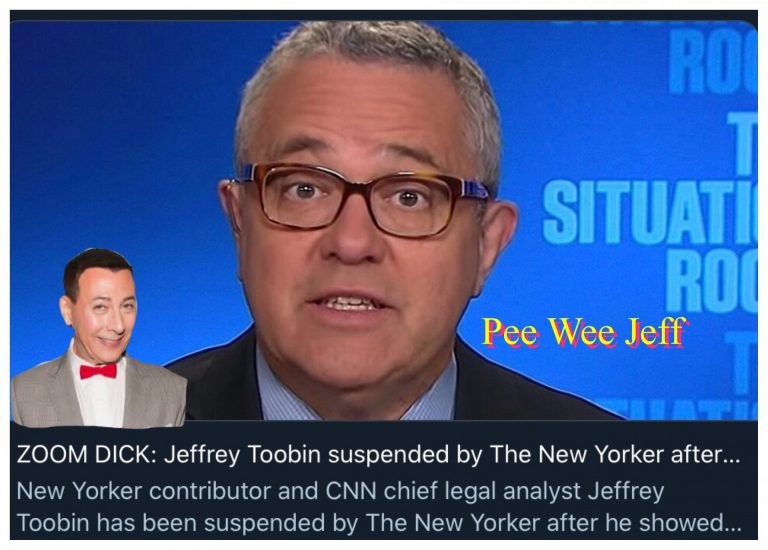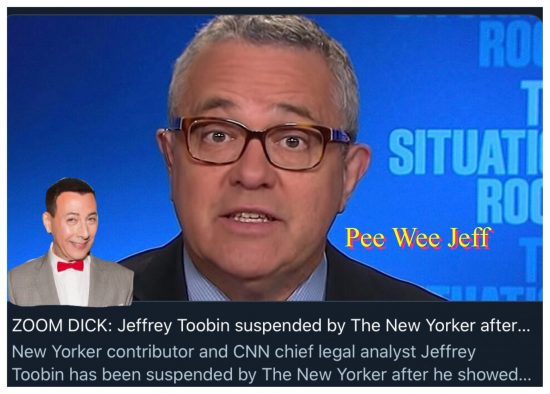 Though in Toobin's defense, X-rated movie theaters have been closed for years, and certainly aren't open in the Coronapocalypse which has so many folks going crazy, committing crimes far worse than Zoom Dick.
Unsurprisingly, persons of the male gender appear to have more sympathy for Toobin's plight than most of my fellow females. After the news broke, #MeToobin became a jokey hashtag which upset the #MeToo'ers who claim that Toobin's Zoom Dick "sexualized the workplace." What that means depends on your dopamine levels.
What about Zoom Clit? Is that as bad as Zoom Dick? Women masturbate too, of course, and many are eroticized by risk and danger. Though ladies are known to accidentally(?) broadcast trips to the loo, I haven't heard about anyone buffin' the muffin on a work call… yet.
Speaking of the "fairer sex," Toobin's long-suffering wife, Amy McIntosh, has not weighed in, thus far, on her husband's dick being out and about. They met at Harvard, and I guess they didn't have Crimson Sex Week, like we had Sex Week at Yale, or they'd have learned to put his Dick in a Box, as the Justin Timberlake song so slyly suggests.
At least his dog (who's actually very cute, still respects him.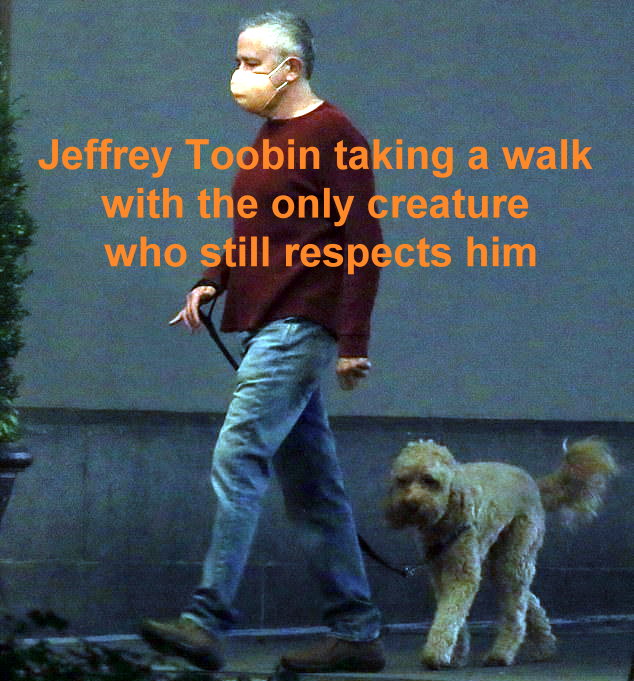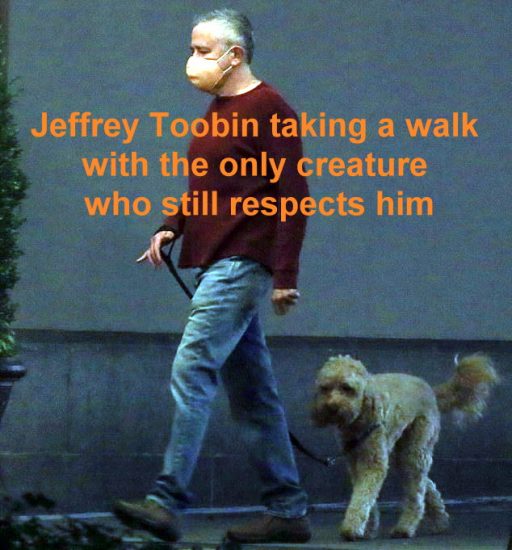 Toobin's no virgin to sexual peccadillos. Apparently, he cheated on Amy more than a few times, he has a love child (with fellow lawyer Casey Greenfield) he at first denied, and he's been accused of harassing at least one woman, whispering an invitation to anal pleasure into her ear at a party, then following her from that party to her hotel room door, where she claimed he said, "you know you really want it."
Ugh… Many exhibitionists imagine that the women they desire *really* want whatever they've got, but just won't admit it. Frankly, I find this "approach" more infuriating than a million Zoom Dicks (though sometimes one leads to the other). This male fantasy of repressed female desire waiting to burst forth—if only it is tapped with the *right* annoying seduction technique—is critical to many exhibitionists who hope-against-hope that the revelation of their precious penis to an unsuspecting stranger, nonconsensual acquaintance or utterly disinterested family member will be a delight to behold.
At this point, many fellow pundits opine that Toobin should take the route of many disgraced celebrities, declare himself a "sex addict" and seek treatment from an expensive, resort-like facility specializing in sex addiction.
I agree that Toobin would benefit from some good sex therapy, like a lot of people—maybe you. Got Zoom Dick? Before you find yourself displaying your "trick-or-treat" to your co-workers, losing your job and your entire reputation as a serious human, call the Therapists Without Borders at the Dr. Susan Block Institute. Chances are we can help.
But I wouldn't call Toobin—or you—a sex addict. Many aggrieved spouses find satisfaction in accusing others of suffering from "sex addiction"—the equivalent of "sin" in modern secular parlance—and some of those so-accused actually get off on being labelled a "sex addict," like being called a "pervert" or "sicko," as an aspect of public disgrace or private humiliation.
However, as a serious designation, "sex addiction" just doesn't work, which is why, despite heavy lobbying from impassioned sex addiction counselors, the Psychiatric DSM-5 (Diagnostic and Statistical Manual of Mental Disorders) doesn't include it.
Toobin may be an over-privileged spoiled brat going through a midlife crisis, with lousy impulse control, compulsive exhibitionist tendencies, scary sex fantasies, job burn-out, a sexless marriage, a death wish, self-destructive depression, Coronapocalyptic craziness and more; the possibilities are extensive. But sex is not an addiction like alcohol or opioids.
Sex is the essence of life (that's actually the name of a Sex in the Pews podcast I just did), but too often we pretend we don't need sex, that it's not important, we'll handle it tomorrow, we'll vanquish those naughty desires by sheer force of will, or maybe it's our partner's need for sex that we don't want to deal with—and we have every right not to deal with it—but then… Zoom Dick happens.
At least, Jeffrey Toobin can thank Rudy Ghouliani (who never needs a Halloween costume) for momentarily taking the heat off of him by putting his own creepy claw down his pants just after procuring the phone number of a comely young lady in the new Borat movie. Has this been "Men Touching Their Dicks in Public" week?
Maybe it's just that men touch their dicks a lot. Not all men, not all the time, but a lot of men touch their dicks a lot of the time. I know this as I live with one and talk regularly with a lot of others about their deepest sexual thoughts and most private erotic activities.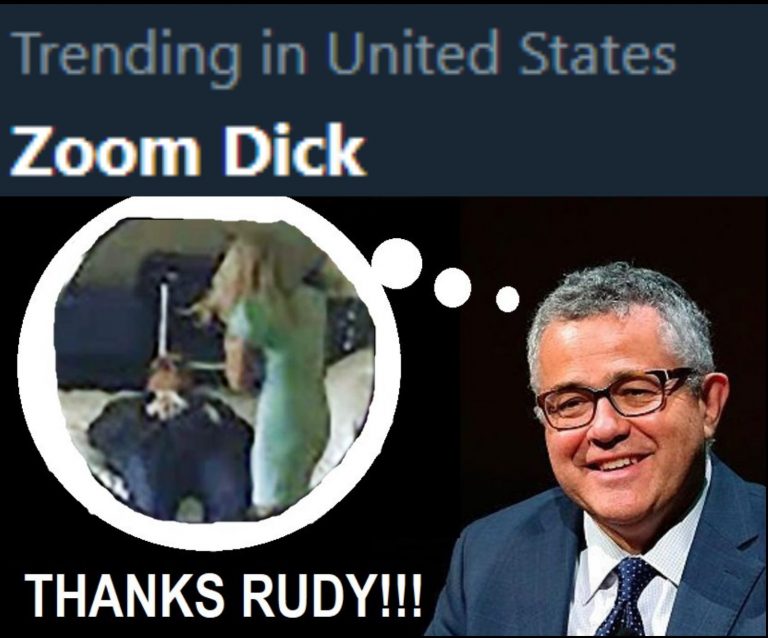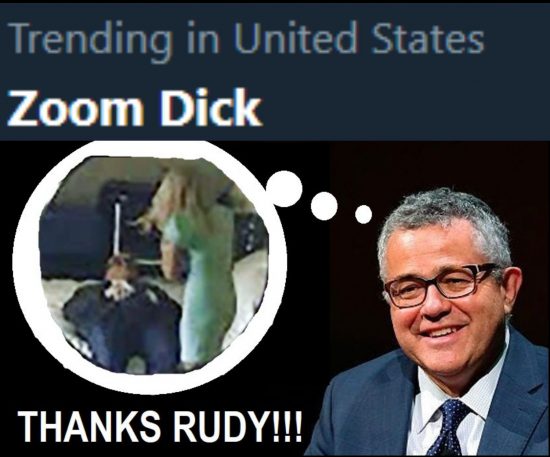 Speaking of privacy, little by little, we're losing it. Much of what we used to think of as "private" is now public. In the Coronapocalypse, we try to maintain physical distance—unless we're at a Trump Rally—but with all our cyber communications, "social distancing" is a complete misnomer.
When we Zoom together, we're not social-distancing; we're socializing. Visually speaking, we can be very close, much closer than we might be at an in-person meeting. We have yet to wrap our heads around this way of being together. Certainly not the little head, the Zoom dickhead.
Some tips: Look down… check around during your next Zoom business call, make sure your package is in your pants. Check that it hasn't fallen out or creeped up above your waistband or found its way out of your fly, especially after your bathroom break.
If you must pull out your plonker, for whatever reason, cover your camera, unless you're making porn!
Hmm… Was Jeffrey Toobin making porn? Not on purpose, of course, but if any of the offended parties, took an evidentiary screen shot of Toobin's Zoom Dick, we the People would like to see it.
Jane, if you're reading this, remember how we bonded over bonobos at the reunion? I have no idea how you felt about Jeffrey's indecent exposure, but if you got the screenshot, toss a bone(r) to a fellow Old Blue!
Which reminds me, we're still waiting to see Jeff Bezos' dick pic. Enquiring minds want to know.
I realize many people don't want to see this at all, so preface the pic—Toobin or Bezos, but please, not Rudy Ghouliani—with a trigger warning like, "Trick or Treat!"
Kooky Cookin' Comedienne
Having thus extensively reviewed the Zoom Dick phenomenon and consequent Zoom Dick outrage, I welcome our featured guest, stand-up comedienne, singer and "Kooky Cookin'" chef, Lady Erica Dawson.
After a few chuckles and pleasantries, we get down to the serious discussion of Zoom Dick. Erica, though a very tolerant, liberal, sex-positive individual, is firmly in the "outrage" camp, fuming over the "privilege" and arrogance of men who do this.
I get it. In our genital-shunning society, nonconsensual genital exposure is invasive, belligerent, shocking, sometimes even traumatic for those forced to see such a thing (still thinking of you, Jane!).
I just don't feel it personally, maybe because in my profession, I see a lot of dicks, and I actually like how some of them look, though I must admit most unsolicited dick pics just make me laugh. I'm sure I'd feel offended if there I was trying to hold forth on matters of importance when one of my collaborators, instead of listening and responding attentively to my pearls of wisdom, pulled out his pud and produced his own pearls. But Toobin didn't do it during a speech; they were coming back from a break.
I had planned to get the perspective of a woman who sees dicks all the time in the course of a typical work day, but our porn star/cam gal guest suddenly flakes for unknown reasons, literally ghosting us at the last minute without even calling (grrr!). As I say for the umpteenth time on my latest Sex in the Pews interview, the best-laid plans may not get you laid the way you planned.
But Lady Erica more than makes up for our lack of another guest. She is a human fountain of fun and creativity.
She also makes a good point: if Toobin wanted to show his dick, he should have set up an OnlyFans account. Maybe he still can…
Why "Lady"? Erica likes to consider herself royalty, of course, and I, being the Halloween Queen this night of Samhein foreplay, sexy witches and Zoom Dicks, as well as a Czech/Italian princess by marriage to Prince Maximillian Rudolph Leblovic di Lobkowicz di Filangieri, quite understand.
When I wish her a Happy Halloween, she pulls out a pumpkin plushie, and I pull out my new Trumpkin, carved by Miguel. I smashed the old one, demonstrating "Smashing Trumpkin" at the polls next week, or more accurately, the Trumpkin smashed itself, collapsing from decay and orange man-squash disease.
But back to Lady Erica, a woman of many talents. She is very funny, and you can listen above or watch the show below to see what I mean. She also laughs at my lame jokes, so she has great taste—or good manners.
And she's a chef, hosting the Kooky Cookin' show, where she mixes food and humor (kind of like we mix food and sex in Splosh 'n' Art). When it comes to the actual cooking, Erica sticks to the basics. I ask her for a Halloween Witch's Brew or her favorite aphrodisiac, and her answer to both—perhaps her answer to most culinary cravings—is Mac 'n' Cheese.
Personally, I'd consider Mac 'n' Cheese to be an anti-aphrodisiac. Like most comfort foods, it's more of a sex substitute. Scarfing down a whole pot of the stuff might even cure Zoom Dick.
What's one of her favorite sexual activities, I wonder. "Cunnilingus," she replies. It makes sense that the cook likes to be eaten… maybe as an appetizer to the Mac 'n' Cheese.
Interesting also to note that the Latin root "lingus" in "Cunnilingus" is the same as "linguine" which means "little tongues."
Massimo (that's Max's Italian name), lick me with your linguine!
If Erica is a "foodie," does that make me a "sexie"?
Speaking of food and sex, Erica, who does have an OnlyFans account, inadvertently discovered that she has a talent for, of all things, burping.
It seems that her prodigious belches (yes, she demonstrates for us, after guzzling Coca Cola as foreplay) have a fan following who gets off on a sexy woman emitting excess gas through her wide open mouth, a.k.a., the burping fetish.
On my 23rd Bedside Chat, I had a farting fetish model—shoutout to Mia Valencia! Now here we are on Bedside Chat #24 with Lady Erica, the burping fetish model. And I thought she was just a wholesome comedienne.
Though the burping fetish is pretty wholesome when you think about it; all the action happens above the chest, no striptease required.
From the Farting Queen to the Baroness of Burping…. Between Erica and Mia, we should call this show series "The Gas Tank."
Erica's boyfriend, like Mia's husband, is tolerant of her fetish following, but not aroused by the burping.
It's nice that these bonoboësque men are so understanding and even supportive of their wife or girlfriend's need to erotically express herself, titillate other admirers and make a little extra cash. Btw, if you're interested, that combination turns a lot of women on. A gal might even like your Zoom Dick if you've already proven your devotion as a premium customer.
When it comes to her other end, Erica is much more squeamish. She's one of those women (most women?) who do not appreciate anal sex.
Erica dislikes anything or anyone trying to enter her backdoor so much, she even wrote a funny song about her anal tension called "Tiny."
Speaking of tension, Erica is as tense about this spooky upcoming election as we are. Dump the Trumpkin… please!
When I ask Erica what she plans to "be" for Halloween, she hesitates and I realize that, without parties and bars open, many people are foregoing dressing up. There's only so much pleasure to be gotten from showing off your costume on Zoom. Zoom Costume is just not as compelling as Zoom Dick.
Finally, she says she'd like to go as Austin Powers. Yeah baby, shagadelic! Austin Powers, the original Zoom Dick before we even had Zoom.
On one of her most erotic Halloweens, Erica dressed up as a guy and her boyfriend put on a feminine dress, makeup and heels, and they had a great sexy time.
Whether you're truly trans (but in the closet), just crossdressing-curious or long to release your inner sissy, Halloween is the perfect, *acceptable* time to let your kink flag fly.
Speaking of which, this show features some kinky scenes from Halloweens past.


Even though we're missing a guest, the time flies by like a NASCAR witch on a drag racing broom with a super-charged high performance engine.
"Ask Dr. Suzy" at DomCon New Orleans this Saturday
FemDoms are modern witches, so I'm excited to participate in DomCon 2020 New Orleans this Halloween Saturday, October 31st.
I was honored to be Mistress of Ceremonies and deliver "The Bonobo Way of BDSM: FemDoms of the Wild" at DomCon LA 2020 Virtual.
Having never attended DomCon New Orleans, I'm delighted to accept Mistress Cyan's invitation to participate. Of course, this DomCon will also be virtual, so we won't physically be in the French Quarter.
Nevertheless, I'm sure DomCon NOLA 2020 Virtual will have some of the Cajun/Creole flavor of the City that Care Forgot.
I have marvelous memories of my personal adventures in New Orleans, performing with my Commedia dell'Arte troupe at Mardi Gras, joining the bacchanalian parades, exploring the jazz and strip clubs, savoring Beignet doughnuts, carousing on Bourbon Street, making out on the balcony above the crowds, seeing someone get fisted surrounded by a mob of Hurricane-guzzling voyeurs on the street. Wild!
With its elaborate above-ground graves and ghostly vampiric traditions, there's no better place than New Orleans for Halloween, except maybe Transylvania.
Voodoo has long flourished in the Crescent City which has spawned many covens of voodoo witches going back to Marie Leveau, the Voodoo Queen of New Orleans. Wonder what Marie would have made of Zoom Dick… mincemeat, probably.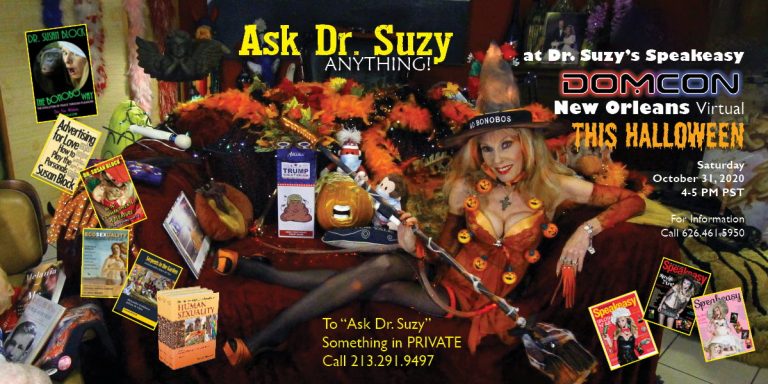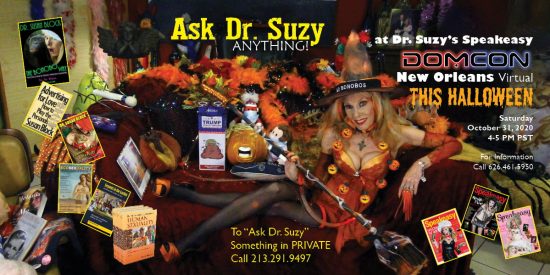 New Orleans is also home to the great Anne Rice, who wrote Interview with a Vampire, as well as the notorious kinky "Beauty" books (under the nom de plum A.N. Roquelaure). I actually interviewed Anne back in the 1980s, when she was best-known as the wife of one of my English professors at San Francisco State, the late great Stan Rice.
For my first DomCon NOLA, Mistress Cyan has invited me to host a special room in the Domcon-O-Sphere, "Dr. Suzy's Speakeasy" in the Big Easy, where I will hold forth about sex, love, kinky witchcraft, scary sex, unusual fetishes, Halloween and bonobos and entertain questions, so you can "Ask Dr. Suzy" ANYTHING.
Sign up for DomCon and gather with us for a kinky witches' coven of fetish fun in virtual New Orleans: all the Cajun flavor, voodoo spirit (well, some of it) and none of the travel expense, crazy climate catastrophic weather or exposure to COVID-19.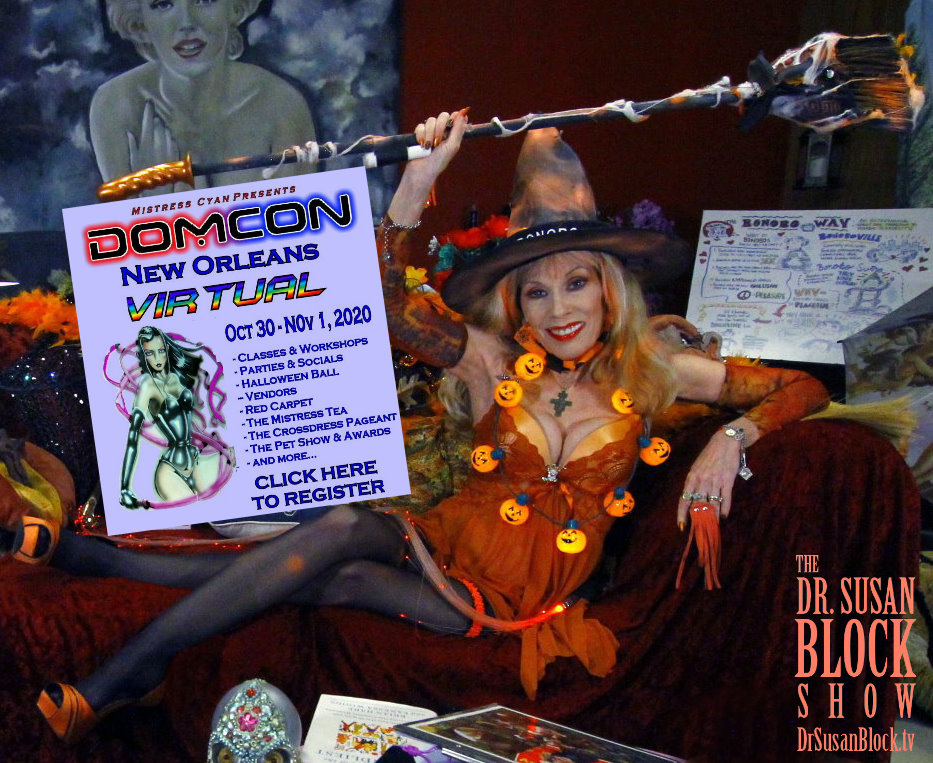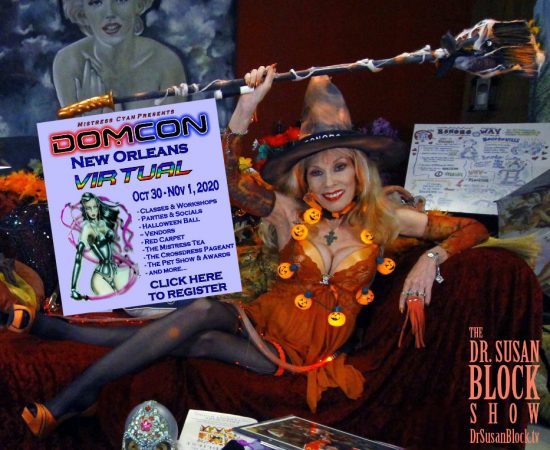 I'll be so nervous about the election (won't you?), it'll be nice to be in the reassuring company of my fellow witches and FemDoms of DomCon.
Meet Me @ the BOOnoBOOville Bar
Just before this show winds up, I remind everybody to vote… unless you plan to vote for the Trumpanzee; then please don't vote.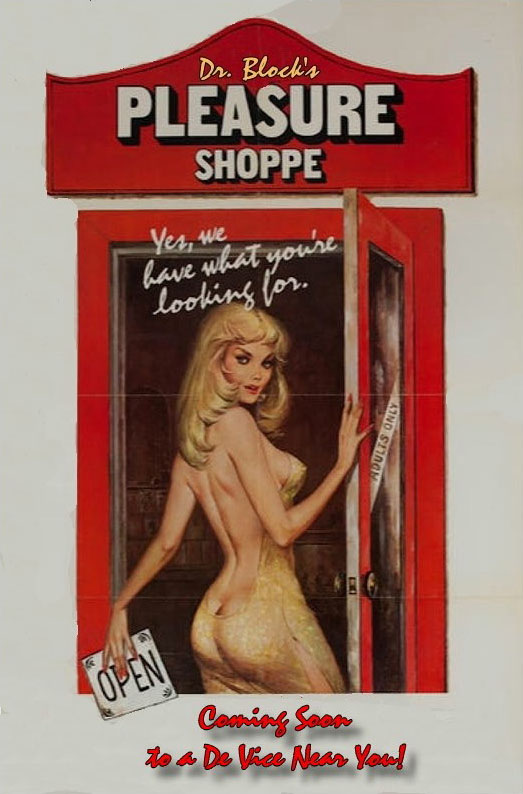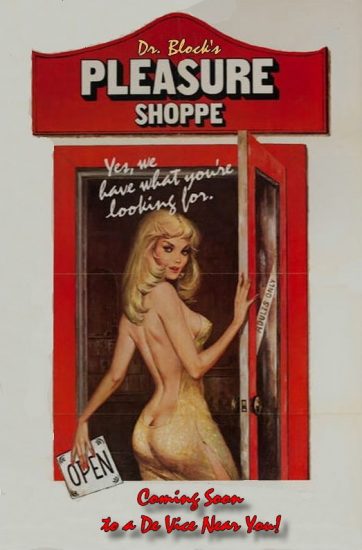 I also mention I've just started reading an awesome, possibly transformative book, Survival of the Friendliest: Understanding Our Origins and Rediscovering Our Common Humanity. The authors, Dr. Brian Hare and Vanessa Woods (author of Bonobo Handshake) will be guests on one of my Bedside Chats very soon.
Which reminds me, it's getting to be that time of year, so instead of adding more plastic to the world, why not gives books (yes they kill trees, but that's more organic than making plastic) and magazines as holiday gifts? Dr. Block's Pleasure Shop is still "in beta," but very soon we'll have a great selection of sex books, latex fashion, sex toys and so much more.
Speaking of sex toys, my original Magic Dildonic Vibrating Broom is a Dildo, Vibrator, Paddle, Sweeper and Costume Prop all in one. I designed this very special adult toy, inspired by Mattel's "Nimbus 2000" Harry Potter Vibrating Broom scandal that had parents throughout the Western world freaking out when they realized that the cute battery-operated "Harry Potter and the Sorcerer's Stone" spin-off toy their kids loved "riding" right between their legs for hours on end was actually a masturbatory device. When parents complained, Mattel immediately discontinued the kiddy vibrators. But I feel there's no reason that consenting adults shouldn't enjoy our own vibrating brooms.
Therefore, I created the Magic Dildonic Vibrating Broom. Not only does my Magic Dildonic Vibrating Broom vibrate so you feel like you are flying (at least in the sexual sense), thanks to a Pocket Rocket secured to the middle of the broom. It is also outfitted with a nine-inch dildo on the front end of the broomstick. Moreover, the sweeper end has the perfect bristles for a good spanking, or sweeping, though I recommend you don't use your Magic Broom for actual cleaning (ewww!). Right now, we are making all Magic Dildonic Vibrating Brooms by hand, so this item is a little on the high-end side, but we're going to find a factory in China to mass-produce these things, so soon there will be millions of happy Sexy Witches flying around the world without ever leaving the ground.
The Magic Broom is also the ideal sex toy for torturing the Trumpkin, knocking out his fake teeth and skull-fucking him mercilessly with the dildonic end of the Magic Broom, is a type of Voodoo Witchcraft we practice here in BOOnoBOOville. Not that we believe it *works* like real voodoo. It's just for fun… like real voodoo.
We also have a nice new bar. We got tired of not being able to go to bars in the Coronapocalypse, so we built our own.
Actually, we hardly ever go to commercial bars, even in pre-Coronapocalyptic times. But thanks to Prince Max, wherever we are, we always have a great bar.
It takes time to build a great bar. You need the right art on the walls, a good selection of adult beverages, and some nice lounge-y music. Max and Miguel just built it, and already it's a favorite hangout.
Meanwhile, mid-show, Chico the Pomeranian Power Puppy poops on the carpet and somebody (I won't say who) steps in it. Is that the canine version of Zoom Dick? As punishment, Ana relegates poor little Chico to his room for the evening.
Max, Abe, Adriana and I talk into the wee hours about the show, the world, capitalism, Marxism, the Black Plague, the Garden of Eden and the scariest specter of 2020: secret Trump voters.
Yes indeed, these secret Trump voters were the key to the electoral dysfunction of 2016. People tell pollsters they're voting for the Democrat, an independent or that they're "undecided," then vote Trump. It's like they're secretly going off their diet to have four fatburgers, except in this case, the fate of blatant racist sexist fascism in America, not just their waistline, hangs in the balance.
Finally, Capt'n Max and I disconnect from the crew and fly off on our Magic Broom (it seats two) away from the still beautiful, but strangely toxic, physically-distanced world of the Coronapocalypse into our private (well, we think it's private!) Eden of unbridled touch and orgasmic connection that we are indeed so privileged to share.
October 24, 2020 Susan Block, Ph.D., a.k.a. "Dr. Suzy," is a world renowned LA sex therapist, author of The Bonobo Way: The Evolution of Peace through Pleasure and horny housewife, occasionally seen on HBO and other channels. For speaking engagements, call 213-291-9497.
"ZOOM DiCK BROOMSTiCK" PHOTO ALBUM
---
Explore DrSusanBlock.com
Need to talk? Sext? Webcam? Do it here. Have you watched the show? No? Feel the sex. Don't miss the Forbidden Photographs—Hot Stuff, look at them closely here. Join our private social media Society. Join us live in studio 😊. Go shopping. Gift shop or The Market Place. DrSusanBlock.tv, real sex TV at your toe tips. Sex Clips Anyone? FASHION, we have fashion! We also have politics. Politics? Have you Read the book? No? How about the Speakeasy Journal? Click here. Ok, how about some free sex advice?
---
---