F.D.R. (F*ck Da Rich):

Halloween Fantasies vs. Spooky Realities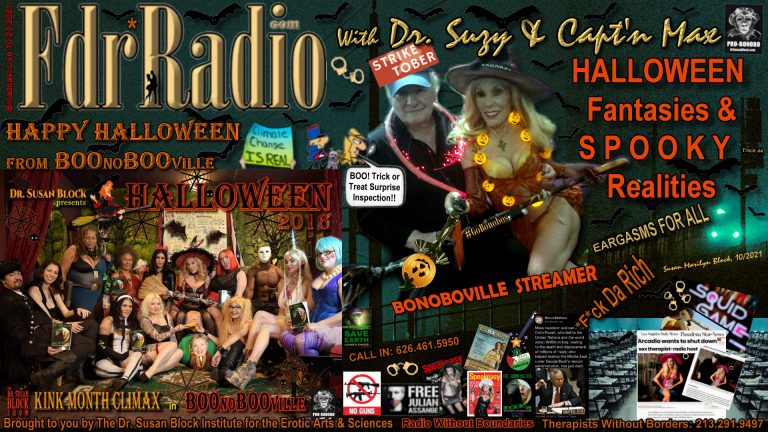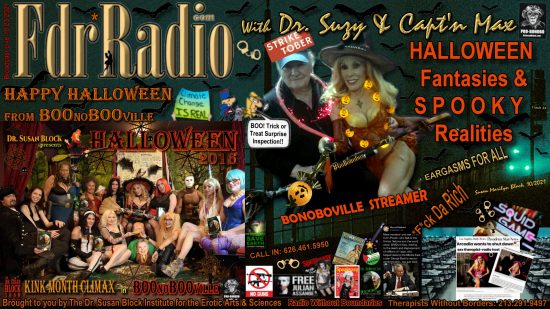 Length 01:16:56 Date: October 24, 2021, 2021
Season's Beatings, Brothers and Sisters, Lovers and Sinners, Witches and Bitches, Tramps and Vamps!
It's creeping up on Halloween with a big "BOO!" to you from BOOnoBOOville, climaxing Kink Month 2021.
Between the still-raging Coronapocalypse, climate crises, economic inequities, Big Tech censorship, anti-sex discrimination, ammosexual murder and mayhem, there's so much really scary stuff going on these days, who needs the faux fear of Halloween?
Well, we do, because fantasy fear can be fun for us complex, convoluted humans. It can even be sexy, if you handle it right, and that's the central theme of our Halloween 2021 foreplay on F.D.R.
So Sexy It's Scary!
What are you afraid of that also turns you on?
Capt'n Max, Unscene Abe, Mel and I agree (or maybe we're all just too *scared* to disagree!) that a "sexy stranger" is a classic object of erotic fear and desire.


After all, the great unknown, the new and even the "strange" is exciting for most of us, if a little (or a lot) unnerving. Our kissing cousins, the bonobos, love sharing food and sex with strangers—often even more than friends!—so it's not surprising that we do too.
However, our divisive, alienated, homicidal, human culture makes engaging with strangers a treacherous endeavor.

They say "sex sells," but in our ammosexual culture, gore sells more.

On the other hand, it seems like these days, your killer could be your own high school sweetheart, best friend and fiancé (RIP Gabby Petito) or that famous Hollywood actor on your cinematographer's dream job (RIP Halyna Hutchins).
Discussing all of those deeply spooky realities, we conclude that fantasies are much safer and more fun, especially for Halloween.
They say "sex sells," but in our ammosexual culture, gore sells more. Many people get hornier watching horror movies than porn. This is partly because our society finds the horror genre—as well as the shoot-em-up, cost-cutting, cowboy fare that killed Halyna Hutchins—more acceptable than porn.
Capt'n Max and I are not gore flick fans by any means, but we did enjoy watching the first episode of Squid Game, mostly because of its bold anti-capitalist theme and colorful sets.
We really appreciate the set featuring a few hundred beds neatly stacked—with people sleeping in them!—all inside a giant storage room being observed intently by futuristic apparatchiks huddling over their screens.
Apparently, the Arcadia Politburo Building Inspectors are not the only ones gripped by Mattress Madness.
No wonder they're harassing us. They've seen the future, and it's a Squid Game!

We're trying to survive the collapse of capitalism, like most folks, and we're also trying to steer humanity's future closer to The Bonobo Way than Squid Game.

But that's their spooky fantasy, and the simple reality is that Bonoboville is the opposite of a Squid Game; we're just a little unconventional… especially in our love of mattresses.
We're trying to survive the collapse of capitalism, like most folks, and we're also trying to steer humanity's future closer to The Bonobo Way than Squid Game.
I just did an interview with journalist James Anderson for an issue of Futurism on "The Future of Pleasure," which is, of course, right up my bonoboësque alley. However, the working title of the particular article James was calling me about, "Changing Our Genes to be More Like Bonobos," isn't my field (I suggested he talk to Dr. Brian Hare about genetics). Besides, "changing our genes" sounds a little spooky to me.
That said, James and I wound up having a great conversation about how we humans can be "more like bonobos," not by "changing our genes," but by changing our priorities—as individuals and collectively—perhaps to a *future* version of what they were before the advent of farming, technology and property-ownership pretty much transformed humans into a bunch of alienated, greedy, hoarding bastards. Many anthropologists surmise that in these pre-Neolithic times, human beings generally and genuinely did behave "more like bonobos." No genetic engineering required.
Interestingly, it appears that healthy pre-Neolithic human adults lived about as long as we do now. Maybe that's why the Old Testament paints these pre-Biblical ancients as lasting for hundreds of years, the eldest of which, Methuselah, is said to have lived to the ripe and sexy age of 969.
The Bible is filled with scary stories, but Bible-thumpers generally see Halloween as being "in league with the Devil."
Mel was raised in the Jehovah's Witness church which tends to see all holidays as "in league with the Devil," but Halloween, with all those Disneyfied devil costumes, is especially Satanic.


Thus, a high point of erotic adventure in Mel's teenage life was sneaking out of her holiday-shunning Jehovah's Witness household one Halloween night to join a friend in the Trick or Treating festivities, erotically costumed as Catwoman.
Of course, that was a few years ago, when slipping out alone in the dark was just a mild form of teen transgression. Now you run the risk of your ammosexual neighbor assuming Catwoman is a cat burglar and shooting you dead, turning your Halloween fantasy into a tragic reality.
Well, every generation has their challenges. Mel and I bond over our love for Satan (who is really Pan, Greek God of the Wild and patron saint of the bonobos, pan paniscus) and Michael Jackson, also a Jehovah's Witness, and master of having fun with fear, on display in Thriller (and no, we don't believe he committed the horrors of which he's been accused).
Of course, Thriller's just a fantasy. Real horror often appears in a less flashy, more serious and even seemingly trustworthy forms.
Colin Powell: A Lifetime of War Crimes
Which brings us to America's recently deceased general, Colin Powell, duly eulogized with deep respect by many on both sides of the aisle, and as big a war criminal as any.
Unlike Donald Rumsfeld who seemed sent from Hollywood central casting to play the part of privileged, obnoxious, sociopathic War Criminal (with a capital W.C.), Powell never seemed to fit that role.
But that's what made him a particularly scary war criminal (albeit lower case) and effective servant of the Military-Industrial Complex (MIC): because he seemed like such a nice, empathetic, cool guy. And he was. He even apologized for a few of his more obvious misdeeds. But that doesn't excuse his war crimes—participating in more wars, invasions and occupations than any other American general!
We go through a few of those awful wars on this ride: Vietnam, Grenada, El Salvador, Nicaragua, Iraq, Afghanistan, Iraq. We forgot Serbia, but so there are so many! A literal lifetime of war crimes. I appreciate that Colin Powell said he was sorry for a few of these real-life horrors of American Empire, so I'm not going to say "Rot in Piss" like I did for Rumsfeld and Rush Limbaugh. But I won't say "Rest in Peace," either. If there's any justice beyond the grave, "The Reluctant Warrior" is doing eternal penance for the lives his wars, war crimes and too-late apologies prematurely snuffed out.
Trick or Treat or Cuckolding?
While we're reciting as many of Powell's wars as we can remember, a cuckold call comes in.
Woohoo! Make Sperm Wars, Not Real Wars!
Cuckolding is a major sub-theme of our Halloween ride on the Love Train. Several commenters, like someone named Mafia (who claims to know us), mention it, as does Troy who calls in from Portland.
Troy appreciates my references to "the goddess," but he admits to being "fiercely jealous" and "monogamous."
Yet his cuckold fantasies about his cheating ex-girlfriend (with whom he says he had a "destructive" relationship that is now over… at least in reality) are so powerful, he "paints the wall" when jacking off to them. Talk about "fierce"…
Poor Troy thinks he's aroused by his ex-girlfriend's "betrayal," but he probably wouldn't be so turned on if she "betrayed" him by raiding his bank account (well, unless he's a money slave) as he is by fantasizing about her having sex with another guy. I try to explain that his cuckolding thrill is not over "betrayal," though that's an important aspect to his emotions. His high arousal (despite his disdain for nonmonogamy) is mostly based on an extremely common biological phenomenon called "sperm wars," so that, simply stated, your cock gets harder (more "pumped up" with hot sperm-filled semen) when you've got "competition" for your lover, even—or maybe especially—if you're "fiercely jealous."


Jealousy aside, the erotic joys of cuckolding are perfectly natural, fun (for Halloween, try fantasizing you're cuckolded by Satan!) and often even healthy, yet run counter to what society raises us to believe is right or respectable. No wonder cuckolding feels so scary, yet irresistible to many men, and it's one of the most common topics of discussion at the Dr. Susan Block Institute, with several of our therapists specializing in it.
Speaking of our wonderful therapists, a couple of them join us on Facebook, including Chloe who says "i love work with your institution it has allowed me to explore my own self in new ways that I never thought I could." After I tease her a bit about calling the institute an "institution" (maybe we should incorporate electroshock therapy!), I welcome this engaging and creative trans woman aboard!
And in a way, the Institute has become an "institution" in the field of virtual sex therapy. At least, we're a legend in our own minds.
One great therapist leads to another, as Dinah Rose writes in: "Hey Dr Susan, I am a new Therapist of yours and I am genuinely enjoying my job. Keep up the good work!"
We really do have the best, most "genuine" sex therapists in the world here. Call 213.291.9497 when you need to talk.
I mean… who you gonna call? Ghostbusters! Especially since we have two paintings by the ORIGINAL Ghostbusters producer, the great Michael Gross, in our erotic art collection, and yes, they are for sale. But you call a different number for that: 213.291.9497.
And you call a different number to leave messages for F.D.R: 626.461.4212.
Wish us a Happy Halloweeeeeen! But please, no obnoxious yet unintelligible heavy breathing…
If you want to get into a sexy hex-y Halloween spirit, check out this week's throwback, our star-studded, orgiastic, bacchanalian and wild Halloween 2016 Kink Month Climax in BOOnoBOOville.
And listen to F.D.R. above or below, where you'll hear my "Halloween Ode to Scary Sex," a poem that I first wrote and delivered on Halloween in 2007 (and have delivered every Halloween since), dressed as my not-so-secret identity, a witch, riding around the Womb Room on my Magic Dildonic Vibrating Broom.
Halloween fear can be more fun than a barrel of Black Widows, but we ought to use our Magic Brooms to sweep up some of the real horrors humanity is facing. Reverse climate change before it's too late. Stop the censors and free Julian Assange. Support Striketober and Fuck da Rich! Tax their obscene wealth, including their financial transactions and those slippery little "unrealized capital gains."
As the poor billionaires whine, remind them it's better to be fucked than eaten… or guillotined… or shot.
And tell them the Goddess' Honest Truth: Humanity needs their dough… before this pumpkin-spice, bat-shaped cookie crumbles.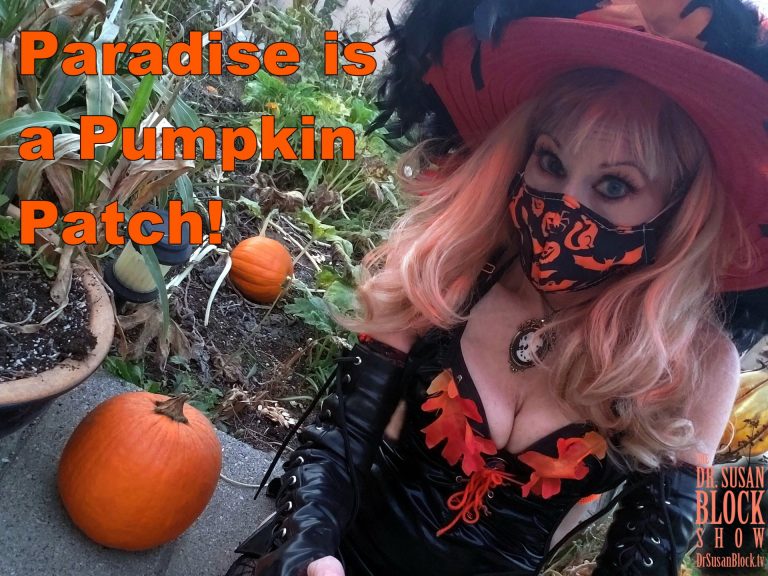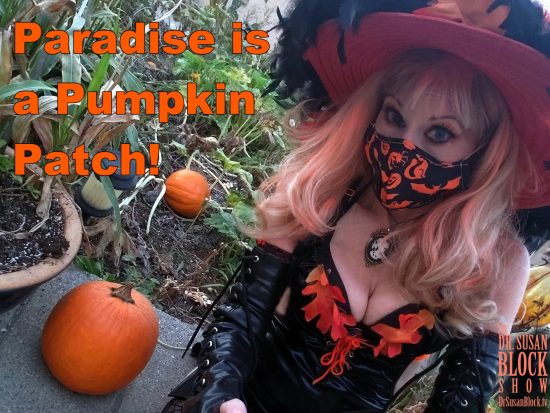 © October 23, 2021 Susan Block, Ph.D., a.k.a. "Dr. Suzy," is a world renowned LA sex therapist, author of The Bonobo Way: The Evolution of Peace through Pleasure and horny housewife, occasionally seen on HBO and other channels. For speaking engagements, call 213-291-9497.
Yes it works!