EROTIC INSURGENT MASQUERADE on RadioSuzy1TV
Our Erotic Insurgent Masquerade, playing tonight on RadioSuzy1TV, is a wild, wondrous and sizzlingly hot Scary Sex circus of various erotic personae, porn stars and clowns, pirates and witches, "jail bait" and cheerleaders, lawyers and doctors (real and fantasy), pimps 'n' ho's (just fantasy, as far as I know…), decadent kings and dominant queens, perverted priests and nasty nuns, sexy cops, outrageous trannies, one very naughty Girl Scout and more nurses than an emergency ward in an epidemic.
I open the festivities in my Tribal Witch Leopard lingerie (handmade by Gene), riding my Magic Dildonic Vibrating Broom. This broom turns out to be the sex toy sensation of the masquerade. The design is inspired by Mattel's "Nimbus 2000" Harry Potter Vibrating Broom. You may recall the Vibrating Broom Scandal of 2002 that had parents throughout the Western world freaking out when they realized that the cute battery-operated "Harry Potter and the Sorcerer's Stone" spin-off toy their kids loved "riding" right between their legs for hours on end was actually a masturbatory agent. Mattel was savvy enough to immediately discontinue the kiddy vibrators, but that's no reason we adults shouldn't enjoy our own vibrating brooms, especially around Halloween. You can find some original Harry Potter Vibrating Brooms on E-bay, but they're built for kids. I've never seen a functional vibrating broom in any adult toy store or site, so with Gene's creative assistance, I created my own.
Not only does my Magic Dildonic Vibrating Broom vibrate so that you feel like you are really flying (at least in the sexual sense), thanks to a Pocket Rocket secured to the middle of the broom with a couple of my strategically wrapped scrunchies. It is also outfitted with a nine-inch dildo on the front end of the broomstick. Moreover, the sweeper end has the perfect bristles for a good spanking, or sweeping, as the case may be. Right now, Gene and I are making them by hand, so Dr. Suzy's Magic Broom is a little on the high-end side of the sex toy spectrum (though they're nothing compared to the Queening Stools, another popular item for the Sexy Witch), but I'm going to find a factory in China to mass-produce these things, and soon there will be millions of happy Sexy Witches flying around the world without ever leaving the ground.
Meanwhile, back to the show: My first guest on the Broadcast Bed is Playboy's "Girl Next Door" Cindy Pucci, looking like a sweet piece of cherry-flavored Halloween Candy in nothing but a Victoria's Secret red lace slip, accompanied by her man Chris Lee. Next up is clinical psychologist-turned-porn-star Morgan Ray, done up in her "erotic persona" as a seductive nurse, The nurse fetish is big here at the Speakeasy; in fact, another name for the Erotic Insurgent Masquerade could be Night of the Naughty Nurses. Everyone wants to be a sexual healer. Or do all these nurse personae really think the rest of us are sick? Nurse Morgan gets naked except for her red and white cap which keeps falling off, and sucks solicitously on the phallic end of my Magic Broom. Then Mistress Genevieve returns to the Speakeasy in a kinky latex nun's habit wielding a Jesus Jackhammer Dildo and a Scary Sex smile. What with my Magic Broom, the exquisite XTC glass dildos that a kind reveler drops into my bed, and Gene's delicious chocolate dicks dipped in vanilla pudding, it's a Happy Dildonic Halloween.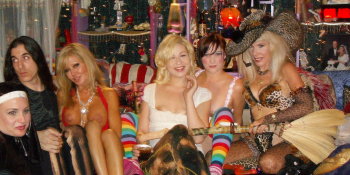 With Ms. Genevieve the Nasty Nun, Cindy Pucci, Chris Lee, Katie K, Page Morgan and My Magic Dildonic Vibrating Broom. Photo: Eban Lehrer
A Scary Sex call comes in from Texas: Cyndi fantasizes about having sex with two men, but she's afraid they'll be more into each other than into her! This fear is not as crazy as it might sound. We talk about why men might want a threesome with a woman and another man – other than as an excuse to be with each other – including the evolutionary psychology theory of "Sperm Wars" based on the finding that a man's sperm count often goes up when he sees or believes that another man is with the woman he desires. As Cyndi describes how she would make love to these two sexy studs who only have eyes – and erections – for her, she lays back in her Texas hammock and masturbates herself to orgasm right on the air, firing up the collective ecstasy of the Speakeasy to a fever pitch.
Then cute Katie K, dressed up as the cute, slightly bratty little girl she probably was in real life just a few years ago, and Page Morgan, an amiable Marilyn Monroe-ish lass, both sweet 19, bounce into the bed, followed by Regan Reese, a hot multi-tattooed Bad Girl brunette in a Girl Scout uniform, all three ladies courtesy of Jack the Zipper, spotted slinking through the Speakeasy disguised as his 19th century namesake, having just wrapped shooting Fuck the World at Block Studios for Playboy. Everybody overcomes their fears of exposure and strips off costumes and non-costumes, showing off their various natural boobies, tit jobs, tattooed asses, pierced nipples and clits, and Regan playfully sucks my Magic Broom.
Then we take another Scary Sex call from Stella in Michigan. Stella's afraid to get into some of the slightly kinky sex – like golden showers, mutual masturbation and dirty talk – that her current lover enjoys because when she had done the same things with her abusive ex-husband, he threw it back in her face the next day and called her a slut, kind of like a Puritan Father who screws a Sexy Witch and then has her burned at the stake. We talk about letting go of Stella's abusive past, learning to trust again and not to be ashamed to enjoy sexual activities that might be a more exotic flavor than vanilla.
Suddenly, beeping their horns and squeezing their rubber chickens and popping their pink balloons, the Renegade Klownz sprint through the Speakeasy and into my bed. Continuing with the theme of ingenius phalloi, freekBALL uses a long balloon as a dildo and, with a generous dollop of lube, stuffs it under the skirt of the adorable Girl-Klown Toots and right up into her sweet Klown cunny, as she squeals and giggles and rolls her pretty painted eyes in ecstasy.
Now the Speakeasy Congregation is really getting into the Spirit of Sex, and the whole Womb Room begins to writhe in bacchanalian fervor. Jay Lassiter, one of the stars of "A Midsummer Night's Wet Dream" jumps into the bed with his friend Valentino, as both romance Regan, the little Girl Scout Gone Bad, bringing to life Cyndi the Caller's fantasy of two men and one hot woman, as Regan takes on both well-hung men – neither of whom seems terribly interested in the other. She goes down on them like a kid with two ice cream cones, while they take turns eating her Girl Scout Cookies, as the rest of us eat our Chinese Aphrodisiacs and sip Agavero Tequila Liqueur…
Then the Couple of the Night bursts into the Bed: Statuesque Beauty Darryl Hanah and her real-life lawfully wedded husband of 14 years Jack Fountain.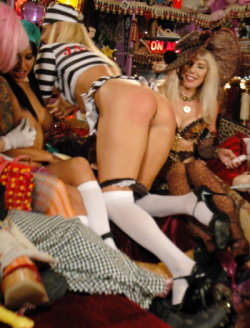 Darryl and Jack's "Erotic Personae" are Partners in Crime, dressed in mismatched prison costumes, bright orange for Jack and a skimpy black-and-white striped "Jail Bait" number for the beautiful porn star who happens to be the spitting image of the tall blonde leading lady of "Splash" and "Kill Bill" (who spells her last name with two "n"s).
One thing leads to another, and I wind up making out with Darryl Hanah (a fantasy I've had since seeing Pris the Pleasure Model Replicant in "Blade Runner"), spanking her luscious ass with my Magic Broom after she sucks the dildonic end, and making her come with my trusty tiny Finger-Fitting Vibe.
In other corners of the Broadcast Bed, Regan is giving Jay and Valentino expert blowjobs and freekBALL is unzipping his Klown Fly to reveal something more solid than the balloon, but almost as long and just as firm, which pretty little Toots rides to a rip-roaring Klowngasm.
Soon Darryl's hubby Jack rises to the occasion, and they prove that they are the hottest married couple in porn today, screwing each other doggie style, missionary, cowgirl and reverse cowgirl, until Jack comes like a cream soda Fountain into the lovely gaping mouth of his adoring wife. Thus climaxes the official part of The Dr. Susan Block Show, at which point the Wrap Party swirls into action as super sexy LAPD cop JJ arrests Darryl and me, Jay and Valentino, and we all make out, as the Speakeasy explodes into a kinkster galaxy of dancing, cavorting, lovemaking Hallowe'en Bacchanalians.
I commandeer 7-foot-tall Cory into driving the lovely little Klown Girl Toots, me and Toots' rubber chicken around in the rickshaw through all the orgies going on in the gallery between the sculptures, the piano, the sex furniture, the bondage cross and the bar. Among other themes like Scary Sex, Erotic Personae, Nurse Heaven and Creative Phalloi, our Erotic Insurgent Escapade is the Night of the Tall Guys. When Cory stands next to another 7-foot-male stripper named El, I feel like I'm looking at a resurrection of the Twin Towers in human form.
Speaking of "erotic personae" that evoke Great American Tragedies, BonoboWay Developer, Warner Sister and Melodramatist Sara Sioux Robertson (for whom 10/27 is some sort of sacred date) is impeccably attired as Jackie Kennedy on that Dreadful Day in Dallas, in a powder pink suit and pill box hat and her perpetual Speakeasy sunglasses. Sara/Jackie hangs with Melo Girl Rachelcostumed as (what else?) a nurse, as well as Wallace Jackson pretending to film for Canaan Brumley who is really filming him, and us, for his upcoming film Speakeasy.
Other luminaries floating through: The Man Who Saved My Life: Dr. K, slowly but surely recovering from the stroke that almost took his mind a few months ago, and more popular with all the Speakeasy Girls than ever. NPR and Pasadena Star-News Journalist Todd Ruiz and Tracy de Sade in frighteningly sexy Halloween horror garb. Ines and Michael Blum (Yale '95) building momentum for our Dream Hotel. Lorelai and Jennifer giving each other big beautiful orgasms. Deborah the Lawyer getting in touch with her Inner Porn Star.
The Speakeasy's Most Exciting Erotic Persona Costume Award goes to another married couple who somehow manages to get sexier every time we see them: Artist BD and Dancer Kat are Antony and Cleopatra, one of my favorite romantic couples of history and literature. Of course, Marcus Antonius and Queen Cleo were real historical figures whose romance literally moved armies. "Antony and Cleopatra," one of my favorite Shakespeare plays, manages to combine all three dramatic genres, tragedy, comedy and history, in telling the story of this ancient international, interracial, hotblooded power couple, fixing them in the firmament of literary immortality, far more beloved, if not more admired, than their cold adversary Augustus Octavius Caesar. At the Erotic Insurgent Masquerade, BD and Kat make Tony and Cleo a part of Dr. Suzy's Speakeasy history. BD's deliciously masculine Roman armor and fetching tunic were handmade by his father for Halloween many moons ago, making his costume an heirloom erotic persona. Kat's Cleopatra is powerfully seductive, with just a hint of her tragic fate represented by her infamous Asp (played by her friendly pet python Lucy). Kat/Cleo seduces me, Darryl Hanah, my own snake Evie, and finally, her beloved Antony, the two of them making love on several different Speakeasy beds, stages and couches like true Roman-Egyptian orgiasts.
We also hold our first Raffle, to great acclaim, raffling off DVD copies of Squirt Salon, Weimar Love, Blonde Island, Hoods & handjobs and The Bonobo Way, a Doc Johnson Pocket Rocket and a Vibrating Glove, as well as the very first Dr. Suzy's Speakeasy 2008 CALENDAR hot off the Bonobo Way CafePresses, all great sexy gifts for the holidays, by the way…
Sensuously, we dance and play as the Bacchanalian night winds down into morning with classical pianist Scott Burn playing my grandmother's Steinway Baby Grand. Then there's the part you don't see on film, i.e., one of the guests getting so plastered from our friendly Speakeasy Open Bar that he can't walk without falling down, nor can he stop hollering obscenities and generally annoying the entire exhausted Speakeasy staff at 8 o'clock in the morning after we'd all worked a 20 hour day. Finally, Bromeo and Lorelai have to carry this raving loon out of the Speakeasy in our big red Catholic Workers' shopping cart. Lorelai who is a real nurse (there are quite a few associated with the Dr. Susan Block Institute), not just a Halloween one, keeps checking his vitals, which remain fine even as he keeps hollering, though now his obscenities are mixed with apologies. Bromeo and Lorelai wheel him out of the Speakeasy, into the elevator, through the lobby, down the sidewalk and into the Speakeasy parking lot. Who knows what the neighbors think is going on with this bleery-eyed couple wheeling an obstreperous drunk clad in lady's lingerie around in a shopping cart. Good thing we don't have many neighbors. Anyway, Bromeo and Lorelai gently lift the patient out of the cart and unload him carefully into the back of his van, where his extraordinarily tolerant and actually very sweet girlfriend (who has been following my peripatetic career since my Dr. Toni Grant days in the late '80's), has been patiently waiting to drive him back to San Clemente. The eeriest part for me is that this guy is wearing a leopard-print bra and pantyhose that is creepily close to my own leopard-print bra and stocking ensemble. Talk about Scary Sex!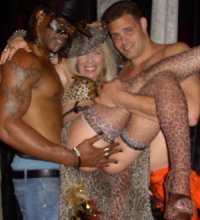 Well, it wouldn't have been a Hallowe'en Bacchanalia without a little sturm und drang. And we are actually very blessed that nothing worse happened. Praise the Lord and the Lady. After all that comic-tragic-historic drama, my H and I retire to give each other a few rollicking, much-deserved orgasms, as we fantasize about the Twin Tower Brothers having a Threesome with Cindy while we are flies on the walls, or maybe just flying on our Magic Brooms. Scary Sex, indeed.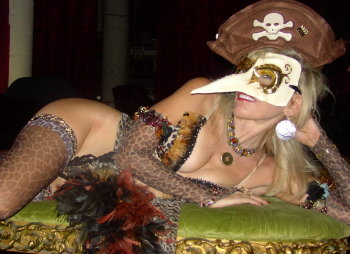 Our next big TV Show and Wrap Party will be Eros Day 2008. Reserve now to get those Early Bird Special rates.
We're actually not sure where we'll do it (yes, we may have to move as our landlords are raising our rent yet again, so let us know if you have the perfect space for a Speakeasy!), but we do know it will be another awesome erotic evening. In the meantime, WATCH the Erotic Insurgent Masquerade tonight on RadioSuzy1TV.
---
Explore DrSusanBlock.com
Need to talk? Sext? Webcam? Do it here. Have you watched the show? No? Feel the sex. Don't miss the Forbidden Photographs—Hot Stuff, look at them closely here. Join our private social media Society. Join us live in studio 😊. Go shopping. Gift shop or The Market Place. DrSusanBlock.tv, real sex TV at your toe tips. Sex Clips Anyone? FASHION, we have fashion! We also have politics. Politics? Have you Read the book? No? How about the Speakeasy Journal? Click here. Ok, how about some free sex advice?
---
---