Kink Month Continues with Mattress Madness & a Big Tech "Bag of Rats"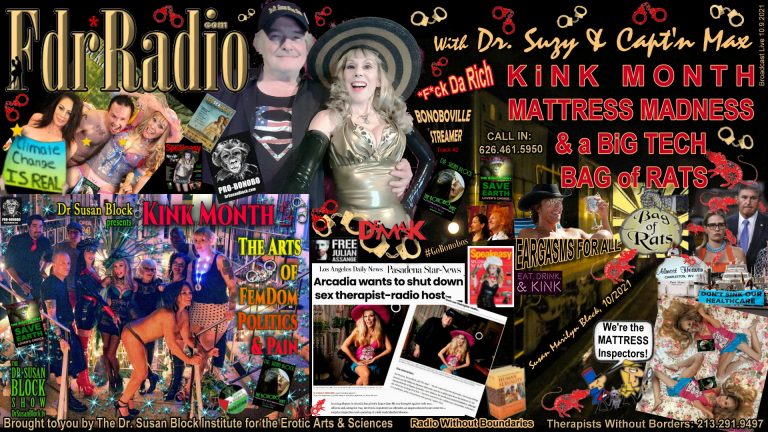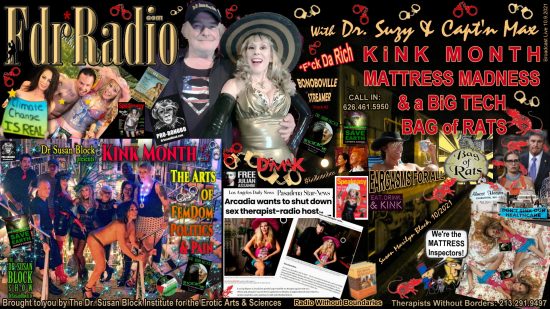 Length 01:16:30 Date: October 9, 2021
by Dr. Susan Block.
It's our second Kink Month ride of 2021 on F.D.R., choo-choo'ing through the Tunnel of Love down the Bonobo Way of peace through pleasure, organic kink, female empowerment, male well-being and sharing resources in an equitable sustainable society, surrounded by beautiful kinky friends and lovers on a clean Earth, in sexual freedom, consensuality, health and well-being.
Of course, that's the ideal and, as Capt'n Max says, the ideal is the enemy of the real.
The reality is we're being harassed by the city of Arcadia's zoned-out Zoning Politburo. The reality is we're missing a lot of our old friends in this crazy, still-raging Coronopocalypse (mask up, Comrades!). The reality is oil spills and climate catastrophes are roiling the world. The reality is the rich are getting richer and the poor are getting killed. The reality is we're being censored for WORDS by every Big Tech platform (this show triggered Reddit for some unknown erotophobic reason). The reality is that "politics is a bag of rats"… with a hat tip to that adorable, political, double-talking dirty Texas rat, Matthew McConaughey.
Actually, Matt doesn't go far enough. The reality is that much of life on the Earth currently feels like we're holding—or even inside of—a bag of rats, or the rats are all around us, or maybe we're all just big-brained rats skittering around on a sinking ship.
Big Tech Wing-Clipping Service
Another reality is that I didn't prepare any of my usual copious "notes" for this particular train ride, and with all the censoring and other points of confusion, I'm flying by the seat of my panties.
Yes, I'm flying, as our Love Train has big glorious wings.
The problem is that Big Tech keeps clipping our wings. As Capt'n Max observes, when we started broadcasting, there were only seven dirty words, and we knew what they were. Now there are an infinite number of "dirty," forbidden or (heaven forfend!) "triggering" words, or word combinations, and we have no idea what they might be on any given day.
What words got this show banned on Reddit? We've called it "Fuck Da Rich" for months, and that's been fine, so it's not "fuck," unless they just changed their censorship policy this week (always a possibility). Then again, it could be the word "sex" or "kink" or "socialism." They don't say.
You're supposed to guess, I guess. You're expected to self-censor to kindergarten-level acceptability or risk getting shut down. Big Tech used to only censor "pornographic" images, not words. I didn't like when Marky Z put me in Facebook Jail for a nip slip, but at least, we knew if we stayed away from female boobs and everybody's buttholes and genitalia, we'd be in a "safe space."


Then, in an effort to be good Nannies that masked a penchant for total control, the Big Tech companies began deleting posts and shutting down accounts for words, ideas and attitudes. I noticed it happening to my political colleagues before it hit us. It's an egregious infringement on our First Amendment rights because—even though the Big Tech companies are private corporations, not "the government"— they are social media monopolies that govern their sites, and social media has become the Commons for much of human society. Therefore, Big Tech censorship deprives us of our right to Free Speech in the Commons.
Most people support the First Amendment when it's something you're saying or with which you agree. The true test of whether you seriously stand up for Free Speech is the old saying—usually attributed to Voltaire, but probably coined by Evelyn Beatrice Hall (a woman, of course)—"I disapprove of what you say, but I will defend to the death your right to say it."
My own true test is Big Tech's censorship of the Mango Malevolence. I think I've proven over the years how much I loathe the Trumpus and feel he belongs behind bars.
Imprison tRump and free Assange!

Where's F. Lee Bailey when we need him? Well, his spirit is currently advising us… pro-bonobo.

But I don't support Twitter or Facebook banning him. As we know from history, banning things doesn't usually make them invisible, and censoring tRump hasn't stopped this Loser from taking control of the Republican party.
So yes, stop censoring tRump and stop censoring me. Soon the internet will be nothing but corporate propaganda and cute dog pictures.
In a way, the city of Arcadia is also trying to censor us—and it is the government—infringing on our First Amendment rights by withholding our business license. Their little "surprise" Panty Raid also infringed on our Fourth Amendment rights, and they've been harassing us in many other ways since we moved into this building, as delineated in this pre-hearing LA Daily News/Pasadena Star News article and this post-hearing piece.
Kinky Mattress Madness
It's no surprise that the Arcadia Zoning Politburo has circled the wagons around their officious, mendacious inspector Amber Abeyta, tossing us onto the appeals process treadmill. Like so many government functions, our next appeal is virtually useless since it goes to the very same bored, zoned-out zoning board. If nothing else, they are torturing us with grueling bureaucracy that only a well-paid lawyer could love.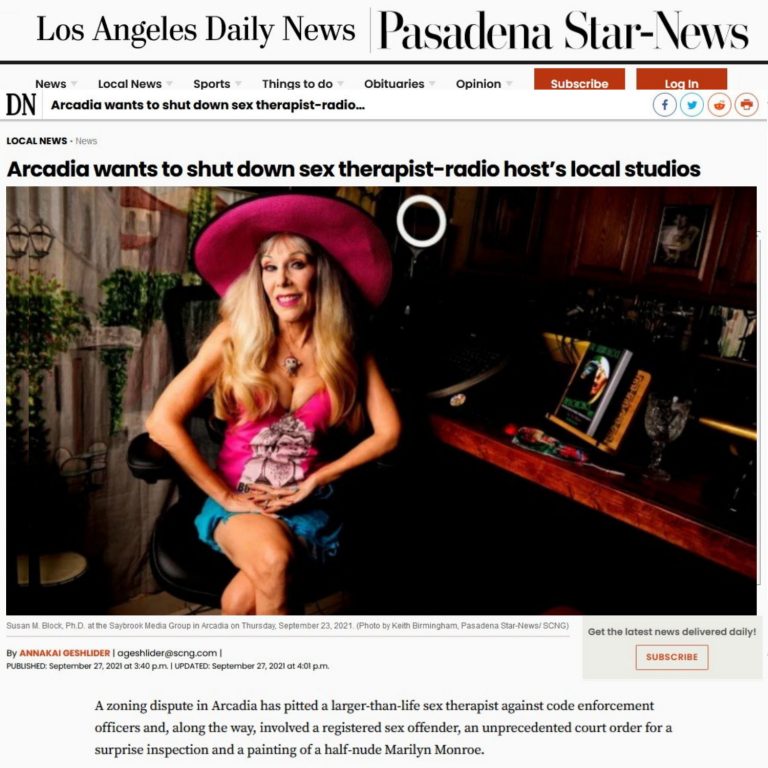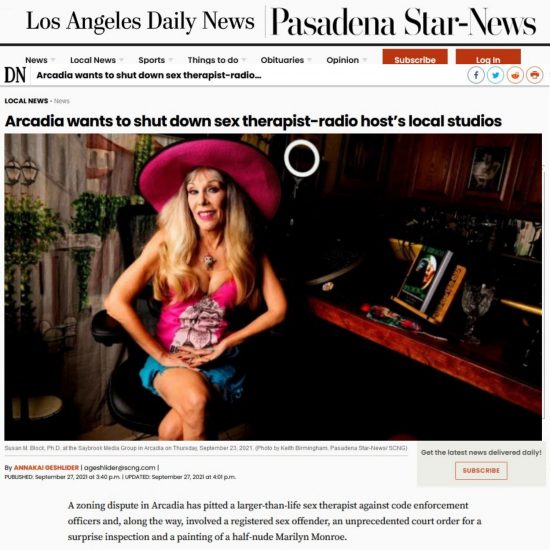 Where's F. Lee Bailey when we need him? Well, his spirit is currently advising us… pro-bonobo.
We've triumphed over a lot worse. Still, it's a bit of an ordeal, so it's great to have the support of many friends and former bonobos who have reached out to us since the article appeared.
Erotica author (Caning Able) and past DrSuzy.Tv guest Stan Kent penned such a galvanizing tweet about why this "neo-puritanical-tyrannical censorship must be fought and defeated by all erotica purveyors," and predicting that "you'll beat these mattress inspectors and if you need any immoral support – send out the call to arms-legs-asses-penises-vaginas," I had to read it aloud on the show.
Later I tried to "beat a mattress," which is much more effective than punching a pillow for improving my paddling arm. I'll be ready for the spanking parties when we have them again!
Others have offered support, like Gypsy Bonobo, Marabelle Blue, Mark Brown (who promises to picket the Arcadia Zoning Board for us!) and Sheree Rose, one of the stars of this week's fabulous throwback, Kink Month 2: the Arts of FemDom Politics & Pain.
This was a very special second show for several reasons, one being that it was the return of Sheree to DrSuzy.Tv after 20 years. On her first appearance in 1996, she promoted her kinky artwork and photography that documented the active submission of her partner, the late great poet, Bob Flanagan, with whom I had done the "Heart and Dagger" poetry show back in 1988. In it, I delivered a poem from a one-woman poetry show I was performing at the old Zephyr Theater in Hollywood entitled "Mattress Madness."
Isn't it wondrous and strange how certain threads weave in and out of the tapestries of our lives? The pleasure and value of beds—great for sleeping, having sex, reading, writing, playing games, watching movies and so much more—have always been a recurring theme for me. In "Mattress Madness," my onstage mattress is a magic carpet into my imagination. It represents—and really is—a fertile source of creativity, kinky and otherwise.
Kink Month 2: the Arts of FemDom Politics & Pain, broadcast live October 8, 2016, also features Sheree's co-writer and art partner, the marvelous, multiple SUZY-award-winning Rhiannon Aarons, in her virgin appearance on DrSuzy.Tv. Also joining us for the first time was dazzling pro-domme Mistress Porcelain Midnight. What an amazing, ultra-kinky show featuring this troika of extraordinary specialists in erotic pain infliction and management.
Though it was definitely an advanced degree kink performance, there's a feeling of pre-tRump, pre-pandemic, pre-madness innocence to this show, broadcast live on the eighth day of Kink Month, 2016, when many of us cherished our wishful-thinking hopes that the Trumpus could never possibly win that fateful election… could he?
Little did we know that this embarrassingly narcissistic, rude, crude and utterly amoral reality TV bully and failed businessman who literally pissed away Daddy's money would, in a case of extreme electoral dysfunction (and despite losing the popular vote), win the U.S. Presidency.
At least, we impeached him twice and made him a one-term President… didn't we?
Unfortunately, the prospect of Trumpty Dumpty and his minions of zombie MAGAts under mass hypnosis returning like the plague isn't just a Kinktober Halloween bad dream. It's a distinct possibility.
It sounds worse than a "bag of rats," another recurring dream-theme on this freeform ride. Rats in a bag or skittering across the street becomes a metaphor on this show for the world-wide craziness of the moment and the Big Tech censorship… those rats are eating up our words!
Suddenly the magic carpet of my mattress is turning the bag of rats into a screaming, biting hoard of zombie MAGAts. Aaaagggggghhhhh!
Dayton Rains is Back!
Unless you have a kink for horror, you might want to get these images out of your mind by eroticizing your eyeballs with the super-sexy beauty of one of DrSuzy.Tv's most popular guests, who was also my assistant for a spell, the spectacular Dayton Rains.
We did some fantastic shows and took some great trips to the San Diego Zoo to see the real bonobos (with Dayton at the limo wheel!) and UC Berkeley where I delivered the Bonobo Way of Nonmonogamy and met Dayton's lovely mother. Good times!
Life, however, has its ups, downs and abrupt turnarounds, and Dayton left Bonoboville in a rather strange, problematical fashion. Then, a few days later, Roberto (aka "Drunk Jesus"), our video editor, left too (to be with Dayton, of course, though they didn't say that), also without warning or returning phone calls. Not nice, but time heals all wounds, especially with a good apology.
So, last week, our Kink Month Kickoff throwback featured Dayton, and word appears to have travelled through the Bonoboville grapevine all the way to Texas where she now resides with that video editor. So, after over five years, Dayton called me and Capt'n Max the night before this broadcast.

One of the pleasures of maturity comes when people who wronged you in the past come out of the woodwork to admit their wrong, honor your contribution to their lives and apologize for their misbehavior. Much sweeter than
revenge

I was thrilled to hear that she and Roberto are still together. I love when love blossoms in Bonoboville, although it usually means the loving couple has to leave, which is fine, as long as they give notice. Seems simple enough to those not in the throes of PEA-infused romance, but many like Dayton and Roberto are too swept away by the Chemistry of Love to get involved in such mundane niceties.
I don't know if they intended to apologize. Dayton said she was calling because she "missed" me and wanted to tell me how much she appreciated how we encouraged her to stretch her skills beyond porn, yet also honored her prodigious porn-star talents. Her words poured like honey through the phone. However, I can be a bitch, and I said coldly that I had nothing to say to her until she apologized to me. So, she did. Well, first she managed a half-hearted "sorry," and then Roberto got on the phone and delivered an Oscar-worthy apology with details and flourishes, at which point Dayton chimed in with her own details ("I'm sorry I stole your video editor!") in a much more heartfelt expression of her remorse. Either that, or they're both better actors than I realized.
I must admit it is one of the pleasures of maturity comes when people who wronged you in the past come out of the woodwork to admit their wrong, honor your contribution to their lives and apologize for their misbehavior. Much sweeter than revenge, which is actually kind of dangerous.
Wonder if and when Arcadia Building Inspector Amber Abeyta will be calling us to apologize.


Talking about Dayton and Roberto gets us to talking about bonobos (we actually give a pretty good bonobo overview this show) which gets us to gorillas, whereupon we say good-bye to Ndakasi, the orphaned mountain gorilla who died last week in the arms of the park ranger who saved her life fourteen years ago.
Speaking of Texas (seems like we're always speaking of that crazy state these days), home of Joe Rogaine, Max played the "Village Idiot" long before he did. And also Max has more hair. Who knew the vaccine could put more hair on your head than Rogaine?
Floating Manchin "Bag of Rats"
Meanwhile the great poster boy for not being able to tell the difference between Democrats and Republicans, that sea-faring Democratic-in-Name-Only Senator Joe Manchin, sits on his floating mansion, a houseboat he unironically named "Almost Heaven," talking down to all the little kayaks and rowboats that have gathered around him with signs that say "Don't sink our bill! "Don't sink our health care!" and "Don't sink West Virginia!"
Of course, Manchin doesn't give a damn about these little people in their tiny boats, especially their health care. Half of the "entitlement"-loathing, mansion-loving Manchin family work for the pharmaceutical industry. "They're drug dealers," says Capt'n Max, which is pretty on the money.
While he's in a labeling mood, he says "Republicans go for hookers, and Democrats for interns."
I don't know about that, but better to go for hookers, as interns are a "bag of rats." There's that phrase again. It's amazing how versatile it is as a metaphor for various aspects of life these days. A Dominatrix and her boyfriend (whom we hooked up with HBO who put him on The Sopranos for a few episodes) had a pet rat. Cute, but I wouldn't touch him. Looked too much like Joe Manchin.
Speaking of Dem Rats who might as well be Trumpublicans, Democratic Senator Kyrsten Sinema is the wine-loving, colorfully attired, athletic, LGBTQish, female version of Joe Manchin. Between the two of these ethically dirty corporate rats, our entire democracy is seriously at risk. Listen above or below to find out why.
And don't forget to vote Blue in 2022 (though someone should primary the rats)!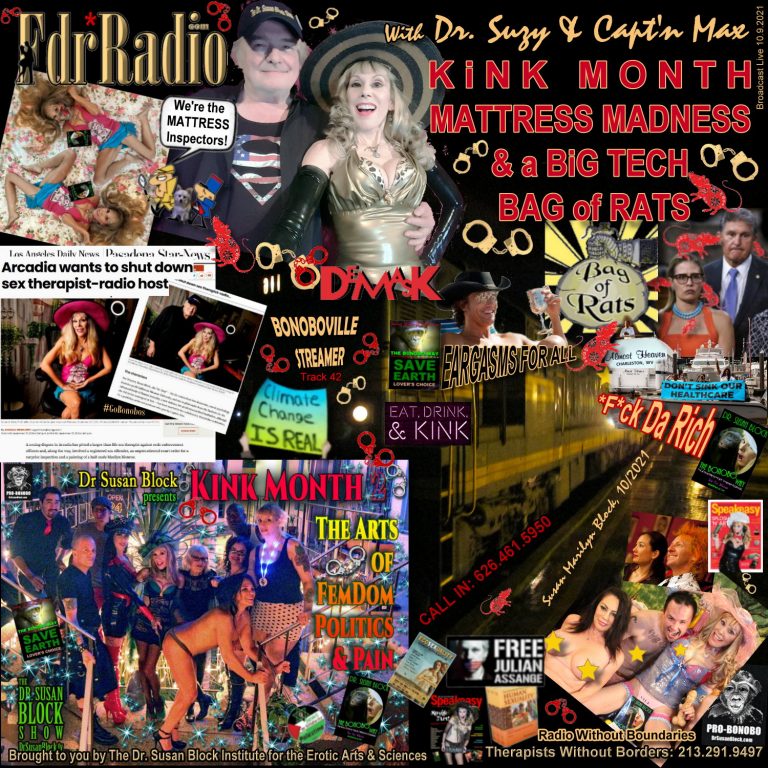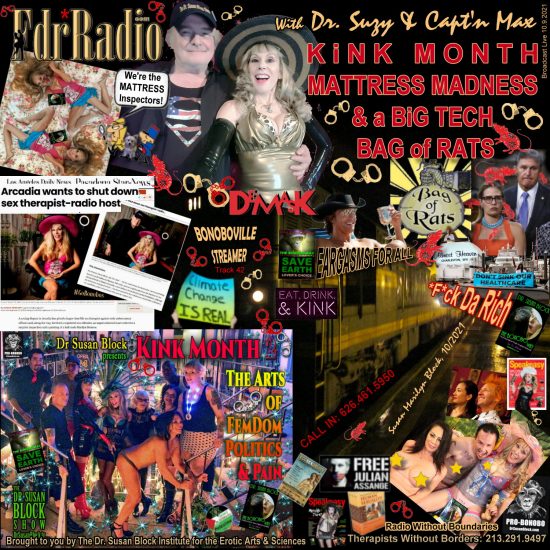 Just as we're ready to put down the mics and raid the Speakeasy bar, a couple of rather disturbing comments spurt forth from that digital bag of rats, Reddit. Someone who calls themselves S3ndD1ckP1cs (code for Senddickpix) says, "Can we agree not to help countries that hate us?"
No, S3ndD1ckP1cs; that's how racism and prejudice begin. Besides too many people in foreign countries hate Americans, even France! Hasn't poor uninformed Senddickpix ever heard of the Ugly American? It's based on a true story. If we don't help any countries inhabited by people that hate us—or at least think of us as a BIG bag of rats—we won't be helping anybody, which may well be S3ndD1ckP1cs' goal.
MBH says he'd "rather have a bag of rats than a politician." Haha, I get it, and I'm not crazy about politicians either, who is? However, politicians are people like us; they're just corrupted by greedy corporations (who are not people and shouldn't be considered as such, despite their corporate-toadying Citizens United ruling), an avaricious, ammosexual Military-Industrial Complex and assorted billionaires. You might be too in their place. Don't be so sure you'd rise above the bribes, and if you did, you'd probably lose your job when the corporations you didn't favor don't support you in the next election
Let's change the system (starting with Citizens United). Let's stop letting corporations, the MIC and heads-up-their-butts rich folks bribe our representatives!
That's a tall order, but we can do it… hopefully before it's too late.


In the meantime, I hope you have as happy and orgasmic a Kink Month celebration as my handsome Captain and I did on the morning of this show!
© October 9, 2021 Susan Block, Ph.D., a.k.a. "Dr. Suzy," is a world renowned LA sex therapist, author of The Bonobo Way: The Evolution of Peace through Pleasure and horny housewife, occasionally seen on HBO and other channels. For speaking engagements, call 213-291-9497.