The Bonobo Way at UC Berkeley: A Travelogue of Monogamish Nonmonogamy & Deep Memory Foam LoVE
CLICK HERE TO WATCH THE BONOBO WAY AT UC BERKELEY
For the second time in less than two weeks, I packed my G-strings, Hitachi and The Bonobo Way, leaving my little Bonoboville (previously a rare occurrence) on another sapiosexual mission to share love, gain wisdom and have as much fun in three days as legally and anatomically possible.
This time, instead of flying over the great American South to the Island of Enchantment's ecosexual beaches and balmy UPRM campus, Capt'n Max and I took a road trip through California's redolent cow pastures and spooky truck stops, en route to deliver our "Gospel of the Bonobos" into the hallowed, historically progressive halls of University of California at Berkeley (UCB).
#GoBonobos! Go Bears! Bezerkeley or bust!
Speaking of busty, chauffeuring us in style from the City of Angels to the Athens of the West in her souped-up Hyundai Azera was the hottest motor queen on asphalt, famed 32DDD porn star, Block Institute therapist and Nor Cali native, Dayton Rains.
Almost as adept at pulling tight U-turns as she is at smoking cigars through her kegel muscles, Dayton took the wheel. So what if we wound up on the 99 instead of the 5 for a couple of lost hours; our driver came with built-in airbags—and very lovely airbags indeed. More like air balloons. Plus a smile that could light up a country road after dark.
UPRM, UCB & Yale
Our last adventure along the Bonobo Way accompanied my keynote for "Practices of Ecosexuality" at the University of Puerto Rico at Mayaguez (thank you, UPRM Professor SerenaGaia Anderlini D'Onofrio for inviting me and organizing this great symposium), a delightful bilingual "beach school" with an easy-going student body in flip flops and tank tops, as likely to learn their lessons on the playa as they are in the classroom. Now we were bringing the Bonobo Way to Berkeley, the most eminently liberal, profoundly intellectual, strikingly ambitious (some say "UCB" stands for "University of Competitive Bastards") and quintessentially politically correct institution in the University of California multi-school system. Whether protesting injustice, defining "inclusivity," debating foreign policy, pondering quantum physics, tie-dying T shirts, flirting while dropping obscure literary references, developing the next iPad, parsing vegan recipes or talking about sex, UC Berkeleyites seem so studious and serious, they make Yale look like a party school.
Actually, Yale is a party school… for the progeny of presidents, their attorneys and suppliers. Though lately, Yale seems to be trying to become more like Berkeley (which is a good thing, mostly).
So there we were, burning rubber into the epicenter of academic gravitas with one of So Cal's hottest cougars at the wheel.
Polyamory Polka
Naturally, we were a bit late reaching our destination: the 5th International Conference on Monogamy and Nonmonogamy at the stately old UC Berkeley International House Conference Center. When we arrived, the eminent Dr. Karin Wandrei was already in the throes of deep discourse regarding the politics of lesbian sex with gay, bi and heterosexual men, something which Berkeleyians of every gender and orientation have been grappling with at least since Dr. Carol Queen hooked up with Robert Morgan in the early 1990s.
We slipped into our seats, attempting to be inconspicuous, which is not an easy task for me due to my fetish for big hats and impossible for Dayton who is just too stacked to be anything but concupiscently conspicuous. Fortunately, the ongoing theme of these talks was sex—in terms of monogamy and nonmonogamy, which covers most types of sex—so being sexy wasn't as much of a drawback as it is in most academic settings.
More talks followed—"Negotiating Pairbonding, Romantic Love and Jealousy in Polyamorous Relationships" with Dr. Leanna Wolfe and "Therapy with Consensually Non-Monogamous Clients: Best Practices and the Applicability of Guidelines Design" with UCB sex researcher Heath Schechinger. Apparently, monogamy, or even the pretense of monogamy, is no longer required for membership in the great human social club of "What's Normal" nowadays. And to that, I say "Amen"… and "Awomen." Especially Awomen. Consensual polyamory, in its current stage of evolution, seems to be engineered primarily by and for women, as well as men in touch with their feminine sides.
Are the terms "nonmonogamous" and "polyamorous" interchangeable? Not exactly. While anyone who is not strictly "monogamous"—sexually exclusive with one person for life—could call themselves "nonmonogamous," polyamory is much more specific. The word derives from the Greek "poly," which translates to "many" or "several," and the Latin "amor," which means "love," and defines the practice or desire for intimate sexual relationships involving three or more individuals. From Mormons to Wiccans, wild porn stars to diffident professors, these arrangements are becoming more and more *the norm,* or at least, one of our poly-theoretical society's many different norms… especially in the Peoples Republic of Berkeley.
The Bonobo Way of Consensual Nonmonogamy
With this in mind, UCB students, professors and practitioners of the polyamorous arts and sciences gathered together to share stats, studies and The Bonobo Way. Actually, I was the only one sharing the Bonobo Way, at least at the start of the conference, but these folks were so "pro-bonobo," very soon I was happy and pleased to hear many others sharing it too.
And why not? Bonobos (pan paniscus), our closest great ape cousins along with common chimpanzees (pan troglodyte), have been practicing consensual nonmonogamy for many thousands of years—at least. Moreover, the bonobo *brand* of nonmonogamy is a cornerstone of their lifestyle, since it is a vital aspect of the bonobos' ability to make "peace through pleasure" in their communities. As I explain in my talk at UCB (coming soon to youtube!), as well as in the book, thanks to a powerful combination of frequent consensual nonmonogamous sex, female empowerment, active empathy and resource-sharing, bonobos are the only great apes who have never been seen killing each other in the wild or captivity.
Bonobos show us that "peace" is not just some politically correct ivory tower theory that a UCB Ph.D. candidate developed for a dissertation, but is integral to our primal human nature, perhaps even to our pre-agricultural, nonmonogamous, "fierce egalitarian," hunter-gatherer roots. As Drs. Christopher Ryan and Cacilda Jethá suggest in Sex at Dawn, perhaps consensual nonmonogamy is a part of our primate heritage with which the bonobos never lost touch.
Can we rediscover that part of ourselves? Can we quit turning our sexual frustration into jealous rage, murderous aggression and never-ending wars that only help the one percent? Can we challenge ourselves to become better lovers, better sharers and better givers? Can we "free our inner bonobos"… before it's too late?
I don't know about the rest of the world, but Berkeley can! At least, they're got some good theories on the subject.
Sapiosexual Seminar
Yes, the theorizing, researching, practicing, proselytizing and consulting nonmonogamists and polyamorists who came together in the halls, classrooms and restrooms of UCB are certainly trying to, in their respective way(s), "go bonobos." And yes, one of the stars of Bravo TV's "Newlyweds," Dwayne Mooney's polyamorous wife Billie Jordan, actually interviewed me in the UCB International House ladies room (and they're going to be on my show this Saturday). These folks are sex revolutionaries, and their trouples, triads and polycules are proliferating apace. I tried my quasi-intellectual best to tune into their theories and methodologies, as well as introduce them to the Bonobo Way, a new primate paradigm for consensual nonmonogamy, already in action in second biggest rainforest in the world.
My talk was inconveniently scheduled for immediately after Saturday lunch, so conference participants (much like bonobos in their ardent love of food, as well as sex) lingered over their veggie tamales and tea rather than hightailing it into the distinguished but rather stuffy Robert Gordon Sproul Room (named for the eleventh President of the University of California who created the multiple-campus system for which UC is renowned), where I was speaking. So though I started with just a few lunch-spurning anorectics and primatology fanatics, the Sproul Room soon filled up to standing room only. "Better to fill up than empty out," that's what I always say. And it was great to be given this opportunity to speak to so many folks who live or try to live in consensual nonmonogamous harmony—more or less *like* bonobos—as well as studying and drawing conclusions about these lifestyles for the sake of informed discourse and finding new, improved and academically rigorous ways to make our university system kinkier.
And yes, after my seminar, these nice bonoboësque folks asked smart questions, shared stories, bought books, got lei'ed and soon began spreading the word of the bonobos throughout the hallowed halls of UCB. I'd say "Mission Accomplished!" except that line was ruined forever by G.W. Bush in his flight suit.
My hope is that we humans not only learn what I call "the bonobo way" soon enough to save ourselves from military and/or ecological Armageddon—as well as the constant relationship *fails* that are not unrelated to our wartime and environmental fails—but also to save the highly endangered bonobos themselves from extinction. A portion of all book proceeds goes towards this endeavor, and we are proud supporters of Lola ya Bonobo and the Bonobo Peace Forest.
Bonobos are natural *mascots* for the nonmonogamy set, as they are for the ecosexual movement, gay pride and female empowerment. Are bonobos polyamorous? In a sense they are. After all, they love to have sex with more than one close friend, sharing what looks like deep love, not just lust, with their lovers. But studies show that bonobos crave and enjoy sex with strangers even more than friends, which makes them more like swingers than strict polyamorists. Group sex is a big hit in Bonoboville, especially around lunchtime. Wild bonobos would never make it on time to a talk scheduled for right after lunch.
Fortunately, Dayton, decked out in a diaphanous, Indian print, boho-Bezerkeley mini-dress with a plunging neckline, accompanied by her hot mom, Darelynn, strode into my seminar just as it started, drawing in the lunch crowd. So did my film of frolicking bonobos, edited by Roberto Bonobo. Many thanks to Dr. Leanna Wolf who, in addition to doing her own talks and formatting the conference program, kindly lent me her laptop to play the video (generously forgoing part of her lunch!); to Kai Shuman for videotaping my talk (coming soon!) and others; to Kirsten Rose for graciously letting me cut into her talk time when my audience kept asking questions; and most especially to the indefatigable and visionary Dr. Dave Doleshal for organizing and administrating this entire polymorphous production, now in its fifth great year at one of the world's greatest universities, UC Berkeley.
Liberté, Égalité, Fraternité, Lutinage!
After a long and bubbly post-talk celebration, we gathered with other conference participants to watch one of the best films I've ever seen about this crazy little thing called "polyamory." Lutine or lutinage is French for "polyamory," and this wild, complex, funny, extremely creative somewhat tortured, a bit too long, but profoundly brilliant "docu comedy," stars its director and producer, the vivacious, award-winning (Cannes Film Festival) film director, Isabelle Broué, herself a practicing—or, at least, dabbling—polyamorist.
LUTINE-Trailer Eng ST from Isa Lutine on Vimeo.
What a sapiosexually stimulating treat to watch such a fascinating, challenging film about love, lust and the creative process with a room filled with scholarly nonmonogamists, and then chat afterwards with the awesome filmmaker and her long-suffering, congenial (and somewhat monogamous) boyfriend, both of whom flew to the Bay Area all the way from Paris.
The French have long accepted covert nonmonogamy for its kings, queens, mistresses and stable boys, but now "open and honest" and very bonoboësque polyamorous interactions appear to be spreading throughout the land that gave us the "ménage à trois"… spreading like butter on a hot croissant. Ooh la la! Bon appetit!
Lupercalia in Berkeley
This being the night of February 13th, there was a cake in the shape of a big pink heart. But no, it wasn't for Valentine's Day; the bright crimson icing spelled "LUPERCALIA," a nice touch on Dr. Doleshal's part.
I love Lupercalia, the original pagan Valentine's Day, sometimes going all out in Bonoboville, wearing the horns of Pan, telling the tale of the Luper (which translates from the Latin to both "she-wolf" and "prostitute") suckling Romulus and Remus, plus, of course, whippings, spankings and floggings galore, making butts glow red as a Valentine heart.
I've been celebrating Lupercalia instead of or in addition to V-Day since around 2008, when hardly anyone who wasn't a classics scholar knew a Luper from a leper. Now it seems like everyone and their pagan grandma is going Lupey for Lupercalia. Though this Berkeley Lupercalia was basically just the cake and cocktails. A couple of people (me being one) sported horns; the rest were just horny. Not to mention tired from conferencing all day since 9 am. Sadly, there was no flogging to be seen nor heard, not even a light spanking. No offense to the horny and Lupey of Berkeley, but we just had to come back to Bonoboville to whip it up for Lupercalia 2016.
This was fine with us. We weren't in Berkeley for Lupercalia, which can always be postponed, especially since nobody does it better than Bonoboville. We were in Berkeley to share the Bonobo Way, to deliver the Gospel of the Love Apes at the heart—or the amygdala—of the Love Revolution, on the eve of the High Holiday of Love.
Hotel Durant Orgasm Broadcasting System
Then, lo and behold, Eros fluttered His divinely sexy wings and it was Valentine's Day, most of which we spent in bed. Now that my talk was done, it was time to have fun.
High Holiday of Love or the Lupercal of Lust, the sexiest place for a "monogamish" couple like us on V-Day is a nice comfy hotel room with romantic, old-fashioned touches, like wood-framed windows you can really open, and modern conveniences, like lights being on dimmers. This describes our room at the Hotel Durant.
Built in 1928 as Berkeley's "first luxury hotel," the Durant reminded us of the Duncan in New Haven where we stayed during one Sex Week at Yale we didn't stay at Saybrook. Although Berkeley's Durant, named after UCB's first president Henry Durant, is a lot nicer than the Duncan, it's got that old artsy collegiate feeling, perfect for parents of college students. Also it's a little naughtier, featuring lamps with bases that look like giant bongs and a leggy 1967 poster from The Graduate… perfect for MILFs and Cougars.
Honestly, our bed was a little weird for sex. It boasted a "memory foam" mattress, which can be very cozy on cold nights, but the viscoelastic "foam," which is mostly polyurethane, conforms to your contours which, in our case, meant it pushed us to the center of the bed and surrounded our bodies with this dense "low resilience" stuff, generating even more heat than we cooked up on our own. This was great for me, since I am easily chilled, but Max isn't nicknamed "Heater Boy" for nothing. Thus, the erotic pleasures of the open window…
Speaking of openings, the Durant's rather antiquated air vents acted like a multi-chamber speaker system, so that our neighbors above, below and to either side of us could clearly hear our orgasmic cries of Valentine passion (I practice what I preach in this department, as Jill Hamilton noted in Cosmo), and we could hear their reactions in a kind of multiple orgasm call-and-response neighborhood broadcasting system.
Did that make us polyamorous? Polymorphously perverse? Maybe just polyphonic.
Berkeley Poly Valentine
No doubt, our Valentine sex was, in part, inspired by the polyamorists. Not that we had sex with them. This was not a swinger convention, after all. But we did have a little more sex between each other than we usually do, and we have to give them some credit for that.
After all this poly talk, we *felt* sort of poly, though we were still only having fluid-bonded sex with each other. Or were we? Can two people be polyamorous with a machine? Rubbing our Hitachi Magic Wand across my vulva in between kisses and licks, I realized we've been in a polyamorous relationship with this marvelously clever machine, and its predecessors, since before we got married, almost a quarter century. If that's not an intimate threesome—a girl, a guy and their beloved robot—well then, I'll be a Princess Leia Love Doll.

We also shared fantasies of wild group sex, as we usually do. Well, maybe a little more than we usually do. "Is that polyamorous of us?" I asked Max.
"Yes," he replied, "because in the fantasy, all of us are longtime friends."
Brunch with Cousin Elliot
Fantasies converged with memories when, after one of the rounds, we managed to extricate ourselves from the melting mound of foam just in time for brunch with Elliot. My favorite cousin, besides his sister Diane (who and I see and chat with a lot more often), Elliot was the first man I fell in love with, when I was six years old and very shy about everything (except causing trouble), and he was 20 and somehow knew how to talk to a shy trouble-making six-year-old with just the right balance of respect and silliness. For several years, I dreamt of marrying Elliot who was far superior in taste and charm to boys my own age. Then I found out he was gay, which explained a lot and was, in a way, a relief, him being my cousin and all.
I still adore Elliot and even "quote" him in The Bonobo Way, but I haven't actually seen him since my mother's funeral in 1999, as Capt'n Max and Bonoboville keep me pretty busy and his poly-urban lifestyle (San Franciso/New York/London/Milan) keeps him even busier. Now another death in the Block family, the sudden, shocking passing of Elliot's younger brother, my cousin Jeff, seemed to bring us together again, and here we were sharing this lovely Valentine brunch, conversing more than we had since I was six. Grief can act like memory foam in that way, pushing people closer together.
We reminisced about Jeff and other family matters, plus a few topics unfit for the family hour, whereupon my polyamorously perverse perceptions returned, causing our three drinks, placed innocently by our waitress in a tight semi-circle, to look like a polyamorous trouple. The same could be said about our dishes. It was probably just those delicious Durant mimosas, but I was seeing everything in poly-vision.
Poly, jolly or melancholy, it was great to catch up with my fabulous cousin, and it just better not take another 17 years for us to do this again.
Frank Moore Family
Elliot is my real bio-cuz, but the Captain and I also connected with another one of my faux cousins, that is, a "Block" that I'd never even met before. When I caught her eye in the UCB International House Café, she reminded me of Sex Nerd Sandra; whereupon she revealed that her name was Laila Block. After a double-take on both our parts, she, her friend Rachel, Max and Dayton and I chatted about nonmonogamists—bonobo and human. Now Ms. Block is planning to interview me on a radio show she happens to host on Berkeley's venerable progressive station, KPFA. #GoBonobos Block Party!
Shortly thereafter, Max and I were honored to receive a very special Valentine's Day visit from the marvelous Linda Mac and Mikey LaBash, two of our favorite people, artists, publishers and keepers of the flame of the late great Frank Moore (also quoted in The Bonobo Way) and, well, so much MOORE.
For over a decade and a half, Frank, Linda and Mikey have produced The Dr. Susan Block Show, running several times per week on Berkeley Cable TV (BCM, aka BETV, also collected on Internet Archive), along with Frank Moore's amazing Unlimited Possibilities. Both of our shows were targeted for censorship by prudish old Betty Olds and the incongruously conservative Berkeley City Council in 2002. Ultimately Berkeley showed its true liberal colors, and we prevailed. Now our two shows are among the longest-running TV programs in the Bay Area.
They're also kind of polyamorous—though only involving outercourse or what they call "eroplay," and they do cringe at the "poly" label. I couldn't blame them for that, but it was three mimosas into V-Day, and I was seeing everyone and everything in poly-vision. Or maybe it was all those tie-dyed T-shirts.
We exchanged hugs and books. They got a Bonobo Way, and we got Skin Passion (which features Frank's digital painting of me and Annie Body) and Cherotic Magic (revised). Thanks to Linda, Mikey and the Inter-Relation crew's creativity and commitment, Frank Moore is publishing more after his passing than he did in life. Another one of the ironic mysteries of human death. Still, I miss Frank.
Speaking of shuffling off the mortal coil, while sex is (usually) a comedy, death is (mostly) a tragedy, and it's not very bonoboësque to rejoice in anyone's demise.
But gloating is human, and the Captain and I couldn't help toasting the end of the Anti-Sex Era of U.S. Supreme Court Justice Antonin Scalia, perhaps the most conservative justice the Court has ever known. He died in bed (suffocated by memory foam?) on V-Day Eve, at a hunting lodge (of course). With all that Scalia did to try to repress consensual expressions of sexuality, his passing seemed like a Valentine's Day gift to the American people from Venus Herself.
And on that mimosa, we went back to bed, sinking into our memory foam along with our memories and poly erotic fantasies, falling ever more deeply in love.
Road Trip Home
By the time we pulled ourselves out of our bed of polyurethane (another poly thing!), it was morning and Dayton was topping off our steering fluid with a smile.
We bid farewell to the Durant, the Bay Bridge (my training bridge before climbing the Golden Gate with the Suicide Club back in the day), the tie-dyed T shirts and all the charming, challenging and beautifully bonoboësque poly people. One final, heartfelt thank you to Dr. Dave Doleshal, a gentleman Lupercalian and a poly scholar.
This time, we knew exactly where we were going—Bonoboville!
Once we got past that stretch of manure stench known as Harris Cattle Ranch, a.k.a. "Cowschwitz" (producing 150 million pounds of beef yearly), that could ruin anyone's sexual mood (except a bestial coprophiliac), Dayton's Azera was cruising with the road gods…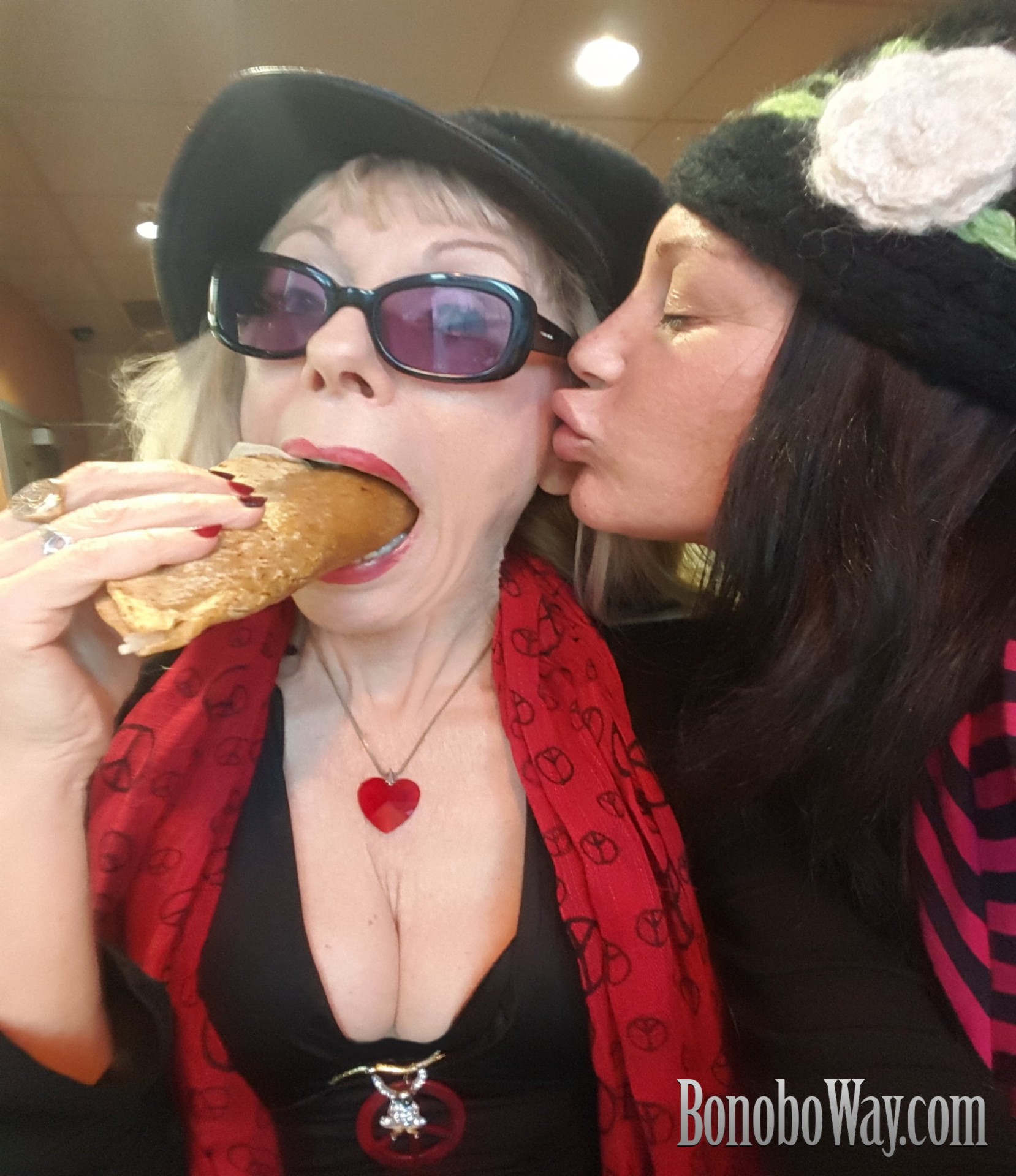 And within 200 miles, several different kinds of caffeinated infusions, a few silly selfies and one deep-throated taco, we were home sweet home again.
© February 25, 2016. Susan Block, Ph.D., a.k.a. "Dr. Suzy," is a world renowned LA sex therapist, author of The Bonobo Way: The Evolution of Peace through Pleasure and horny housewife, occasionally seen on HBO and other channels. For speaking engagements, call 310-568-0066.