Chinese New Year of the Rat on DrSuzy.Tv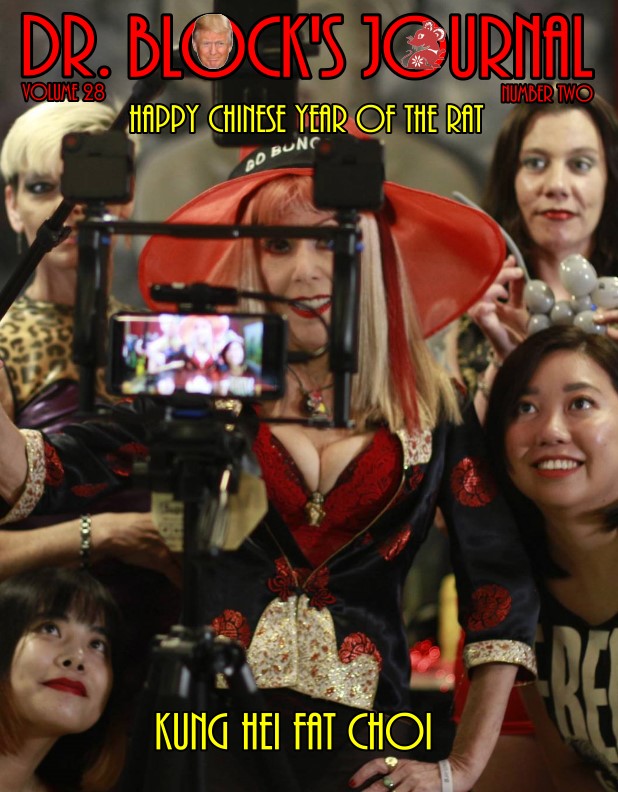 Length 01:41:23 Date: Jan. 25th, 2020
by Dr. Susan Block.
Kung Hei Fat Choi!
Happy Chinese New Year!
Xiōngdì Jiěmèi (that's "Brothers & Sisters" in Chinese)…
We're celebrating another Chinese New Year in Bonoboville.
To help us say "Kung Hei Fat Choi" are two adorable, congenial and very funny Chinese comediennes, Zeo New from Anqing, China, and Sibyl Jin from Taiyuan (no, that's not a misspelling of Taiwan; it's a very ancient capital of the Northern China province of Shanxi), plus Mistress Erikka, FemDom, switch, fetish model and kinkster extraordinaire.
Why do we have an American kinkster on our Chinese New Year show? Why not? Read on to find out more…
Coronavirus Upsets Chinese New Year 2020
We talk a lot about migration these days, and there are various migrations going on all over the world due to Climate Change, poverty, discrimination and despotic regimes.
But did you know that the biggest annual human migration is usually right now, when billions of Chinese all over the world, especially inside China itself, travel to their families to celebrate Chinese New Year, aka Spring Festival?
Sadly, this year is different, maybe traumatizing for many Chinese people—not to mention the stock market—because the Coronavirus is sweeping China, as well as leaking out in other parts of the world, including here in the U.S.
No, Coronavirus is not what you get from drinking too much beer. It's a very serious disease, much like pneumonia—which put me in the hospital for three days after the SUZY awards. Fortunately for me, I didn't have Coronavirus; I just had garden variety pneumonia, which can still kill you, but not as fast, and antibiotics can crush it, while they're helpless against this latest Chinese superbug.
Coronavirus seems to come from nonhuman animals (some say bats or snakes, though it's traced to a seafood market in Wuhan, a Chinese city of 11 million), like a lot of diseases, from HIV to SARS; in fact, Coronavirus is a kind of SARS, and just as deadly, already having slaughtered over 80 people and sickened thousands more.
Photos 1, 3, 4, 5, 7: Alessandro.  Photos 2, 6: Bianca
Now many of China's 1.4 billion people are in lockdown, virtually quarantined wherever they are. So much for traveling home to grandma on Chinese New Year for joy and luck the rest of the year.
As China rushes to build new hospitals just to treat Coronavirus, everybody who has to go out and about is wearing masks, from the surgical masks to gasmasks (my 2019 SUZY award to GasMaskGirl for "Most Timely Fetish" was sadly prescient) and the popular N95 respirators.
In solidarity with their plight, I wear a surgical mask to open the show..
Little did I know I would inspire the amazing Billie Eilish to don an embellished Gucci version (lol) at the Grammys the next day where she went on to sweep five awards.
Urban Chinese often wear masks to filter out thick air pollution, but this new outbreak happening at a time when family gatherings are customary has to be rough on them—and it's bound to be America's future if we keep barreling toward Climate Catastrophe with more and more superbugs, toxic air quality and no Medicare for All.
Wake up and smell the superbugs, America!
Happy Year of the Rat
But back to Chinese New Year.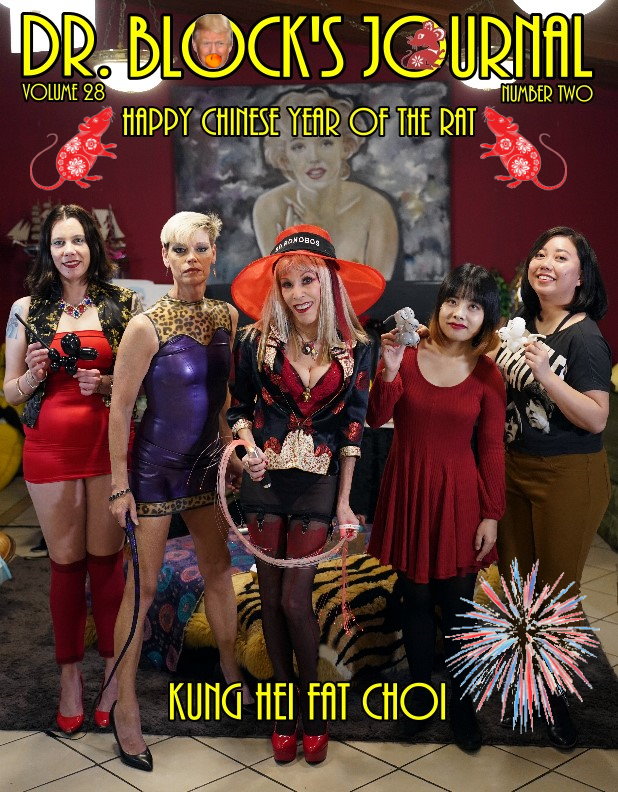 Kung Hei Fat Choi!
It's the Year of the Rat and yes, rats are creepy and carry disease like the plague (though not the Coronavirus).
Photos 1, 3: Sunshine.  Photo 2: Alessandro
But rats are also smart… in a ratty way.
Rats are associated with great wealth in China, though they often acquire their riches via nefarious means (as do most of the 1%).
The rat assumes a position of honor in the Chinese zodiac, being first among all the other critters, real and imagined.
According to legend, the Jade Emperor called 13 animals to a meeting, saying that the years on the calendar would be named according to the order they arrived. So, the rat travelled on the back of the ox who was about to be first to touch ground at the Jade Emperor's palace, but then the rat jumped from the ox's back to nab first place among all the critters of the zodiac.
Pretty smart! Or you could say, pretty crafty.
Lev Parnas: A Heroic Rat for the Trumpocalypse

Among criminals, to be a "rat" is to be a snitch or informant on the crimes of their colleagues. Which is why one of the heroes of our times is a rat.
I am speaking of none other than rat-faced Lev Parnas who is, as I write this, ratting out the Trumpus.
He's also ratting out lots of the folks who are sycophantically licking the Trumpus Rumpus: Rudy "Ghouliani," Bob "Epstein"-Barr, Pompous Mike Pompeo, Devin "the Cow" Nunes, Mike "I love guys, but hate gays" Pence, Jared, Ivanka, Junior and the whole Trump Crime Family… even as the lying Trumpus continues to deny even knowing Lev, despite the dozens of photos showing them together.
My multi-talented show assistant Sunshine McWane utilizes her art degree in drawing a fabulous caricature of Lev as a Rat, as well as other famous rats and rat characters, such as Chuck E. Cheese, Splinter and El Ratoncito Perez, plus adorable balloon rats in assorted colors.
But Lev is the most famous Rat in America as we ring in the Year of the Rat.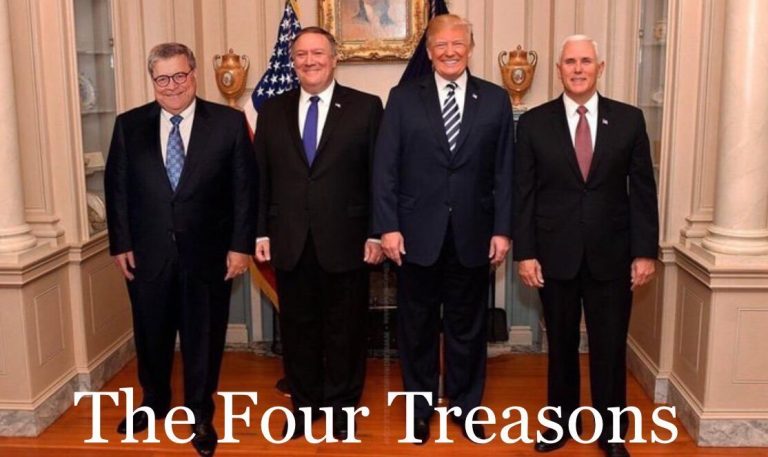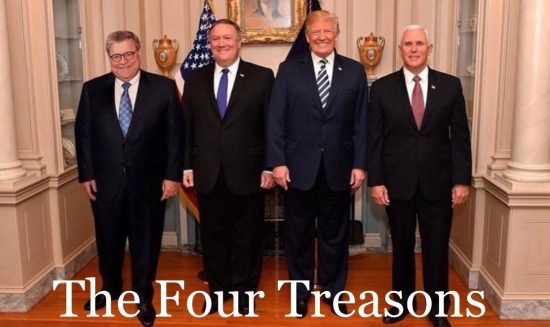 "Take Her Out!" Mob Boss Don the Con Trumpolino is heard on an April 2018 recording ordering Lev and his mobster henchmen.
The "her" in question is Marie Jovanovitch, the American ambassador to Ukraine.
He didn't mean "take her out on a date," and it's doubtful that he simply meant "fire her," as most of the mainstream media generously interprets the phrase that Trump used.
More likely, he meant "take her out" like kill the "bitch," as Robert Hyde, another Trump goon, called her.
After all, the Trumpus used the same phrase when bragging about assassinating Iranian General Qassem Soleimani as well as boasting (untruthfully) that he called for the assassination of Osama bin Laden before 9/11.
If there's ever been any doubt that we've got a wannabe mobster in the White House, Lev the Rat eats it up like a ripe piece of cheese.
Ratting Out Trump in the Senate
It's fitting that, as we usher in the Year of the Rat, the Trumpus is being ratted out by various former confidants. As I write this, John Bolton, though he more closely resembles a bellicose walrus, is assuming the rat's role of spilling the Ukrainian beans on his former boss in his book and perhaps he should testify under oath about this.
Regardless, the Trumpus is being ratted on, nibbled upon and judiciously exposed as the perpetually lying, corrupt, murderous, narcissistic, emoluments-soaked, two-bit mobster that he is in the Senate Impeachment Hearings.
Not that the Republican Senators are really "hearing" any of it. Some leave for long periods in the middle of the "trial" (technically illegal, but Supreme Court Justice Roberts is letting them get away with it), read books or just stick their virtual fingers in their Trumpian talking points-clogged ears.
Nevertheless, despite it being highly unlikely this grossly Repugnican Senate will convict their beloved criminal Presidunce, we're having our 15th peachy impeachment party because, well, Nancy Pelosi's right: the Trumpus will be "impeached forever."
I don't agree with Adam Schiff on a lot of issues, but the Congressman from America's entertainment capital (Burbank) has done a terrific, clear, precise and even, considering the material, an entertaining job of presenting the slam-dunk case for impeachment and conviction of this Commander-in-Thief.
On the other hand, the Trumpus legal defense team is led by Jay Sekulow, a Messianic Jew, or "Jew for Jesus"—which is more Evangelical Christian Zionist than Jewish (Mike Pence's favorite kind of Jew)—and Pat Cipollone whose surname in Italian means "the Big Onion," and yeah, he just stinks.
As I write this, Ken Starr is mournfully and unironically blathering about "the age of impeachment" which he himself ushered in when he pushed to impeach a president who had consensual oral sex.
Somehow, intones Mr. Starr, to whom I gave the "Boobie Award" for "Best Pornography Production" of "The Intern and the President" in 1998 (featuring a "boobie" sculpture by the artist Heilman-C), when a president clearly commits abuse of power by strong-arming a foreign power for a quid pro quo personal bribe in exchange for military aid.
Now Alan Douche-owitz is blathering. Wonder if he's wearing underwear…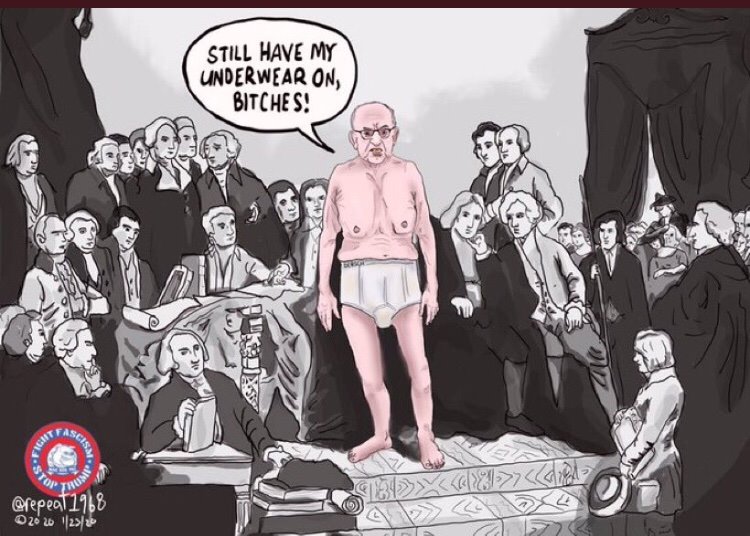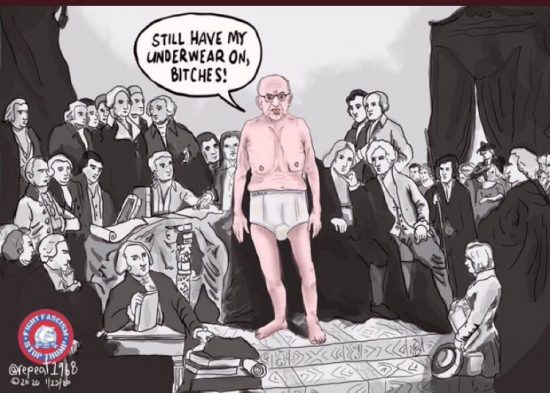 Their strategy? Deny, lie, obstruct, rinse, repeat, deny, lie, obstruct, rinse, repeat.
Really, they should all be disbarred, but Senate Majority leader, Mitch "Trump's Bitch" McConnell, and the Republicans are eating it up. Yes, they are eating (bull)shit because they don't want their heads "on a pike" like the Trump Mob allegedly threatened.
Onions smell like roses compared to this noxious bunch.
Eat a Peach for Impeachment and Removal, but if that fails (as it probably will)… Vote them out!
Zeo New & Sybil Jin
Back to Chinese New Year and our charming Chinese comedienne guests.
Zeo New emigrated from Anqing, China to the U.S. in 2015. She had booked her tickets to China for Chinese New Year just before news of the Coronavirus went… viral.
Well, China's loss is Bonoboville's gain, as Zeo and Sybil give us a chance to celebrate Chinese New Year with Chinese people who usually make it a point to go home to China at this auspicious-to-be-with-family time.
Sibyl Jin has been in the U.S. since 2009. While Zeo calls herself an "atheist" when the question of religion comes up, Sibyl hedges her bets and goes for "agnostic."
Zeo was raised Buddhist, but she says, sighing,  "I don't feel much of the Buddha in me."
With an opening like that, I can't resist grabbing the Divine Interventions Buddha dildo and replying, "I can put the Buddha in you…"
Photos 1-3: Bianca.  Photos 4-5: Alessandro
Though they contacted us separately when Sunshine put out the bulletin for Chinese comediennes to join us for the Spring Festival, Zeo and Sybil are friends.
I guess the world of female Chinese comedy is a small one.
Apparently, it's even smaller in China itself where life is funny enough, I guess, so they don't have much in the way of professional comedy.
They don't have much in the way of porn either. If they want explicit erotic entertainment, they tend to look at Japanese porn, which blurs out the genitals.


Even bukkake is a bunch of dickless dudes spewing semen—which, ironically, they do show, keeping those sperm wars going—all over the recipient who, if female, has blurred out breasts and vulva.
Resourceful Zeo runs a translating service that clever Sybil works for with clients like Vice. She also hosts a podcast called "Immigrant Survivalcast" where she interviews immigrants about their experiences surviving in America
After the show, I ask her about sexual culture shock, and she replies with the tale of a Canadian electrician who was shocked to get so many proposals for sex from his horny MILF customers in the U.S.
Welcome to America!
After you fix my electricity, I'll turn you on…
Sex in China
Though it's popular—and often accurate—to think of China as prudish in many ways (such as porn where, according to Zeo and Sybil, the hottest Chinese images are in lingerie catalogs)—like most modern cultures, it can also be rather raunchy in surprising ways.
For instance, strippers and other sex workers are often hired for Chinese funerals. What's that about? Cheering up the bereaved? It's hard for porn-loving but Puritanical Americans to wrap our minds around that one.
More understandable is the Chinese custom of hiring sex workers to be bridesmaids at weddings, mainly so the real bridesmaids won't be harassed by the drunk and pushy men in the wedding party.
Actually, that sounds like a good idea for us to do here in America.  But why stop at weddings? Why not hire sex workers at offices, so maybe the regular office workers won't be harassed so much. It sounds like The Bonobo Way.
It reminds me of the legend of Chinese Empress Wu Hu (17 February 624 – 16 December 705), included in my book, The 10 Commandments of Pleasure (itself inspired by Chinese and Japanese Pillow Books) under the cunnilingus section of "Thou Shalt Have Foreplay."
Empress Wu Hu (also called Wu Zetian, but "Wu Hu" sounds more like the wild queen she was) governed China during the T'ang Dynasty. A former imperial concubine (in other words, a sex worker for the emperor) who rose to become the only female ruler of China, she sure had the right idea when she decreed that the highest government officials and visiting dignitaries must pay homage to her Imperial Highness by performing cunnilingus upon her.
According to legend, the lower officials were expected to kneel before her, the next level permitted to kiss her feet and the highest level invited and expected to lavishly lick her clitoris and labia. One can just imagine the imperious and horny empress standing and holding her ornate robe open, while a high official, nobleman, or diplomat is shown kneeling humbly before her, lavishly applying his lips and tongue to her royal netherparts.
Who knows if the legends are true, but Zeo confirms that indeed the Empress Wu Hu was sexually adventurous, said to have shared lovers with her daughter. She also married her stepson after poisoning her husband (not very bonobo, but then, that's politics), enabling her to assume power.
What kind of kink is most popular in China?" I ask, expecting to hear about panties, spanking or bondage.
"Cheating," replies Zeo.
It seems like the more Puritanical a modern human society is on the surface, the more illicit sex is going on under the radar.
Photos: Alessandro
Not that it's supposed to be sexual, but I love the delightful and comfortable Chinese custom of wearing pajamas all weekend, even going shopping, walking the dog (sometimes groomed to look like a panda or tiger) or getting a bite to eat.
Speaking of eating, according to Zeo, the Chinese have quite the food fetish, especially when it comes to eating dangerously exotic animals, sometimes still alive on your plate.
She calls it "recreational eating," the curse of the not-at-all-starving class (with apologies to the late great Sam Shepard whom I had the honor of playing pool with).


It's makes splosh look tame.
Judy Chu and Ed Chau
I take this opportunity to  give a big "Kung Hei Fat Choi" to Judy Chu, the first Chinese American woman in the House of Representatives, who represents California's 27th congressional district—where Bonoboville is—and who voted for Impeachment, among other progressive issues.
Another Kung Hei Fat Choi goes to California Assemblyman Ed Chau, born in Hong Kong, another Democrat fighting for the people of the 49th District in the California Assembly.
And one more Kung Hei Fat Choi to "Sexiest Mainstream Actress" SUZY award winner Bai Ling celebrating the New Year in Vegas… with AVN?
Cultural Appropriation or Appreciation?

Zeo chose her name when she was studying English in China, looking for the last name in the English alphabet. Really meaning to choose "Zoey," she pronounced it "Zeo," which is actually more interesting than "Zoey" anyway.
Also, it makes me feel better about how badly I mangle the pronunciation of "Nee Hao" and other Chinese phrases, which sound totally different in Cantonese than in Mandarin, which Zeo speaks.
I also wonder if I'll be accused of Chinese "cultural appropriation" since I'm dressed like Suzie Wong in a Chinese brocade jacket, red push-up bra, triangular hat and a yin yang necklace, my hair straightened by SUZY award-winning "Best Hair Stylist" Mark Brown, but Zeo and Sybil assure me straight hair is not the sole province of Asian people.
Of course, Sybil's wearing a Beatles T-shirt, and no one would accuse her of cultural appropriating John, Paul, George and Ringo.
But in this hyper-vigilant, politically correct, "cancel culture," you can never be too sure.
Mistress Erikka is Back
Winner of the 2018 SUZY award for "Sweetest Mistress," we haven't seen Mistress Erikka since DomCon 2019, and she hasn't seen the new Bonoboville until now.
She looks sleek as a cougar on the cusp of her 50th birthday in a leopard and lavender latex mini dress… and no panties.
You can catch a few "Sharon Stone in Basic Instinct" moments throughout the show, if you watch carefully.
Though having little to no experience in kink, Sybil expresses interest in learning about domination.
Mistress Erikka is eager and willing to oblige with words of kink wisdom from both sides of the bullwhip.
She firmly believes that the best Dommes or Doms learn about kink first as submissives.
Most FemDoms understand this, but apparently, the male Doms rarely want to take that first step of submission before domination.
As a sex therapist, I counsel a lot of male submissives, so it's not that guys don't love to submit.
It's just that while most women tend to be flexible about sex and kink, men usually just want what they want (which is, to put it bluntly, whatever makes their cocks hard), and they generally don't want to even try anything else.


It's biological as well as psychological, but kind of unfortunate, because Mistress Erikka is right that experiencing the bottom benefits anyone who wants to "top" someone else effectively.
Photos 1, 2, 5: Bianca.  Photos 3, 4: Alessandro
"How can you take me where I need to go, if you've never been there before?" she asks those who wish to dominate her without having had the experience of submission.
Good point, Mistress Erikka!
Photos 1, 3, 4: Bianca.  Photo 2: Alessandro
Fortunately, more and more men, like women, are getting to know kink as an erotic art form worth cultivating, rather than just a fetish to get off on.
Sunshine Bound for the New Year
Mistress Erikka demonstrates a little bondage on Sunshine with a golden rope that seems perfect for Chinese New Year.
She ties Sunshine up into what looks to me like a rope boat or maybe a bondage canoe.
When I ask her what she calls it, she shrugs and says "improvisation."
Photos 1, 2, 5: Bianca.  Photos 3, 4: Alessandro
It might be a good bondage position for rowing, but not so much for spanking.
So Mistress Erikka unties Sunshine and then turns her over for a light spanking.
Nothing too rough for our delicate Sunshine!
Erikka in Sub Space
After the show, with the lights turned down low, Erikka strips down.
Photos 1, 2, 12: Alessandro.  Photos 3-11: Bianca
Well, she pulls up her dress to reveal her partially shaved vulva.
Remember, she's not wearing panties throughout the whole show?
Then she pulls down her top to reveal her pert nipples.
Obviously, this scene is censored on Youtube and Facebook; you can only see it on DrSuzy.Tv.
Photos 1-3: Alessandro.  Photos 4-5: Bianca
Now the tables are turned, and the Mistress takes the submissive role,
I spank her toned, muscular derriere.
Then I whip her back and bottom into a new year with Goddess Phoenix's fiber-optic whip, fiery red and sparkling, like Chinese fireworks.
Orgasms for the eyes!
Eyegasms for the voyeur.
It's just a spanking "quickie."
Not enough time to truly put Erikka into that submissive altered state called "sub space."
But judging by her smile, it's enough to put her in a Happy Place.
Photos 1-8: Bianca.  Photos 9-10: Alessandro
Kung Hei Fat Choi!
Joe Rogan vs the NYT
Back to politics for just a sec: it's endorsement time, and The New York Times has endorsed the two women candidates, Elizabeth Warren and Amy Klobucher. Fair enough, but really, why two? Why not just one? They can't decide.
I like Liz (when she's not attacking Bernie), but Amy Klobucher makes me want to vomit all over my comb, and not just because it's her favorite eating utensil.
What a bullshit endorsement. I don't agree with the Trumpus about much, but the "failing New York Times" proves how out of touch it is with the American people once again. Its twofer "choice" is no choice at all, which is uninspiring, to say the least.
Meanwhile Joe Rogan endorsed Bernie Sanders, telling Bari Weiss (of the New York Times!) that he's "probably" going to vote for him. A lot of the neoliberal Democratic powerbrokers put Bernie down for publicizing Joe Rogan's endorsement, but they put Bernie down for everything, so afraid are they of a pinch of Scandinavian-style socialism-lite in their plutocratic tea.
The fact is that Joe Rogan's got more credibility with his audience than the NYT has with theirs.
I don't agree with a LOT of things Joe Rogan says (and neither does Bernie). He has said some disturbingly racist, sexist and anti-trans things. But I do agree with him when he says Bernie is the best. Most importantly, Bernie didn't pander to Joe Rogan in any way to get his support. AND Bernie's the most bonobo candidate—that's why he won the SUZY award for "Most Bonobo Candidate"—and most likely to beat Trump.
Also, Joe Rogan has interviewed Abby Martin (as have we), so he's got good taste in some politics, even if he's the idol of the incels.
Hey, incels need love too, probably more than the rest of us. It would be great to get some of them to vote Blue.
Remember kiddies, the most important imperative of 2020: we must Dumpus the Trumpus.


Or else.
Make Like Bonobos

It's the Year of the Rat, which is bad news for Prince Harry who himself is a rat (see the resemblance?), because it's supposed to be lousy luck for anyone born in that year.
It's good news if you want to have a baby since rats reproduce at a high rate, though I'm not sure that China needs many more people; they already have 1.4 billion.
My guests and I agree that the Chinese (and everybody else) would benefit from channeling their obviously high sex drives into more recreational sex than the procreational kind.
For the most part, recreational sex is sustainable pleasure, compared to food, the Internet, movies, concerts, pro-sports and just about everything else.
Nothing against all you wonderful humans—Chinese, American or anything—and all your terrific children…. BUT what the world needs now is love, sweet, love, including more sex that's fun, refreshing and releasing from this madness, sex that's healing and brings us closer together, bonobo sex, consensual nonreproductive fucking, sucking, playing and hugging.
In other words: Make like bonobos… not rats!
Check out my New Year's Resolution article: "#GoBonobos in 2020" for more about that.


Also in Counterpunch.
I'm a Goat & The G.O.A.T
As for me, I'm a goat, according to the Chinese zodiac, which makes sense, since I'm a Horny Housewife. Also I like to wear goat or ram horns.
Pan, one of my favorite Greek deities, is part goat, the horny, horned God of the Wild and Lord of Lupercalia (coming soon!), as well as the patron saint of the bonobos whose Latin name is pan paniscus.
Speaking of being a goat, or the GOAT, thank you to the Glenny Awards for giving me their "Sexologist of the Year" and "Best Moment" of 2019 award (for saying "You're cutting part of your baby's penis off!" when addressing the problems with infant male circumcision on Glenn Klein and Owen Pratt's show Sex in the Pews).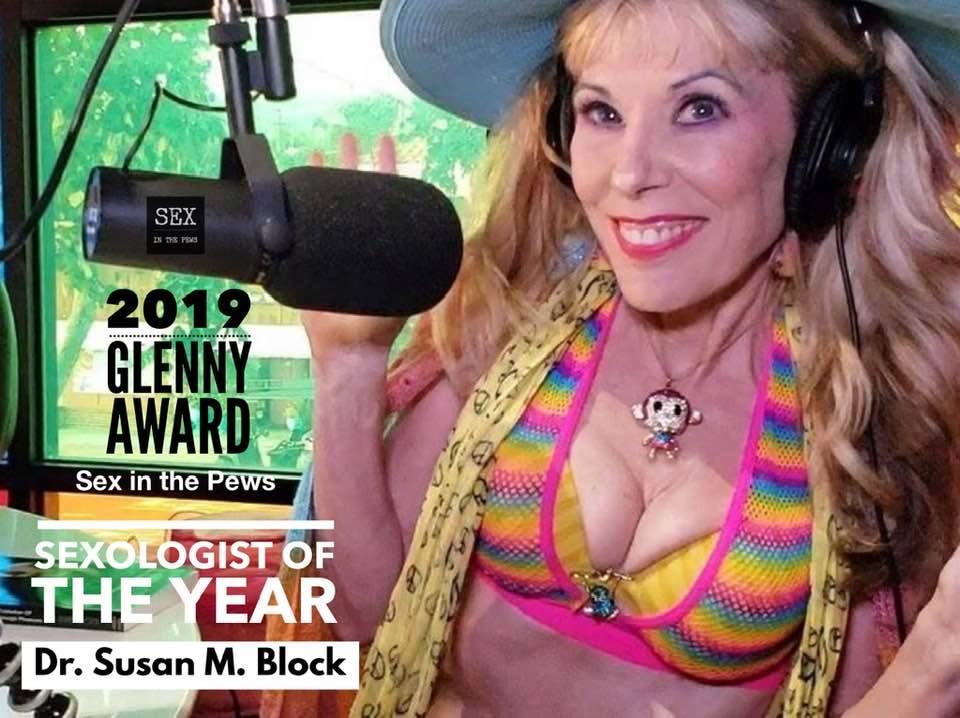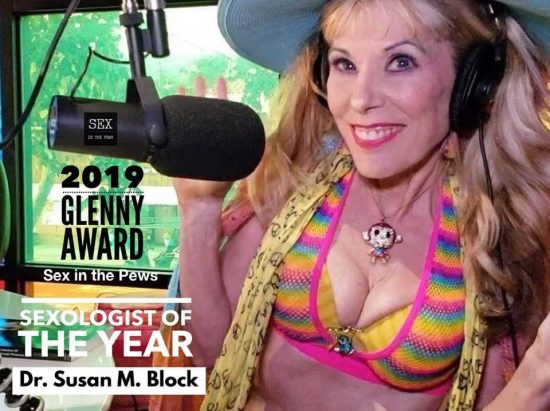 Yes indeed, the "Best Moment" trophy is pretty funny, and the "Sexologist of the Year" award is just more proof that, when it comes to sexology, with all due humility, I am the G.O.A.T.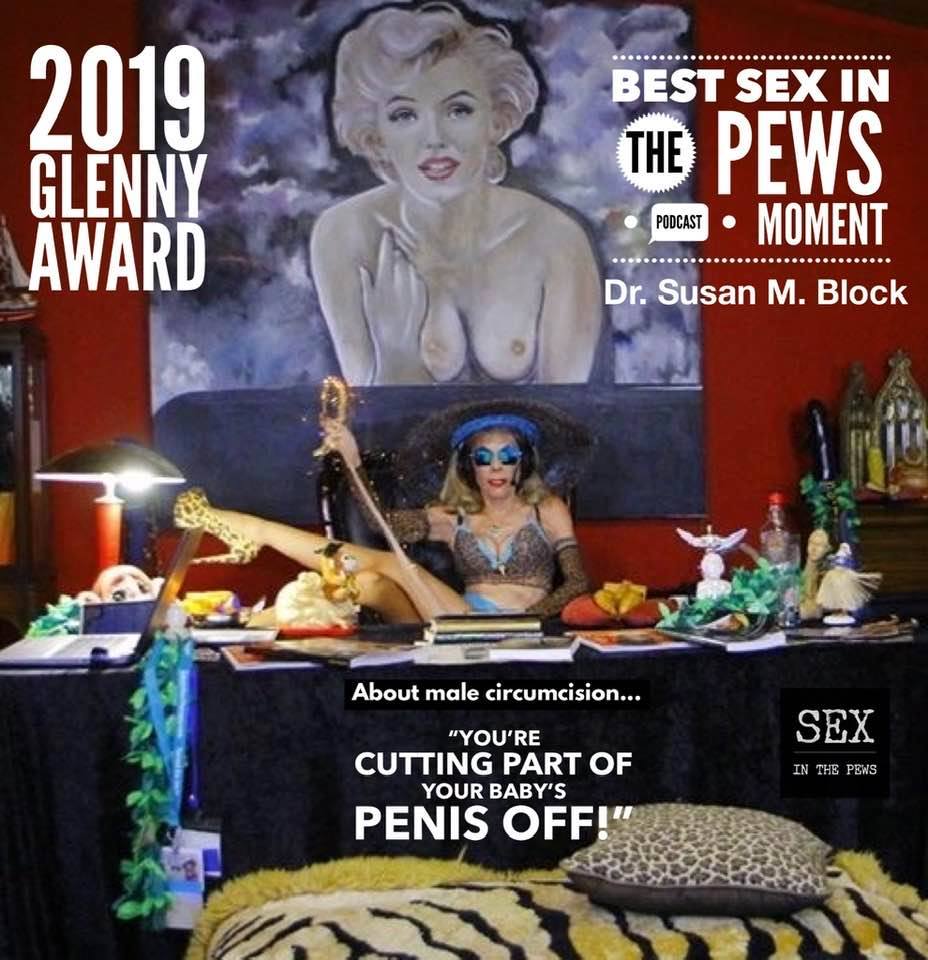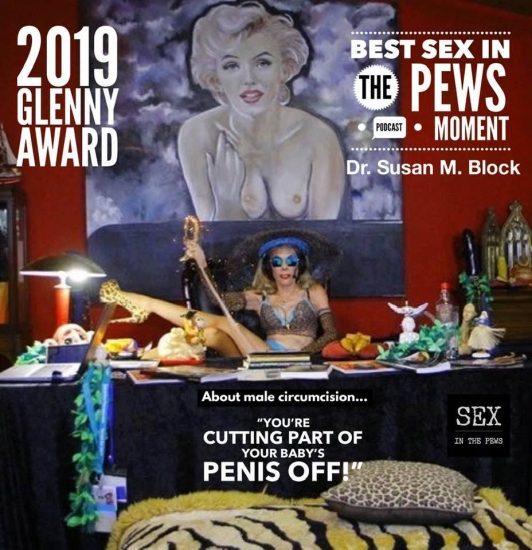 If you want to test my sexological goatness, you'll just have to use your phone like a phone and call me sometime.
Yummy Food & Orgasmic Fireworks
After the whipping, we gather together for a good old-fashioned Chinese New Year dinner… with Vietnamese food.
Well, we're not great at cultural appropriation, but whatever the nationality, it's delicious!
It's not exactly "recreational eating," but as they say in China (and everywhere else): Yum!
Photos 1 & 6: Selfies.  Photos 2-3: Bianca.  Photo 4: Sunshine.  Photo 5: Alessandro
Then it's time for some Chinese New Year fireworks between me and my darling Capt'n Max.
He looks adorable in his Chinese silk jacket that used to be too small. Now that he's slimmed down to his super sexy weight, it fits a celestial dream.
And off we drift through clouds of post-orgasmic bliss to the palace of the Jade Emperor, as the rats squeak from the rafters:
Kung Hei Fat Choi!
© Jan. 25, 2020 Susan Block, Ph.D., a.k.a. "Dr. Suzy," is a world renowned LA sex therapist, author of The Bonobo Way: The Evolution of Peace through Pleasure and horny housewife, occasionally seen on HBO and other channels. For speaking engagements, call 310-568-0066.