The SUZY Awards 2019!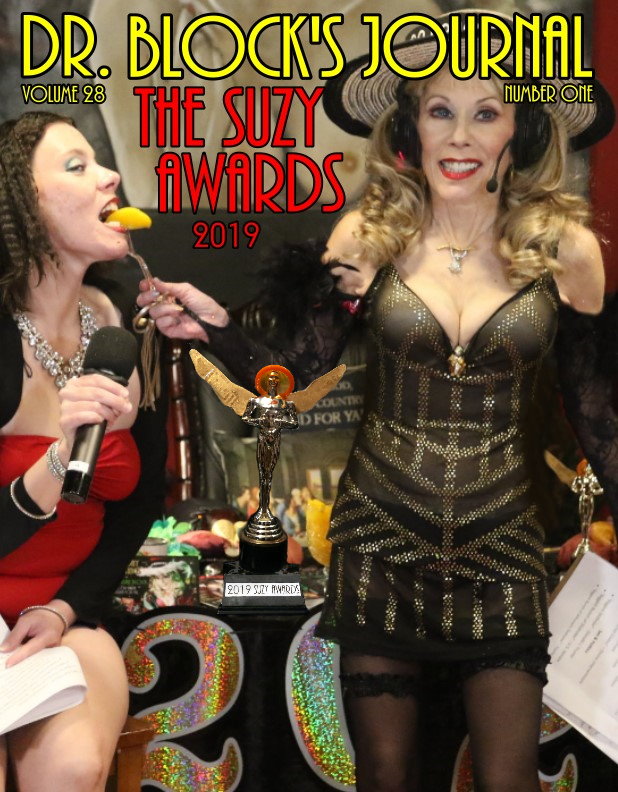 Length 01:56:32 Date: Jan. 4th, 2020
by Dr. Susan Block.
It's our first live DrSuzy.Tv broadcast of 2020.
Yes indeed, as Barbara Walters said long before this auspicious year appeared on our calendars, "This is 2020."
And you know how they say, "Hindsight is always 2020."
I'm not sure if by hindsight, they mean a Happy Nude Rear, but here we are: Happy Nude Rear, Brothers and Sisters, Lovers and Sinners!
Speaking of hindsight, it's the 2019 SUZY awards!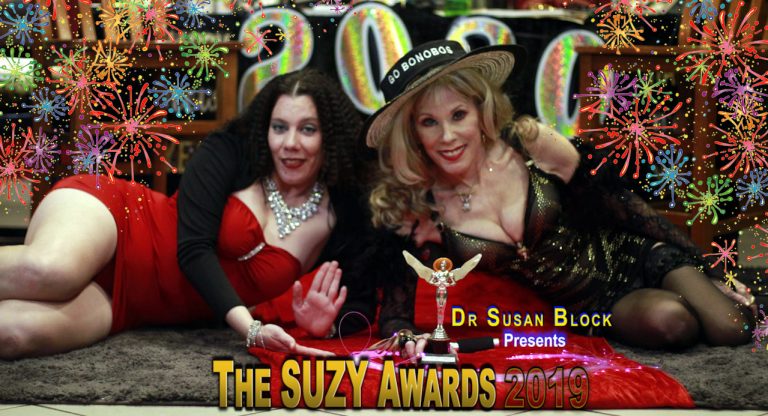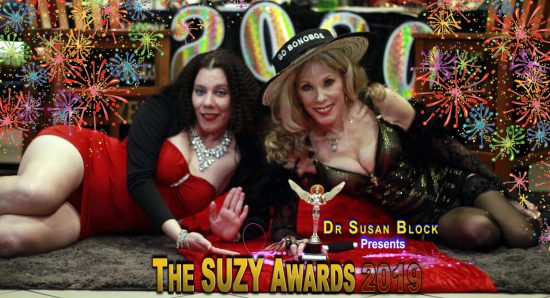 Time to look back on another amazing year of live broadcasts!
The SUZYs is First Among Awards Shows
Honoring excellence in broadcast artistry and exhibitionism for the 8th consecutive year, the DrSusanBlock.tv Awards, a.k.a., "The SUZYS," recognize erotic performance, sexual intelligence and Weapons of Mass Seduction, celebrating The Bonobo Way of female empowerment, male well-being, sharing resources, ecosexuality and peace through pleasure in all kinds of weather, paying tribute, with love, humor and deep respect to those who work and play in the fields of sexuality and world peace.
There's never been a more urgent time to honor PEACE than right now as we teeter on the edge of yet another unwinnable war in the Middle East.
Thus, as the new year begins, well before XBIZ, the AVNs, the TEAs, the Oscars, the Grammys, the Tonys, the Emmys and the Golden Globes trot out their awards, "The Greatest Sexuality Show on Earth" is here to acknowledge the best of 2019 with The SUZYs!
As I write this, the Golden Globes are on, playing "catch-up" with the SUZYs. Sorry GGs; though we broadcast the SUZYs 2019 a little later than most of our previous awards shows (we usually do it the last Saturday of December—but that was Hot Wax Hanukkah—so it had to be the first Saturday of January), we beat out the Golden Globes by one day.
A close call, but we're still the first, arguably the most fabulous and certainly the least fascist.
SUZYs Goals & Ethics
Our goal, as always (besides having a cum-ton of fun), is to advance the cause of sex education and research, inspire better pornography with a more sex-positive and sapiosexually stimulating aesthetic, and to save the real bonobos from extinction while supporting a more bonoboëque ethos in the world.
Speaking of "ethos," our Bonoboville Ethics Committee has, since our inception, stipulated that DrSuzy.Tv staff members, as long as they are on staff, no matter how deserving, are ineligible to receive SUZY awards.


However, because we were raised in the United States of Everybody-Gets-an-Award, we do give a special DrSuzy.Tv "staff award" to our beloved staff (with whom we celebrated New Year's Eve with a lucky Lemon Pig and, after the last flutes of the 2010s, an entire Lemon Pig family), a "thank you for your service" award.
Otherwise, all award winners are selected from guest appearances and products used on the 38 live broadcasts of The Dr. Susan Block Show in 2019.
The Pro-Sex, Anti-War Awards
In a way, the SUZYs are the pro-sex, anti-war and anti-award awards.
Photos 1, 2, 5: Bianca. Photos 3-4: Selfies
While some of our categories are serious, many are parodies, and then there are the "boobie" prizes. Like so much of life, the good and bad are mixed together; it's up to you to figure out which is which.
As always, we are safety and ecology-minded, carefully placing a Glyde America Vegan Condom on the golden head of our SUZY statuette which, at optimal balance, looks like a latex halo or one of my hats, though it has a tendency to fall off with the slightest jiggle, just like oversized condoms do during sex.
The difference is that when the SUZY's condom falls off, we can just pick it up and put it back on the head, something we don't recommend doing with any condom, even Glyde, during sex.
So, without further ado, here it is, another sparkling listicle of some of the world's greatest sexperts, sexpots, artists, exhibitionists, activists, fetishists, visionaries, revolutionaries, hot bonoboesque babes and dirty rotten bastards who have appeared, been placed, praised or parodied on The Dr. Susan Block Show throughout another amazing year at the little Love Church of The Bonobo Way in the village of Bonoboville.
And the winners are….
#GoBonobos for the World

Porn for the People
Kink, Fetish & BDSM
Erotic Arts & Media
Hottest Stuff
Sex & Politics
See 2018's Winners. See 2017's Winners. See 2016's Winners. See 2015's Winners. See 2014's winners. See 2013's Winners. See 2012's Winners.
Big Congrats to the winners and hugs to the losers (though once again, Luzer is a winner). No worries if you didn't win this year; there's lots of time to win for 2020!
As is traditional for The SUZYs, we don't invite the winners, or anyone at all to the award ceremony. In fact, we discourage our members from attending this one show, though all are invited to tune in live as I announce the winners, with the able assistance of my sexy, funny honey of an assistant Sunshine McWane.
If you're wondering how Sunshine managed to snag a SUZY despite being on DrSuzy.Tv staff, it's because she was a show guest when she gave her award-winning performance as the "Sacrificial Goat" (type-casting) in Lupercalia 2019, after which she promptly fell asleep (well, she was sacrificed…). That was February 2019, and the next time I saw her was in June 2019 when she interviewed to be my new show assistant; since she was such a fine sacrificial goat, I knew she'd be perfect for the position.
Even though we don't invite anybody to this special awards show, people do show up, and it's fine if those "people" have won awards. If not, I've been known to make up an award right on the spot.
As we're in a new, more off-the-beaten-track location, we didn't expect any drop-ins like we got in our former studios. But low and behold, just as I announce his SUZY award, in strides Rawkstar Chef Be*Live down the Red Carpet (really a strip of red velvet, but close enough) to accept his award.
It's actually an award for him and his hot wife Danièle Watts, though Danièle isn't accompanying him at the moment, having come down with a bad case of exhaustion from an overdose of holiday fun.
He accepts their second award in an adorable onesie and, because they are both so talented and fun, there's even a third award, for which Be*Live runs up the red carpet in the nude right in front of the Facebook camera!


Yikes!
Unfortunately, no one is operating the FB cam at that moment (we have three cameras, and just two videographers), so Be*Live's swinging ding-dong and jingle balls gets broadcast live on Facebook!
It's a bit reminiscent of the naked guy streaking across the stage of the Oscars 1974 (during an era when streaking was very popular; I myself was a proud streaker, having streaked through Freshman campus at Yale to protest America's War in Vietnam), whereupon David Niven said, "Ladies and Gentlemen, that was almost bound to happen, but isn't it fascinating to think that probably the only laugh that man will ever get is by stripping off to show his shortcomings."
Isn't it fascinating (and sad) that nudity was more acceptable 46 years ago than it is now?
Though here at the SUZYs, the streaker is the one receiving the award!
The problem for us is that we've just been released from Facebook Jail after three weeks of being prohibited from posting on that pseudo-community which is really the personal plantation of the insatiable Marky Z.
So, we have to stop the Facebook feed and put it on "private," and start another broadcast so lil Marky won't get too excited seeing naked Be*Live and flip his snazzy Augustus-Caesar style wig.
It's a mess for a minute, but, well, we love Be*Live and Danièle. That's why they get so many awards!
Max thinks that he and I should have gotten the "Best Married Sex" award. I would agree that we have the "best married sex" anywhere, but we do it in private. We haven't had sex on camera in 25 years. Yes, you can see us having sex on camera in some of our oldest videos, like our Foot Fetish Primer.
He's kidding, and besides he's technically on the DrSuzy.Tv staff, but he seems to want an award so badly, that I present him with "Best Husband Ever.
Though we adore Be*Live and Danièle, they are not on "staff" and, since they did have the "Best Married Sex" on DrSuzy.Tv in 2019—on their wedding anniversary—they win the SUZY.
Actually, they had the only married sex on DrSuzy.Tv in 2019, but a win's a win.
Speaking of married sex…
You may notice I'm moving kind of slow on this show. That's because I threw my back out on New Year's Eve. I wish I could say it was during sex; actually it was about an hour after sex when, still in that sweet after-glow, I went to the bathroom. Sorry, if you're offended by toilet sex, but it's not toilet sex!
So there I was, in a post-orgasmic daze, taking my seat on the porcelain throne, when a big hacking cough suddenly erupted from my climate change-damaged lungs, causing me to land with a crackling thud on the hard toilet seat. The pain was so intense I thought I broke my back (Broke Back New Year's?), and so did poor Max who came running in when he heard me scream. But I didn't actually break it, not quite, though I now have a half-broken back; so hey, what a way to start the 2020s.
Actually, that cough turned out to be the first sign of pneumonia (thank you, Climate Change!) which put me in the emergency room for a couple of days.
Well, at least I wasn't assassinated.
What a way to start the 2020s, with Don "Wag the Dog" Trumpus putting America on the edge of war.
(Un) Happy New Wars.
No wonder he wins the "Biggest Shithole" SUZY boobie prize yet again.
Just giving it to him helps heal our Post-Trump Sex Disorder.


Check out my New Year's Resolution manifesto: "#GoBonobos in 2020" which I wrote before the assassination, but is oddly and unfortunately, very timely in the wake of it.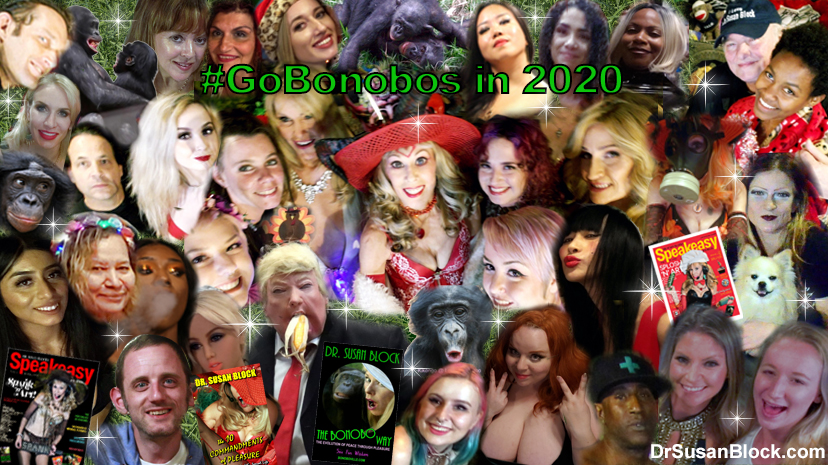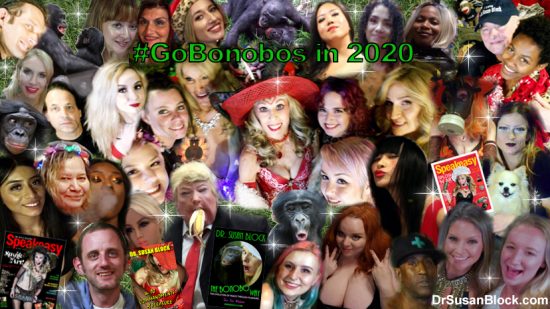 You can also read it in Counterpunch, winners of our "Sexiest Journalism" award.
Yes indeed, 2019 was a year that was awesome and awful, terrific and terrible—or Trumpible, since much of the terror was caused by the Trumpus.
Whether you loved or hated it, this year is in the rear.
Happy Nude Rear and may the great Lemon Pig bless your butt!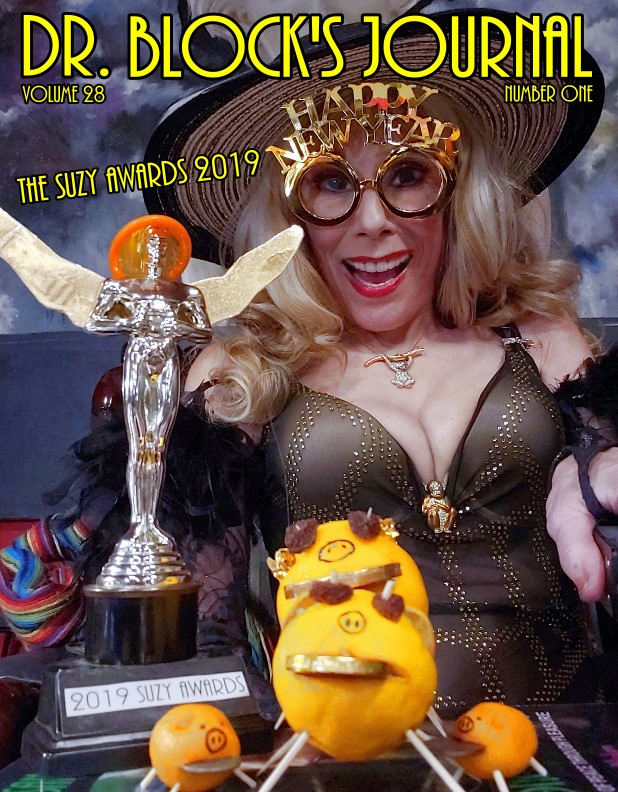 © Jan. 4, 2020 Susan Block, Ph.D., a.k.a. "Dr. Suzy," is a world renowned LA sex therapist, author of The Bonobo Way: The Evolution of Peace through Pleasure and horny housewife, occasionally seen on HBO and other channels. For speaking engagements, call 310-568-0066.
---
Explore DrSusanBlock.com
Need to talk? Sext? Webcam? Do it here. Have you watched the show? No? Feel the sex. Don't miss the Forbidden Photographs—Hot Stuff, look at them closely here. Join our private social media Society. Join us live in studio 😊. Go shopping. Gift shop or The Market Place. DrSusanBlock.tv, real sex TV at your toe tips. Sex Clips Anyone? FASHION, we have fashion! We also have politics. Politics? Have you Read the book? No? How about the Speakeasy Journal? Click here. Ok, how about some free sex advice?
---
---