F.D.R. (F*ck Da Rich): Sex, Sleazy Cops, Republican Brains & the Great Unvaxxed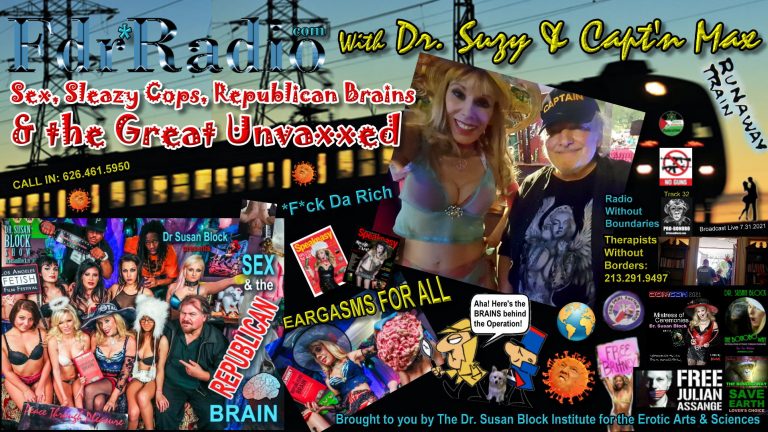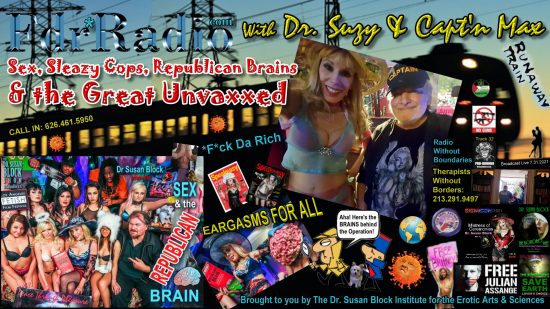 Length 01:27:55 Date: July 31, 2021
by Dr. Susan Block.
This show wins Reddit's "Party Train" award, which is fitting because we invented the phrase "Party Like a Bonobo." True, we aren't currently throwing the glorious group sex parties we were famous for in the ongoing Coronapocalypse. But we still have love—for each other and for you, my darling listener—and our Love Train is choo-choo-chooing through the Tunnel of Love.
All aboard!
This week, it's a Runaway Train. This is partly because I want to run as fast as Sha'Carri Richardson in a cloud of smoke away from the mounting horrors of modern life, climate catastrophe, the resurgent pandemic, massive economic inequity, tightening sexual repression, the looming specter of fascism and the deadly domestic war games of my fellow ammosexual Americans, some of whom are the police. It's also partly because "Runaway Train" is a haunting, heart-wrenching Soul Asylum song from the 90s that actually helped some people find their way home.
Of course, we can't run away from our problems, though some clueless billionaires are trying to fly away into space. The rest of us are just going in circles. But the goal is the journey, as Capt'n Max often says, and we're having a rollicking journey though time, exploring sex, politics and The Bonobo Way in the Speakeasy Bar Car of F.D.R. (Fuck Da Rich), the Runaway Party Love Train.
Listeners Debate: To Vax or Not To Vax?
Brothers and sisters, vaxxed and unvaxxed, all are welcome aboard. After all, it's just a virtual train. If you unvaxxed folks are coming within spitting distance, that's a different story.
And though it wasn't part of our plan, the question "To Vax or Not to Vax?" quickly evolves into one of the central themes of this ride. Half of our comments are about Covid-19 vaccination, almost equally pro and con, and our two callers on the show both talk passionately about vaccination—on utterly opposite sides of the issue. It's the Vaxxed vs. the Great Unvaxxed (as opposed to the Great Unwashed) on F.D.R.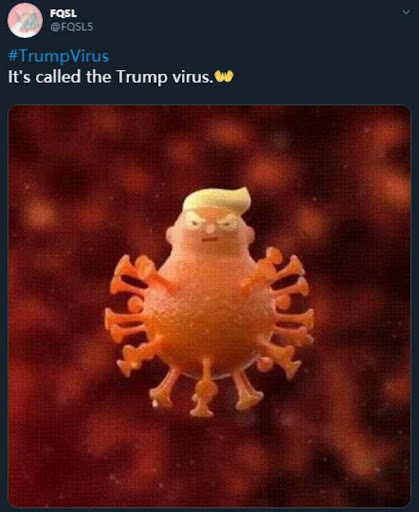 Having been successfully vaccinated many times in our long lives—for smallpox, polio, the shingles and the flu—Capt'n Max and I are a bit unnerved by the almost religious anti-vax vehemence of modern times. We understand that vaccines are never perfect—and some poor souls always die from vaccines—but the deadly diseases they're fighting are a thousand times worse.
Much of the anti-vax fervor arises among Republicans who are just following their leaders like tRump, Kevin McCarthy, Margarine Taylor Greene and Tucker Carlson—most of who are themselves vaccinated—as they vehemently disparage the virus as a "hoax," the vaccine as a communist plot and their freedom to refuse the shot as sacrosanct. To add a dash of pure selfishness to the poison, these are generally the same folks who oppose wearing masks.
Runaway Train from Republican Brains
In an effort to understand (okay, and also laugh at) our fellow looney Americans, we dissect the "Republican Brain"—and brains, since some are raving ammosexual MAGAts, and a few are old-school (also ammosexual) Cheney-Republicans—recalling our amazing show, Sex & the Republican Brain, which happens to be this week's throwback bacchanal. In it, we explore the science of so many Republicans that deny science—and reality with Republican Brain author, Washington Post journalist and fellow Yalie Chris Mooney. Patriarchal authoritarianism, team spirit (right or wrong!), love of all things military, passionate religiosity and strict sexual repression are some of the more prominent features of the Republican Brain, whether MAGAt or RHINO.
Always ahead of our time, we first broadcast Sex & the Republican Brain back in the summer of 2012 when tRump was nothing but a trust-funded Birther and the Coronapocalypse was just a distant possibility on some epidemiologists' flow chart. But Republican science denial was alive and growing, and its poster boy was Missouri Congressman and anti-abortion nutjob Todd Akin who actually said—authoritatively—that a woman can't become pregnant if she's the victim of a "legitimate rape." Fortunately, most of Missouri did not agree, and before there was cancel culture, Todd Akin got canceled.
Unfortunately, 10 years later, the Republican Brain has gotten more insane. The statistical majority of Republicans—MAGAt and even the old-schoolers that the MAGAts call "Rhinos"—embrace violent government overthrow and fascist dictatorship, if it serves their capitalist, white supremacist, climate-change-denying, Christian Dominionist desires.
This is why I want to hop on a Runaway Train. One reason, anyway.
The "sex" part of our Sex & the Republican Brain show is just as stimulating to the libido as the intellectual part is to the cerebrum. In fact, it turns into one of our legendary bacchanalian orgies as fabulous porn stars—like adorable blonde Republican wet dream Elaina Raye (though Elaina herself is liberal/progressive), wild Pressley Carter and sizzling Casey Cumz—frolic with artsy kinksters like kink model/filmmaker Josi Kat and fine fetishists, including the retro-sexy "Nylon Girls," and our old friend, the "Orson Wells of Fetish Filmmaking" and director of the former LA Fetish Film Festival (where I was a judge), Michael Simmons.
Late in the show, Michael actually calls in! It's always fun when one of our throwback guests calls the live show—like a mini Bonoboville reunion. Michael regales us with tales of fresh Nylon Girl erotica and a new R-rated movie with Josi that was originally entitled "Black Widow," but that's a stinging term these days, so they're probably going with "Honey Pot," as a honey bee's sting is less poisonous than a pissed-off Scarlett Johannson.
Anti-Vaccination Nation
Our "Orson Wells of Fetish Filmmaking" also rather formally requests permission to use our platform to plead with our audience to "Get vaccinated!" Of course, permission is granted and hey, if the Nylon Girls' guy can inspire a pantyhose fetishist to take the shot, it's worth the time.
Maybe if Red State governors add a shot of whiskey to your vaccine shot, that'll convince some Jim Beam Republicans. Not in the needle, silly; you drink your shot of whiskey, then take your shot of the vaccine.

The American right-wing is infected with lies and fascist tendencies, but our left-wing is wounded, fractured, battling itself.

Speaking of drinking, though some have compared being unvaxxed to driving without a seatbelt, it's really more like drunk-driving. A seat belt doesn't make you more likely to cause an accident, while driving drunk—or socializing while unvaxxed (especially when also unmasked)—does.
It's not just the Republican Brain that shuts down vaccines. A fair amount of the unvaxxed are more likely to be vegan than fundamentalist Christian. As we discovered when we specified that only the vaccinated would be allowed for my birthday, many of our old friends are unvaxxed, such as Kristen Rocks, one of our video cameramen from our orgiastic days (who shot and edited our famous post-22nd Wedding Anniversary Kitchen Table Orgy) calling in to the show to weigh in on the question of the night.
"I am not anti-vax," Kristen firmly declares, though he himself has not received the vaccine. I guess that means he doesn't protest against vaccines outside clinics or government buildings as so many delight in doing in our Anti-Vaccination Nation. Still, he's unvaxxed. He takes exception to my drunk driving metaphor, explaining that since he contracted MRSA 10 years ago and went through recovery, he's now "in a constant state of ketosis," and hasn't taken any medications (unless you count weed), so he's not going to start with the vaccine. Okay Kristen, you do you. Just stay away from Bonoboville. But we do love and appreciate you from afar, like so many of our unvaxxed (but not anti-vax!) friends, all of whom have their different, very personal reasons.
So, in addition to Republican Brains that won't accept science, there are science-denying Democratic Brains that can't even agree with themselves about anything, scientific or otherwise. The American right-wing is infected with lies and fascist tendencies, but our left-wing is wounded, fractured, battling itself. These are the two wings of the once "great" American bird that now can't even fly. Unfortunately, these are the conditions of Weimar Germany which—though fabulously erotic while it lasted (and the subject of one of our favorite shows and clips)—led to the ascendance of you-know-who.
Stop that Runaway Train! I want to get on!
Along these lines, I've been identifying with Olympic gymnast Simon Biles' case of the "twisties," except instead of feeling like I'll fall off the vault doing a triple axel flipper-de-dipper in mid-air, I've been feeling like I'll just fall off my flipflops walking down the hall. Speaking of which, you dweebs condemning Simone for listening to her body and missing her Olympics this year, lay off the G.O.A.T!
And try doing one of those triple axel flipper-de-dippers yourself before you denounce our gladiatorial entertainers for trying to take care of themselves.
And please get vaxxed or stay home.
Sleazy Police
In the "we think we got problems…" department: Tragically, the CDC's Coronapocalyptic moratorium on rent expires as we broadcast live, and we honor the protest of Congresswoman Cori Bush who slept on the steps of the Capitol. But most of Congress doesn't care; they're on vacation now! Meanwhile, as the billionaires continue to make more tax-free billions, shooting their loads into space, right here on Earth, millions of American citizens are going houseless. It's well-known that Elon Musk is trying to sell a lot of his houses right now. Why not give some to the houseless?
"What would the neighbors say?" asks Max.
Meanwhile the sweeps of the houseless are already happening. Where will they go? Perhaps some will find their way to Elon's anyway.
All of us in Bonoboville are grateful for the roof over our heads and that, thanks to our wonderful clients, we have been able to pay our rent. Nevertheless, since we moved our business to Arcadia in 2019, we've been harassed by the City's inspectors. Just last week, they escalated the harassment with an utterly unconstitutional police raid that turned into a panty raid, complete with frisky frisking, going through underwear drawers, tampering with electronic equipment, detaining us without cause and other infringements of our rights, as we described in more detail on Washington Babylon, in the Arcadia Patch and on last week's F.D.R.
Now that they can see they can't pin us with running a bordello, massage parlor, porn studio, hotel, strip club or sex cult, they're going to twist "evidence" into showing that we're operating an illegal AirBnB. But we're not doing any of that.
What we are doing is suing them.
Where's F. Lee Bailey when I need him? Well, his spirit is currently advising us… pro-bonobo.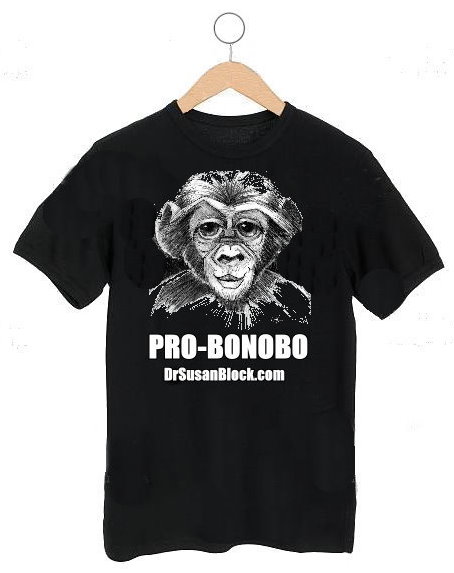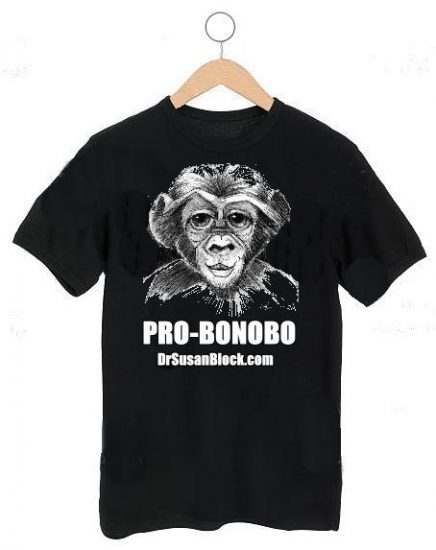 Seriously, city inspectors and law enforcement shouldn't get away with harassing innocent businesspeople and volunteer staff like they did to us. Their actions last week stepped over the line from harassment to abuse. What's next? Enough is enough.
Free Britney! Free Julian Assange (check out Daniel Ellsberg on Julian)! Plus lots more fun, fascinating and wild stuff on this Runaway Party Love Train. Vaxxed, unvaxxed, highly sexed or totally hexed, hop aboard and listen…
© July 31, 2021 Susan Block, Ph.D., a.k.a. "Dr. Suzy," is a world renowned LA sex therapist, author of The Bonobo Way: The Evolution of Peace through Pleasure and horny housewife, occasionally seen on HBO and other channels. For speaking engagements, call 213-291-9497.