F.D.R. (F*ck Da Rich): Sex, Death, Birth & Pride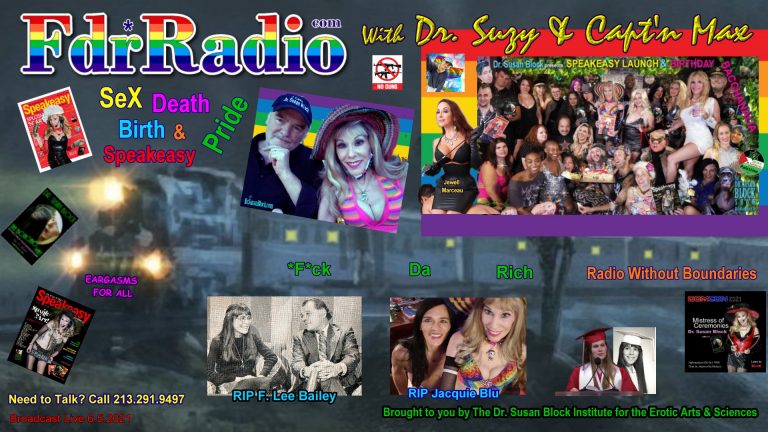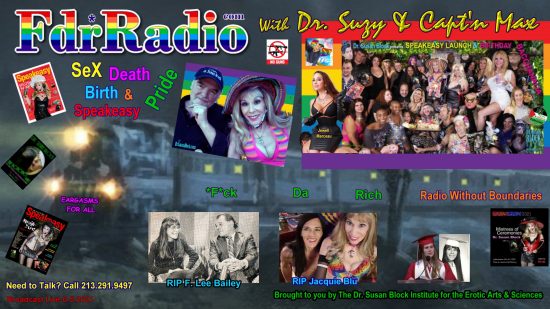 Length 01:28:27 Date: June 5, 2021
by Dr. Susan Block.
It's Pride Month (gay, the Bonobo Way!), the third Anniversary of the Speakeasy Journal and coming up on another spin around the sun for my corporeal package.
No, we're not celebrating my birthday yet. I'm hanging onto my youth as long as I can!
So, we engage in a little birthday foreplay.
Listen above or below or read on for more…
Unscene Abe celebrated his birthday this week, and he appears to have survived (though his hair turned pink). That gives me hope.
Speaking of fellow Geminis, I just learned that my favorite America First Lady since Rosalynn Carter (whose hubby gave me my first full-time job as a CETA City Mime) is also an early June babe. I must admit I love Dr. Jill Biden's hands-on enthusiasm for education (though she hasn't yet addressed sex education), romance, big dogs and patterned stockings. As for birthday inspiration, this girlish senior (the oldest First Lady ever) just spent the morning of her 70th taking a bike-ride with her adoring hubby, Da Prez. What a nice intimate date, just the two of them, plus probably a half-dozen Secret Service agents. In any case, it's a much more encouraging example of long-term marital love than watching Melanie slap away the Former Guy's grabby little hand.
Not that Capt'n Max and I will be embarking upon a bike ride on my birthday. Though he is building me a birthday pool. I was content to spend last summer splashing around in the rubber-framed puddle we snatched for 50 bucks on Amazon, but My Darling Captain insists on giving me an upgrade, so who am I to say no?
Pool Times Past
Thanks for the early birthday wishes pouring in like cheap champagne to remind me of "friends" I haven't seen in decades (if ever) and who don't communicate at any other time but on my birthday which Big Brother Facebook won't let them forget. I'm old enough to remember when, if you were so inclined, you could even discreetly avoid remembering your own birthday. I've forgotten a few, probably due to some particularly strong peyote, but supported by the fact that nobody else knew either.
But alas, that blissful ignorance is a relic. Now everyone on Facebook knows, and somehow it leaks through all the other social media too. You can run, but you can't hide and eventually you have to log on and surf through the deluge.
The Little Death & the Big One
Everybody ages a little differently. For some, 60 is the new 40. For others, it's a hop, skip and a jump—or maybe a slip and a fall—before hospice. But one thing we all have in common is that, if we live long enough, one after one, and sometimes in clusters of two or ten, our friends are dying.
It's not very sexy.
Then again, the French call sex la petite mort, that is, the "Little Death." The phrase specifically describes that moment of orgasm or post-orgasm when you tend to lose consciousness.


As I've been experiencing it, that orgasmic feeling is getting stronger as I get older (none of my sex-educational books or mentors told me that would happen!), often climaxing with what feels like a fall down a black hole speckled with stars.
This is strikingly similar to what I *saw* in my NDE (Near Death Experience) 15 years ago.
Spooky and momentous as it feels, the Little Death is just a metaphor. When it's over, you're still alive. The Big Death, on the other hand, gives much truer meaning to that phrase, "it's over." It's really over. At least the physical body is gone from this reality, and in the age of QAnon and other craziness, I'm going out on a limb to say yeah, the Big Death is real.
Last week, it was Gavin MacLeod. This week, it was two very different people I've been somewhat close to in very different ways. On the show, I start with the one I've know the longest.
F. Lee Bailey for the Defense
One of America's greatest criminal defense lawyers, F. Lee Bailey, passed away at the age of 87. Known for his flamboyance, courage, passion and brilliant legal mind, Bailey represented such infamous clients as the Boston Strangler, OJ Simpson, Patty Hearst, Captain Ernest L. Medina, Dr. Sam Sheppard and many more – before he was eventually disbarred. Ah well, all things must pass.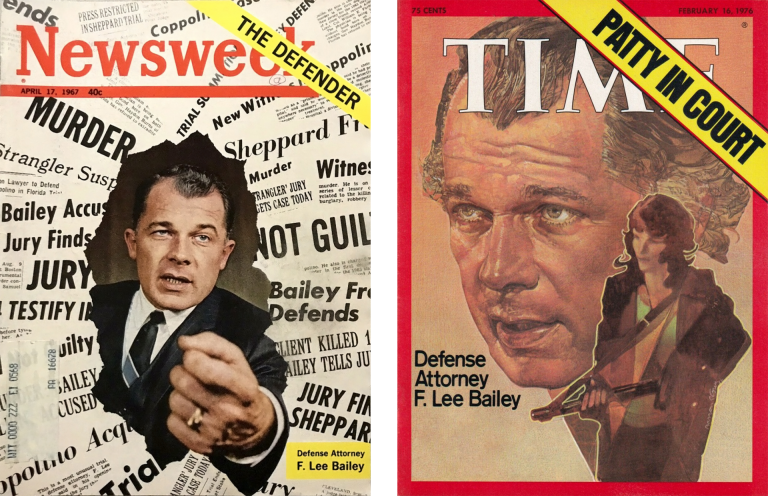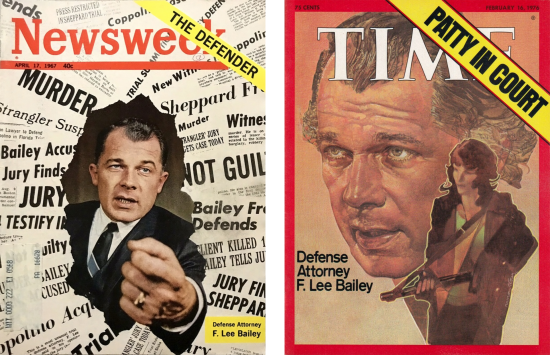 I've always loved swashbuckling defense attorneys, partly because The State (erroneously called "The People") has soooo much power, and it's only fair for the defendant—innocent, guilty or somewhere in between—to have somebody with skill and experience in their corner. Of course, F. Lee Bailey was no public defender. It cost a lot of retainer fees just to gas up that private Lear jet the former U.S. Marine used to pilot around the country. But if you were lucky enough to have the cash, he was worth it… sometimes.
He also did quite a bit of pro bono work, when he felt like it. As my fellow Counterpuncher Michael Donnelly reminds me, "One great thing he did: Bailey and B.B. King started the Foundation for the Advancement of Inmate Rehabilitation and Recreation calling for humane conditions, no solitary confinement and more art and music in prisons…in 1971, right when Nixon started the War on Drugs which led to a 20x increase in incarcerations in the US."
I had the honor of interviewing F. Lee, aka "Flee," when he was at the height of his lawyerly—and celebrity—powers, on a CBS special called "Young Reporters." I was about 16 or 17, the nervous, nerdy, myopic, anorexic teenage editor of my high school newspaper, the Harriton Free Forum, sporting giant "granny glasses" and bad hair (but pretty nice legs), totally bedazzled by the bold, brilliant, sexy, funny, roguish and always dapper F. Lee Bailey as I pretended to cross-examine him about life, law and the FBI.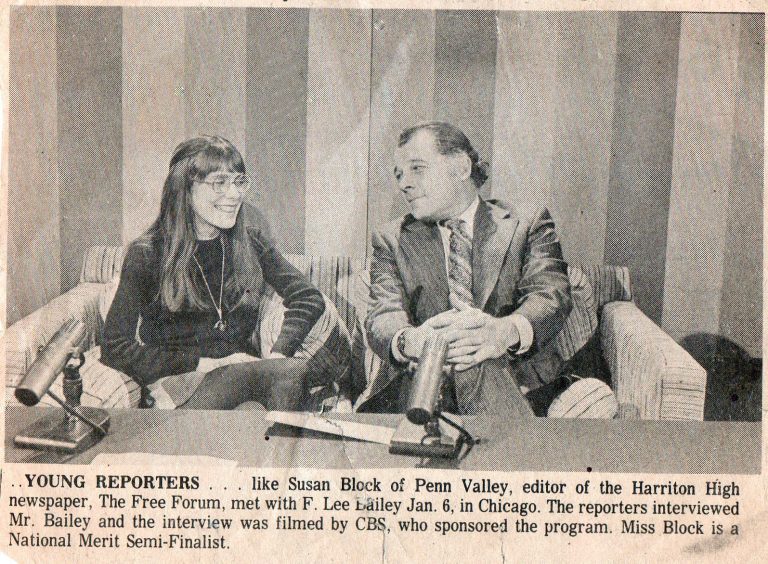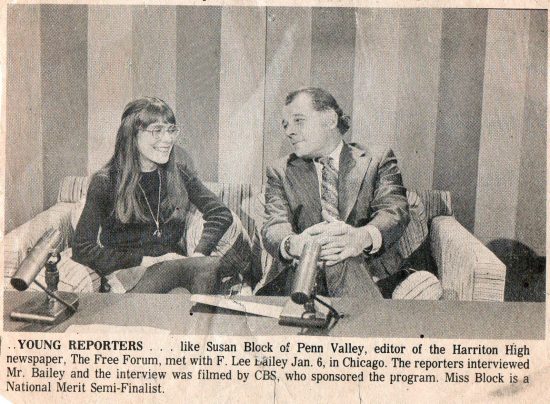 When I posted that old photo on social media, some "friends" suggested that the devilish (yes, he had that look of Pan, the patron saint of the bonobos, pan paniscus, and prototype for Satan, the Church's view of the old Satyr) old barrister was looking at me with seductive motives. Maybe, maybe not, but let's set the record straight: Nothing happened. Honestly, I wish I had a juicy memory of the suave celebrity attorney propositioning little old teenage me—and I recall considering it back then (despite my geeky appearance and academic obsessivity, I'd graduated from virginity the year before). But alas, perhaps because of that appearance or the fact that my chaperone, the marvelous Marjorie Merklin, never left my side, my teenage fantasies of F. Lee Baily sexually harassing me—or ravishing me on his Lear jet with one foot on the gas—did not materialize.
However, upon reflection, I realize that he *penetrated* me in other ways. Indeed, F. Lee Bailey was part of my inspiration to go "Legally Blonde" against the LAPD in Federal Court. In a way, I kept hearing his deep ironic voice in my head as I questioned the constantly lying police officers on the witness stand about whether my big pink dildo pillow really made them feel so "threatened" they needed to tear apart my studio looking for *something.*
Of course, nothing can beat the way F. Lee Bailey confronted LAPD Officer Mark Fuhrman about his use of the N-word during the OJ trial, smoothing persuading him to lie and say he never said it, and then later playing a tape of none other than LAPD Officer (and former altar boy) Mark Fuhrman using the N-word repeatedly. Talk about a slam dunk.
I managed almost the same feat during my LAPD trial when one of the lying cops insisted that someone on my own staff had called them to report a bogus crime, and that was the *reason* for their ridiculous raid. I got them to name the staff member, a guy named Onie that used to work for me and was probably the only name they knew since his sister was a police officer—and had been on the raid! I also asked them to play the tape in court, and I immediately realized the voice wasn't Onie's!
The next day, I called Onie into court to prove that it wasn't him on that tape, and the LAPD lied. It was beautiful. Every member of the jury was smiling at me. Then, as it dawned on awful old Judge Manny Real that I just might win my case, he threw it out, and thundered that I was lucky I wasn't killed. Actually, now that I'm seeing police encounters recorded on people's cell phones, I suppose he was right about that last part.
However, I was right about the cops being wrong, so I appealed and won a nice settlement from my now good friends at the LAPD and got a personal apology from Mayor Dick Riordan. And I have to thank F. Lee Bailey—plus several other lawyers, including our friend Barry Fisher—for that.
Plus, I just learned that Councilor Bailey and I share the date of June 10th as our birthday. Funny, how you discover weird little factoids about people upon their death. It's not so funny that many of our death days fall on or around our birthdays (they're that disturbing). Also, I now regret that I never reached out to the guy in my adulthood and shared that old news clipping with him. He probably would have gotten a kick out of it.


Well, RIP F. Lee Bailey. Go Bonobos for a Good Defense. You never know when you'll need one.
Say Adieu to Jacquie Blu
Another death in the extended Bonoboville family: Jacquie Blu passed away last week in her sleep, according to Xbiz.
Jacquie Blu was truly one-of-a-kind. What a character. What a force of nature!
A wild, funny, fun, super kinky, swinging exhibitionist, versatile submissive and a true masochist with a loving spirit, always ready and able to take a whip or a dick or a hug.
She offered herself up to so many delighted Dominatrices on DrSuzy.Tv, from Mistress Cyan who smacked her eager ass with the Snaketail whip and Goddess Phoenix who thrashed her with fiber-optic floggers to Mistress Porcelain who played target practice with her butt using nerf gun darts and Miss Freudian Slit who reamed her rectum with a silicon horse cock on a fucking machine, while our Jacquie was on her knees, dressed like a nun (it was Halloween).
She took it all with a smile and begged for more.
Jacquie was also politically active, always standing up for LGBTQ rights. She passed on the cusp of Pride, a season that celebrates the sexual diversity she herself embodied and fought for with a passion. Pride started in 1970 as a "Gay Liberation" march commemorating the one-year anniversary of the legendary Stonewall rebellion, the sensational spontaneous riots against the ongoing police raids of the Stonewall Inn, a bootlegged dive bar owned by the Genovese Mafia Crime Family, on June 28th, 1969 (yay '69!). At the forefront of this powerful, historic rebellion was a handful of trans women who, I imagine, were feisty and flamboyant, just like Jacquie.
I met Jacquie at my first DomCon lecture when she sat in the front row, laughed at all my jokes (smart gal), clapped and cheered. A week later, she was my guest on DrSuzy.Tv, and a few months after that, she was on the Bonoboville crew.

*Coming out* is always a political statement, as well as a personal one.

Unfortunately, I don't know much about Jacquie's background, except that she was from North Carolina (as are quite a few Bonoboville citizens, for some unknown reason), and in one of her *past lives,* she was a film editor for director Dino DeLaurentis. I'm sure there is much more to her early life—including at least one different name—but by the time she arrived in Bonoboville, Jacquie Blu was a kinkster's kinkster, the bottomless bottom, the sub with no limits.
But everyone has limits, and so did Jacquie. She was human, after all, though she acted superhuman sometimes. No one ever hurt Jacquie in Bonoboville. But after she left us in 2019, in order to seek wilder horizons (and we wished her well), we noticed her posting photos of her badly bruised face with two black eyes. It looked horrific.
Poor Jacquie. She may have enjoyed extreme consensual bottoming, but no one wants to be beaten up. Well, maybe there are a few Fight Club types out there, but no one wants to be beaten nonconsensually. It sounds so obvious, but I can almost hear her evil attackers laughing that she "asked for it." Did they know she was masochistic? Did they know she was trans? Did they care she was human?
She was attacked like this at least twice before she died, and perhaps, Max says, she died from one of those beatings. Could well be, though we'll probably never know.
Then again, it could have been Covid, exacerbated by Jacquie's two-pack-a-day Marlboro habit or complications from plastic surgery. Many doctors warned her against getting implants in her condition, but she loved her silicone boobies more than life itself.
Jacquie loved like a pornstar and lived like a rockstar, so it's kind of amazing that she made it past the deadly 27.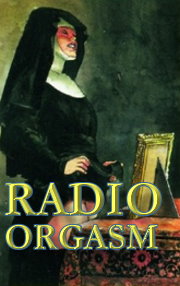 Above all, Jacquie Blu was not afraid to follow her dreams, to surrender utterly to whatever Mistress or Master might be dominating her at the moment, to be a woman, to be a porn star, to be an artist and, above all, to be herself.
RIP Jacquie Blu.
Speakeasy Anniversary & DomCon Cougars
Speaking of DomCon, it's coming! The uncertain way things are opening up, who knows, and we'll probably wear masks, but it looks like it's all happening in person this time. I will be Mistress of Ceremonies, as well as giving a talk: Secrets of the Kinky FemDom Bonobos.
https://drsusanblock.com/domcon-mistress-of-ceremonies-2021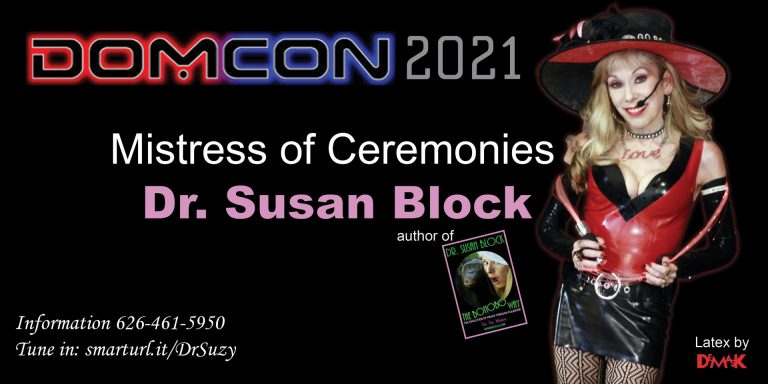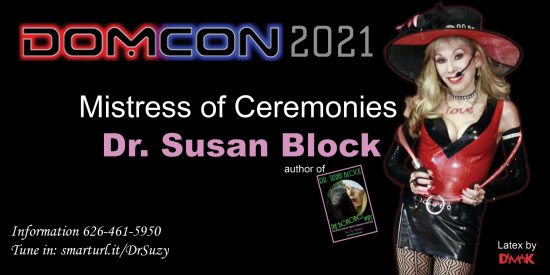 And speaking of kink, joining us on our Clubhouse platform for a few minutes of fun is the beautiful Jewell Marceau, a kinky video content creator. I remember that Jewell was a guest on my show years ago, but at first, I get her totally confused with another guest which leads to a kinky Comedy of Errors that includes cages, lap dancing and Satan. Calling Lil Nas X!
Not that I'm excusing myself due to "technical issues," but I couldn't see Jewell's little Clubhouse photo because the wire to the phone hooked into our system isn't quite long enough….
Finally, when Jewell reminds me that back in the early 2000s, on her first DrSuzy.Tv appearance, she accompanied the amazing Mistress Isabella Sinclaire (who now runs Demask Latex LA, which I often wear at DomCon), it all comes flooding back to me what a great beauty she is, inside and out.
Back then she was a fetish model, and now she's a Domme who sleeps next to a fucking machine named "Barney" (because it's big as a barn) that Jacquie Blu would adore. She also makes kinky videos and specializes in erotic wrestling.
That reminds Max of his old friend, Queen Adrina, pioneering "giantess" wrestler as well as one of the originators (along with Max) of professional phone sex.
It also just so happens that erotic wrestling is one of the featured "acts" during our Speakeasy Launch and Birthday Bacchanalia from 2018.
And there's much more happening in this incredible magazine launch party/orgy featuring a galaxy of stars, including Jacquie Blu.
Don't miss this fantastic, orgiastic throwback, one of my biggest birthday bacchanals ever (and that's saying something)!
Lots of Cougars at the Speakeasy, DomCon, everywhere! If you haven't already, check out my Cougar Sexuality Manifesto for great stories, tips and the meaning of Cougar and cub, the difference between Cougars and MILFs and much more. Shoutout to Thara Soup on Youtube who thinks I should "write a paper on milfs and cougars." Maybe when I go back to school for my third doctorate, Thara. Meantime, there's the (paperless) manifesto…
Rants & Switcheroos
Capt'n Max delivers several powerful rants on this show against Soviet/Republican cyber-attacks and the awful ammosexual Judge Roger Benitez, who just overturned California's three-decade-old ban on assault weapons, blithely comparing an AR-15 with a Swiss Army Knife. Max also commemorates the 100th anniversary of Tulsa's Black Wall Street massacre, a particularly bloody stain of racist American violence, at least as bad as Kristalnacht in Nazi Germany.
We also talk about FAT. These days, it's a dirty word, politically incorrect and unwoke. But I have to say it: The American Military Industrial Complex is too fat. Bloated. The proposed Defense budget is $753 billion. That's obese. It's also $13 billion more than it was under the Former Guy. Don't get excited just because you, your friends or family members are serving in the military, because almost all of it is going to millionaire/billionaire contractors, not you.
Fuck da Rich! At least, tax those fuckers…
We also give Pride props to Michaela Kennedy Cuomo—and they say there's no American Royalty. Ms. Kennedy Cuomo (yes, political dynasties on both sides) has come out as bisexual and queer. Which is totally cool for anyone, including an American Princess, and good for the LBTGQ world. Not saying there are any politics to it, but also happens to serve as a colorful distraction from Michaela's Daddy's sex scandals, giving fresh new meaning to the word "Cuomosexuality." *Coming out* is always a political statement, as well as a personal one.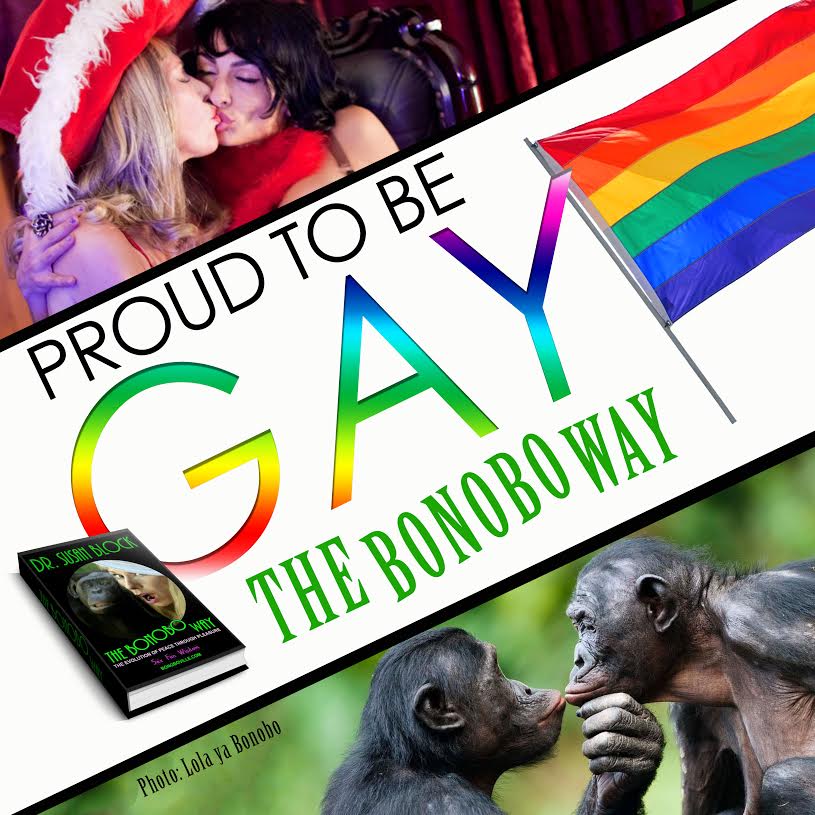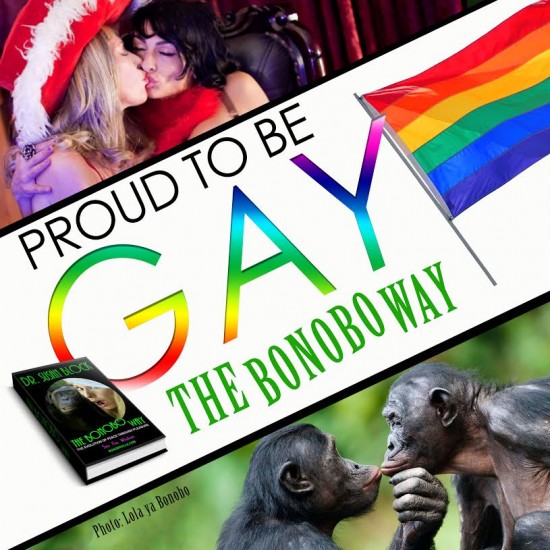 I also shout-out high school Valedictorian Paxton Smith who "pulled a switcheroo" and spoke out against her state of Texas' draconian new anti-abortion laws. The fact that her Lake Highlands High graduation gown happens to be red gave it just a hint of the Handmaid's Tale effect.
Moreover, what a great speech!
It reminds me of when I pulled my own little switcheroo, even before my F. Lee Bailey interview. I was in the eighth grade of Welsh Valley Junior High, and I had won the D.A.R. Award for American History, but—to the great consternation of my principal (the doddering Mr. Dodds) and parents, but the egging on of my brother and the cool ninth graders—I decided to turn it down. I'm not sure where I got the courage (I was shy and usually did whatever academic authorities asked me to do), but I just really wanted to publicly reject the virulent racism and warmongering supported by the blue-blooded biddies at the D.A.R. (Daughters of the American Revolution) whose ancestors supposedly came over on the Mayflower.
Full story of my junior high rejection of the D.A.R. now playing on F.D.R.
Plus lots more! Sit back, relax and listen…


June 5, 2021 Susan Block, Ph.D., a.k.a. "Dr. Suzy," is a world renowned LA sex therapist, author of The Bonobo Way: The Evolution of Peace through Pleasure and horny housewife, occasionally seen on HBO and other channels. For speaking engagements, call 213-291-9497.