Back to Life!
I'm back! Back from my battle with death. Back from the hospital which saved my life, but was starting to freeze-dry my soul. Back at my beautiful sensual Speakeasy, back with my beloved H (who never left my side the entire time), back with my cherished Bonobo Gang of friends and lovers. And it feels good! Good to back. Good to be alive. Good to be released, reborn, resurrected like some mythical force of nature. Not that I feel very forceful at the moment. I am ridiculously weak and in all kinds of pain and itchiness. But somehow this feeble body has dragged itself out of the Valley of Death and into the Garden of Healing, Freedom, Sex and Pleasure. Oh, what would I do without pleasure? When you live in a House of Pain, you know that every little pleasure – every kiss, every pee, every caress of your naked knee, every sip of an icy drink – is filled with hope and healing.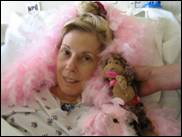 But right now, it doesn't take much activity (even the pleasurable kind) before I collapse in a heap of exhaustion. So before I do, I just want to thank you, all of you, from my closest family and friends to you mysterious strangers, for all your marvelous, motivational comments, cards, letters, gifts, message, bonbons and bons mots, and yes, even your prayers. Though recent studies have shown that prayers don't help and may even hinder the convalescence of the sick, it's the thought that counts, and I appreciate your thoughts. They've helped me beat that icy hand of death back into the darkness and out of my light.
Of course, I didn't do this "beating" myself. In fact, I was mostly unconscious during the initial critical weeks. Though, I did have that will to live (With the great life I lead, who wouldn't?). You could say I was part of a team – one of the best in the world – the team that save my life – the doctors, residents, nurses and administrators of USC County Hospital. I know, it's not a fancy resort-hospital. But if you're rapidly going down the death hole, and you'd prefer to live, USC is the place to be, with the best doctors in the world in every field of expertise, along with their students and residents and fantastic nurses. They're all part of a military operation, out on the front lines, with the lead docs acting like generals calling the shots. Their methods reminded me of America's "War on Terror," with at least one huge difference: these doctors knew what they were doing. They defeated the enemy (septic shock), while saving my life. It was rough going, especially that first week when my chances of survival were less than 50%. As I awakened in the third week, some of the doctors shook my hand, looking at me like I was Lazarus, calling me the "case of the year" and the USC "miracle girl." The fact is that they were my miracle workers, and I just can't thank them enough.
That's it about my illness for now. I'll be writing more details about it a forthcoming book that will knock your socks – and panties – off.
And very soon, I will be doing the shows, seminars and bacchanals again that we all love so much, and that you won't find anywhere on earth except here at Dr. Suzy's Speakeasy..
In the meantime, please do me a big favor. As I'm sure you can imagine, this illness has been not just a physical catastrophe, but a big financial setback for the Speakeasy (yup, here come the commercials). So now's the time to buy a DVD, a sex toy, a T-shirt or some fine erotic art in Shopping Heaven, come join us Backstage, watch or download something wonderful in the Erotic Theater or call my office at 213.749.1330 for some telephone sex therapy (something healing for you!). Or just make a pure donation (call 213.749.1330), and earn a special place in my heart. The doctors of USC saved my life. Now it's up to you to save the life of the Speakeasy where we've all enjoyed so much good sex, fun and wisdom. We can do it! We've gotten this far. We can do anything.
---
Explore DrSusanBlock.com
Need to talk? Sext? Webcam? Do it here. Have you watched the show? No? Feel the sex. Don't miss the Forbidden Photographs—Hot Stuff, look at them closely here. Join our private social media Society. Join us live in studio 😊. Go shopping. Gift shop or The Market Place. DrSusanBlock.tv, real sex TV at your toe tips. Sex Clips Anyone? FASHION, we have fashion! We also have politics. Politics? Have you Read the book? No? How about the Speakeasy Journal? Click here. Ok, how about some free sex advice?
---
---