Speakeasy Launch & Birthday Bacchanalia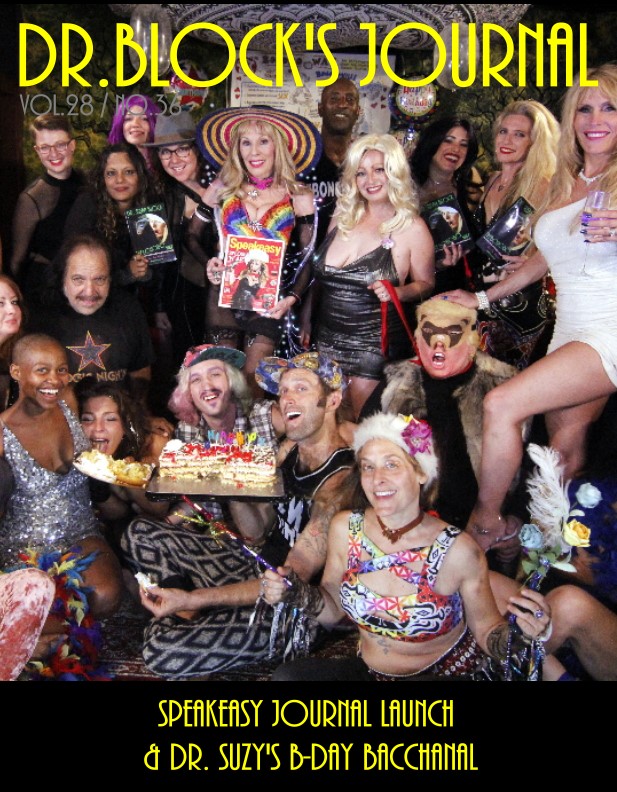 Length 02:01:53 Date: June 9, 2018
It's the Birth of a Magazine, the brand spanking—and sploshing—new Speakeasy Journal.
And it's MY birthday.


So what is there to do but throw a big bawdy Bonoboville bacchanal, blasting off with a sparkling Speakeasy "launch party," that flows into a gigantic birthday show of shows—including some of my oldest friends and some of my newest—then fans out into a night of bonoboesque communal ecstasy, climaxing with a whopping orgasm to send this happy birthday gal soaring into another amazing year.
I still haven't recovered from this shindig—and I'm not sure that I ever will—but I think I am sufficiently lucid to give you a basic rundown of the festivities.
We Launch the NEW Speakeasy Journal!
Elon Musk, eat your heart out. You may have launched a Tesla into space, admittedly a neat feat of promotion via jet prepulsion, but Bonoboville has launched a beautiful new print magazine into the world.
Dr. Susan Block's Speakeasy Journal, the magazine's lengthy name in full (herein referred to as "Speakeasy"), is based upon the history, philosophy, therapy, politics, photography and archives of the Dr. Susan Block Show, spanning 30 years of broadcasting and performance art.

That's not exactly my whole life, but it's about half.
What a great birthday present to receive the first copies—hot off the Amazon presses—of the premiere print edition.
As Executive Publisher Maximillian Rudolph Leblovic di Lobowicz di Filangieri (Max's lengthy name in full) says, "It's sexually relevant, politically incorrect, beautifully designed and just plain fun."
Capt'n Max should know as he's been publishing magazines—sex magazines like The LA Star, God, Love, Finger and Hate and community magazines like The Brentwood Bla Bla and Beverly Hills, the Magazine—since the early 1970s. In fact, you could say (and I have said) that Max pioneered a revolutionary form of publishing—"reader-written media"—that eventually spawned the techno-psycho-sociological beast we now know all-too-well as "social media."

So, in a way, it's not surprising that his new creation is such a sensation.
Max is "The Designer" (no relation to that "Intelligent Design" bunk promoted by science-bashers) of all things Bonoboville. Clemmy Cockatoo, aka LeBusque, the "Designer from Down Under" designed the Journal.
She's also the Speakeasy bartender.
I'm not the only one in Bonoboville who wears different hats.
First Round
Since we're holding the launch party a couple hours before the show, only the early birds are here as we get started, but it isn't long before fabulous guests start sauntering in… FemDoms, sexperts, sexpots and stars, as well as a smattering of media folks (this is a launch party, after all), lawyers (we can always use a barrister in the house… just in case) and friends (ya gotta have friends).
Among our first guests is Goddess Phoenix, resplendent in a bright white, tight, off-the-shoulder, Grecian Goddess-like mini-dress that shows off her award-winning curves and muscles.
Last month at DomCon LA 2018, we gave Goddess Phoenix a copy of Speakeasy and a year's worth of display advertising for her birthday.
For my birthday, the Goddess gives me an electric whip, which also functions as a flogger, lights up like an Xmas tree and, like Muhammed Ali, "moves like a butterfly, stings like a bee."
Next to the Speakeasy Journal, it's easily my most stunning gift of the night.
But it's Goddess Phoenix herself who, throughout the launch party and the show, lights up Bonoboville.
She really earned her SUZY award for "Most Dazzling Domme."

She is also in better shape than ever, muscling up to compete in real Glamazon Amazon power contests.
Other earlybirds include "Best Kinbaku" SUZY award winner Professor Oni, who magnanimously buys two copies of Speakeasy, one for himself and one for his daughter.
Greg Friedman visits Bonoboville for the first time, though I've taken his Inner Journey on KX 93.5 radio in Laguna Beach not just once, but twice (Virgin Inner Journey and Inner Journey 2: Going Deeper).
At the launch, Greg can't help but invite me on a third Inner Journey (we just keep going in and out) to talk about Speakeasy, the Journal.
Can't wait to get back to sweet-as-a-peach Laguna Beach!
Stormy & the tRUMP Weasel
I'm beyond flattered to see that great American heroine of our times, Stormy Daniels, joins us in the good cheer, and who does she have by the leash (which is actually his long red tie) but tRUMP, dressed as a ferret—or as Stormy puts it, "My Pet Weasel."
Our Stormy is actually none other than the "Most Well-Rounded Kinkster" SUZY award winner, Rhiannon Aarons, in a blonde wig and pornstar makeup, reprising her role from DomCon 2018, along with TMI as the unPresidented Weasel, as per my special birthday request.
The Weasel redeems himself (slightly) at the end of the evening by purchasing not just one, but two copies of Speakeasy for more than the set price (after Stormy spanks him with a Forbes). Actually, this is why we know our tRUMP's just an impersonator. The real one never ponies up his own dough.




This terrific twosome stays in character throughout the evening, from launch to show and into the afterparty, when they finally remove their disguises and nobody recognizes them.
Commedia Erotica par excellence!
Sneaking in just before showtime is three-time SUZY award winner for "Sexiest Domme," slim and sultry hockey gal with "SALTY" across her chest, Madam Raven Rae—her devoted Slave Winnie lurking off to the side and a new slave waiting in the wings.
We haven't seen Madame RR since we celebrated her sploshy, spankful birthday on Spanksgiving, and we're very glad to see her ravishingly sexy self on this special night. Plus she takes charge of tRUMP's discipline from time to time.
So does Professor Oni.

On a certain moment, I complain about tRUMP's obnoxious and compulsive "thumbs-up" gesturing, at which point, Prof. Oni, a kinbaku bondage sexpert, handily pulls out a piece of rope and ties up the bastard's thumbs.
Wow, if only my complaints about the real tRUMP could be answered so swiftly and efficiently.
Well, at least our Erotic Theater Therapy provides some relief and release from the harsh reality of the Narcissist-in-Chief holding the fate of the world in his grubby, greedy little hands. If only he would consent to us tying up his thumbs. No opposable thumbs, no tweeting.


Breaking News: It seems that our "tRUMP Discipline, Bonobo-Style" is actually working! The proof is in the Trumpus' bizarrely bonoboesque meeting with his North Korean counterpart, both in terms of crazy hair and dictatorial tendencies. I am not going to jump on the pseudo-liberal bandwagon and gripe about the meeting; I think it's great to make peace with so-called "enemies," even if it's just a grand photo-op to set the stage for Trump Tower Pyongyang. Better the PR of peace than war.
Ever notice how tRUMP likes short world leaders like Macron, Putin and now Un? Seems that President Tiny Hands needs to feel big…
Bromance or blowhard, we still feel a need to keep the Pussygrabber-in-Chief away from the pussies.
But there's one Puss-in-Boots who loves to play.
Welcome back to Bonoboville, Chynna Doll, aka Jay Toriko.
My Ass. Producer Phoenix Dawn certainly welcomes back this Pussycat, bonobo-style. Phoenix looks super queer-sexy decked out in birthday thematic Pride colors and black, like me.
As Cami Rosebud more formally greets the guests, looking regal in dark red.
Meanwhile, across the courtyard entrance, my Gemini brother Nori Carter, also in red and black, tickles the ivories of my great Grandmother's 1926 Steinway Baby Grand piano, wowing the crowd with his original music as we wander through the Speakeasy Gallery of Erotic Art, showing off magnificent and surreal works of art.
Polyamorous man-about-town Wry Mantione stops in to pay his birthday respects and Speakeasy love, praising the new cover as "amazing."
Testify, Brother Wry. A bit of a Renaissance Man, when Nori takes a break, Wry assumes the position on the piano bench, teasing some mellifluous melodies out of those old keys.
Entrepreneurs and lawyers huddle and cuddle with porn stars and femdoms in the garden and around the bar. Is it for business or pleasure? Most likely, a combination. It's 2018, and you know what I mean.
Splosh Family Robinson in Bonoboville
A ripple of pleasure passes through the launch party pond as Chef Be*Live and Danièle Watts arrive, along with the Chef's spittin' image son, Zivu A' balam, and their patron-in-need-of-a-spanking, Jacob the Chimesman.
I often say that Bonoboville is a community, not a "family," but various families are part of Bonoboville off-campus, and the Be*Live/Watts Family is one of the most central of these.
Danièle and the Chef are stars of the premiere edition of Speakeasy, themed "Splosh 'n' Art." It features a Commedia Erotica cast of artists, exhibitionists, vegan chefs, junk food lovers and FemDoms, showcasing the convergence of food and sex through art and kink. Or one could say, the art of kink.
Just in case you don't know, "sploshing" is erotic food play. Sploshers spray, drip, dump, rub, mush or cover each other in foods of different flavors and textures. Things get a little messy. But that's the beauty of splosh… and art. Our first issue explores such delicious subjects as playing with food, the psychology of splosh, faux cannibalism, "sploshgasms" and (of course) sploshing Trump ("played" by Be*Live).
This first issue is a must for collectors of print media, researchers, human sexuality students, art enthusiasts, adventurous couples, think-outside-the-boxers, political resisters, food fetishists and splosh lovers. It's unique, fun, informative, and a great way to spice up your sex life!
Be*Live looks adorable–almost the same age as Zivu (!)–though he is slightly subdued on this show. As always, Danièle shines throughout the evening, but this time it's partly because her head is shaved (how ironic that Be*Live's was shaved for the Splosh show, and she is shaved for this show) and because she's wearing a skimpy silver sparkle dress that Jakob found at a swap meet.
Poster children for the Bonobo Life, married and "pansensual" for almost two years, Danièle and Be*Live are SUZY award winners for "Most Bonobo Couple," one of the highest awards we can bestow.
Both are vital ingredient in the body-mind-and-soul splosh-mix of Bonoboville.
Animal Play Monarch
Along with beautiful bubbly Gypsy Bonobo, Danièle and Be*Live are the main "sploshees" of this special first edition.
But there's another sploshee in the recipe, and we're delighted to have Madame Margherite grace us with her warm, elegant presence on this auspicious Birth of a Magazine and Rebirth of Myself.
This premiere issue of Speakeasy marks Madame Margherite's very first visit to Bonoboville. She had no idea what to expect, and was "new in town" to boot, but the "Animal Play Monarch" and her Pet Monkey fit right into the happy human Garden of Bonoboville.
Since that wild, wondrous, comic and erotic night of Splosh 'n' Art that metamorphosed into the first issue of the Speakeasy Journal, Madame Margherite has shimmied up the ladder of the BDSM community, ascending to the Board of Directors of DomCon and conducting the DomCon Pet Awards (which I was honored to judge) like the Animal Play Monarch she was born to be.
It's such a pleasure to watch this passionate and compassionate woman take the reins of power, and to receive a visit from her on this special night.
Speaking of special animals, all Speakeasy issues are dedicated to saving one of humanity's closest living relatives, our kissing cousins, the highly endangered, "make love not war" bonobo apes, and a portion of all proceeds goes to helping them through Lola ya Bonobo, Bonobo Conservation Initiative and The Bonobo Project.
Vice Is Here
At around 9:45 pm, half the crowd piles into the Womb Room, while the other half spreads out through the Garden, the Gallery and the Bar where they can watch the show on monitors.
Before we officially start the show, a "contributing writer" named Zak with Vice Magazine and his friend who claims to be named "Max Block" jump in my bed and tell me they have a bunch of questions to ask me.
I'm excited because I haven't been covered by Vice since my 22nd Wedding anniversary (the "good" Vice that is; not the bad Vice of the LAPD that I sued—successfully—for infringement of my Fourth Amendment Rights), but we only have a minute or two before showtime so I tell them they can ask one question, and Zak inquires, "We heard there might be Russian Hookers peeing on Trump tonight, is that true?"
While it's true that we and Mistress Tara Indiana (attending the launch semi-incognito) of Dominatrixes Against Donald Trump (D.A.D.) have, on several occasions, including one on Youtube, "peed on tRUMP" (in a manner of speaking, considering the world of fake news we now live in), I didn't see how we could or would even want to make that happen in this show's densely packed Womb Room. Golden showers are, after all, not everyone's flute of champagne. I wouldn't want to spray the stuff on anyone but the Trumpus himself (or his brave consensual surrogate), and that would be well-night impossible in these close quarters.
I mumble something noncommittal and off they scamper into the outer reaches of Bonoboville.


So Speakeasy and Bonoboville might be in Vice—we don't know… stay tuned!
Breaking News: Zak comes over for dinner. Clemmy and Ana cook, and Max and I talk non-stop as Zak interviewed us about Speakeasy, Bonoboville and The Bonobo Way. Lots of awesome vegan food, penis-shaped rice molds, hibiscus tea cocktails in glass jars and good vibes.
But still no golden rainstorm… yet.
SESTA/FOSTA Censorship
Back to the launch party, where Max takes center stage and delivers a rousing oration on the publication of our new Speakeasy Journal.
Among other things, he talks about our Backpages. In this new era of Internet censorship that is drowning free speech like a tsunami, thanks to the passage of SESTA/FOSTA and other First Amendment-choking policies and attitudes of the Trumpocalypse, it is important to reestablish more traditional forms of communication and dissemination, like print media, protest marches and real in-the-flesh theater.
The Internet is an enticing shiny toy but its dangers are as great as its benefits to life on Earth, and its censorship is rising, even before we officially lose Net Neutrality.
Not that we're "unplugging" from the web or even social media, as so many brave souls are, but we just want to keep our feet on the Earth and our hands on the printing presses. Well, actually, those are Amazon's robot hands, but at least the end product is something you can hold in human hands.
Speaking Easy – Born Again
We call it "Speakeasy," as we have called my show since 1992, because we "speak easy" about things that aren't so easy to speak about, and the new magazine is an extension of the show which, I guess you could say, is an extension of everyone who's ever participated in the show, including the hostess, which brings us back to me.
It's my birthday.
Many years ago (I won't say how many—I don't want to shock you), I emerged…I wish I could say it was from my Mom's vagina, but I was a Cesarean. Maybe that's why I'm bi: always trying to crawl into a vagina so I can emerge from it, born again… the regular way.
My mom also told me that as a baby, I was very sick with asthma and oh how she cried, when the doctor told her I had just a 50/50 chance of survival. Then one morning after a heavy storm, the day the doctors told her I was well enough to go home, she saw a rainbow.
So it's kind of fitting that my birthday comes along in the middle of Gay Pride Season. This year, on the edge of the Trumpocalypse, things seem very ominous, more like heavy storms than rainbows. So many good people are killing themselves—and not just celebrities like Anthony Bourdain and Kate Spade just this past week—and so many bad people are killing other people—civilians and military.
The corporate, one-percent-controlled "news cycle" moves so fast, it's hard to be sure of what's "good" anymore; all I know is it's good to be alive and not killing. And it's good to honor Eros (sex and the life force), as opposed to Thanatos (death force and deadly force).
The day before this show was #WorldOceansDay. Life on Earth emerged from the ocean, and now we're killing it with plastic. The ocean itself will survive, just not the creatures living creatures in the ocean. 80% of all pollution in the sea comes from the land, including some eight million tons of plastic waste each year. Determined to cut down on our use of plastic, we use jars instead of plastic cups for the launch and show, and vow to use them from now on every Saturday night.
Will we make a difference? Maybe in the world, definitely in ourselves.
Anyway, we have to try.
Shaminatrix Fluffing & Spanking
Seguing from the launch party into the birthday show, we squeeze together in our rainbow-bedecked out studio filled with balloons—including Glyde American All-Vegan Condom balloons—and transition into the live broadcast.
And what better High Priestess of Transitions than Shaminatrix Missy Galore? Introduced to us by the Chef and Danièle and winner of the "Global Peace Song" award, we're thrilled to have her back on the show.
Missy is always dressed for Pride Season, and on this show, as usual; she is festooned in rainbow colors and feathers.
She presents me with a lovely tank top with her trademark "Shaminatix" in rainbow colors.
Then she proceeds to "fluff up" my "aura" for my birthday. No, it's not like being a "fluff girl" in old-time porn movies, not exactly.
One involves blowjobs without happy endings to get the fluffee hard during porno shoots in the days before Viagra.
The other involves singing, dancing and waving feather wands. This is the kind of "fluff job" that Missy gives me.
What they have in common is that both kinds of "fluffing" aim to make the "fluffee" feel good.
I'm not sure what Missy's particular "fluffing" means, but I feel it's not fake news, in that Missy herself is very authentically engaged in this fluffing, and I'm clearly enjoying whatever it is she's doing with those feathers, beaming with gay pride and pure joy in being "fluffed" by a real-life award-winning shaminatrix.
Praise be to the power and glory of fluffing! It feels good. Kind of like flogging without the pain.
Which brings me to birthday spankings. We do give a few, though not to the Birthday Girl (unless you count the fluffing), but mainly to my Ass. Producer's rainbow ass—with and without the rainbow panties.
Is she being naughty to get spanked or is she being spanked because she's naughty?
Birthday or no birthday, spanking is a popular pastime in Bonoboville. Uncoincidentally, the theme of Speakeasy's next issue is "Spanking for Adults Only."
We're No Angels
Hanging around the right "outer lip" of my Womb Room is none other than Ron Jeremy, maybe my oldest friend in Bonoboville who I met almost three decades ago when I was ghostwriting Being a Woman for Dr. Toni Grant, just shortly after I met Max.
Over the years, Ron's gone through his ups and downs, and he's going through a tough time these days, having been accused of sexual harassment by several women, though nothing that's gotten him in criminal trouble (so far). It's a complex situation that I've addressed on other shows, and I'm not about to go deeply into it on this one. I understand why some have faulted me for continuing to allow Ron to visit Bonoboville and come on the show, but I have no personal or ethical reason to lock out my old friend, and much as I care about public opinion and respect the #MeToo movement, I don't generally jump on bandwagons just because others in my "crowd" are doing so, especially when it comes to friends who have never harmed me or anyone I know.
Ron's no angel. He's always been a mischievous little devil—mostly in the best sense—the "hardest working man in porn," but also kind of "handsy," which most of the women he touches love, but some are understandably disturbed by this. So we require that he "ask first and grope only after consent," and we keep an eye on him, though honestly, we're more likely to have to restrain him from eating all the food than misbehaving with the women.
Though after the show, he paws Stormy/Rhiannon's bare boobs like a starving man who just came upon two fresh loaves of bread. Since she's happily fucked Ron on the show before and she's laughing and not complaining now, I figure she's okay with it.
A bit of a "Pan" character, Ron plays his pipes, aka his harmonica, when he's not using his legendary mouth to eat hors d'ouevres or pussy, and his rendition of "Happy Birthday" breaks the ice that strikes the Womb Room when he's introduced, along with his veteran porn star friend, Lillith Lust.
Ron has a lot more fans than detractors, certainly in Bonoboville. As always, several other ladies are charmed to be "groped" by His Gropeyness and, when I check to be sure, they shout their consent to the rafters.


Speaking of being "no angel," who is? Certainly not the Birthday Girl.
After Ron plays the first song, Jezebel Sweet, looking delicious in electric grape-colored hair, especially when surrounded by a rainbow halo, sings a new original song that happens to be called "No Angel."
Black mass, dressed in white
Or a Catholic mess in my black thigh highs
I'm no angel, but I used to pretend
Deceivious women and their gentleman callers
Drinking from his bottle makes them bigger, makes them smaller
They're no angels, but they can pretend
If hell is a real place, it's filled with whores in plastic halos
They're right about one thing though
I'm no angel
Call me golddigger
But I never cared about him or his lack of money
And my sense of humor is a little obscene, but I swear I'm a nice girl underneath
And he says without him they won't take me seriously…Seriously?
But being on his arm felt more degrading to me
And I've showed people my pussy for dollar bills
I've fucked perfect strangers just to get a thrill
But that doesn't mean I wanted his hands on me
And yeah, I'm the kind of girl who likes men twice her age
And I love that fucking stage
And I love when they all throw their cash
So quit saying I'm better than that
And if hell is a real place
It's filled with whores in plastic halos
Be careful playing martyr now or someone might get you some nails
If hell is a real place
It's filled with whores in plastic halos
They're right about one thing though
I'm no angel
First Communion
What's a Bonoboville Birthday without Bonoboville Communion?
Danièle volunteers to be an altar for Phoenix, then changes her mind and decides to lick up her sacral salt from Phoenix's Pride-Pastied titties and break her six-month alcohol fast with Waterboarding, Bonobo-Style with Agwa di Bolivia Herbal Coca Leaf Liqueur.
For some reason, even though both gals are experienced Communers, it's all very emotional and a little goofy. Phoenix wriggles around like a rainbow jellyfish. Danièle opens her mouth so wide, it looks like she's at the dentist.
Maybe it's because it's their Bonobo Mama's Birthday, or maybe it's the drugs.

The overcrowded overheated Womb Room? The rainbows? The Spirit of Jackhammer Jesus?
Hallelujah! Praise the Lord and the Lady. Especially these ladies. More fun than a barrel of bonobos.
Spellbinding Spoken Words
After the break, we come back with more than half the onstage group changed.
Another star of Speakeasy's premiere edition, Danièle's former roommate, Imani Cupe'.
Imani doesn't splosh or get sploshed, but she does smoke, being a Cannabis Queen.
Another proud member of the "bald head" brigade, she's also a Spoken Word artist and, as the second portion of the show unfolds, she delivers another stirring rendition of "Nomenclature" that has the Womb Room snapping their fingers and shouting in rapturous ascent.
Temples, Brothels and Bonobovilles
Moushumi Ghose joins us on stage, excited about her documentary, Temples and Brothels, in which I play a small part, as myself.
She brings along a couple of rowdy but congenial ladies, Merch Girl and Merchi (Merch Girl's "non-binary counterpart.
After showing me a photo of the two of them topless with "Happy Birthday" scrawled across their chests (obviously for somebody else's birthday), Danièle unsheathes her right breast.

Then she and Merch Girl embark upon a tête-à-tête that quickly becomes a tit-to-tit….
But Merch Girl appears to be really fascinated by Ron Jeremy, at first catcalling for Ron to do Communion with Ron de Jeremy Rum (unfortunately, we're all out), then even makes out with the notorious "Hedgehog" and lets him feel and suck on her boobs on the floor in front of the stage, almost knocking over one of the cameras.
Speaking of boobs, I take My Birthday Communion from Stormy Daniels, who is really Rhiannon Aarons and who still looks very Stormy-like even going into this third leg of the evening.
Rhiannon's boobs are almost as big as Stormy's, and they're all-natural. Plus she knows how to keep tRUMP the Weasel (costume made by Madame Margherite) on a leash. he puts her whole, voluptuous, falling-out-her-dress body into restraining the big Mango Manchild, which reveals that she isn't wearing panties. Whereupon the Weasel tries to grab her pussy, so we have to spank him.
With the Trumpus thus subdued, I lay down, "assuming the position" between Stormy's legs, nestling against her naked pussy (or, you could say, protecting it from the Pussygrabber with my head), as I lay back for my Birthday Waterboarding, Bonobo-style, delivered by Goddess Phoenix, who is a kind and careful Glamazon, unlike that real-life Waterboarder, our new CIA director, "Bloody Gina" Haspel.
As life-threatening and terrorizing as Waterboarding, Bloody Gina-style is, Waterboarding, Bonobo-Style is embracing, invigorating and liberating. I toss off my Launch Party black hat and don my rainbow birthday girl hat, also tossing the black camisole for the midriff reveal.
It's getting hot in heeeeeyah!
The rest of the new group includes sweet Danni Dawson, sexy Kristen Kraves and wild Jacquie Blu who strips down to show off her new boobs (from B cup to DD)… and everything else.
On the other side of the stage are Mistress Kara and Jack Friday, and behind them is athletic porn performer Rocky Foxx.
The plan was to have Mistress Kara wrestle Phoenix in honor of my birthday, and I'd release my Inner Roman Empress, presiding over a gladiatorial wrestling match, except instead of fighting to the death, they fight to the kiss.
Well, as is often the case in my long life and in this long-running show, the best-laid plans do not get me laid the way I planned, not at all, and this is one of those cases.
Phoenix is way too rainbowed out to wrestle. I'm almost ready to volunteer to do it, which might cause Capt'n Max to dock the whole ship, so I'm relieved and intrigued when Danièle volunteers.
She has lots of caveats, of course. She wants it to be "cuddle wrestling," which, the way Mistress Kara does it, it already is.
What's amazing is how terrified Danièle was of the wrestling during our 26th Wedding Anniversary, but then that was when she was the one floating on rainbow- kaleidoscope brain waves.
This time, she literally gets in the ring.
What a great birthday present to see her and Ms. K go-go-go! Bonobo HokHoka Girl-Girl Cuddle Wrestling—a fight to the kiss!
And oh, what a kiss.
Then Phoenix comes in with a card signed by a bunch of bonobo sapiens and a box of cool stuff that I don't have time to process.
Next the first cake comes in, covered with candles. Wow! Just like elementary school.
I take a deep breath and, despite my chronic sinusitis, I make a wish, put my lips together and BLOW….
…all the candles out! Maybe I'll get my #1 Wish for the Bonobo Way to become the way of the world.
Or maybe it'll be my Wish Plan 2: just have another great year with my Capt'n and our little Bonoboville. That would be nice.
Though I strive to be a force for positive change in the world, I'm grateful for what I have in my world.
I used to think that being super famous might be fun, but I'm grateful that I never attained that goal (which I only tried to reach in a half-hearted, half-assed manner anyway), when I see the extreme, life-threatening ups and downs of the super famous on the warped window of social media.


Then Phoenix brings me my second cake—which is not reminiscent of elementary school—shaped like a big carb-filled cock that just ejaculated a gigantic load of whipped cream.
I dip Max's finger in the cream and lick and suck it off.
Yum! Mini-splosh is not too messy, yummy and fun.
Birthday Spanking Circus
Crossing the time border past midnight into a new day, we enter into the territory of my "real" birthday, June 10th.
Feeling the need for a climactic Birthday Spanking to mark the moment, I get almost everybody spanking somebody in rhythm to the catchy tune of Carmina Formosa's "The Kinkster," inspired by the Bonobo Way and winner of the SUZY award for "Best Song."
Goddess Phoenix spanks naughty, naked Jacquie Blu as Stormy Rhiannon spanks Trump the Weasel and Mistress Kara spanks naughty, rainbowed Phoenix while I twirl the Goddess' electric whips around above the spanking circus of slightly controlled ecstatic chaos, occasionally letting it fall on tRUMP's ample rump, as the other players onstage try to keep their places and take in the view, but avoid the stingy tips of the whip.
It's tough to pull off in a tight space, but at least we weren't peeing on tRUMP! Poor Vice came for a golden shower and all they got was a sparkly spanking in triplicate.
Wolf Time
With time ticking, I lead the Bonoboville Congregation in howling like wolves for Ikkor the Wolf, whereupon he enters the Womb Room "from behind," pulls off his Bonoboville shirt and sings his sexy anthem "She Bad."
Then up jumps Bonoboville's sexiest Trump Voter and LA's hottest chauffeur, Tammie Parrott.
Her long blonde hair swinging, wearing totally groovy bellbottoms, she invites me to untie her halter, and she dances topless as Ikkor sings "She Bad."
Not to be outdone, or maybe just inspired, Ms. Watts takes center stage.
Even with no hair to swing, Ms. Watts rocks out with her frock out, tearing off the silvery thing and wearing nothing but a rainbow feather boa that flies around her like a Mardi Gras parade or a bevy of tropical birds.
Meanwhile I'm dancing with my newborn Speakeasy Journal, surrounded by rainbows, just enjoying the hell out of everybody and everything, as my Womb Room explodes in communal ecstasy.
What a Happy Rawkin' Rainbow Birthday.
At this point, the plan was to set off poppers. But you know how those "best-laid plans" sometimes go, and we can't find the poppers. Well, we find one popper, and it's a dud. The whole party practically breaks down in popperless chaos and confusion.
Then I spy my first show assistant, Janelle Hopkins in the crowd, and I call her up on the stage, to the Congregation's squeals of delight because we all love Janelle, so we forget all about the poppers (at least, I do).
Then we bring on Janelle's son, Deryk Wilder, who might just be the "popper" we were looking for, seeing as I held him in my arms just a day after he "popped" out of Janelle, some 26 years ago… Now Deryk's a big handsome young man, an actor and a beloved member of the Bonoboville community.
Meanwhile down on the floor, at the edge of the stage, Ron Jeremy is still making out with Merch Girl. She acts like she's on a ride at an amusement park: Whee! Look at me! I'm on the Ron Jeremy Ride!
Just to be sure, I again request that she vocalize her consent, which she does, after giving me a funny look. Hey, you can't be too careful these days…
This breaks the mood, but we're way into overtime and we've really got to close the show, so Ron takes the titty out of his mouth and puts a harmonica into it, playing—hopefully without reference to my more closely impending death on this celebration of my birth—"When the Saints Go Marching In…"
But most certainly, that is the reference. The Saints are going marching in through those pearly gates, the sinners are going to hell and us agnostics are going nowhere faster than we can even imagine.
Otherwise sane people are killing themselves and others, dying like proverbial flies for one reason or another, maybe more often than ever, because there are more people than ever.
Speaking of flies, they are also dying a lot more than ever in the Great Insect Die-Off, another sign of our imminent, ecocidal demise.
What to do about it? Whatever you can. Use glass jars, not plastic cups or, if you have to use plastic, reuse it. Save the bonobos, and practice the Bonobo Way of female empowerment, male-well being and peace through pleasure. Make love, not war.
Circle of Life
As the show wraps, I splosh Danièle's third eye with Birthday Cake Cream and lick it up lasciviously.
Splosh: Pure Decadence on the Cheap.
Then the rainbows fade into shadowy sex, light flirting, eating delicious sushi and engaging in intensely sapiosexual conversation, more electric whip play and a flurry of selfies.
Then there's the rainbow hula-hooping with the traveling family circus of Danièle and Be*Live.
Also double hooping with Guitar Goddess Jezebel Sweet.
The Circle of Life cycles on…
Thank you Bonoboville staff and guests, for all the many wonderful, necessary things you do to make my crazy marvelous life possible.
Thanks most of all, to my charming Prince Max, for always being here for me, Capt'n of My Heart, husband of 26 years, and always loving me, no matter how bad a birthday girl I am.
Thanks for giving me a big, pelvis-shattering, birthday orgasm almost right on the nose of the time I was born (6:00 AM), and for giving this Gal Who Has Everything the best birthday gift ever: a new magazine.
#GoBonobos for Speakeasy!
Thanks to Our Volunteers: Videographers-Kris A, Gideon G.; Photographers – JuxLii, Slick Rick, Capture It, Curtis, Hugo Flores; On-Campus Bonobos – Abe Perez, Camille Rosebud, Mita Altair, Harry Sapien, Gideon G., MarsFX, Clemmy Cockatoo, Ana & Miguel.
© June 10, 2018. Susan Block, Ph.D., a.k.a. "Dr. Suzy," is a world renowned LA sex therapist, author of The Bonobo Way: The Evolution of Peace through Pleasure and horny housewife, occasionally seen on HBO and other channels. For speaking engagements, call 310-568-0066.