The Saga of Finger Magazine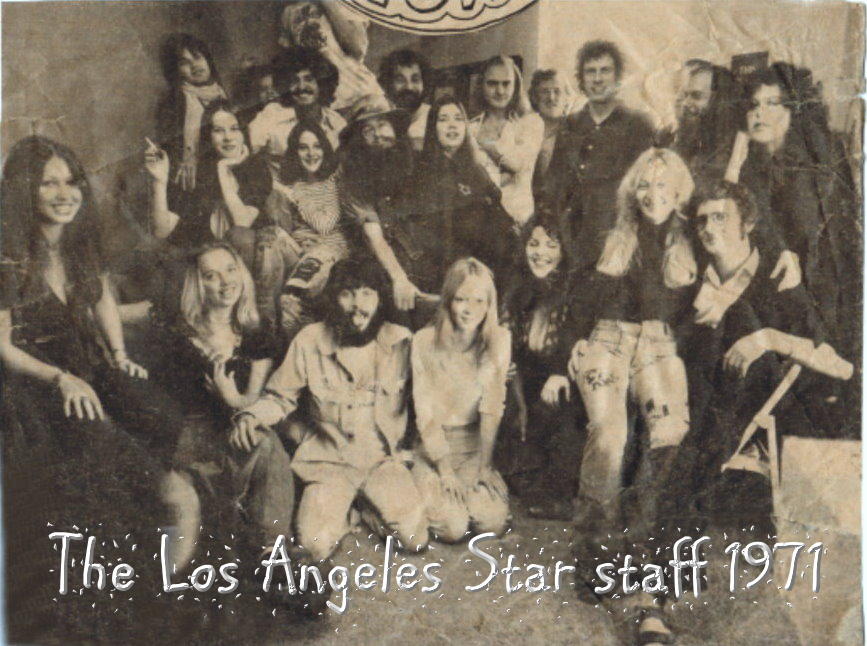 The Saga of Finger Magazine
By David Steinberg
Once upon a time, and not so long ago, there was that peculiar period of cultural history we now refer to, somewhat inaccurately, as The Sixties. It was a time that changed the American sexual landscape forever, no matter how much people now laugh at bell-bottoms. Political activism shattered reverence for the American Way of Life as tens of millions of people protested the illegal, immoral war in Vietnam.
The monolithic gender role straitjackets of safe, boring careers for men and monotonous suburban child-rearing for women were torn open and renounced as a whole generation of young people "turned on, tuned in, and dropped out." Millions of people discovered that they could invent rich, creative lives for themselves, lives that went far beyond the limits of what had previously been considered possible. Cultural and sexual orthodoxy were being deconstructed at every turn. "Question authority" was a generational catchphrase.
As Jack Hafferkamp, editor of now-defunct Libido magazine has noted, "the 60s and 70s were a time of cultural explosion, the creation of a counterculture in which all restraints were off. There was a cultural revolution going on and we were examining any and everything about who we were. Sexuality was a major part of a larger phenomenon."1
Accessible and affordable birth control made it possible to separate having sex from creating babies for the first time in human history. Mind expanding drugs opened wide the doors of both psychic and sexual exploration. Rock 'n' roll put sex into popular music to stay. The multicolored possibilities of a sexualized deconventionalized, psychedelicized universe beckoned to scads of young people who left behind the pastel paradigms of Puritanism rationalism, and predictability as little more than a bad joke.
There was Free Love, the Sexual Freedom League, and Freedom Now; women's liberation, youth liberation, sexual liberation, gay liberation, the liberation of all oppressed people, and the liberation of the mind from the shackles of convention. The lid was off, the emperor had no clothes, everything was possible—for better, for worse, for the moment.
Part of this culture of sexual exploration was the emergence of a plethora of experimental, underground, sex oriented magazines, produced and distributed free from the financial and cultural restraints of the publishing mainstream. The sexual upheaval of the 60s and 70s boasted a wide assortment of wild, cutting-edge, sexually focused journals, put together by an army of sexual outlaws that included everyone from dedicated sexual revolutionaries to renegade gonzo opportunists.
Several of the most radical sex publications to emerge during that time were published by a group of outrageous Los Angeles hippies who called themselves the Star Family. Their no-holes-barred magazines had simple one-word titles: Love, God, Hate, and Finger.
The concept behind these funky newsprint outpourings was as radical as it was simple: Solicit readers' most extraordinary sexual experiences, fantasies, drawings and photographs, and publish them verbatim—no editing, no judgment—complete with typos, spelling errors and the contributors' own makeshift grammar. The goal was to be as raw, as unfiltered, as unpredictable, as inclusive as possible.
We are, Finger magazine boldly declares, "a conspiracy to instigate and promote love and good feelings, freedom and hope, thought, insight, and new levels of consciousness. We are everywhere…. We want to get all our favorite fingers in it, your fingers, the fingers on your cock, the fingers in your pussy. Let's take all our fingers, hold hands, and cum up with one of the greatest magazines that's ever been! Let's Finger ourselves into a world where your wildest dream is a dream cum true."2
Articles were as unpretentious and straightforward as they were outrageous—the most regular folks putting into words, photos, and drawings their most irregular sexual deeds and dreams, as if they were chronicling family vacations or sharing Thanksgiving recipes. It was unbridled sexual democracy at work, long before anyone had begun thinking of anything like the Internet.
"We've been together 16 years and no two people could be any happier than we are," wrote Jasmine of her enduring sexual relationship with her brother. "Though I'm now an old woman of 60 and Grant is 62, we still enjoy sucking and fucking each other as much as ever and when that beautiful cock of his explodes in my mouth, all's well with the world!"3
"My favorite fantasy," proclaimed Little Joe, "is pretty girls with large cocks. They would be the best creatures for any kind of sex with anyone."4
"This is a true story," wrote another Finger contributor, "about this chick that dug dogslike other women dug men. She had so many dogs that she had to borrow money to feed them. There was this Great Dane with a ten inch cock and a giant St. Bernard with a twelve inch cock. There was this muscular bull dog that would knock you over when he really got going…."5
Some articles were opportunities for readers to share radical sex information with each other, information that was without question unavailable anywhere else. "I am writing again about shaved pussies and cocks," penned one Frank G., long before shaving of pubic hair was being discussed in public. "This time it will be on how to shave the female love-nest, and it can be tried by boy friends, husbands, lovers and by girls who love each other."6
Another reader named Herbie offered a detailed "Manual for Asshole Fucking," with Sections on "Your Mental Attitude," "Desire," "Preparations," and "Now, the Fun." "One doesn't just fuck an ass," Herbie insisted philosophically, "one fucks a person."7
"Still other articles were unapologetically graphic, often poetic, descriptions of more conventional sexual experiences. "The first few soft touches of your cock as it tries to find my cunt are exquisite," wrote Lynne." And then you enter, so slowly it seems as though your cock goes on forever. That first thrust after so long without you makes me cry out. I want more cock and I begin to move until all of you is deep inside. Your cock knows where it wants to be—it slips inside my cunt all by itself, and as I relax into the soft bed I feel the weight of you against me. It feels so good just to have you back."8
"Nothing was excluded based on its content," Finger publisher Mickey Leblovic recalls over coffee. "We only tried to avoid repetition. If we had an article on horse fucking, we didn't want five others in the same issue."9
The submissions that showed up in the Star Family's post office box were many and wild. Early issues of Finger included articles with titles as "You Don't Mind About My Period, Do You?" "Three-Way Heaven," She's Really a Hermaphrodite," "Introduced to a Beautiful Life of Slavery by My Sister," "Since the Age of Nine I Have Had a Foot Fetish," "Fuck Me, Daddy," and "Curse of the Gigantic Tits." Something to offend everyone to be sure, but also the heady elixir of infinite possibility that was the very basis of those times: the awareness that your body and your sexuality were your own, that you could do with them whatever you wanted.
"In the absence of a precise science of morality," Finger editorialized, "we use the fact that [something] exists and that readers want to see what is out there as our guide. We have faith that humans have an innate sense of morality, and can and will usually make decent choices based on the information that is available to them. We feel lots of objections about some of the material we show. But we have found through deep psychological investigation, that we should all give second thoughts to what is really 'clean' or 'dirty.' How can we free ourselves for trying out new truths if we are going to be threatened by various elements of society who, for whatever reason, would benefit from the stifling of new progress in though and understanding?"10
Once the publisher of Finger, Love, God, and Hate, Mickey Leblovic, is still an energetic, playful renegade whose full name is—he claims with full seriousness—Prince Maximillian Leblovic di Lobkowicz. When I interviewed him in 1993, Mickey was the director of the Dr. Susan Block Institute for the Erotic Arts and Sciences in Beverly Hills. He clearly enjoyed talking about the heyday of the early 70s, explaining unapologetically that he got involved in sex publishing for the crazy adventure, the good dope, and the polymorphous sex, more than as a crusader for social change.
"It was only when the police started trying to tell us what we could and couldn't do that I got political about all this," he told me. "I took on the First Amendment as a personal issue."
It didn't take long for both the LAPD and the FBI to come pounding on Finger's doors. Distributors of the magazine were followed and harassed, stores that sold it were threatened with prosecution. Mickey laughs and gestures with both hands when he talks about the first time the FBI showed up at their offices.
"I remember that we were all so stoned we could hardly see straight and here were all these very serious FBI agents telling us we couldn't publish what we wanted. 'The hell we can't,' I told them. I asked them if they had a warrant. They didn't. So I told them to get the hell out of my office."
The government was not amused. Mickey his partners were busted 22 times in its first year and half. They were acquitted all 22 times, aided by the skill of their legendary First Amendment attorney, Stanley Fleischman. Nevertheless, going to court was costly, distracting, and most definitely unerotic. Reluctantly, Finger compromised. "Themes that deal specifically with children, animals and fists," they signed, would have to go but would later be published in GOD magazine.
The police pulled back, but so did Finger's readers. From peak circulation of 40,000 in 1974, Finger was gone three years later. Love survived longer, outrageous to the end. Its final issue (entitled The Sprinkle Salon: Post Art Art in America) was guest edited by Annie Sprinkle and Veronica Vera, two sex radicals whose public sexual personas continue to this day.
"I am going to attempt to write this while being fucked," wrote Annie, in "How to Fuck and Type at the Same Time." "I'll give you a blow by blow description of everything happening, at the moment it happens. This should be lots of fun."11
Although it continued publishing until 1981, Love's legal issues came to a head on December 4, 1978. Mickey and Susan L., Annie Sprinkle, and Willem de Ridder were arrested in Rhode Island an charged with a variety of sexual offenses against the state, ranging from 75 counts of conspiracy to produce and distribute obscenity to sodomy. (Annie was charged with sodomy for being filmed while fucking the stump leg of Long Jean Silver, an amputee and unabashed performer in sex films. The charge was later dropped. "If they had tried to prosecute us for sodomy for having sex with an amputee they would have had every handicapped person in Rhode Island on their front steps," Annie notes with a laugh.)12
Love magazine had been set up by police undercover agent Doris Gardiner, who posed as a University of Rhode Island student in search of temporary work when she answered a job ad for a typesetter and the students posting board..
"After three weeks that policewoman Doris Gardiner was in our home, sat at our table, ate with us as part of the family," Mickey and Susan wrote in issue #61 of Love, "she unleashed on us and our guests one of the most massive raids that Love has experienced (one third of the Rhode Island State Police took part). Everything in our house was seized—birth certificates, diaries, family photo albums and six Tampax."13
In addition, the police seized the Leblovic's two children, tried to force Mickey and Susan to undergo psychiatric treatment, and vowed to make sure that the Leblovics would never get their children back. Michael and Shana L. were kept in foster homes for 18 days until the Leblovics were finally able to force their return.
For months, the Rhode Island Attorney General's office delayed trying the case. It was only when Mickey and Susan left for Italy, that prosecutors went to trial. The Leblovics were ordered to return to the U.S. They refused, sending instead an 18-page excoriation of the "rituals, robes, and antisexual biases of American jurisprudence." Rhode Island Attorney General Dennis Roberts (who was running for re-election) mounted a media-intensive public relations effort to pressure the Italian Embassy to extradite the Leblovics. The Italians, not about to serve up one of their princes to American election grandstanding, refused.
In 1982, more than three years after their arrest, the Leblovics decided to return to the U.S. Their residence was quickly raided by twenty New York State troopers. They were arrested on a fugitive warrant and held without bail. When Mickey protested their being denied bail, the judge set bail at $1,000,000 each.
Susan L. was six months pregnant. She gave birth while being held in lieu of bail, handcuffed during her labor. After birth, the baby was taken away. Susan was not allowed to breast feed. She was distraught, as was Mickey. Reluctantly, Mickey agreed to plead guilty to one count of obscenity and one count of failure to appear, in exchange for immediate release of Susan and the baby. He spent a total of 18 months in a maximum security prison.
Thirty-five years later, the times have changed, but the charge around sexual issues, sexual outcasts, and sexual renegades is as real now as it was in 1978. The question is still whether to stir the sexual soup or flush it down the drain, whether to look at sex primarily as a place of wonder or as a place of danger. What has changed is the cultural and legal climate in which sex publishing takes place.
In 1973, when the Supreme Court issued its Miller decision establishing "local community standards" as the test for obscenity, many sex publishers were encouraged. But as past Playboy Advisor Jim Petersen has observed, "when [Screw magazine publisher] Al Goldstein was put on trial for obscenity in Wichita [rather than in New York where Screw was published]. It definitely put a chill in the air. I remember that, after Goldstein's case, eyebrows were raised when I ran a letter in the Playboy Advisor on fisting—heterosexual, vaginal fisting. I was told quite clearly not to do something like that again."14
First Amendment lawyer Stanley Fleishman notes that since the Miller decision, obscenity defenses have become more complicated and expensive than they were before. With the application of racketeering laws to pornography cases, the stakes have gotten higher still. (Under anti-racketeering statutes, for example, all assets of any business accused of dealing in obscene materials can be seized, even before anyone has been found guilty of anything.)15
Libido magazine past-editor Jack Hafferkamp points to changing cultural attitudes as a major influence on the more conservative sex publishing climate of the 90s and beyond. "During the 70s," he notes, "the government was so preoccupied with people giving aid and comfort to the North Vietnamese that they didn't have the time or resources to worry about sex. Besides, what was funny then because it was so radical looks more frightening now that the Baby Boomers have grown older and are dealing with the issues of establishing and preserving families of their own. It's one thing to be a sex radical yourself, but do you want your kids to learn about fucking dogs?"16
Hafferkamp also notes that in the 70s "revolution was in the air. There was a great rift in society, partly generational, that extended far beyond sex."17
People were ready to fight and go to jail for what they believed in, whether that was desegregating lunch counters, resisting the draft, protesting the war in Vietnam, or telling the truth about sex. While today's sex publishers are well aware that they represent a challenge to the antisexual cultural mainstream sexual freedom does not have the feel or dedication of what could be called a truly political movement.
As activists said in the 70s, the personal is political, and sex is very much a political issue, now as in the past. Today, as in 1974, alternative sex journals and websites provide important, unregulated vehicles for people to talk about sex openly, unconventionally, genuinely, and without apology—offering networks of support for people whose sexual choices are not mainstream. "The price of freedom is eternal vigilance," conservative Senator Barry Goldwater once campaigned. True now as much as ever.
1. Jack Hafferkamp, telephone conversation with author, March 1994.
2. "Enter Here and Hold on to Your Soul," Finger Magazine, no. 10 (1975), p. 2.
3. "My Brother and I," Finger Magazine, no. 10 (1975), pp. 55-59.
4. Finger Magazine, no. 10 (1975), pp. 40-41.
5. "Female & Her Dogs," Finger Magazine, no. 11 (1975), p. 9
6. "Shaving Love Nests," Finger Magazine, no. 11 (1975), p. 14
7. "Manual for Asshole Fucking," Finger Magazine, no. 27 (1977?), pp. 34-35.
8. "Waiting for You," Finger Magazine, no. 10 (1975), p. 12-16.
9. Mickey Leblovic, personal conversation with author, March 1994.
10. "Rumblings: Some Things Need to Be Said," Finger Magazine, no. 11 (1975), p. 2.
11. Annie Sprinkle, "How to Fuck and Type at the Same Time," Love Magazine no. 83 (1981): "The Sprinkle Salon: Post Art Art in America", pp. 4982-4983.
12. Annie Sprinkle, telephone conversation with author, March, 1994.
13. Love Magazine, no. 61 (1979?).
14. James Petersen, telephone conversation with author, March 1994.
15. Lawrence Stanley, telephone conversation with author, March 1994.
16. Jack Hafferkamp, telephone conversation with author, March 1994.
17. Jack Hafferkamp, telephone conversation with author, March 1994.
Originally published in Spectator magazine, April 8, 1994.
This is a corrected copy of my first posting to correct some factual errors.
Max 2/4/2016
---
Explore DrSusanBlock.com
Need to talk? Sext? Webcam? Do it here. Have you watched the show? No? Feel the sex. Don't miss the Forbidden Photographs—Hot Stuff, look at them closely here. Join our private social media Society. Join us live in studio 😊. Go shopping. Gift shop or The Market Place. DrSusanBlock.tv, real sex TV at your toe tips. Sex Clips Anyone? FASHION, we have fashion! We also have politics. Politics? Have you Read the book? No? How about the Speakeasy Journal? Click here. Ok, how about some free sex advice?
---