Juneteenth Speakeasy Recovery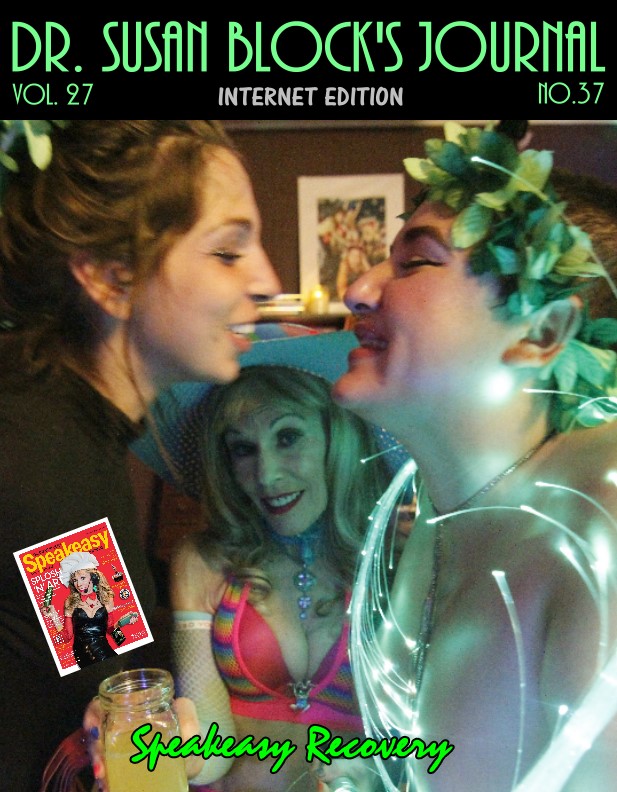 Length 01:38:01 Date: June 16, 2018
Still "in recovery" from our sparks-flying, apeshit spectacular and downright exhausting Speakeasy Launch & B-Day Bacchanal, we chill out, snuggle, suckle and whip it up for the Bonobo Way in this intimate, sapiosexual, rainbow-colored show.
Stimulating conversations on sex, relationships and politics flow through the night, along with a boobalicious Bonoboville Communion, bodacious big-butt twerking, spanking, lightning-like neon whipping and, as always, some much-needed Trumpocalypse therapy.
We also celebrate Juneteenth, commemorating America's abolition of slavery on June 19th 1865, followed by a call for liberation from modern slavery, aka the bloated American Prison Industrial-System and the creeping chokehold that the .01% is putting on the rest of us.
For a little "recovery" show with just three guests (two are MIA), it's an awesome evening.


Rainbow Pride & Spanking Phoenix
Figuring some neon colors might keep my exhausted ass awake, I open the show in fishnet rainbows, sporting an even brighter Bonobo Gay Pride ensemble than I wore last Saturday.
I'm also enjoying some of my birthday gifts (thank you very much!), starting with Glamazon Goddess Phoenix's neon whip that changes colors like an electric disco rainbow.
Thank You, Goddess! Every time I smack someone's butt—sparks flying like psychedelic shooting stars—or wrap it around their neck, lighting up their smile with its celestial glow, I think of You and feel so blessed to have You in my life.
One of the fine asses I whip on this show is that of my sexy Ass. producer Phoenix Dawn, also in recovery from last Saturday, and just plain naughty for speaking off-mic.
Actually, I start with an over-the-knee (OTK) spanking, and then on her knees, using our new Speakeasy Journal as a spanking paddle.
This makes a great segue into our next issue: SPANKING (for adults only)! BUT the whip is divine.

Virgin Guests
Recovered or retired, there's no rest for the horny, and we'd better get "woke" because we have three newbies in the Womb Room for this show.
To my left is Mimosa, an amiable, beautiful, smart and strong "BBW" who identifies as "queer," a sex worker, a pansexual and porn star.
Mimosa often works with Kink.com, specializing in a form of consensual, often professional humiliation called "public disgrace."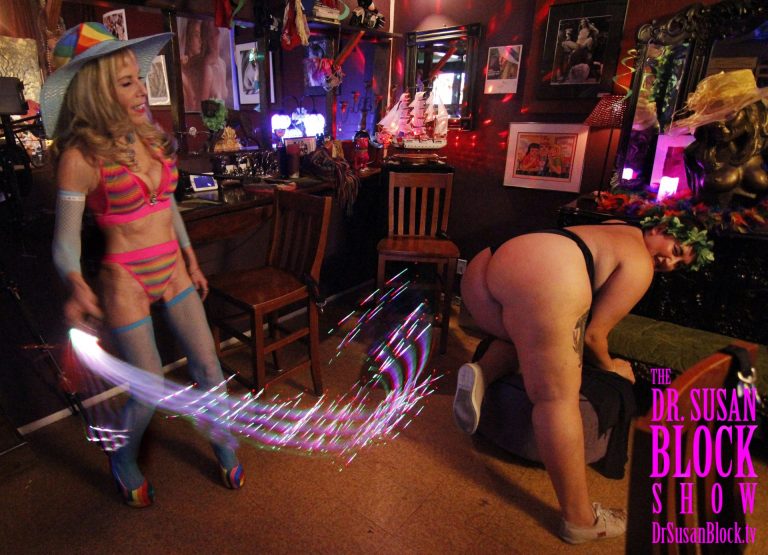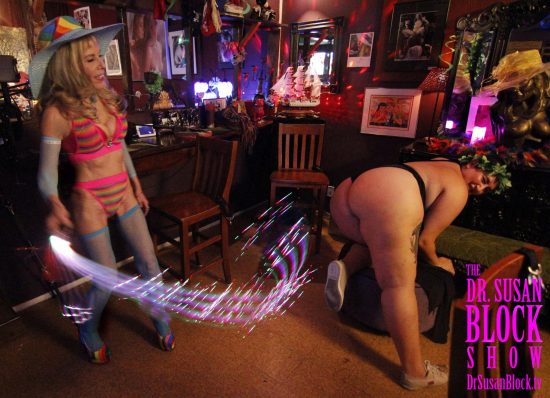 This "hard-core bottom" also seems to love getting her big bottom spanked with Goddess Phoenix's magic whip.
To my right is a charming and creative couple, together six years and married six months.
Frankito is an actor, and Tahyira Savanna is a blogger, and no, she doesn't blog about sex, but maybe she will now, after being on this show.
Politics & Cock Pops
Just as I'm gagging our tRUMP doll (a big plushy Dick with a tiny little penis) with a green balloon left over from last week's festivities, a call comes in from our social media friend and winner of two SUZY awards, Chris Gagliardi, with birthday wishes, Speakeasy accolades and updates on his political activities.
Kudos to Chris for being a leading force in the Blue Wave that hopefully will drown the tRUMP Train along with the Republican movement to enrich the .01%, lining their own pockets at the expense of America and the world.


I'm not a big fan of Democrats—all of whom (except Oregon Senator Ron Wyden) voted in the Senate for the stupid, stultifying and absolutely deadly SESTA act (I'm talking to you, Cali Senator Kamala Harris). But the Republicans (except Rand Paul of Kentucky, the lone GOP'er who voted against SESTA) are worse. Really, Chris G. should run for office! He's a true blue Dem, but he loves sex workers and has rainbow pride. He'd get my vote.
Back to the rainbow which shows up again on a sweet birthday treat from my beloved Bonoboville community: a multi-colorful, cock-shaped lollipop.
Is this a subtle hint that my beloved Bonoboville wants me to suck its collective cock? In any case, that's exactly what I do, after Phoenix and Tahyira join forces to rip off the wrapping like a condom.
Actually, I do more licking than sucking. Capt'n Max tells me I'm a good cocksucker, but I think that's more of an encouragement than an appraisal.
Hey, I try.
And usually, I really enjoy it, especially when the dick tastes like candy.
Still, I can only open so wide. I also accidentally sit on it, a position I enjoy, though generally without the candy coating.
Phoenix, having a bigger mouth (no puns intended, of course), is a much better cock-pop sucker than me.
Not that we hired her for her fellatio skill set, not at all.
As an "Ass. Producer," we're more interested in her ass, and whether or not she can get it in gear to produce the greatest sexuality show on earth.
Her considerable fellatio abilities are a total bonus, which she shows off, with Capt'n Max's encouragements, as Mimosa holds the lollipop stick.
She practically deep-throats the damn thing, and it's a big one.
I do enjoy holding the stick between my legs as she (and later Mimosa) sucks my candy on her knees, entertaining my fantasies of flagrant phallic dominance. Great gift, Bonoboville!
As the conversation wanders back to politics and culture, Frankito confesses his passionate love for Kanye. Sorry "bromance" fans, it's just the music… but what about Kanye's politics, his statement that "slavery was a choice" (what would that make Juneteenth?) and his passionate support for the Trumpus?
No, Frankie (he says I can call him Frank, Frankie or Frankito, so I mix it up) insists he does NOT like Kanye's politics and is especially miffed at the Mango Manchild for his conflict of interest in Frank's native Dominican Republic. To prove his politics, I ask him to spank our tRUMP doll's furry pink testicles with a Speakeasy. He rolls it up, but stops, saying that wouldn't be hard enough. Then he stands up, takes aim and knees our Trumpty Dumpty in the balls.
Ouch. Trumpocalypse therapy can be intense.
But given the Trumposity's pronouncements on athletes taking a knee in protest of police brutality, it's a fitting faux punishment for our tRUMP Doll/punching bag.
Two Bonoboville Communions
Nothing like a little Girl-Girl Communion, the Hoka-Hoka of our Bonoboville, to take the edge off of those intense Trumpocalyptic exorcisms.
Mimosa, a former Christian Scientist from Sacramento, the seventh sibling among nine (whose mom, I later learn, is now a Trump voter and supporter), volunteers to be the Altar Girl.
Interestingly, back in 2008 when Bonoboville was in a huge Downtown LA loft (shout-out to John Sally for his help getting us the place), Mimosa applied to be my assistant. For a number of possible reasons that are a bit blurry with memory, she didn't get the job, but it's great to see her again, happy and busy with her sex work—though disturbed, as so many of us are, by SESTA.
Mimosa makes an impressive Altar Girl. Her measurements are a whopping 40DD – 29 – 54. Definitely large but not flabby, this gal is toned, big and strong; the giantess of many a man's—and woman's—dreams.
She also has the right irreverently reverential attitude, sitting topless like a bacchanalian priestess as Phoenix "takes" Bonoboville Communion, licking and sucking her 40 DDs, even biting her perky nipples. It's okay. Mimosa tells us she's a pain slut, what they call a "heavy bottom," and her safe word is "stop."
What would Senator Kamala Harris make of merry Mimosa and her sex work?
Then our Altar Gal spreads her thighs, and Phoenix nestles in for a nice Waterboarding, Bonobo-Style.



What a special sight to behold. I never liked religious repression, but I've always had a great love of religious ritual. So I do it, the Bonobo Way.
Such a creative Altar Girl too; later, she weaves her Agwa lei (from "getting lei'ed") around her head like a Roman laurel wreathe, making her look like some kind of Bacchanalian divinity–the Mimosa Laureate!–especially when I wrap her up in Goddess Phoenix's celestial whip.
After the break, now that they've seen it done, Tahyira and Frankito take Communion.
As a little boy in the Dominican Republic, Frankito took a very traditional Communion (and only after Confession) in the Catholic Church.
Frank left the Church, but he still carries a lovely rosary. You can take the boy out of the Church, but sometimes you can't take the Church out of the boy.
Showing his thespian side, Frankie dramatically enters the Womb Room stage area for Bonoboville Communion, like Young Frankito once entered the Church for Catholic Communion. Obliging our virgin participant in his enactment, Mimosa and Phoenix sing like an operatic choir.
Or are those Eros Angels?
Then he honors the flesh of his beloved wife, his Altar Girl, who gives him her inner thigh to lick. He relishes his Communion, especially when I apply the sacred salt. "I love salt!" he proclaims. To which the choir sings Hallelujah, Amen and Awomen.
We're all giggling, but it's really kind of beautiful.
Whereupon, he lays his head down, somewhat nervously but with great excitement, between his wife/Altar Gal's thighs, and I call upon the spirit of CIA director "Bloody Gina" Haspel…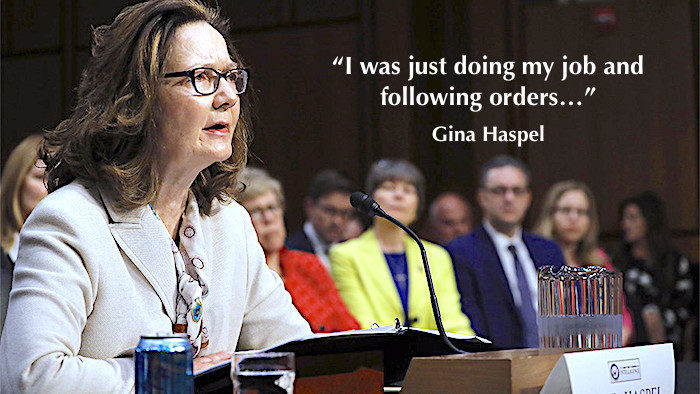 No, not really, I despise that woman, and the modern American colonialism and nonconsensual torture that she represents and covers up. But lately, I can't help but think of her as I dispense "Waterboarding, Bonobo-Style," with love and Agwa de Bolivia Herbal Coca Leaf Liqueur, upon my consensual "victims." Such is the trickster "naughtiness" of erotic fantasy…
Actually, this is one of the rougher Waterboardings we've done. Frankie even calls for his wife to hold his nose and cover his eyes while I'm pouring the Agwa down his throat. We often cover the eyes—to keep the Agwa out—but hold the nose? Whoa…
Let's hear it for Frankie and Tahyira's long-term love affair. May their lust continue flowing as their trust keeps growing.
Happy Juneteenth!
Somewhere between spanks and licks, we talk about Juneteenth, commemorating America's abolition of slavery on June 19th 1865 in Texas and throughout the Confederacy, over two and a half years after U.S. President Abraham Lincoln issued the Emancipation Proclamation.
Ikkor the Wolf comes up on stage, as Frank and Tahyira sing a few bars of a Juneteenth song.
Of course, slavery in the old Confederate sense–or any sense that's not a consensual adult roleplay–is one of the worst things that humans can do to other humans, right down there with concentration camps, mass shootings and genocide. No matter how great Kanye's beats are, we need to keep hammering this point home—American Confederate slavery was not a "choice" (at least not for the slaves; it certainly was a choice for the damn owners and overseers)—if we want to prevent this horrid ancient practice that has only been outlawed for about 150 years from making a comeback.
But just as consensual bondage, whipping and spanking can be fun when individuals enjoy them out of freedom of choice, there are modern forms of real slavery. This "new slavery" that can be almost as bad, and sometimes, for some people, worse than the old slavery. Just look at the Prison-Industrial Complex, one of America's few growth industries, growing at the expense of many innocent people's freedom.
Suddenly, Frank makes another heartfelt confession, that he had been incarcerated in that awful ugly prison system. No, we don't ask "what for," and yes, it is a modern form of slavery that disproportionately targets people of color.
So we commiserate (Capt'n Max was unjustly imprisoned for publishing), and then celebrate Frankie's freedom too, the fact that he met Tahyira shortly after he got out (like I met Capt'n Max who Frank keeps calling "Mafia," as if he knows something we don't), and that together they could strive to overthrow the shackles of a rapacious imprisoning system that is bent on swallowing up as many "bodies" (that's what they call inmates) as possible.
Why? Because slavery, imprisonment and censorship just make "good" capitalist sense… for the owners.

Not for the 99.99 percent!
Big Booty Twerk-O-Rama
Since it's Juneteenth week, I had intended asking Ikkor to rap "We Are One."
But I'm also interested in checking out Mimosa twerking that large, well-toned bottom to the twerkalicious Bonoboville anthem, "She Bad."
In this mental debate of about ten seconds, my lascivious side wins out over my social justice side.
"She Bad," it is, and yes, the sight of Mimosa twerking is worth forgoing a little social justice.

Anyway, showcasing pure, shameless, collective joy is a form of protest against a system that does everything to destroy or at least enslave it to capitalism.
Also, it's a lot of fun.
So much fun that Tahyira gets up and twerks too. My oh my, that booty fly!
Frankie stays seated, but is looking around hard at all the different kinds of jiggling bottoms and I swear I see his own bottom twerking enough to move his chair around, as he ad-libs "twerk, twerk, twerk," to the beat of the bass and shake of the booty.
As for me, I have to get a few electric whacks at that big booty.
Bae & Jay of the Bonobo Way
Before we can recover from our "recovery," it's time to free the nipple and go.
As we wind it up, I give a shout-out to The Carters, partly because I'm just happy their Everything is Love album knocked Kanye off the #1 spot for a minute. Also because as billionaires go, they're not bad.
Capt'n Max and I are the Jay and Bey of the Bonobo Way.
Well, we are a little older and more financially challenged, but we are #Apeshit for Bonobo Apes, as well as for each other.
Speaking of which, I go apeshit for and with Goddess Phoenix's neon whip in the after-party, especially all over marvelous Mimosa's fab "phat" butt.
It's a nice and easy target for a beginner whipster like myself, and Mimosa is such a sweetheart, smart and sexy as well as big and cuddly.

So much electric fun!
But back to love, lasting love, complicated love, love that mixes lust with trust, love with its ups and downs, billionaire or just bountiful love.
Everything Is Love, as Jay and Bey say. Amen and Awomen, I say, it's #TheBonoboWay…
In the Louvre, in the jungle and at the bar in the summer sparks of Bonoboville.
Let's get set for a Bonobo Summer of Love to counteract all the hate that's growing like toxic killer weeds in our Garden of Earthly Delights… before all the flowers die along with the flies.

Thanks to Our Volunteers: Videographers-Violet, Ray; Photographers – Slick Rick, Capture It; On-Campus Bonobos – Phoenix Dawn, Abe Perez, Camille Rosebud, Mita Altair, Harry Sapien, Gideon G., MarsFX, Clemmy Cockatoo, Ana & Miguel.

© June 19, 2018. Susan Block, Ph.D., a.k.a. "Dr. Suzy," is a world renowned LA sex therapist, author of The Bonobo Way: The Evolution of Peace through Pleasure and horny housewife, occasionally seen on HBO and other channels. For speaking engagements, call 310-568-0066.
---
Explore DrSusanBlock.com
Need to talk? Sext? Webcam? Do it here. Have you watched the show? No? Feel the sex. Don't miss the Forbidden Photographs—Hot Stuff, look at them closely here. Join our private social media Society. Join us live in studio 😊. Go shopping. Gift shop or The Market Place. DrSusanBlock.tv, real sex TV at your toe tips. Sex Clips Anyone? FASHION, we have fashion! We also have politics. Politics? Have you Read the book? No? How about the Speakeasy Journal? Click here. Ok, how about some free sex advice?
---
---