F.D.R. (F*ck Da Rich):

Kink Month Smack in the Middle 2021

Tiktok Splosh! tRump's Golden Showers! Male Sugar Babies! Shatner in Space! Hooters Thongs! Kinktober is Striketober! Sock Job Kink! Stop Censorship! & Make True Loooove!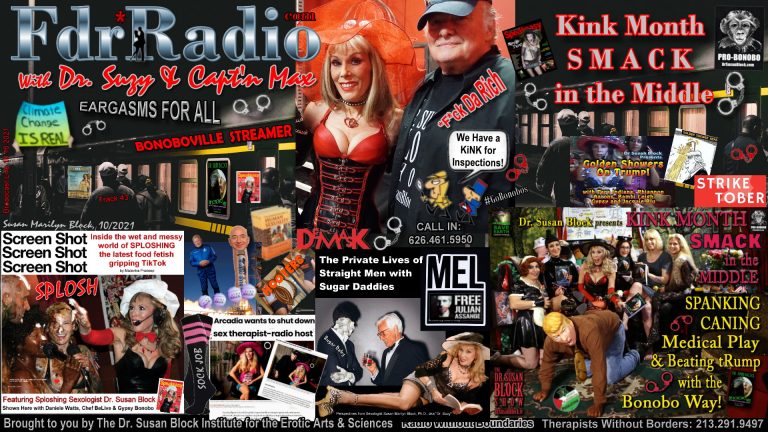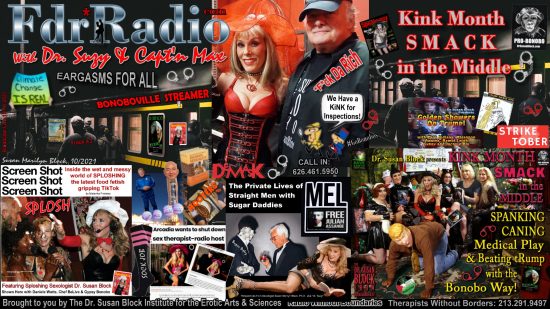 Length 01:25:09 Date: October 16, 2021
by Dr. Susan Block.
Cruising down the crack of Kink Month 2021, we explore a variety of kinks, fetishes, fantasies, peculiarities and love styles including…
There's so much ado about nothing, even though the Big Something—Climate Crisis—is now staring us down, threatening to destroy humanity and most other living species thanks to our Anthropocene ways, daring us to do something—anything—to stop it. Another Big Something is wealth inequality. Then there's war, in addition to the wars at home: mass murder, police brutality and domestic violence on the rise. What's the really Big Something at the root of it all? Unfettered, rapacious, dirt-belching capitalism.
Yes indeed, my beloved bonobo sapien comrades, this Love Train travels through some serious, thought-provoking territory, which might be why it's censored (again!) on Reddit. Then again, it could be the sex. Who knows? Big Tech censor bots never explain themselves; they just cut you off, like cops shooing citizens off of park benches that once belonged to the public "commons," but are now owned by private corporations whose only interest is profit and only motive is greed.
At least our own sites, F.D.R. and DrSuzy.Tv, are not censored, and that's where you'll find this week's fabulous, ultra-kinky throwback from exactly half a decade ago: Kink Month 2016 SMACK in the Middle: Bday Spankings, Canings, Medical Play & Beating Trump with the Bonobo Way! It features strict, multi-talented FemDom, Madame Sydney Jones, performing intricate medical soundings (ouch!) and sternly spanking, as well as caning, a variety of butts, including that of tRump, played with aplomb by our own Harry Sapien.
Yes, on this show, the Trumpus is black; at least his hands are.
On the live broadcast, Harry joins Capt'n Max, Unscene Abe, Mel and me at the F.D.R. bar to describe what it was like to inhabit the Mango Mussolini's character so we could "beat tRump" with The Bonobo Way (his butt actually broke one of Madame Sydney's canes)!
tRump LOOOOVES Golden Showers
Then we marvel at how out of the blue—or gold—Trump brought up Water Sports at a Virginia event, his incoherent insistance that he's not into golden showers being all the proof you need that Trumpty Dumpty absolutely definitely loooooves golden showers.
Even better, the golden-spray-tanned Agent Orange Abomination is now telling Republicans not to vote in 2022 or 2024 unless they "solve" the 2020 election he lost.
Glory, hallelujah! What a miracle of self-defeating, petulant narcissism. Looks like the Trumpus himself could save our democracy from fascist disaster by sabotaging his own constituency, like a crazed and enraged Sampson bringing down the temple of evil.
This is one reason I think that Twitter and Facebook shouldn't censor tRump. Another reason is that they shouldn't censor anyone. Either that, or break up the Big Tech monopolies!
Screenshot Splosh
Most Big Tech social media, including Tiktok, censor porn and even "sexually suggestive" content. However, cooking videos are fine, so many Tiktokkers are making porn-y cooking videos, to beat the censor bots while stimulating all the food fetishists and splosh kinksters out there.
Do you like splosh? Then you'll love Screenshot Media's comprehensive article by Malavika Pradeep, featuring the skinny on sploshing from yours truly.
Just in case you don't know a pie-in-the-face from sitting-in-your-cake, "splosh" is erotic food play.
LOTS more here: "Inside the wet and messy world of sploshing, the latest food fetish gripping TikTok."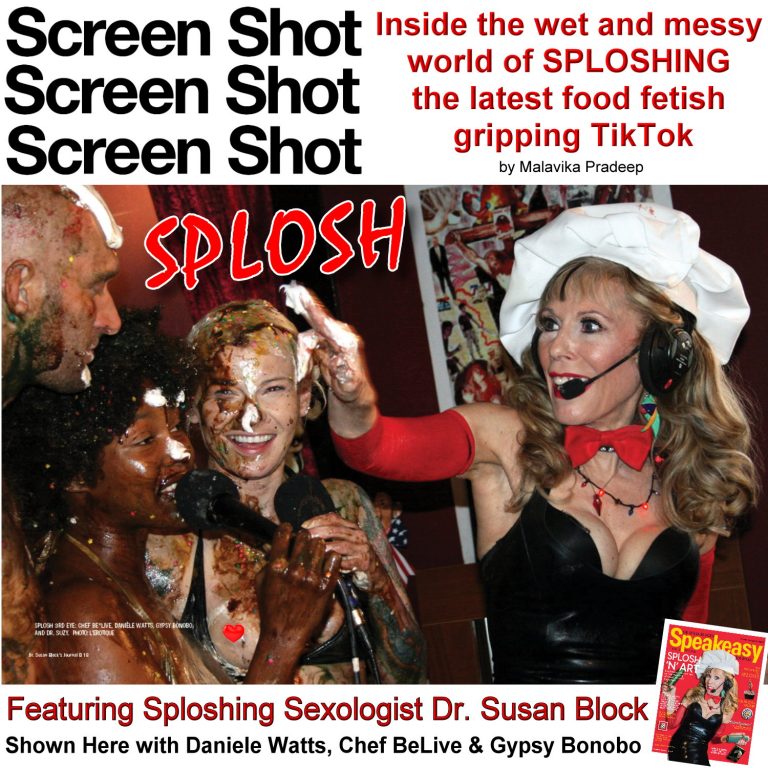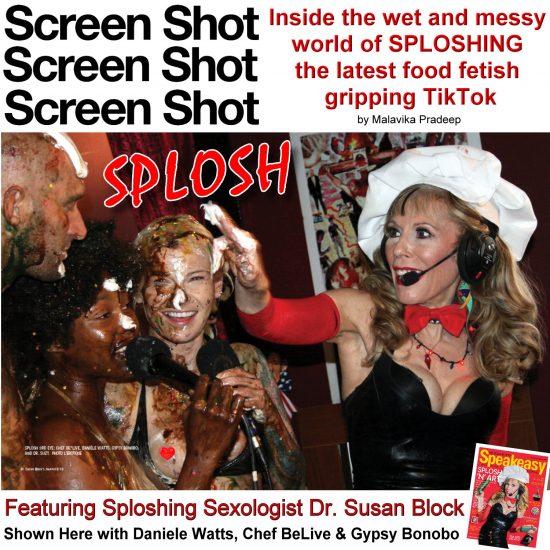 So many kinks, so little time! Let's clean up that mess and get ready for dessert…
Straight Men & Sugar Daddies
You may have heard of "gay for pay" in porn, but how about sugar dating? Mel Magazine's Mark Hay interviewed me about the rising phenomenon of heterosexual male sugar babies who are paid to have sex with men for his article "The Private Lives of Straight Men with Sugar Daddies" (9/21).
It's a pretty good intro, which also quotes my AASECT colleague Joe Kort and others, on the subject. But it's short, leaving a fair amount out, so I fill in a few of the blanks on F.D.R.

For many attractive people of all genders and orientations, sugaring is more about exhibitionism than intimacy

As a sex therapist, I counsel a lot of men who identify as straight, but for various reasons, engage in different kinds of sex with other men, or at least fantasize about it. They are often married or living with girlfriends. Usually, their male/male sex is pretty secretive, especially among older men. So, why do they do it? If they are "straight," why don't they seek sugar mommies? There are many factors, but here are the four main ones:
In a way, a lot of the straight male celebrities, like Timothée Chalamet and Hugh Grant, who seem to cultivate gay fans are "gay for pay" (even though they don't do porn). These kinds of celebrities' gay fans would then be their sugar daddies because, after all, they support them and their expensive tastes, don't they?
Here's a twist: The other day, I talked to a "straight" male sex therapy client who lost his job as a construction worker in the pandemic. He needs money, but isn't interested in another backbreaking construction job. He wanted to know if I knew of a sugar daddy who would take care of him and his wife in exchange for the two of them being the guy's consensual sex slaves. No, I didn't hook him up, though I did help him handle his and his wife's mixed feelings.
What about the daddies? Why do some seek out straight guys? I counsel several "sugar daddies" who have "straight" male lovers that they pay for sexual favors. Their feelings range from savoring it (somewhat sadistically) because they're straight to feeling sad that their sugar babies are not as "into it" as they are. Sometimes they're jealous of their sugar babies' wives or girlfriends. Sometimes it's part of the turn-on that they're "taking" a woman's man, albeit temporarily. Some Sugar Daddies specifically seek out male Sugar Babies who identify as straight because it makes them feel powerful and/or special that the straight man is stretching his identity limits to have sex with them. They might get a diabolical thrill out of the situation, like they're on a mission to *make* men gay. On the other hand, some of the closeted daddies like straight male sugar babies because they too identify as straight to the outside world, so in the Sugar World, they want to be with a fellow closeted sexual *renegade* whom they feel is more likely to share and keep their secrets.


After my explanation, Capt'n Max tells the true tale of his own experience as a handsome young man in Hollywood approached by a powerful Sugar Daddy/producer who offered to make him "bigger than Tab Hunter" in exchange for being his straight male sugar baby (though no one used that term at the time).
Needless to say, young Max did not seize the opportunity. Listen to the show above or below to find out how he literally wiggled out of it!
Star Trek Sugar Baby
Speaking of Sugar Daddies and Straight Male Babies, at the age of 90, Star Trek's legendary Captain Kirk, aka William Shatner, soared to the edge of space, thanks to Jeff Bezos' burgeoning billionaires-for-millionaires charity space franchise.
The "high" point came when Bezos shat on Shatner in the middle of his emotional speech.
That is, Mr. Amazon sprayed champagne (at least it wasn't tRump's golden showers!) on and around Mr. Star Trek who looked a bit peeved (staying in character). Some billionaire bromance.


But then, Bezos, being the Sugar Daddy whose chubby chode-shaped rocket took 90-year-old celebrity Sugar Baby Capt'n Kirk to the edge of space, did pay for the ride (or you could say, Bezos shat Shatner into space)…
And he who pays gets to spray. It's the billionaire space dick credo.
Sock Jobs & Loooove
Smack in the middle of all that sugar, Sock Job fetishist Gabe calls in to let us know that our advice worked, and his girlfriend, who was listening to the show, gave him the Best Sock Job Ever!
A sock job, as we defined it on our Kick Month Kickoff 2021, is a foot job where the foot-jobber is wearing socks. Gabe prefers black tube socks with pink stripes, though he is also willing to expand his kink palette to include other argyles and nylon stockings (which I recommend when he asks what kind of "cock sock" to wear for intercourse) and maybe even Capt'n Max's specialty: foot rubs (with socks on or off).


We are always pleased to hear that our sex tips lead to joy and success, but we're having a hard time hearing Gabe or believing him when he says that his girlfriend "Sammy" is right there, as we speak, giving him a sock-o sock job.
Of course, between the power of sex-positive thinking, a telephone voice changer (making Gabe—or is that Sammy?—sounds like they're talking through a sock), the proper accessories and the Erotic Theater of the Mind, anything is possible.
Whether he's making tube-sock love with Sammy or self-sock-jobbing, at least Gabe is having a great Kink Month!
Although, on this broadcast, that would be tube-sock looooove, Max being loooove-sick since he told me he loooooved me in the Louvre on a mattress below the Mona Lisa during our orgasm-enhanced afternoon nap.
That's right, we're still napping on the job, and the Arcadia Zoning Politburo is still in the throes of Mattress Madness. If you haven't already, read all about it here.
Who knows what will happen next, but we're ready, armed with the truth, kink-positive determination and a lot of looooove!
© October 16, 2021 Susan Block, Ph.D., a.k.a. "Dr. Suzy," is a world renowned LA sex therapist, author of The Bonobo Way: The Evolution of Peace through Pleasure and horny housewife, occasionally seen on HBO and other channels. For speaking engagements, call 213-291-9497.