It's The SUZYs! Announcing the 9th Annual DrSusanBlock.Tv Awards for 2020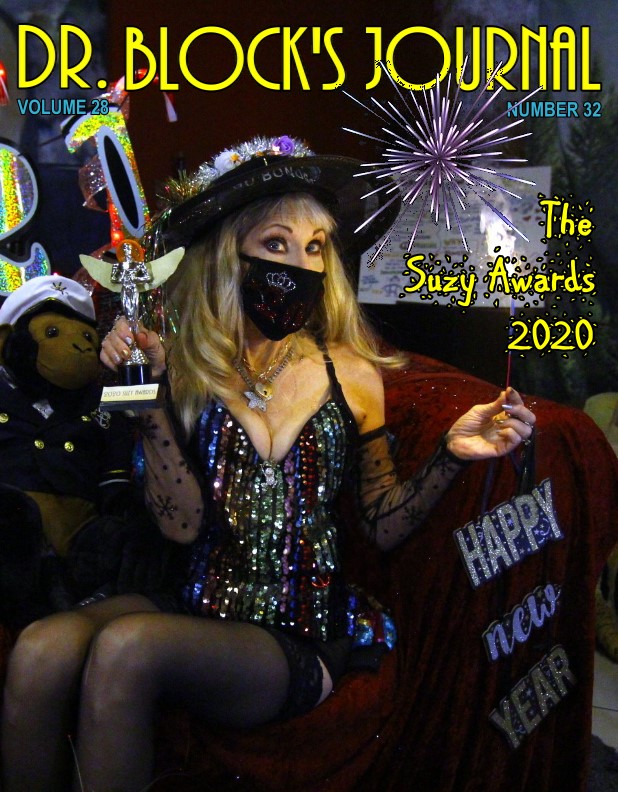 Length 1:20:24 Date: Dec. 26, 2020
by Dr. Susan Block.
Even in the thick of the Coronapocalypse, the SUZY Awards must go on!
It's our LAST live DrSuzy.Tv broadcast of 2020, the year that met its "match" in Hell.
As Baba Wawa might have said, "This was 2020."
And oh what a annus horribilis it was…
Not at all what we expected, to say the least, when we broadcast the first show of 2020.
Of course, now we know because, as they say: "Hindsight is 2020."
I'm not sure if "they" mean a Happy Nude Rear, but here we are.
Happy Nude Rear, Brothers and Sisters, Lovers and Sinners!
And speaking of looking to the caboose of this 365-day train wreck, it's the 2020 SUZY awards!
The Anti-Award Awards
Honoring excellence in broadcast artistry and exhibitionism for the 9th consecutive year, the DrSusanBlock.tv Awards, a.k.a., "The SUZYS," recognize erotic performance, sexual intelligence, pro-sex politics and Weapons of Mass Seduction, celebrating The Bonobo Way of female empowerment, male well-being, sharing resources, ecosexuality and peace through pleasure in all kinds of weather, and paying tribute, with love, humor and deep respect, to those who work and play in the fields of peace and sexuality.
Deadly pandemic, "hoax," hex or just a pain in the proverbial butt (and another excuse to say Happy Nude Rear!), we are here to express our appreciation to our favorite show guests of this crazy, messed up year.
Thus, on the cusp of 2021, well before XBIZ, the AVNs, the TEAs, the Oscars, Critics Choice, the Grammys, the Tonys, the Emmys and the Golden Globes trot out their awards, "The Greatest Sexuality Show on Earth" is here to acknowledge the best and worst of 2020 with The SUZYs!
Our first goal, as always (besides having a cum-ton of fun), is to advance the cause of sex education and research. This is especially important right now, in the face of mounting draconian crackdowns on sexual speech by the Internet and the government that made 2020 sting just a little more for sex workers and supporters.

#FreeAssange! C'mon, Donnie, do it! Stick it to the libs! What have you got to lose?

Second, the SUZYs aim to inspire better pornography and/or erotica with a more sex-positive and sapiosexually stimulating aesthetic.
Our third main objective is to save the real bonobos from extinction and support a bonoboëque ethos in the world.
Speaking of "ethos," our Bonoboville Ethics Committee has, since our inception, stipulated that DrSuzy.Tv staff members, no matter how deserving, are ineligible to receive SUZY awards….
So, no one on our courageous crew is singled out for a SUZY award—not even my special Pomeranian show-stealing assistant Chico!
However, because we were raised in the United States of Everybody-Gets-an-Award, we do give a special DrSuzy.Tv "staff award" to our beloved staff, a "thank you for your service" prize.
Otherwise, all award winners are selected from guest appearances and products used on the 31 live broadcasts of The Dr. Susan Block Show in 2020.
In a way, the SUZYs are the anti-award awards. While some of our categories are serious, many are parodies, and there are the "boobie" prizes.
These are not to be confused with the awards for best boobs. Maybe because we did so many Bedside Chats where you just see the guest from the waist up, but this year, we have three of them (see below for the winners)!
Like so much of life, the good and bad are mixed together; it's up to you to figure out which is which.
Though 2020 kind of sucked for most of us, was truly devastating for far too many and meant we couldn't have in-person guest for most of the year, thanks to the magic of the Zoom, we did do some great Bedside Chats featuring a variety of luminaries in different fields who deserve to be honored and applauded for their diverse talents and efforts.
Thus, without further ado, and with a fond farewell to a terrible but still, in some ways, terrific year, here it is: another hot listicle of sexperts, sexpots, politicos, artists, exhibitionists, visionaries, revolutionaries, hot babes, bitches and a few bastards who have appeared, been placed, mentioned or parodied on DrSuzy.Tv.
And the winners are….
#GoBonobos
Bonobo Politics
Porn for the People!
Kink, Fetish & BDSM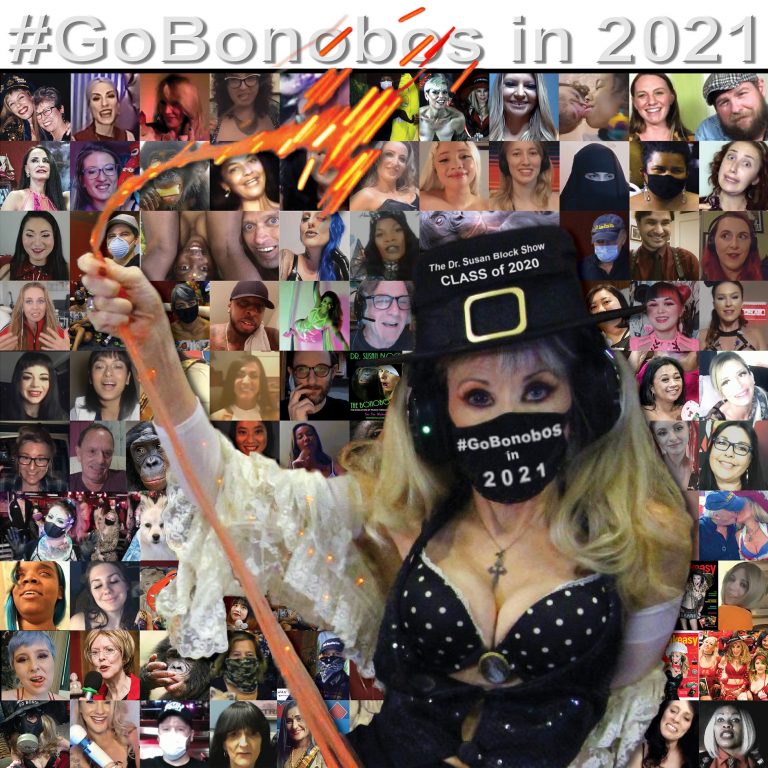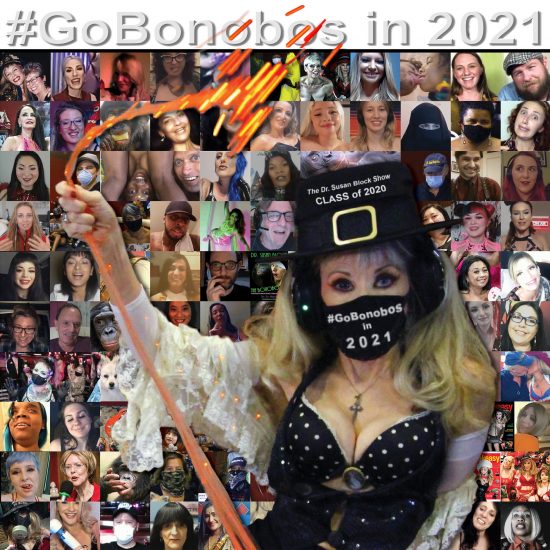 Read #GoBonobos in 2021
Read it on COUNTERPUNCH


Arts & Media
See 2019's Winners. See 2018's Winners. See 2017's Winners. See 2016's Winners. See 2015's Winners. See 2014's winners. See 2013's Winners. See 2012's Winners.
Three cheers and a bonobo beer for the winners, and a big booooo for the losers (though, once again, it must be said: Luzer's a winner), especially the "Sorest Loser," the Duke of Disinformation, the Infant Terrible of Whining whose favorite Winter Holiday must be Festivus (for the "Airing of Grievances;" he couldn't "care" less about "the rest of us").
Nevertheless, here in Bonoboville and all over the world, many of us are still holding out hope that, while pardoning a bunch of war criminals, crooked cucks, oligarch fellators and family members, the Trumpus might pardon one of our SUZY Award winners, "Most Bonobo Journalist," Julian Assange.
C'mon, Donnie, do it! Stick it to the libs! What have you got to lose?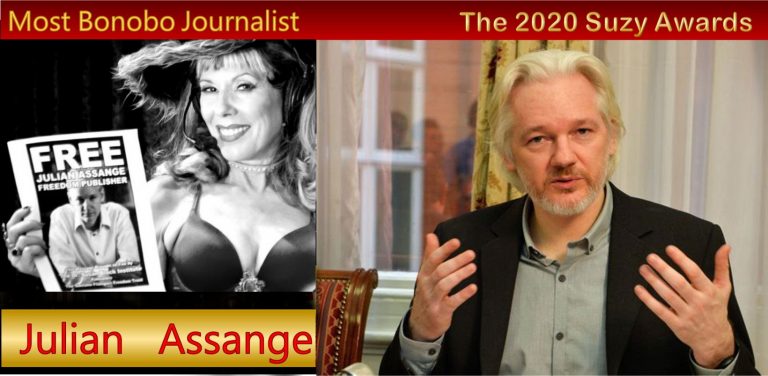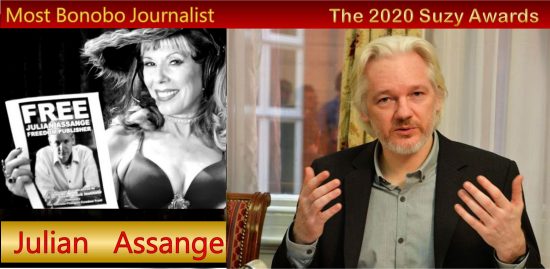 A pardon for Edward Snowden would also burnish your "legacy" (lol) nicely, Don.
However, as even Snowden agrees, Assange is suffering extreme hardship right now in London's awful Belmarsh Prison, and all because he published some uncomfortable facts about the numerous and ghastly war crimes of the American Military-Industrial Complex, facts which were re-published, sometimes with credit, sometimes not, by mainstream publications like the New York Times and CNN.
Assange is a true martyr for our journalistic freedoms, and all who do not call for his release and exoneration are complicit. Here on DrSuzy.Tv, we've been calling for it for over 10 years now.
Who knows if the "Sorest Loser" will take me up on this, but I have to try to reach out even to my so-called "enemies" (it's the Bonobo Way!).
Besides, what's an awards show without some passionate political messaging?
This just in: Apparently, Trumpty Dumpty is now the "enemy of my enemy" (in this case, mean old Mitch McConnell), and if he's pushing for $2000 COVID relief checks, along with Bernie, Nancy and everybody but Mitch the Bitch for the Rich, this this Sore Loser will be my newfound friend… unless Don the Con's just posturing to flimflam hopeful progressive marks like me.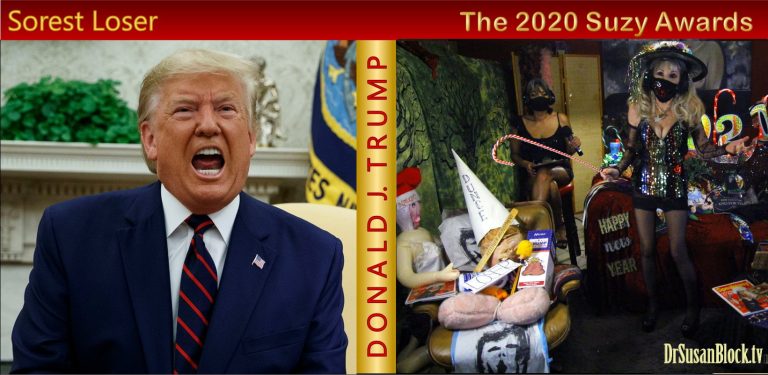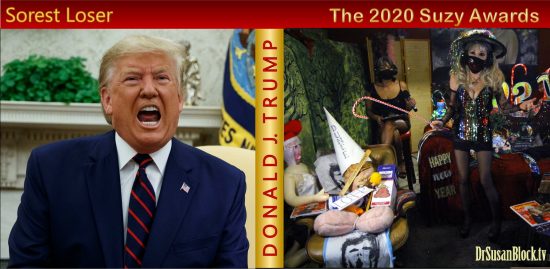 In the immortal words of "Most Bonobo Politician" AOC: "Let's go!"
A Spectacular Spectacle
As is traditional for The SUZYs, we don't invite the winners, or anyone at all to the award ceremony.
Though pretty much every year, one or a few of our regular guest just drop in on us, sometimes even streaking naked through the ceremony like the 1974 Oscars!
Well, Chico streaks through this show; after all, having pulled off his itchy silver tinsel collar, he's totally naked!
Still, that's just another thing we're missing at the SUZYs 2020: no human drop-ins whatsoever.
It's the Coronapocalypse. We haven't had an in-person person on the show since March.
So, this show pretty much consists of me announcing categories and the names of the winners. This is not quite as boring as reading the phone book! Plus with the addition of the winners' images and some of their award-winning video clips, it's a downright spectacular show.
Not just the first awards show of the new year, but the best!
I share the task of announcing the winners with my lovely new assistant Mariah.
Though Mariah wasn't here for most of our 2020 shows, I give her the assignment of watching them, both censored on Youtube and uncensored on DrSuzy.Tv.
I know she did her homework because her remarks about various shows and guests are right on target. She even reminds me of details I'd forgotten, like how our V-Day Foreplay show was also a celebration of Galentine's Day.
And then there's Bonoboville's Pomeranian-in-Residence, Chico Peggles Quintana.
I know he wants his own SUZY award—so he can tear it apart along with his other toys—but as a DrSuzy.Tv staff member, he's just not eligible… no matter how adorable.
Last-Minute Award: "Best Gift of 2020"
As always, we are safety and ecology-minded, carefully placing a SUZY-award-winning Glyde America Vegan Condom on the golden head of our SUZY statuette which, at optimal balance, looks like a latex halo or one of my hats. The SUZY's golden wings are designed (and taped on) by Miguel McQueen.
As you can see, we present the majority of the more serious awards in the beginning of the show, saving most of the fun stuff for later.
Mid-show, just before we get into the popular category of "Porn for the People," we take a break to open a very special, very large Xmas gift box addressed to me and Capt'n Max.
We'd actually received it a few days ago, but a note on top of the big red and blue package says "Don't Open Until Xmas."
Being good little elves, we wait until the day after Xmas, which happens to be the 2020 SUZY awards.
Not only is this gift humongous, it's very securely taped.
I'd already broken almost all my fingernails playing with Chico, but I break a couple more trying to open this thing.
Fortunately, Mariah comes to the rescue with a pocketknife.
Like a girl scout, this assistant is prepared! And she looks quite sexy in her sparkly little black dress slicing open that big box.
Inside are two giant black trash bags, our very own Santa sacks of toys (check out the gallery for more pics of the amazing opening process).
What could they hold?
Drumroll please…. as from inside the black bags emerge two big custom-made bonobo plushies dressed up to look like Capt'n Max and me!
Capt'n Max Bonobo has a captain's hat and double-breasted navy jacket. No pants though—the better for his giant dong to swing freely.
Yes, these plushies are anatomically correct… for human porn stars!
The Dr. Suzy Bonobo also has explicit genitalia with a vulva that looks like one of those yummy vulva cookies, though no, I didn't lick it.
She also has a vagina that's pretty penetrable, probably made from a Fleshlight toy, though too tight for Capt'n Max Bonobo—unless we use lube, and I'm not about to lube up a stuffed animal.
Yes, I already tried making them have sex, putting them into different positions, plushie pervert that I am.
As for Dr. Suzy Bonobo, like the original, she sports long blonde curls, a floppy hat and a pink bikini.
What a cute couple!
As those of you who know me know, I'm not crazy about most gifts.
Don't get me wrong; I'm always grateful to receive them, and it's the thought that counts… even when it's a toilet bowl light (thanks Mar!).
But usually, I get the kind of thing—soap, candles, candy, bath salts—that I then joyously *regift* to someone else.
There will be no regifting of the Capt'n Max and Dr. Suzy Bonobo Plushies. They are too precious… and so amazing in how they capture our unique Commedia Erotica styles.
The giver of this awesome gift tries to stay a little mysterious. Who could it be?
Then we find a "clue"… One of several cards was signed!
The signature is so unmistakable, I feel the giver actually wants me to reveal his identity as longtime fan and friend of The Dr. Susan Block Show, former adult performer and eternal bon vivant, Dragon Steele.
Thank you, Dragon! You win the "Best Gift of 2020" SUZY Award!
Vaya Con Dios 2020 & Happy Nude Rear!
After the live broadcast, we party like it's 2021… and it almost is!
Sadly, there are no post-show orgies like in the past; it's the Coronapocalypse.
I light the Hanukkah candles (even though Hanukkah's over) next to our Virgin of Guadalupe shrine.
Then I amuse myself by lighting sparklers, playing with fire like I've been doing around the holidays since I was about six and almost burned down the house playing "Hot-Wax Hanukkah" with myself.
Not wanting to add fuel to the horrendous California fires, I pretend I'm having a threesome with the plushie bonobos.
Weird, I know; but with the Coronapocalypse so severely limiting human physical contact, some of us are looking with more interest at dolls.
I notice Harry Sapien trying something similar with Stormy the Blow-Up Doll (what was she doing laying on the floor, face up and skirt up, outside your office this morning, Harry?).


Whether we think we can "Make American Great Again" or "Go Back to Normal," we can never turn back the clock.

No doubt, like any traumatic experience leaves its mark, the Coronapocalypse is making all of us a little weird.
Here in Bonoboville, we instead satisfy the corporeal cravings we used to channel into our post-show bacchanalia by chowing down on scrumptious leftovers from our excellent Xmas dinner with all the trimmings made by Chef Gideon.
No wonder, weight is up in the pandemic. What other easy pleasures are left to us but eating, drinking and smoking weed?
As we pull down our masks to stuff our faces, attempting to keep physical-distancing as best we can, we talk about past orgies and other pre-Coronapocalypse and even pre-Internet adventures.
It's sobering to hear Bonoboville's younger crew talk about their parents as being so very "old," and then find out that they're actually younger than us.
Sometimes Max and I forget these statistical facts as we don't really "act our age." This has its drawbacks—no pensions for us, no 401K's, no retirement really.
But it's part of what keeps our old married sex life hot and humming along.
Speaking of which, later that night, we pull down our masks to sneak a kiss under the fake mistletoe.
Then Santa slides down my chimney, and he's hung like the plushie bonobo!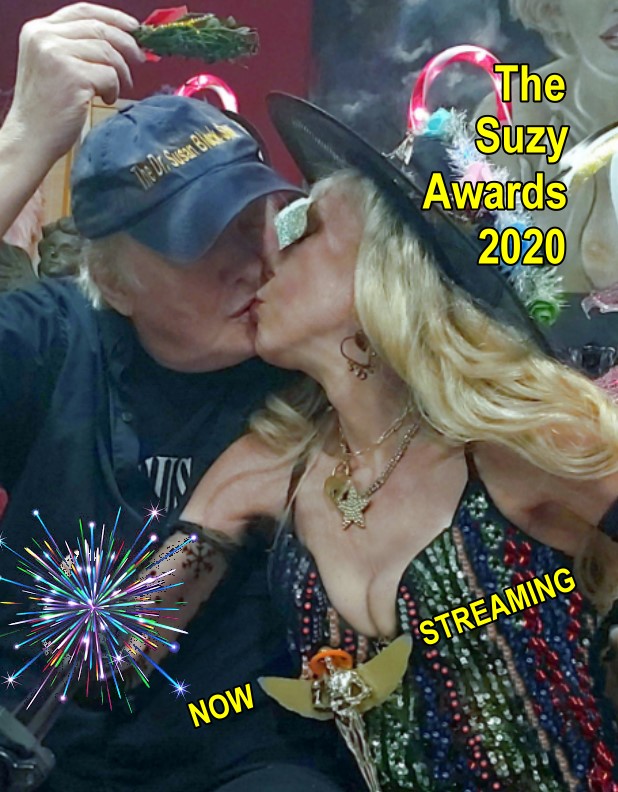 Jingle Balls Rock!
Sex or no sex, when I talk to the young'uns about living life untethered to phones, computers or any devises, as we all did before the mid-1990s, I find myself feeling like my own great grandmother telling me what it was like when her regular form of transport was a one-horse open sleigh.
Then, we all believed we were making "progress" as civilized human beings.
Now, we're not so sure.
Nevertheless, whether we think we can "Make American Great Again" or "Go Back to Normal," we can never turn back the clock.
So good-bye 2020, and a very Happy Nude Rear.
Here's to ringing in 2021 for happier, healthier and hornier times ahead!
See 2019's Winners. See 2018's Winners. See 2017's Winners. See 2016's Winners. See 2015's Winners. See 2014's winners. See 2013's Winners. See 2012's Winners.
© December 26th, 2020 Susan Block, Ph.D., a.k.a. "Dr. Suzy," is a world renowned LA sex therapist, author of The Bonobo Way: The Evolution of Peace through Pleasure and horny housewife, occasionally seen on HBO and other channels. For speaking engagements, call 213-291-9497.
2020 SUZY AWARD WINNERS PHOTO ALBUM
2020 SUZYs Award Show PHOTO ALBUM
---
Explore DrSusanBlock.com
Need to talk? Sext? Webcam? Do it here. Have you watched the show? No? Feel the sex. Don't miss the Forbidden Photographs—Hot Stuff, look at them closely here. Join our private social media Society. Join us live in studio 😊. Go shopping. Gift shop or The Market Place. DrSusanBlock.tv, real sex TV at your toe tips. Sex Clips Anyone? FASHION, we have fashion! We also have politics. Politics? Have you Read the book? No? How about the Speakeasy Journal? Click here. Ok, how about some free sex advice?
---
---