Emmys Documentary Reception 2019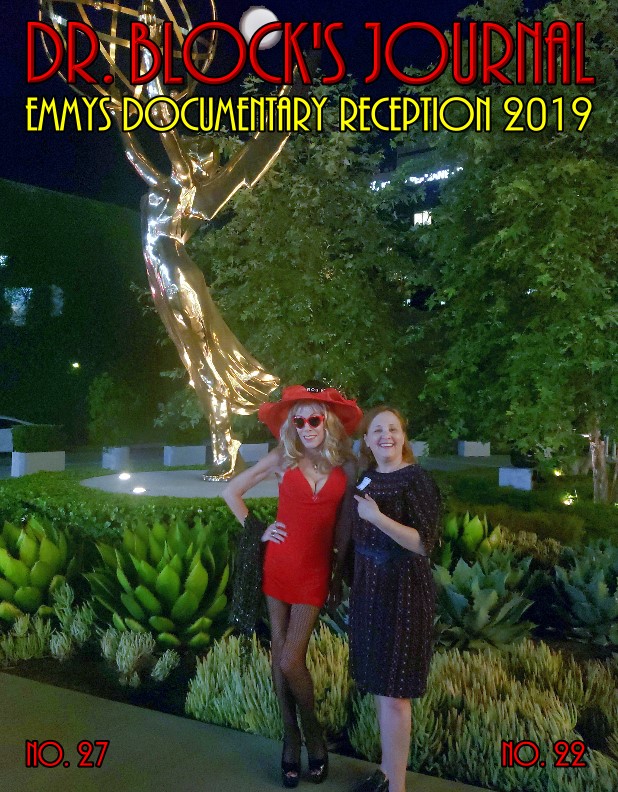 It's Emmys season, so I slipped on my red-bottom peep-toe heels to join my fellow Documentary and Reality-TV makers and shakers at the Academy of Television Arts & Sciences (ATAS) Emmy nominees reception, by the light of the silvery and very full Harvest Moon of Friday the 13th.
When you've got a date that famously ill-fated, unusually hot, yet luminously lit, somebody's got to get lucky.
Not only was it Emmy's 71st anniversary of recognizing "excellence in television," it was my own 21st anniversary as a very lucky, card-carrying, dues-paying ATAS member, having been admitted into this award-bestowing TV "family" by the late great Dave Bell, Emmy-winning producer of my HBO specials, Radio Sex TV and Radio Sex TV 2: Off the Dial, back in 1998.
Not that Dave won any Emmys with me. Though HBO has won more Emmys than any single network, not one of my own HBO specials, nor my Real Sex clips nor any other televised versions of The Dr. Susan Block Show, has ever won or even been nominated for an Emmy, even though—or maybe because—it's "The Greatest Sexuality Show on Earth."
Though my HBO executive producer (and fellow Yalie) Sheila Nevins did thank me for "showing [her] that sex education can be sexy," later declaring that she's proud of her multiple Emmys and Oscars for her many stellar non-sex documentaries, but she really loves her revolutionary "pussy" films (like ours).
Besides, what The Dr. Susan Block Show doesn't have in award bling, we make up for in sustainability, having been on the air—public access TV, as well as the Internet —since 1991, and live radio since 1984. That's over three decades of almost weekly live broadcasting, which is a lot longer than any of the esteemed Emmy-winning programs.
Most TV people would prefer a gold-plated statuette to the sustainability and personal control I've maintained outside the Hollywood box. I understand that, and honestly, I wish I could have both. However, if I have to choose, I prefer doing what I do without corporate overseers breathing down my low-cut back.
Still, I love to cheer on the nominees at this annual reception honoring their excellence, hard work and ability to walk the fine line between compromising their vision and getting their project green-lit, in the can and out into the world of eyeballs and opinions.
Hot Harvest Moon & Yale Panties
Though I wore latex last year and the year before, the climate-changing temperature was just too high for the rubber to meet the road without melting into a hot mess. Though the Harvest Moon heralds the Fall, it was scorching summer-hot. So I slipped into my coolest cocktail dress: a red spandex number topped with bling around the shoulder straps.
Accessorized with my red and white bulldog Yale thong, I felt I was expressing my solidarity with my fellow Yalies coming out in support of Deborah Ramirez's accusations against Judge Brett Kavanaugh thrusting his junk in her unconsenting face at a drunken dorm party (more about that here), even though nobody saw it… but you.
Capt'n Max declined to be my "plus one." He had work to do, and is usually bored silly at these Academy events.
So off I went with Bonoboville Technical Director Abraham Perez looking smart in his skinny tie, black pants and crisp white shirt (too hot for a jacket).
Academy Renovations
Almost as soon as we arrived, we bumped into venerable ATAS governor Mitch Waldow and his charming wife Ellen Lutwak.
Abe snapped a few photos of the three of us posed before the giant Emmy statue which has long graced the entrance of ATAS, though it used to be ensconced in a small body of water, and now it's on dry ground surrounded by exotic plants.
The foliage is very nice, but I miss the pond that gave Emmy an air of Old Hollywood mystery, like the Lady of the Lake raising her globe toward the heavens.
Is the switch another sign of climate change? Water shortage?
Now that the ATAS building has been renamed the Saban Media Center, thanks to a major cash infusion from billionaire power couple Cheryl and Haim Saban, there have been continuous major renovations.
There's also a gigantic "Television Academy" sign out in front… just in case you didn't know where you were.
Mitch Waldow, Art Kunkin & Our First Police Raid
After the photos, we parted company with Mitch and Ellen, promising to meet up again before the end of the evening, but we never did. Too bad because I would have liked to have told them about going to the Art Kunkin tribute, since Mitch used to write for Art's LA Free Press back in ancient journalistic times.
Mitch also was once a news supervisor at the now-defunct UPN-TV Channel 13 when the station filmed The Dr. Susan Block Show during our first police raid.  What a night that turned out to be when mid-broadcast, about 20 heavily armed, horny and confused LAPD officers dramatically burst into our home at the "Villa Piacere," punching our security guard, flashing their guns and harassing our guests, then saw the TV news cameras and left without charging us with anything. Later, they came back, again for no good reason, so I sued the LAPD and won a nice settlement (check out my briefs).
Good times.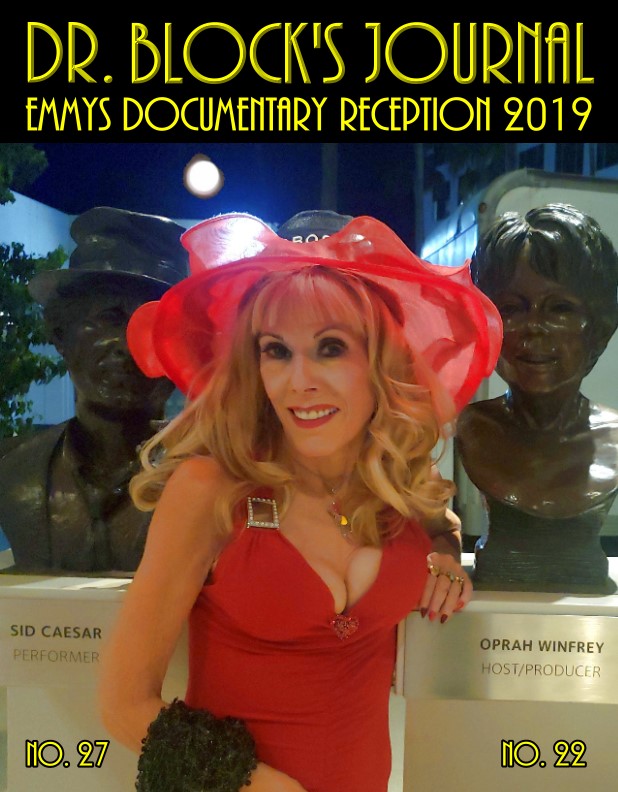 Marie Kondo of Sex?
Pretty soon, we ran into other old friends from our HBO days, including Scott Mlodzinski who was nominated for his work on Tidying Up with Marie Kondo on Netflix. He was happy, but feeling unlucky and a bit nervous that Queer Eye (also on Netflix) would win (it did).
Scott said I could be the Marie Kondo of sex. Tidying Up Your Sex Life? I'm flattered, but do we want our sex lives to be tidy? Tidy is nice, but messy sex is fun.
As soon as we left the statue, we met a group of ladies in colorful (but tidy!) dresses and one guy in a suit who looked like he could use a cold shower.
One of the ladies, Nancy G. Cohen, was nominated last year for A Long Road to Freedom: The Advocate Celebrates 50 Years.
We hung out later, talking about sex, filmmaking, LGBTQ issues and the Bonobo Way.


Another Emmy award-winning producer, Paulina Williams, was wearing a long spaghetti-strapped dress in exactly the same shade of red as mine, so she insisted we take a photo.
Who am I to turn down a photo with a fellow Lady in Red? Certainly not on a Full Moon Friday the 13th.
Shari Cookson, Sheila Nevins, HBO & MTV
Then my old friend, ATAS Governor Dan Birman, got up on a small stage with another guy to announce the nominations.
Dan went through the documentaries, and the other guy went through the reality shows in the "structured" and "unstructured" categories. I don't quite understand the difference. Of course, Tidying Up with Mari Kondo would be "structured" (it's tidier!), and No Reservations with the late great Anthony Bourdain would have to be "unstructured."

I'm pretty sure my show would be considered "unstructured" if for no other reason than sex is messy. I'm also pretty sure that, though The Apprentice would have been in the "structured" section, the Drumpf show in the White House is as unstructured as one of Brett Kavanaugh's drunken dorm parties.
At one point, Dan called the director of both my HBO specials and one of my Real Sex segments, the amazing Shari Cookson, up to the stage. A wave of excitement rippled through the crowd as Shari—a former ATAS governor who has won a couple of Emmys, though (again) not for my show—is very popular in the documentary community.
But alas, Shari was nowhere to be found. Through a collective sigh of disappointment, I could hear someone saying, "I see Charlton McMillan" (Shari's husband, an Emmy-winning video editor who edited our HBO shows), but by that time, Dan and the other guy had stepped off the stage.
Then suddenly, there were Shari and Charlton. Now that's what I call special Friday the 13th full moon LUCK.
We hugged like we hadn't seen each other for a couple of years, which we hadn't. So we made up for lost time.  We talked about birth, death and television.
In terms of birth, it turns out that the baby Shari was carrying when she directed our first Radio Sex TV is now having a baby, so Shari will soon be a grandmother. Congrats Shari!
In terms of death, she still really misses Dave Bell who was like her Hollywood father. Then her real father passed away rather suddenly a short time ago. These are tough times. But Shari is so strong, always working, creating and taking care of other people, whether in her family or on her documentary film projects.
Speaking of docs, our former executive producer, Sheila Nevins, now a beautiful, busy octogenarian (and best-selling author), is no longer Empress of HBO Documentary programming. However, she's not retired; she just moved over to MTV, where she now reigns over the Documentary Films division, of course. #GoBonobos for Sheila! Just goes to show you're never too old to make a change, have an orgasm or be culturally relevant to fellow human beings one eighth your age.
After the reception, I did a little research, and it appears that Sheila's move to MTV is a sign of big changes at HBO. Big changes back when Ted Turner merged with Time Warner were, I was told, one reason why my show wasn't renewed. Now there are different big changes. The new buyer of HBO's sterling properties and reputation is a phone company. Yep, I always said that the phone is the crux of communications, and this Friday the 13th freaky factoid is that AT&T bought HBO and seems to be remaking it in the image of Netflix.
Not that Netflix is freaky (on the contrary). But it's not HBO. That snappy old motto "It's not TV, it's HBO" might have to be changed to "It is TV. Find something special somewhere else."
One disturbing sign: According to NBC's Claire Atkinson, Dish Network CEO Charlie Ergen told a Goldman Sachs crowd "HBO has too much sex and violence for rural people."


So it looks like there will be some restraint of these two popular expressions of passion in HBO's future. That's sad because, though I personally don't like to watch violence (sorry, not a Game of Thrones fan), I don't think it should be censored. As for sex, I don't feel there's enough on HB0—especially without my show—let alone "too much."
It's also ridiculous and hypocritical since "rural people" are the biggest consumers of porn. They also love their guns. As usual, it's not about what people want; it's about what highly paid corporate CEOs say that people want.
Even Shari expressed concern that the new powers at HBO will stop rerunning our specials and Real Sex episodes as they've been doing for 25 years.
The good news is that AT&T wants HBO to offer a lot more content. That might dilute it's quality, but also means more jobs and exposure for more TV and filmmakers.
Who knows, maybe they'll find a spot for a Radio Sex TV Revisited.  Oh right, never mind…  that would be "too much sex…for rural people."
Ironically, most of my sex therapy clients come from rural areas because that's where people need sexual help the most and don't get much sex education… except the wrong way.
Back to the good news: It looks like Shari will be working with the new HBO. In fact, the reason she didn't come up on stage was that she was engrossed in conversation about her new project with the new HBO Documentary head.
When Shari hadn't attended the Emmys 2018 Documentary reception, rumors of her retirement from TV were whispered about. It's true that she is now, in addition to being a film director, an up and coming painter. However, fortunately for television, Shari hasn't quit. Better keep your HBO subscription to see her next masterpiece. No, I'm not in it, but I'll be watching!
Berniephobia & "Anyone But tRump"
Veering over to politics, we didn't have to tell each other how much we loathe the Trumpus and the terrible Trumpocalypse he has unleashed that is even afflicting some of us with Post-Trump Sex Disorder. But there had just been a Democratic presidential debate, so we talked about all those "candidates" competing for our votes, vying for the chance to be the one gladiator, the hero, that goes into the ring with the Trumpenstein, trying to say all the right things in cleverest ways they could. It reminds me of contestants on the old Dating Game or, worse, one of tRump's old Miss Universe contests.
"Whom do you like best?" Shari asked like an excited teenager on a playground wondering which boy I would want to go steady with. Like a shy schoolgirl afraid to say what I really feel, I replied, "Anyone but tRump," which is true, but avoided the question.
Which Shari wouldn't let me do. That's another thing I love about her: She really engages you in a conversation and won't settle for platitudes and small talk. "Okay," I confessed. "Bernie."
Shari's face fell and she repeated the syllables, stretching them into a long screech of anguish, "Beeeerrrrrnnieee?" This made me realize—yet again—that Bernie won't get the nomination, even though he would be, according to polls, most likely to beat tRump.


I felt terrible about disappointing one of my favorite directors, but there's no use hiding the truth, if I'm to be honest as I always have been with Shari (a director is like a therapist). Of all those screamers, schemers and dreamers vying for our votes, I like Bernie best.
"I really like Elizabeth Warren," said Shari, and I immediately agreed that I do too, trying to take the sting off me being such a Bernie Bro. I really do like Liz mainly because she took all her best ideas from Bernie. Bernie is the real deal, and he has been since the early 1960s. Authentic.
Bernie yells a lot like the infamous Howard Beale in Network, Paddy Chayefsky's old classic film about television news, but Sanders' policies are the opposite of Beale's charismatic narcissism (which is closer to tRump). In fact, he's the closest thing to the Bonobo Way of peace through pleasure, recreational sex, female empowerment, male well-being, sharing resources and ecosexuality, which I believe is the way—maybe the only way—to turn this dreadful American death march around. Yes, we need to get rid of Trump, but we also need a dramatic decrease in use of fossil fuels, an end to Perma-War (the worst polluter on Earth), and a more fair distribution of wealth; in short, a revolution of We the People against the corporate interests that are killing us.
But powerful Dems—and even cool people like Shari—don't like Bernie. Liz could certainly get the nomination, having done Wall Street enough favors, and, unlike Bernie, she doesn't threaten the gargantuan military budget. On the other hand, if we can just slash that damn sprawling military budget, we could pay for Medicare for All, a New Green Deal and maybe even subsidize sex work for incels (especially those rural ones), so they don't completely crack up and kill us all.
But hey, as I repeated like a prayer to Shari, anybody but Trump.
Amen and Awomen.
Hopefully, we won't have to hold our noses and vote for Jelly-Brained Joe Biden, though that's looking more likely.
As they took down the Emmys 2019 poster on the podium behind us, we realized they were closing the place, so we gave each other one more hug before Shari disappeared into another crowd of young documentarians gathered around her, soaking in her wisdom and compassion, and off we all wandered into the full moon night.
Back home in Bonoboville, I realized—once again—how I may not win any Emmys, but I'm the world's luckiest "Filthy Mouthed Wife" (with a hat tip to Chrissy Teigen), even on a full-moon Friday the 13th.
#GoBonobos for great sex on (and off) TV!
© Sept. 18, 2019. Susan Block, Ph.D., a.k.a. "Dr. Suzy," is a world renowned LA sex therapist, author of The Bonobo Way: The Evolution of Peace through Pleasure and horny housewife, occasionally seen on HBO and other channels. For speaking engagements, call 310-568-0066.