Emmys Documentary Reception 2017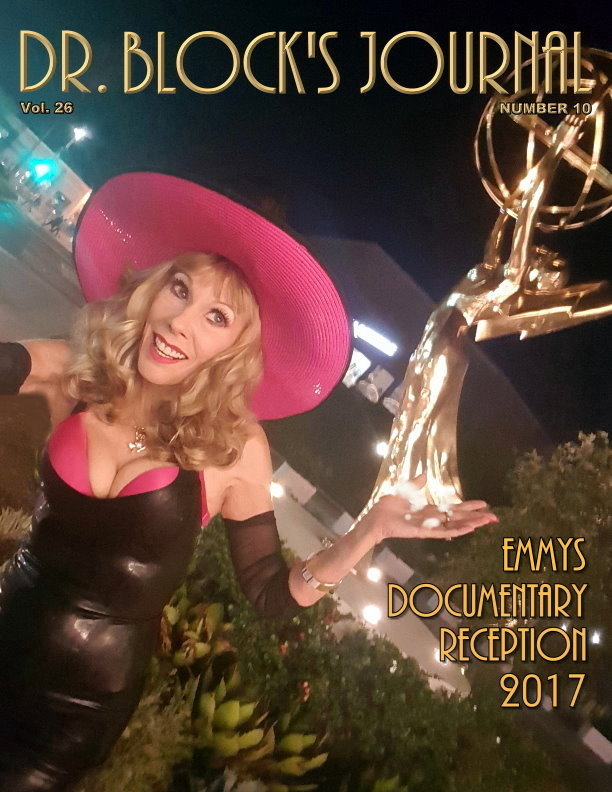 by Dr. Susan Block.
For something like the 18th year, I attended the Academy of Television Arts & Sciences Reception for Emmys nominees in the Documentary and Reality TV divisions.
Yes, I've been a dues-paying ATAS member for 19 years, thanks to my HBO specials.


So-called "Reality TV" is a little too unreal for me; thus, I'm in the "Documentary Programming" peer group.
This time, the sexologist wore rubber. Yes indeed, I was thoroughly lubricated and ready to party in my Abigail Greydanus black latex dress that I wriggled myself into for my first Bonobo Way of Female Power talk at DomCon LA 2016. Needless to say, whereas I was one of many rubber-rockers at DomCon, I was the only one wearing latex at this "exclusive" Emmys reception.
Capt'n Max and I were escorted by our Bonoboville chauffeur, graphic designer and gourmet vegan chef Clemmy Cockatoo, to the newly refurbished Academy of Television Arts & Sciences building, now rechristened the Saban Media Center.
I feel downright ancient when I say that "I miss the old Academy" with its luxurious staircase and other vintage Hollywood charms, but it's true. The Saban feels like a fancy food court at a high-end shopping mall. Not as glamorous as yesteryear. Though I must say the food was yummy as ever: lobster rolls, prime rib, sautéed salmon and tuna tartare. Not much for vegans like Clemmy, though she happily picked the cheese balls out of their mixed veggie concoctions and creamed parsnips. And the company was sparkling!
We met up with my former HBO special director Shari Cookson, a real-life MILF whom I love and adore. As a Governor of the Academy, she noticed that Donald Trump remains on the list of members of the Documentary peer group, from a time when Documentary and Reality TV were one category.


"I want to kick him out of it," Shari declared passionately.
"Go for it," I encouraged. "Go bonobos." It may seem small, but every gesture of #resistance counts. Besides, it's good Trumpocalypse Therapy for all involved.
We also met Brent Miller, up for an Emmy award for a TV doc with Norman Lear. Small World News: Brent is a friend of "Jesus Camp" producers Heidi Ewing and Rachel Grady who recently produced a hot new documentary called "One of Us" starring Luzer Twersky. Remember Luzer who used to take us to these Emmy shindigs, when he was our Bonoboville chauffeur? When not driving, he picked up several "Best Actor" awards for his brilliant and sensitive portrayal of a Hasidic cuckold in "Félix & Meira." He then made an effervescent (albeit brief) appearance in Transparent and is now starring in Ionesco's "Rhinocerous" in New York. Luzer's most important accolades are, of course, his SUZY Award for "Best Pick-Up Artist" (2014) and "Funniest Former Fundamentalist" (2015 and 2016); Luzer is quite the winner.
Bonoboville makes an appearance on "One of Us," or so we hear. They filmed our last show before the Electoral Dysfunction that afflicted us like a plague of Trumpeteering locusts on November 8, Capt'n Max's birthday and now, unfortunately, a date that lives in almost as much infamy as September 11th.
Speaking of the Odious Orangutan (with sincerest apologies to real orangutans who are actually wonderful great apes, almost as cool as bonobos), everyone loved our Impeach Trump buttons (made by Clemmy), even conservative Republican-looking folks from Palm Springs. We gave out a bunch of buttons to folks who looked so grateful, you'd think we'd awarded them Emmys.
That's one nice thing about the nausea-inducing Reality TV show in the White House; it unites people as diverse as Academy of Television Arts & Sciences members—both Documentary and (so-called) Reality—in passionate opposition to his utterly noxious reign.
© Sept. 12, 2017. Susan Block, Ph.D., a.k.a. "Dr. Suzy," is a world renowned LA sex therapist, author of The Bonobo Way: The Evolution of Peace through Pleasure and horny housewife, occasionally seen on HBO and other channels. For speaking engagements, call 310-568-0066.
---
Explore DrSusanBlock.com
Need to talk? Sext? Webcam? Do it here. Have you watched the show? No? Feel the sex. Don't miss the Forbidden Photographs—Hot Stuff, look at them closely here. Join our private social media Society. Join us live in studio 😊. Go shopping. Gift shop or The Market Place. DrSusanBlock.tv, real sex TV at your toe tips. Sex Clips Anyone? FASHION, we have fashion! We also have politics. Politics? Have you Read the book? No? How about the Speakeasy Journal? Click here. Ok, how about some free sex advice?
---