Inner Journey 2: Going Deeper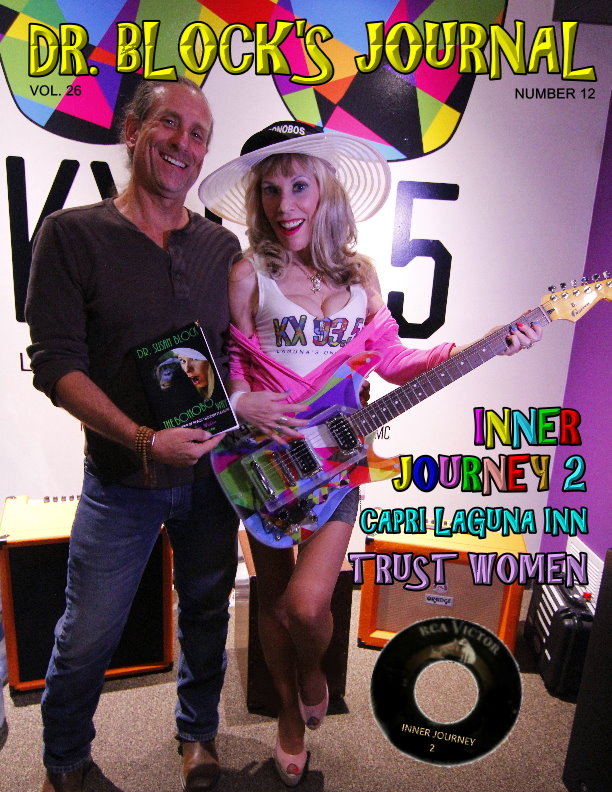 When terrestrial spirit guide Greg Friedman invited me back for another "Inner Journey" into The Bonobo Way, I packed my bikini, my Hitachi, two hats and a husband, put on my butterfly shades, and headed south.
After all, my first Inner Journey (click here for video archive) on KX 93.5, aka "Human Crafted Radio," emanating mellifluously from the only FM station in balmy, bohemian Laguna Beach, had been more fun than a barrel of monkeys; how could I refuse another? I'm too much of a sapiosexual hedonist—or a hedonic sapiosexualist—to turn down such a pleasurable seaside mind voyage.
Besides, I was gearing up to deliver the The Bonobo Way of Great Sex to Adultcon, LA's biggest convention of porn stars and porn fans, and Greg knows how addictively the good craftspeople of Laguna follow porn.
Just kidding, of course. Rather, Laguna is known for its Pageant of the Masters, Festival of Arts and classical, tasteful, nude sculptures… not wild, vulgar, no-holes-barred, XXX-rated pornography. Of course, one person's classical nude is another person's obscene porn. Remember Ayatollah Asscraft's cover up of Minnie Lou, the "Spirit of Justice," with a set of $8000 drapes (prudery isn't cheap) at taxpayers' expense? Whatever the price, there's no accounting for taste.
In any case, I'm always game for an exciting juxtaposition of contrasting cultures. Taking a quick trip—or a trippy quickie—to wiggle my toes in the frothy surf, cool waves lapping around my legs, while breathing the same salty air as the civilized seagulls, colorful artists and discreet millionaires of Laguna, seemed like just the thing to do before venturing into the hot sweaty downtown LA Den of Convention Center Iniquity known as Adultcon.
Capri Laguna On the Beach
With Abraham Bonobo at the wheel, we said "Bye-Bye Bonoboville," then cruised down the lovely California coast and into our overnight digs at the Capri Laguna "On the Beach," just down the street from KX 93.5 FM studios. Of course, everything in Laguna is "just down the street" from everything else; with only a little over 23,000 people, the town is tinier than Trump's penis (though a lot more pleasant to be around).
Picturesque with a personable staff and seductive Mediterranean charm, the Capri was a much better choice for the Captain and me than the Dana Point Doubletree Hilton, where we stayed last year. There's nothing terrible about a Hilton hotel; we're "preferred" members, and we're especially grateful to the LAX Hilton for hosting DomCon every year. As for the San Juan Hilton (where I presented the Bonobo Way of Inclusivity to AASECT), it's a Water Wonderland on the outside and on the inside, a smorgasbord of great bars.
At least, that's the way it was before the hurricanes. Speaking of which, on a serious side note, my heart goes out to everyone in Puerto Rico, including some dear friends of ours, now weathering the unprecedented devastation of Hurricane Maria. There are so many natural disasters (climate change, anyone?) shattering parts of America right now, from "super-storm" hurricanes to deadly earthquakes to huge wildfires, it can feel overwhelming. Of course, being there is so much worse. Though the people of the beautiful "island of enchantment," Puerto Rico, are strong, more able than most to "swing" like bonobos, and they will rebuild. If you can possibly help, please donate.
Back to far less pressing issues, such as the ambiance of the Dana Point Doubletree Hilton. It's not a terrible hotel, but it really ought to be subtitled "Bland at the Beach." Then again, it's actually across the street from the beach. You have to haul your teeny bikini-clad self all the way over to the other side of the Pacific Coast Highway just to stick your toes in the surf.
In contrast, the Capri Laguna is quite literally On the Beach. We loved our suite of cozy, oddly connected rooms and patios overlooking the ocean with rustic grace and Old World style, in the spirit of the Italian island of Capri, the ancient playground where Capt'n Max's princely Filangieri clan used to retain a few palaces they turned into hotels. As the Romans took on the Greek gods and goddesses for their own, so the Capri Laguna emanates the flavor of the Greek islands, home of the hotel owners. Hotel Manager Nick Politis and Assistant Manager Bachir Atallah keep the place humming. What they lack in hotel dining, they make up for in congeniality and sensuous décor.
Each of our rooms featured a blown-up black and white photo of Jackie O strolling around the original island of Capri with a ponderous look on her handsome face, as though contemplating whether or not to divorce Aristotle Onassis or just have an affair with a hunky Secret Service agent.
If you need something to read on the beach, they even have a library, now featuring a brand new copy of The Bonobo Way, signed by the author!


Best of all (for us), there are naked statues. Well, topless. Classical style, of course.
Interestingly, they keep the statues in the hotel entrance and lobby prudently clothed. But the statues around the pool go gloriously topless, as ladies do on many Mediterranean public beaches.
Free the Nipple in Laguna Beach!
Mimosas & Button Mania
Since the Capri Laguna doesn't have a restaurant (though they do provide a nice complimentary continental breakfast and serve-yourself coffee or tea anytime), Bachir suggested we stroll a couple of blocks over to Avila's El Ranchito, where we feasted on tacos and mimosas.
A cheerful, bespectacled, well-groomed gentleman of a certain age and eastern European accent with a small stain on his polo shirt winked at me from across the patio. "I like your buttons!" he declared. Being bonobo-friendly (the 9th step of the 12 Steps to Liberating Your Inner Bonobo), we invited the fellow over to our table. "I'm a button collector," he explained. That sounded a little fishy, since he wasn't wearing any buttons himself, but he seemed sincere in his appreciation of my buttons, so I gave him an "Impeach Trump" button (made by Clemmy), and he smiled so gratefully, you'd think I'd given him an Emmy.
Then he pinned the thing on his shirt, covering the stain which happened to be directly over his right nipple. He looked so happy, that I offered him a "Femocracy NOW" button (a Clemmy/Del Rey collaboration) which he then pinned to his shirt over his left nipple (what is it with Laguna Beach and nipples?). We took a selfie and chatted about the Trumpocalypse, my profession, his houses, The Bonobo Way and our upcoming Inner Journey.
Then he went back to his family's table so they could stop straining their necks to see what we were up to, and he could finish his tacos.
We spent the next 24 hours giving out buttons to various folks, most of whom, at first glance, seemed rather Republican (Laguna is in Orange County, after all), but all of whom are so sick of Trump, they are desperate for a cure. Many of them, I presume are ailing from PTSD—Post-Trump Sex Disorder.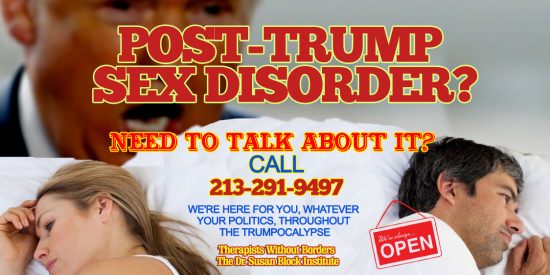 The buttons are no cure. They just provide a small "hit" of pain-killing pleasure by expressing your resistance with a smile, something to share with strangers that could turn into friends. It's amazing what a wide variety of people really appreciate them. Then again, in the current social, political, cultural and ecological environment, it makes a world of sense.
In the middle of all this, Pr. Max spied a gold cross, tarnished but glittering in the dirt outside the restaurant. He plucked it from its earthy grave and gave it to me with a princely flourish, always the Old World romantic, the Captain of My Heart, my prime mate.
Then, I took a swim in the pool, Abe took a dip in the sea and my prime mate took a nap in the bed. Later, we coasted a couple blocks south to the station, bathed in the shades of sunset and stained glass, a Pageant of the Masters of color, and the perfect psychedelic setting for my Inner Journey: Part 2… Going deeper.
My Second Inner Journey
"It's never as good as the first time," sang Sade. You never get to have a second first time, and sequels rarely hold a candle to the original. Yet, like wine, good relationships do get better with time, and so does sex (in a way). In any case, I enjoyed this Inner Journey even more than my first.
Last year, Greg had two assistants (very cool folks), but this interview was more intimate with just the two of us talking—as Max, Abe and their cameras buzzed around us like giant friendly fire flies with glowing eyes.
zSince usually I'm the one hosting the show, doing the heavy labor (though it's a labor of love) of making sure everything runs smoothly (or as smoothly as it can run in Bonoboville), it was very relaxing and just plain pleasurable to let someone else take the wheel and drive the program, as I sat back and answered stimulating questions.
PHOTOS 1-3 & 5-6: Max. PHOTO 4: Abe
If you're chilling in the back seat, you want the guy up front to be a good driver, and Greg knows the freeways, streets, and back alleys of this journey. Most "talk radio" is just lunatic right-wing shouting, with some occasional squawking from the aggrieved left. Greg doesn't squawk or shout. Softly yet surely, he delves into the soul of his subject, taking his guest on a two-hour voyage into the true stories of their own life, work, memories, fantasies, philosophies and quandaries.
It's like taking acid or ayahuasca as you mind-travel through long-forgotten familiar places, foreign lands, rainforests, deserts and oceans of memory…. without the acid or ayahuasca. Greg gets you there on the sheer power of his questions… plus some great oldies-but-goodies to further stimulate the sense memories Prince ("Darling Nikki"), Soul Asylum ("Sexual Healing"), Depeche Mode ("Master & Servant") and Berlin ("Sex"), of course.
PHOTOS 1-5: ABE BONOBO. PHOTO 6: SELFIE
For instance, Greg asked me to describe a personal epiphany in my life that revealed to me that sex education would my calling. My answer broke down into two parts… at least for this show (it could easily break down into a thousand parts altogether). Part 1: When I was two, I realized that gentle masturbation was a ticket to stress-relief, comfort and joy, helping me, an asthmatic little insomniac, to relax and nod off into dreamland. That was my first epiphany into the healing power of self-pleasure.
Part 2 was more complex. I was 16 and had just had wonderful, loving, intimate sex with my boyfriend Ricky, and I was feeling on top of the world, when his parents caught us. Ricky's dad took him into the bedroom and congratulated him on "becoming a man," advising his growing boy to use condoms when sowing his oats. Ricky's mom took me into the kitchen and threatened me, her irate face very close to mine, "If I ever catch you with my son again, I will tell your mother, your teachers and your guidance counselor what a little slut you are."
I was mortified. It was the first (though certainly not the last) time I'd been called a "slut" or for that matter, slut shamed. I barely knew what the word meant, except that it was very dirty and only a girl could be one. Ricky was the stud. I was the slut. For over six months, I shut down to sex. I didn't speak with Ricky, didn't answer his calls or letters. I also didn't eat, dropping from 105 pounds to 72 (later I learned the term for this: anorexia). I was not weak, oddly enough; I outdid myself at school during that time, getting "all A's," serving as editor-in-chief of the school newspaper, star of the school play, captain of the debating team and president of the Model United Nations, as well as getting a nice recommendation from my guidance counselor (either Ricky's mom didn't inform him of my sluttery, or he didn't care), all of which propelled me into the fairy castle college of my dreams, Yale University.
Yet deep inside, I felt like a ghost of the girl I was. Then one day, I looked in the mirror and saw myself, really saw my 72-pound self for the first time in nine months, and I realized that if I didn't want to drop dead within a few months, I needed to eat. I also realized that I needed to have sex. I needed to wrap my head around this "sex" issue that could cause so much joy and so much pain in one afternoon. I needed to get "sex-educated." From there, it was only a matter of time, books and orgasms before I started doing my best to "sex-educate" everyone else, whether through private sex therapy, the show or The Bonobo Way.


And now here I was, answering Greg's penetrating questions about sex education, therapy, relationships, spanking, porn stars, Adultcon, fetishes and bonobos, including how to help save the highly endangered "make love not war," female-empowered bonobos from extinction (donate to Lola ya Bonobo, BCI or The Bonobo Project). Listen and/or watch the archive for all the juicy, sapiosexually stimulating details.
Sex "On the Beach"
After the broadcast, we had a bite and a drink at Mozambique, where their gorgeous tropical toucans reminded us of human animal specialist Madame Margherite's "human toucan" fluttering around her birthday show. Mother Nature was certainly enjoying herself when She created that beak!
Then the Captain and I reveled in an exceptionally romantic and orgasmic night at the Capri Laguna "On the Beach," proving that Greg's Inner Journey isn't just a spiritual revelation, it's an aphrodisiac—for us, anyway. Or maybe I just wanted to prove my contention that "getting away"—both physically and mentally—is a great method for reigniting the romantic spark in long-married couples like yours truly. The old "getaway" is such a cliché, but that's partly because it actually works.
One last dip into the bubbly waves, and off we zoomed up the coast, grabbing lunch at Long Beach's Ports O' Call restaurant along with some hungry pigeons. The food itself wasn't all that exceptional (though the pigeons couldn't get enough), except for Abe's giant lobster tail and my Chunky Monkey with Kahlua and bananas. Yum! I go bonobos for bananas.
Cruising up the 405, what do we see but a billboard for Adultcon, the wonderful whacky world of porn, where we'll be delivering The Bonobo Way of Great Sex this Saturday. Adultcon-artists, here we come—with bonobos, bananas and bells on.

Trust Women Visit Bonoboville
We'd barely gotten back to Bonoboville when we received a visit from a couple of very special women, real heartland heroines helping other women with their health care, at a time when women's health is being severely threatened by the Mango Misogynist in the White House as well as local governments, not to mention, local lunatics.
Our guests were Julie A. Burkhart, founder and CEO of Trust Women Foundation and South Wind Women's Center in Wichita, Kansas, and Trust Women's development director, Rebecca Tong. South Wind is incredibly important for many reasons, chief of which is that it is the only abortion clinic for at least 150 miles in any direction. Julie is an amazing, courageous woman on the front lines of the fight for women's reproductive rights. Her former employer and mentor, Dr. George Tiller, provided abortions from the 1970s until 2009 when he was shot in the head and killed by an anti-abortion extremist while ushering at his church. With brave resolve in the face of vicious opposition, Julie has continued with steadfast focus and expanded on Dr. Tiller's mission.
Though disheartened by the electoral dysfunction that plopped a self-confessed nonconsensual "pussy-grabber," ready and willing to ax a woman's right to choose, into the highest office in the land, Julie is not retreating in any way. In fact, South Wind just opened their second center in another Red State town, Oklahoma City. They have also recently started providing transgender health services, such as hormone therapy.
Though barely unpacked from Laguna, we were delighted to host Julie and Rebecca for a few hours in Bonoboville, having connected with them through Malcolm Jones and the Bonobo Way Female Empowerment Outreach Project. Mal, a great feminist philanthropist, has helped many organizations that empower women all over the world, and we are proud to be among them and so is Trust Women. It even turns out that one of my mentors, Dr. Betty Dodson, a Kansas native, is also a big supporter. Anyone who wants abortion to remain legal and accessible in America should support Trust Women and South Wind.
We gave them books and buttons (they especially liked "Femocracy NOW") and a short tour. Then Capt'n Max cooked up a feast that outdid all the restaurants, featuring succulent shrimp, al dente tortellini, garlic-drenched broccoli, Greek olives, decadently soft brie, salad with artichoke dressing, Lambrusco cocktails and for dessert… Chunky Monkeys!
Later, as we bonobos clinked our glasses, we celebrated our opportunity to share the Bonobo Way with such terrific humans: Greg, Julie, Rebecca, the personable managers of the Capri Laguna not to mention the guy at Avila's who pinned our Impeach Trump and Femocracy NOW buttons to his nipples. We love them all.
Happy Autumn Equinox! Fall into the Bonobo Way!
Btw, I love your feedback, the good, the bad, the ugly and the beautiful. Please post a comment and join the conversation!
© Sept. 22, 2017. Susan Block, Ph.D., a.k.a. "Dr. Suzy," is a world renowned LA sex therapist, author of The Bonobo Way: The Evolution of Peace through Pleasure and horny housewife, occasionally seen on HBO and other channels. For speaking engagements, call 310-568-0066.