Dr. Susan Block to present The Bonobo Way of Great Sex at ADULTCON 2017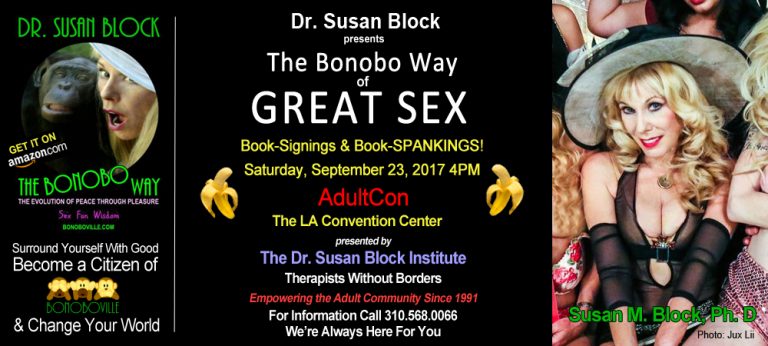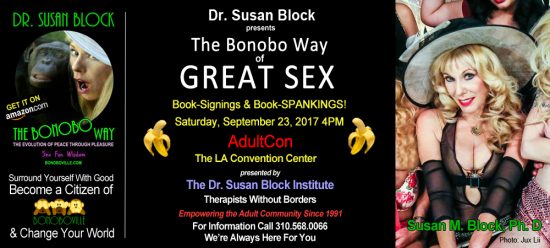 Los Angeles, California: September 19, 2017 — Susan M. Block, Ph.D., a.k.a., "Dr. Suzy," internationally renowned sexologist, best-selling author of The Bonobo Way: The Evolution of Peace through Pleasure and award-winning talk show host, perhaps best-known for her groundbreaking specials on HBO, will present "The Bonobo Way of Great Sex" at AdultCon LA 2017.
"The Bonobo Way of Great Sex presents a new, sex-positive paradigm for humanity," says Block, "touching on sexuality, pornography, war, peace, the balance of gender power, as well as building loving relationships and inclusive, "bonoboësque" communities." Inspired by the real bonobos, "The Bonobo Way of Great Sex" will deliver mind-boggling science (not "alternative facts") about our "Make Love Not War" Great Ape "kissing cousins," who swing through the trees—and with each other, as well as invaluable tips to enhance your sex and love life, with humor, passion, compassion and life-changing wisdom.
The old "killer ape" paradigm, based on common chimpanzees and baboons, has long been used to explain—and excuse—human violence, sexual repression, hyper-masculinity, misogyny, the rise of Donald Trump and America's state of perpetual war. However, bonobo apes, who are at least as close to humans as common chimps, never kill each other. Instead, they utilize good, consensual sex (and lots of it), empathy, female empowerment and the sharing of resources to defuse violent tensions before they explode into murder and war, thereby cultivating an ecosystem of "peace through pleasure."
How do they do this, and can we humans learn to "make like bonobos" (not baboons) and live in erotic harmony with each other and the Earth? "At this especially turbulent point in human history," says Dr. Block, "it's worth our serious—and playful—consideration to give peace through pleasure a chance."
Times are also turbulent for the highly endangered wild bonobos, now in critical danger of extinction. "Bonobo conservation is integral to the Bonobo Way," asserts Block. "If we lose the bonobos, then we will lose a key to female empowerment, peace through pleasure and great sex that we can never find again."
Block has presented Bonobo Way talks at various symposia, conventions and university settings, locally and abroad. At the University of Puerto Rico, Mayagüez, she delivered the keynote address to the world's first Ecosexuality Symposium at an academic institution. At UC Berkeley, she presented "The Bonobo Way of Nonmonogamy" at the 5th Conference on Monogamy & Nonmonogamy. She gave a talk on the "The Bonobo Way of Inclusivity" at AASECT, the American Association of Sex Educators, Counselors & Therapists. At DomCon LA 2016, she presented "The Bonobo Way of FemDom Power," and she was invited back as a "Guest of Honor" to deliver "FemDoms of the Wild: The Bonobo Way of Female Empowerment" at DomCon 2017. Dr. Block has been a visiting lecturer in Human Sexuality departments at USC, UCLA & Caltech, as well as at her alma mater Yale University for Sex Week at Yale and other events. Always a fascinating speaker on multiple subjects, she has addressed a variety of groups from YPO (Young Presidents' Organization) to LSO (Lifestyles Organization) on sex, love, pleasure, relationships, feminism, culture and the Bonobo Way.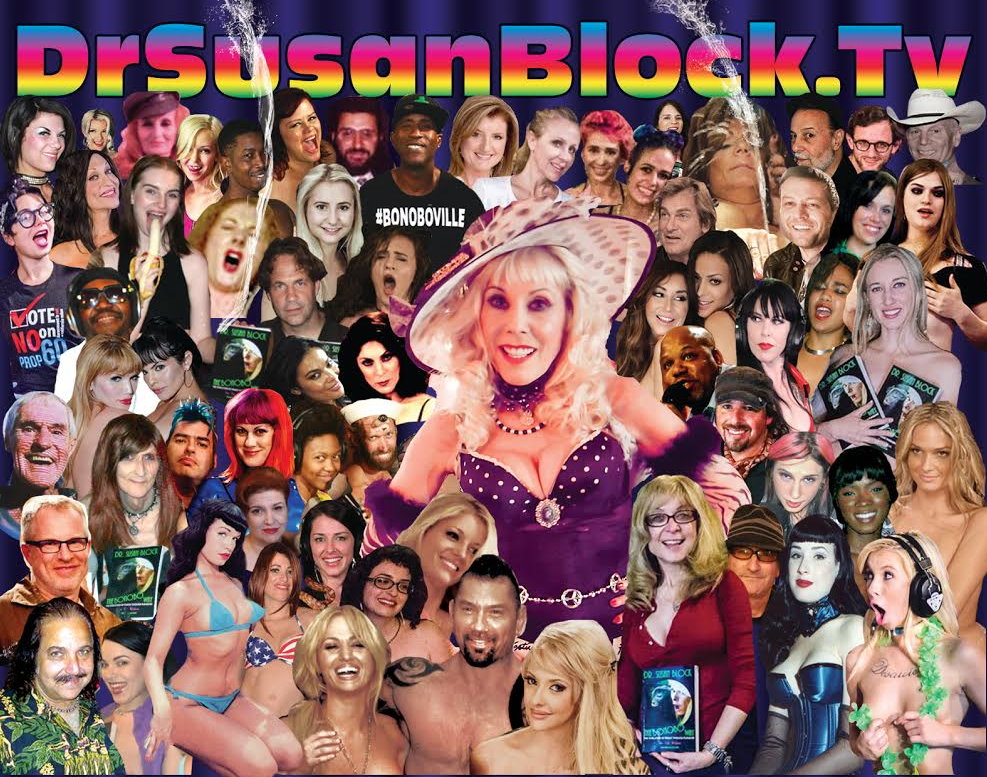 Dr. Block's interviews with porn stars on HBO, cable TV and the Internet are legendary, so she looks forward to seeing the stars and meeting the fans at AdultCon.  "The Bonobo Way of Great Sex" will explore the full range of erotic possibilities, including how to "release your inner bonobo," topping it all off with an exciting book-spanking or two (as well as traditional book-signings) with the book that's inspiring a revolution, The Bonobo Way: The Evolution of Peace through Pleasure. Dr. Block also wrote the definitions of "erotic spanking," "cuckolding" and "sexual fetishes," among others, for the Wiley-Blackwell International Encyclopedia of Human Sexuality.
AdultCon LA 2017 will be held September 22-24 at the LA Convention Center. Get tickets here. "The Bonobo Way of Great Sex" is scheduled for 4 PM on Saturday, September 23, 2017. For information about Dr. Susan Block's appearance at AdultCon or to arrange an interview before or during the convention, please call 310-568-0066.
The Guy to talk to: David Rossi Phone: 310.568.0066 Email: Bonoboville@gmail.com
Web: thebonoboway.com   Watch the Video: http://j.mp/TBWyouTubeTrailer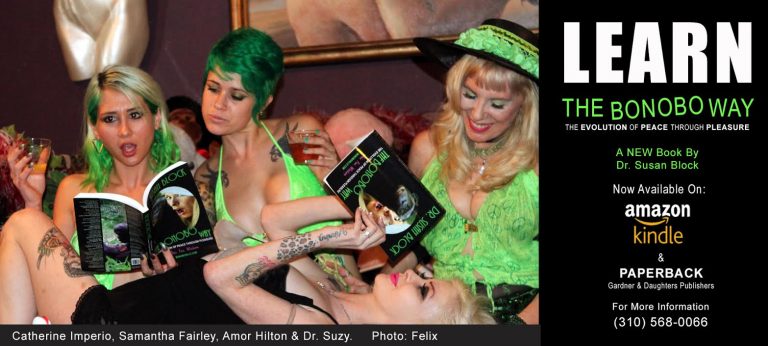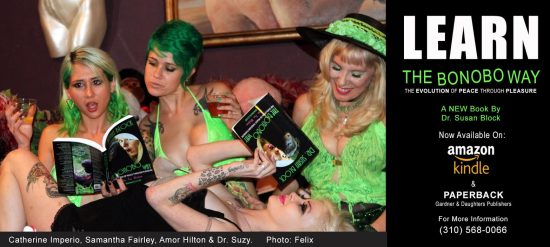 WHAT PEOPLE ARE SAYING about THE BONOBO WAY
"Impactful, often hilarious… wildly entertaining… The Bonobo Way just might hold the key to world peace."
—HUFFINGTON POST book review by Steve Karras
"The Bonobo Way is sexy and fun… damn smart too."
—"TANGENTIALLY SPEAKING" Podcast Interview with Sex at Dawn author Chris Ryan, Ph.D.
"The Bonobo Way is a pleasure on all counts… and especially significant at this time."
—Dr. SerenaGaia Anderlini D'Onofrio, co-editor of Ecosexuality 
"The Bonobo Way is a refreshing must-read for our times." 
—Dr. Patti Britton, American Association for Sexuality Educators, Counselors and Therapists (AASECT) Past President
"Bravo Dr. Block for paving the way to a hopefully more bonobo future."
—Vanessa Woods, Duke University primatologist and author of Bonobo Handshake 
 "Brilliant… A great book about human sexuality." 
—Sherry Rehman, Sr. VP of Pakistan People's Party & former Ambassador to the U.S.
"Amazing! Dr. Susan Block is an ecosexual visionary." 
—Annie Sprinkle, Ph.D., ecosexual artist and filmmaker
"The Bonobo Way is marvelous! A happy book for a happy life in a happier world."
—Xaviera Hollander, author of The Happy Hooker
"Awesome book… Excellently written and transformative." 
—Dorion Sagan, science writer and author of Death & Sex
 "Dr. Susan Block has a new understanding of how to enhance our intimate relationships!"
—Progressive News Network interview with Dr. Diana Wiley
"Adventure, optimism, and love is what Dr. Susan Block is all about… Patients become fans, and fans become evangelists."
—CITIZEN LA Inside the Pleasure Compound with Dr. Susan Block
"AMAZING… The Bonobo Way shines a light on humanity's capacity for peace."
  —Dr. Scott Barry Kaufman, author of Wired to Create
"I love every page of The Bonobo Way!" 
—Christian Bruyère, producer of Champions of the Wild
The Bonobo Way is available in kindle and paperback on Amazon or direct from the publisher. A portion of all proceeds from book sales goes to Lola ya Bonobo and the Bonobo Conservation Initiative, as well as other organizations that are actively helping to protect and save the highly endangered wild bonobos from extinction.
Tired of conventional sexuality experts? Dr. Block is available for comment or interview. Would you like to review The Bonobo Way? Contact us today.
   David Rossi 
Phone: 310.568.0066 Email: Bonoboville@gmail.com  Web:thebonoboway.com   
Watch the Video: http://j.mp/TBWyouTubeTrailer
---
Explore DrSusanBlock.com
Need to talk? Sext? Webcam? Do it here. Have you watched the show? No? Feel the sex. Don't miss the Forbidden Photographs—Hot Stuff, look at them closely here. Join our private social media Society. Join us live in studio 😊. Go shopping. Gift shop or The Market Place. DrSusanBlock.tv, real sex TV at your toe tips. Sex Clips Anyone? FASHION, we have fashion! We also have politics. Politics? Have you Read the book? No? How about the Speakeasy Journal? Click here. Ok, how about some free sex advice?
---
---