Death, Sex & Nazis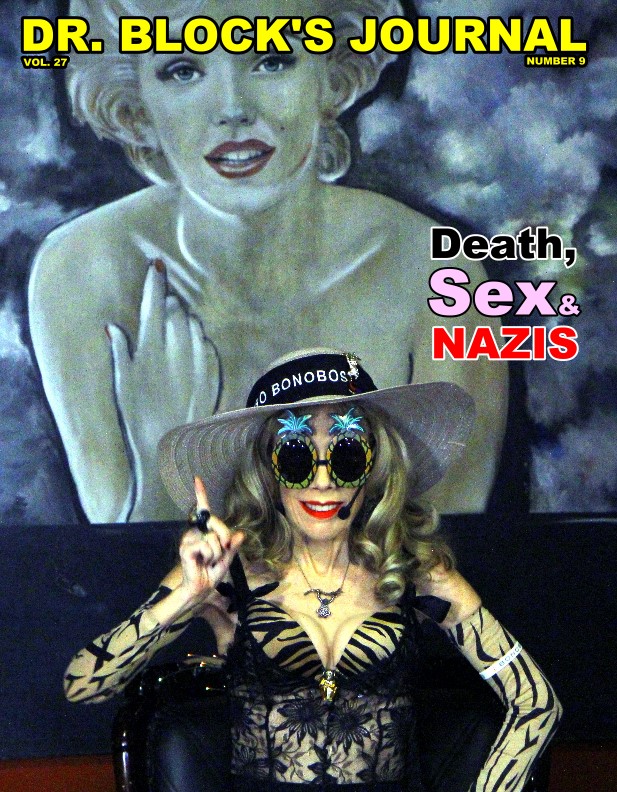 Length 01:26:39 Date: May 18th, 2019
This is a dark show.  How can it be light when there's the brutal murder of a beautiful bonoboesque friend of mine, there's the "death penalty for women who have abortions" bills sweeping the Red States like AR-15 fire in a crowded theater, there's my attempt to help a caller who's fighting his own erotic desires (and therefore me), there's my painfully stopped-up sinuses and sheer exhaustion (recovering from DomCon), and there's the big messy argument about presidential politics I get into during the last 17 minutes of the show with my beloved husband of 27 years, executive producer and partner in everything, Capt'n Max?
I don't want it to be a dark show. Indeed, I fight and try to deny the darkness just like that caller (Michael) fights and tries to deny his own desires… fruitlessly.


But reality wins, as it always does—unless you're tripping on mushrooms or masturbating (Merry Masturbation Month!) to your favorite fantasy (and not fighting it!). Life is not always bathed in light, orgasms and laughter. Sometimes you just have to face the darkness, death and anger.
Starting Light
I may have an unconscious premonition of this show's darkness when I get dressed for it in an almost all-black (with a touch of tan) ensemble. Though my noir lace and swirly-striped fishnets would hardly be appropriate at a funeral, or even an LA film screening, it's more than enough to foreshadow the impending gloom.
Smiling through my sinusitis, I try to start on a positive note, my guardian angel Marilyn Monroe watching over me from above, radiating beauty and love from Heaven, Hell or wherever angels like her go when they die too soon… way too soon. Uh oh, there's darkness all around Marilyn too. There always has been.
I camp it up in pineapple sunglasses while my tech crew arranges the cameras and calibrates the audio, but not even fruity, gold-colored glasses can shade me from the shadows of this show.
PHOTOS 1 & 3: HARRY SAPIEN.  PHOTO 2: BIANCA
I have fun cracking Goddess Phoenix's fiber-optic whip at no one in particular (or everyone is general)
PHOTOS 1 & 2: HARRY SAPIEN.  PHOTO 3: SELFIE
My adorable editorial assistant Shannon Sweet, in an elegant little black dress and vintage fur stole, and I play with Billdo the Bill Clinton dildo.
Good old Billdo, complete with tie, pocket protector and big veins to show off his prodigious presidential powers, is especially relevant to Masturbation Month since he fired U.S. Surgeon General Dr. Joycelyn Elders for suggesting that masturbation is a form of safer sex, and that ought to be acknowledged in sex education classes.
Bill's sexual affair with Monica Lewinsky was more than consensual (it was her idea), but the country might have been better off if he'd just taken Dr. Joycelyn's advice and stuck to jerkin' the gherkin (or maybe just watched where he aimed).
Shannon also resurrects our old sexbot from way back before there were sexbots (or not very many of them), a Leg Avenue life-size cardboard cutout gal named "Candy Bot" (circa 2002) that she found among the boxes and bubblewrap.
Yes, we still haven't quite moved into our new place—my clothing racks still flank the studio—though we love it here!
Soon we'll have guests and bacchanals again. No guests for this show though, and maybe that's for the best. Wouldn't want that dark energy erupting with a bunch of tipsy, horny people in the studio.
We also just came back from another fabulous DomCon. Check out My DomCon 2019 blog for more about that.
Too much fun and not enough sleep at DomCon is one of the reasons my sinuses are more congested than rush-hour traffic. When I try to say "Marilyn," it comes out "Barilyg."  


I'm also going through antihistamine withdrawal, having stopped taking them right after DomCon when I popped my last Sudafed before my talk and a couple of Nyquil before bedtime (but after sex). Actually, I've been doing that for over two months now, and it has to stop before I turn into an over-the-counter decongestant addict.
So, in a way, this show is my antihistamine anti-addiction clinic.
Hot Off the Presses: SPANK 'n' ART
On the very bright side, I introduce our brand spanking new second edition of Dr. Susan Block's SPEAKEASY Journal: SPANK 'n' ART.
Finally!


Amazon/KDP refused to publish it and, in typical censorship fashion, they wouldn't say why. We figure it's because SPANK 'n' ART contains Jeff Bezos' notorious dick pic (more details here).
So, after months of getting the Amazon runaround, we took the bull(shit) by the horns and had 100 copies printed ourselves by the friendly and forthcoming Downtown LA Printer… just in time for DomCon 2019 where it was a huge hit.
PHOTOS 1 & 3: HARRY SAPIEN. PHOTO 2: BIANCA
WE were a huge hit at DomCon 2019—the Bonobo Way talk, the latex, the love.
But there's only so much I can say about how great we are, and what a fabulous time we had. Besides, I said it all, and better, on the blog.
Murder of a Goddess
In fact, just as I'm saying how empowering and pleasurable DomCon was, my new friend, the lovely Mistress Phoenix Steele, posts a comment on our Facebook Live feed which Shannon dutifully reads aloud. It's an innocent enough comment: "DomCon was amazing." And it was… except that hearing Mistress Phoenix's name reminds me of our intense conversation about a mutual friend, the luminous Goddess Sadie Hawkins, who was murdered on December 16th, 2018, shot dead in cold blood by one of her former "slaves" who later committed suicide. For more about that, go to the Mistress Tea section of my DomCon blog.
So, I can't just say "Yes, DomCon was amazing," while all I can think about in that moment is the horrific slaughter of our wonderful colleague. I didn't know Goddess Sadie like Mistress Phoenix did, but I felt close to her. After I gave her a copy of The Bonobo Way at DomCon 2016, she read it—really read it—and discussed it with me, her big brown eyes sparkling with understanding. Then she shared the good news of the FemDoms of the Wild with others, including Mistress Phoenix, as she says in another comment. So, I feel compelled to talk seriously about this untimely death of a great FemDom, and thus begins the show's descent into darkness. As Del Rey would say, Rest in Pleasure, Goddess Sadie Hawkins.
Of course, both Mistress Phoenix (in her continuing FB Live comments) and I try to sprinkle some light into the black hole of unjustifiable, essentially inexplicable homicide. We talk about how we need to support and look after each other in the kink community. But we already do that, and Sadie was murdered anyway. Certainly, we should do more of "that" both inside and outside the kink community, caring for one another, like the bonobos do, teaching respect for the female, as well as taking extra precautions regarding whom we let into our private and public spaces, as DomCon is doing more and more.
Still, the inevitable darkness spills in through the cracks, very often when we least expect it. With Post-Trump Sex Disorder(s) and other mental afflictions mounting, climate change disrupting our atmosphere, neo-Nazis marching in the streets and weapons easier to buy than a beer, the increasingly disengaged public is hypnotized into a helpless coma by Game of Thrones (at least that's over… until the sequel) and Fox-News.
Michael Wants a Threesome… but Doesn't Want to Want One
My Goddess Sadie remembrance is interrupted by a caller, Michael in Austin, Texas, who needs "relationship intimacy" advice. He says he wants to "share," but his lovers aren't interested. By "sharing," he means having sex with different people, kind of a cross between swinging and polyamory. He'd especially like to have a threesome with a woman he loves and a man they both like or even love. Sounds very bonoboesque and, though it's not something that everybody desires or tolerates, it's nothing to be ashamed of. Rather, I think, it's something to celebrate, seek out and enjoy with likeminded lovers.
The problem is that Michael's most recent lover—with whom he had "great" monogamous sex—was not likeminded. This is where the darkness seeps into the otherwise light picture of bonoboesque sexual sharing. I suggest he try to find women who are already interested in polyamory, instead of entering a monogamous relationship with a woman, and then trying in vain to *convert* her to sexual sharing. He half-heartedly agrees that would be a good idea, but then demurs because actually, he'd rather just change himself into the kind of guy that's satisfied with monogamy.
Turns out that Michael doesn't want to have his desires or fantasies, perhaps because they are "socially unacceptable," including his recurring cuckold fantasy of watching his now ex-lover with other men, which he masturbates to more than he believes he *should*. Simply put, Michael doesn't want to feel his own feelings. This is a recipe for hollowing out a deep, almost bottomless pit of darkness in your sexual soul.


You can control your behavior—and, very often, you should!—but you can't control your feelings. You can control how you express those feelings (that's behavior)—such as whether or not you share your feelings with a lover—but you can't stop yourself from wanting someone or fantasizing about something. In fact, the more you try not to feel those feelings you don't want to feel (most likely because you don't think you *should* be feeling them), the more you'll feel them—especially when it comes to sex in our sex-negative, militaristic, misogynistic, greed-driven society. The libido is a powerful, dominant trickster and when pushed into the shadows, it will pop up anyway, sometimes when you least expect it, overriding the *should* of your superego every time.
It's an intriguing call. If you're interested in swinging, threesomes, cuckolding, polyamory or monogamy, you'll learn something from listening. Michael's fear of being called a cuckold is a reminder of how so many Trumpsters, like Roger Stone and Paul Manafort, have turned "cuck" into an insult, even though they themselves enjoy watching their hotwives have sex with other men.


I hope Michael learns something that sheds some light on his current state of sexual suppression. Hopefully, he'll call back some time and let us know.
Abortion Rights Under Attack
Meanwhile, I feel compelled to mention, we women are losing our rights to sovereignty over our own bodies. The dystopian fiction of The Handmaid's Tale is on the verge of becoming reality, as the right to get abortions, something many young women take for granted since Roe vs. Wade passed in 1972, is being eroded and perhaps soon to be demolished.
Abortion Ban bills are sprouting like weeds in Alabama, Louisiana, Georgia, Texas. Of course, the so-called pro-Lifers that support these bills don't want to do a thing for climate change. Birth those babies, then let them all die in floods, fires and unbreathable air.
And it's not only men who want to take away women's rights, not in The Handmaid's Tale, and not in real life right now. Alabama Governor Kay Ivey shows us clearly that individual women aren't always pro-women's rights, but can be quite the opposite.  
The day after Governor Poison Ivey signed the woman-slaying anti-abortion bill, declaring "All human life is precious," she had a man executed for a crime he committed when he was only 19.


Believe all women?  Ha!  Not this woman, whose hypocrisy stinks more than a mountain of twice-killed Game of Thrones corpses.
Unfortunately and especially under tRump (who certainly has arranged for abortions for his many extramarital paramours), the Poison Iveys of America are proliferating like cockroaches in a dark and dirty kitchen.
Biden, Bernie, the Nazis and My Marriage
Then comes the climax of darkness, the argument with my beloved Capt'n Max.
It sneaks up on me. Max is ranting eloquently and forcefully against tRump and the neo-Nazis, all of which I more than agree with. That's why I keep our tRump voodoo doll, now just a big dickless banana on a Jeffrey Vallance Art puppy pee pad, under gag order—currently with a banana.


Then he goes after Bernie supporters, saying 30% of them voted for tRump, and that's why the Presidunce Banana-Brain Dick-tater won. Not that I know what percentage of Bernie supporters voted tRump (though 30% seems awfully high; more likely, a lot stayed home and didn't vote at all, helping to give 2016 the lowest voter turnout in history), but I'm a Bernie supporter, and I voted for Hillary. I know that I prefer Bernie Sanders' ideas and personal/political history to that of any of the other hordes of Democratic candidates. I also like Elizabeth Warren, though mostly for her Bernie-style ideas.
Max derides me for living in a dream world. Though he's a socialist himself, he says the American people are not ready for socialism. I think they/we are more than ready for socialism, especially regarding certain basics like health care, but the elites, including the media, serve the greedy billionaires and corporations that would rather see Nazis in power than socialists who might take a dollar out of their pockets to pay for crumbling infrastructures and a Green New Deal.


Of all the Democrats running (and there are far too many for anyone's good), I dislike Joe Biden the most. "Lunch Bucket Joe," as the corporate media endearingly calls him, has never encountered a war he didn't adore. He loves Dick Cheney! He supports the Prison-Industrial Complex as well as the Military-Industrial Complex. He relishes tax cuts for billionaires, because to hell with the poor and middle class. He's more Republican than most Republicans. He loves the corporate pigs that are ruining the air we breathe, the food we eat, the water we drink and the whole damn atmosphere that has *gifted* me and many others with a chronic cough. He infamously mishandled Anita Hill's sexual harassment allegations and made sure Clarence Thomas—one of the worst Supreme Court justices ever this side of Antonin Scalia (Brett Kavanaugh notwithstanding)—got his miserable, progressive-demolishing seat. He has supported a lot of anti-abortion and desegregation legislation. And I won't even go into the creepy way he fondles and whispers into the unsuspecting ears of younger women and little girls—right on camera! I may not "believe all women," but I have to believe my own eyes. If he did this with older women and men, I'd say he's bonobo, but he doesn't.  He kept a low profile as Veep under Obama where he cultivated his avuncular "Uncle Joe" persona, but in most ways that count, Biden is worse than Hillary, probably the worst of all the Dems running. I'd rather run Betsy the Dog than Biden for president. Betsy the Dog for President!
Unfortunately, Biden is currently in the lead among the Democrats, according to the polls. I guess these polls show how out of touch I am with American voters. Of course, these are more or less the same pollsters that predicted Hillary would trounce the Donald in 2016.
Maybe what these pollsters really show is that the Democratic party elite and the media are morbidly afraid of Bernie and his "socialism" (which is barely socialist), and they want to run Biden because they and their billionaire corporate paymasters see Uncle Joe as "safe." My Counterpunch colleagues and fellow Berners loathe Biden even more than I do.


But Max maintains, in his powerful, thundering baritone, that I shouldn't be "tearing down Democrats." Max sees Biden as the inevitable Democratic candidate; therefore, we should all get behind him to defeat the Nazi tRump, just like the Republicans, even those who intensely disliked tRump, got behind him for the win.
He has a point there, and I promise here and now, that if Joe Biden is coronated as the Democratic candidate in 2020, I will hold my congested nose and vote for him and encourage others to do so, precisely to defeat the Trumpus who really ought to be impeached, but since the Dems can't seem to bring that about (thus far), he must be defeated in 2020… or else.
Because ultimately Max is right: this Presidunce and the neo-Nazi/KKK Trumpocalypse he inspires is destroying and on the verge of demolishing everything good in America and the world.


But the primaries haven't even started yet, so why shouldn't I support the candidate(s) of my choice while they still have a chance? Must I genuflect before Creepy Joe when he hasn't even been nominated (yet)?
This is where our argument gets intense, and I'm sure I'm not doing justice to Max's "side," let alone showing how awkward and anxious I sound trying in vain to defuse his passion (which I somewhat defensively call "anger") as he thunders against Nazis—past (remember, Max was born in 1943 as WWII was raging), present (they are amongst us, less fearful than they were a few years ago) and future (they will grow stronger, if we don't somehow, some way, defeat them).
For the full picture, you just have to listen to the show above. Or see it on DrSuzy.Tv or Facebook. Go ahead, you know you're sick of watching people act all happy and harmonious all the time, and you'd love to eavesdrop on a good juicy marital argument, especially when one of the arguers is a "love doctor" and the other can bellow like the Voice of God in The 10 Commandments.


Though it's very uncomfortable (for me), maybe all that darkness makes for a riveting show, albeit a different kind of 90 minutes than my usual "Sex, Fun, Wisdom." And no, I'm not sure if this is a strange aberration or an indication of where we're headed.
Shannon bravely attempts to redirect our political passions into talking about which candidates' genitalia we'd like to see most. I'd like to see them all (with special interest in Tulsi and Kamala), and Max doesn't want to see any of them. Then before she can say whose she'd like to see (we'll find out next Saturday), we're back to debating their above-the-belt qualities. Though I was captain of my high school debating team, I can never win a debate against Max, not even on The Dr. Susan Block Show.
Then before we know it, the live broadcast is over—time flies, even in darkness!—and I stumble through my good-byes, though we don't do a group photo (what group?), and my heated argument with the love of my life continues, branching off from politics into camera positioning. Our crew slips away, and we are left to our own bickering until we're pretty well bickered out, and then we're left with nothing but the fact that we love each other more than anyone or anything in the world.


And so the bonobo "conflict resolution" process ensues, awkwardly but doggedly and then, eventually, deliciously. We reach out to each other, then argue some more, then reach out again, then take a nap, then make peace through pleasure, awkward hugs and, as the darkness of a hard day's night gives way to the morning light, a couple of good orgasms (marvelously clearing up my congestion, as good orgasms often do), more hugs (better, more erotic, less awkward hugs) and a new beginning to a very old love.
¡Vamos bonobos!
© May 18, 2019. Susan Block, Ph.D., a.k.a. "Dr. Suzy," is a world renowned LA sex therapist, author of The Bonobo Way: The Evolution of Peace through Pleasure and horny housewife, occasionally seen on HBO and other channels. For speaking engagements, call 310-568-0066.