Masturbation Month, Memorial Day & Rush Limbaugh ReBUTTal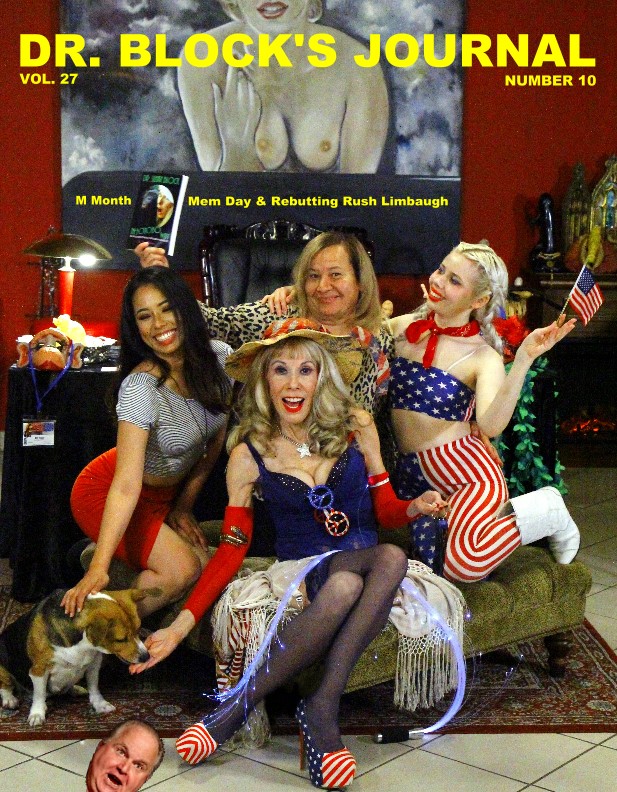 Length 01:23:40 Date: May 25th, 2019
by Dr. Susan  Block.
Funny how the last Saturday of Masturbation Month always falls in the middle of Memorial Day Weekend. How can such strange bedfellows coexist?  Manhandle those hot dogs, boys!  Mash those potatoes, ladies! 
Memorial Day signifies the start of summer, heating up with sexy fun and the sizzling smell of fresh barbeque. Of course, Memorial Day is also a requiem for the dead—the people who have been barbequed in America's Perma-Wars.  The American dead, that is.  The other dead can get their own goddamn holiday, right?  Memorial Day is for America's dead soldiers.  We are the Masturbation Nation serving the multi-nation corporations. And so, on this solemn sunny weekend, we salute the troops who have given the ultimate gift—their precious lives—for this corporation we call our nation.  We appreciate their service, that is, the risk they take in the lottery known as the U.S. Armed Forces; join up and spin the roulette wheel to see if you wind up with veterans' benefits or your head blown off!  
But we do not salute the Perma-Wars they fight in other nations, whose citizens also happen to enjoy masturbation, even if they have never heard of Masturbation Month. These other nations may have very different concepts of God, morality, honor, love and death.  But we all enjoy manhandling our horny hot dogs and/or mashing our pretty potatoes from time to time.  That's part of what it means to be human, and to accept it, both in ourselves and others, is part of what it means to be humane. 
PHOTOS 1-3: BIANCA. PHOTO 4: HARRY SAPIEN

Yes indeed, Brothers and Sisters, Lovers and Sinners of all Masturbation Nations around the world: Whether your particular nation condemns masturbation as the most evil sin you can commit or just considers anyone who jacks or jills off to be a pathetic "sex addict," we all do it, at least sometimes (or even several times a day!).  We are one world in wanking. 


But back to Memorial Day and all those barbequed troops and civilians on both sides of the grill. Every American president prefers some type of military violence over others. Billdo  "wagged the dog" on Serbia. Dubya demolished two countries with "preemptive strikes." Barry had a drone fetish.

Having blessedly botched invading Venezuela, the Trumpus appears ready to invade Iran, partly to distract the media (which always loves a war, any war) from his indictment troubles. Previously (and quite rightly) bemoaning America's loss of wars in the Middle East, a pumped Trump just sent in 1,500 American troops for "defensive" purposes, even as he keeps arming Israel to bomb Palestinians and Saudi Arabia to bomb Yemen.
Why don't these trigger-happy Presidunces just shoot the guns between their legs?
PHOTOS 1 & 4: BIANCA.  PHOTO 2 & 3: HARRY SAPIEN
Which brings us back to Masturbation Month, the most unconsciously practiced holiday in our Masturbation Nation.  Yes indeed, more Americans masturbate than BBQ, play baseball, watch TV, pay taxes or drop bombs. Not everybody does any of those things, but everybody who can move has masturbated.  Rarely do we admit to it; in fact, mostly we don't. But this is the month to give this poor, much-maligned, non-invasive, non-polluting, always consensual, worldwide pastime the honor it deserves. 
Make (self) love not war. Follow the Bonobo Way.
Free Julian Assange & Chelsea Manning!
Speaking of America's military crimes, over the years, Wikileaks has revealed some doozies, especially that video showing a U.S. Apache helicopter targeting and killing innocent Iraqi civilians and journalists, as well as the medics that arrived to save them. Now Assange has been indicted on 18 counts of bullshit that set a precedent for bullying journalists of all kinds around the world.
As my Counterpunch publisher Jeffrey St. Clair tweets, "Every reporter, editor and publisher who used or cited any document published by Wikileaks should file an amicus brief opposing his indictment and extradition, since Assange is being indicted on their behalf."

All these journalists on the right and left cheering Assange's ridiculous indictments ought to be spanked hard, and I will be more than happy to conduct the spankings.


I don't like everything that Wikileaks has published, but Free Speech is at stake in a big way here.
If for no other reason, Assange should be set free so he can make a hot sex tape with his lover Pamela Anderson. That's one I'd pay to watch, assuming that all proceeds go to the ongoing defense of Freedom of the Press and Wikileaks. But there are numerous other reasons to cease and desist the persecution of the world's most famous journalist, including endangering freedom of speech more than it's been since the Patriot Act. This endangerment is not *just* for journalists, but for all of us. In the age of social media, we are all journalists now. We are all Julian Assange.
Which makes us all Pamela Anderson's lover (wow).
Meanwhile Chelsea Manning is back in prison for courageously refusing to be bullied by a Grand Jury. As my CP colleague Kollibri Terre Sonnenblume puts it, "This is what real resistance looks like." It's inspirational, but what the American *Justice* system is doing to both Manning and Assange is unconscionable.


I'm sure poor Pamela is experiencing various varieties of Post-Trump Sex Disorder!
Rush Limbaugh Uses Me (and PTSD) to Sell Newsletters
Which brings me to the King of Creeps, Rush Limbaugh, currently using Post-Trump Sex Disorder (and me) to sell his uber-creepy "Limbaugh Letter." Yep, Rush is RUSHing me!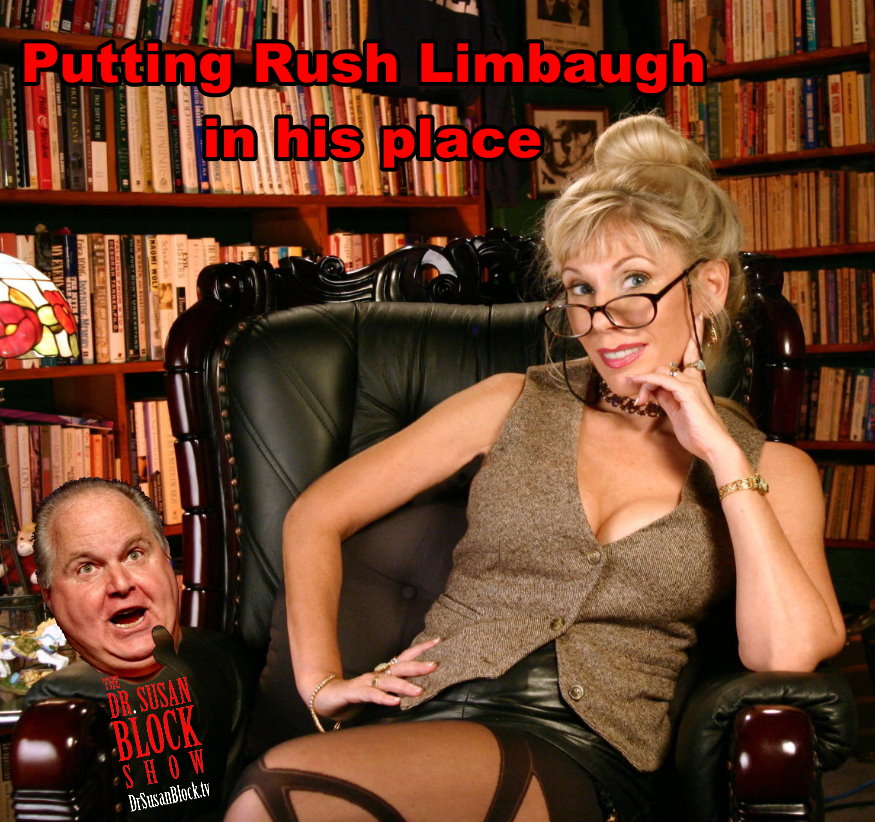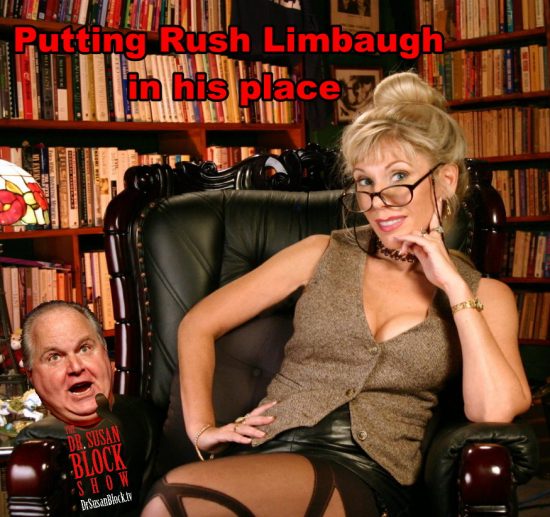 His guest host, the veddy British Brexit-loving Mark Steyn, calls me a "small story," as well as a "little item" (does he mean size or significance?), but he leads with small, little me to persuade you to buy big fat Rush's Nazi-lite, over-priced newsletter to give your poor, ailing Pops for Father's Day.
So, we roll tape to listen to Rush Limbaugh's words about me and this sexual, tRump-influenced form of PTSD; my words can be found in Counterpunch, Salon, Cosmo and drsusanblock.com.
Rush's words, spoken by his Tory puppet Mark, are actually not as bad and misleading about Post-Trump Sex Disorder(s) as those of Fox-News, not to mention their viewers' expletive-laced comments. Unlike many of my lefty colleagues, Rush (and Mark) actually agree with me that this type of PTSD is a real affliction. But, unlike me, they think it's awesome. In fact, it turns them on.
Mark's sadistic cackling and slobbering, as he reads Rush's words and throws in a few of his own, show how Trumpers—and Rush was a Trumper before there was a Trump—want nothing more than to "own the libs." They don't care if toxic hogwash is flooding their house or they have to work three jobs just to pay for their opioids. If they can make liberals unhappy, that makes them happy.
"Every time I'm depressed and things are getting to me," Mark declares in a confidential tone, "I just pick the Limbaugh letter up and read this small item (cackle, cackle) and think of all the Lefties who have been spending the last 2 ½ years [under Trump] having lousy sex (slobber, slobber)."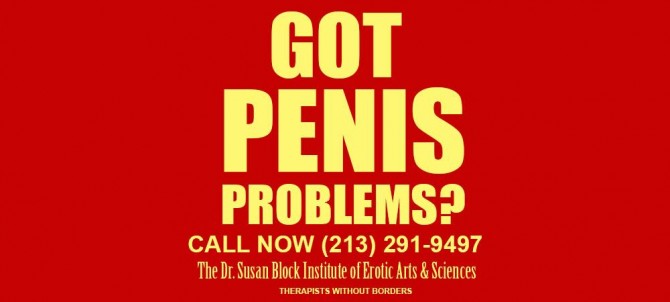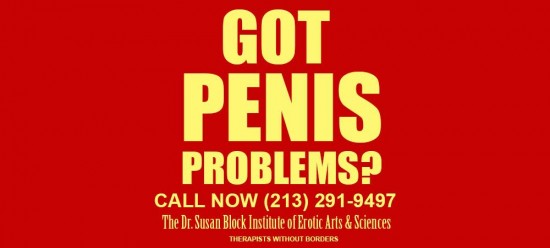 "Then I give my tiny shriveled pud a wank"—oh wait, he doesn't actually say that, but he sure implies it with all his cackling, slobbering and fantasizing out loud about "Lefties" having "lousy sex," which he also refers to as "sexual congress," as if imagining AOC doing Ilhan Omar on the floor of the House of Representative as Nancy Pelosi spanks both of them with a gavel.
Okay, I made up the Congressional lesbian threesome, but that part about Trump spanking naked Rust Belt blue collar workers as they hang upside down in steel mill dungeons like meat in a butcher factory is Mark's (and/or Rush's) fantasy, not mine.


Seriously, listen to the tape. Reading Rush's words and embellishing with his own grunts and groans, Mark sounds like what we call a "wanker" here at the Institute, a guy who pretends to call for serious reasons, but is really just masturbating away as he talks.
Well it is Masturbation Month, and I am all for shooting that gun between your legs. Still, it's pretty sick to revel in pleasure from others' suffering—unless you're a Domme (for more on Dommes, check out My DomCon 2019 blog), and the sufferer is suffering for you consensually. No one is suffering consensually for Rush Limbaugh or the Iraq-War-and-Nigel-Farage-loving, milkshake-and-liberal-hating Mark Steyn, unless they are getting paid.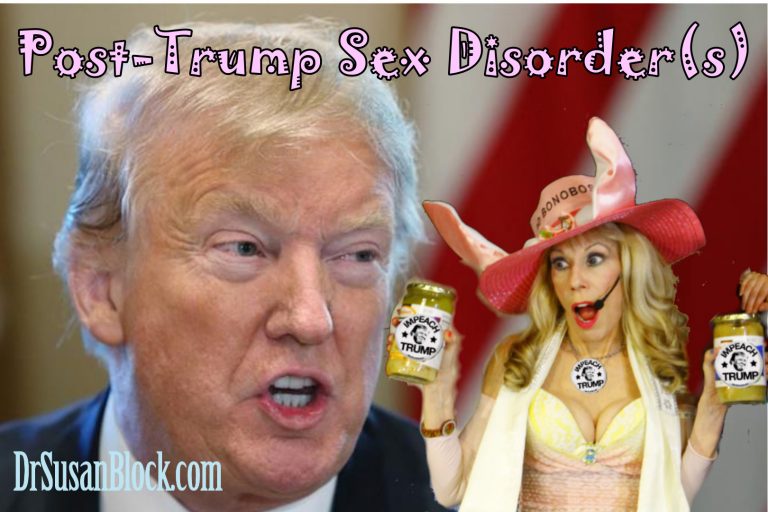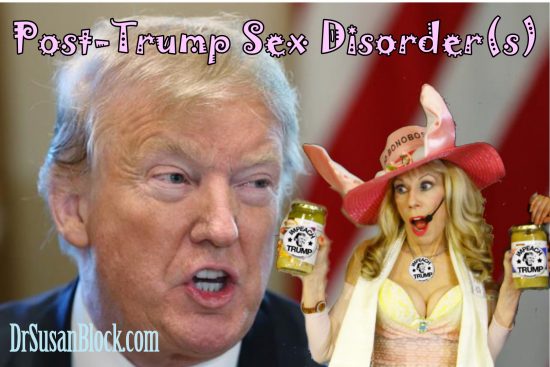 This brings us to SESTA/FOSTA, one of many serious reasons for Post-Trump Sex Disorder(s). When you're a sex worker who fears for their life because of SESTA/FOSTA, you're not likely to have good sex. When your spouse of 20 years is suddenly deported, you're not likely to have good sex, or any sex. When your lover is addicted to Fox-Tv, or CNN just to see what awful, racist, sexist, bombastic, narcissistic things the Trumposity has uttered, and doesn't get to bed until you've given up and gone to sleep, you're not likely to have good sex.
Almost single-handedly, in the 1980s, when Trump was still a babe suckling on the teat of Daddy's trust fund, Rush Limbaugh created rabid racist sexist Nazi-ish Right-Wing Talk Radio, long before Fox-News, laying the groundwork for Presidunce tRump. Then and now, Rush loves to mock progressive, socialist, feminist, people-positive, ecology-minded, bonoboesque things. I doubt he believes this horseshit, but he serves his corporate pay-masters; after all, those Oxycontins he's (reportedly still) so fond of cost a lot of money!
Now he's gleefully mocking Post-Trump Sex Disorder because, well, it's always an easy target to hurt people who are hurting, especially if they're hurting because of YOU and your creepy, Nazi-loving Presidunce. And when you're living in a land where Nazis and the KKK have been emboldened by a Commander-in-Chief who calls them "very fine people" and throws up dog-whistles like the "OK" sign, well, you might not sleep so well, or relax enough to enjoy sex because they're marching in your city's streets and gathering just outside your window.


This is not just snowflake paranoia. On the day of this live broadcast, the KKK held a rally in Dayton, Ohio. That's the Trump Effect: inspiring racists and related types of assholes. Fortunately, the counter-protestors outnumbered the scaredy-kat KKK (most of them hiding behind their keyboards, too afraid to leave their mom's basement, let alone go to a public KKK rally) by almost 80 to 1. And that's about the rate anti-Trumpers outnumber Trumpers. But alas, the Trumpers—like the Nazis of old—are financed by the billionaires and corporations who publicly disapprove of all that cross-burning and racist sloganeering, but really prefer this toxic shit to even a hint of socialism. Unfortunately, these uber-capitalist corporations not only control the Republican party, they manipulate, with only slightly looser puppet strings, the Democratic party as well.
*They* also operate Hollywood. This is not some secret cabal of Jews or lizards. It's just that films and television shows cost money, and the multi-billion dollar multi-national corporations provide the money, with the strings very firmly attached.
Aryan Arya in Game of Thorns
So let's talk about Game of Thorns, Game of Musical Chairs, HBO's number-one-rated ode to mass-murder-worshiping hypno-fascism in the snow that even some of its most ardent fans now despise for delivering such a half-assed ending. Finally, blissfully, it is over… until the sequel (or prequel).
And so on go the fascist undercurrents. In the second-to-last episode, the once pro-people, slave-freeing, almost socialist Mother of Dragons, Queen Daenerys, turns into a wild-eyed maniac who barbeques a whole city of innocent people to a Memorial-Day crisp, proving (I guess) you can never trust a seemingly principled, empowered woman.
And then there is the sweet Night King-killing heroine of this disaster, not a woman, but a mere slip of a girl named Arya. And no, that's not spelled "Aria," like the opera solo. It's spelled A-R-Y-A like the historically well-known Nazi term "Aryan."  Yes, originally "Aryan" meant Indian or Iranian. But racist Europeans interpreted it as "Europeans" who lorded over parts of Asia. Then Nazis appropriated the term, and made it their own, kind of like they appropriated that Buddhist swastika, and now "Aryan" means, to most people, Germanic White Master Race of the World. And little Arya is the heroine of Game of Throw-Up. I'm not a GOT fan (obviously), but I searched this one on the web and found only a few people talking about it, most of them racists rejoicing in the Aryan qualities of Arya. Therefore, I ask my fellow Lefties who like GOT (of which there are an alarmingly high number), where is the outrage?
As the winds of climate change blow our houses down, the fascists are coming for us from every direction: Washington, Hollywood and right outside our windows (if we're lucky enough to still have windows), and the most insidious of them are the ones we can't even see, hiding cleverly in our beloved films and TV shows.


We who can still tell right from wrong must be strong—like Chelsea Manning!
But we also must have fun, lots of fun. It's the Bonobo Way.


Even though we get into a lot of serious stuff on this show, the fun never stops.
Then the Princess of Fun walks through the door.
Maya's Back & Smokey's On the Line
Yes indeed, the lovely, raven-haired Goddess Maya is back, her first visit to the new Bonoboville, looking lovelier than ever in a tight slit skirt and cropped top to show off her still petite, but slightly curvier (in a good way, a very good way!) figure.
Maya is a surprise guest (nothing to do with the "surprise sex" that Julian Assange was charged with, and anyway those charges were dropped a long time ago). Maya had said she was coming to visit last Saturday and she tried, or so she claims, but the long arm of the law reached out and stopped her in her brand new car. Something about broken "head" lights, and the cop giving her head—not the last part, that's just a Bonoboville staff fantasy.
PHOTO 1: HARRY SAPIEN.  PHOTOS 2-3: SELFIES
Just as Maya sits down, a call comes in from another old friend, someone we've known about as long as Maya: Elvis Presley tribute artist Smokey Binion, Jr.
Smokey is excited to reunite with Maya, as well as chat up my editorial assistant, Shannon Sweet, looking uber-adorable in red, white and blue crop top and leggings with white cowgirl boots, topped off by her platinum blonde hair in braids. The all-American Heidi with a touch of Daenerys (before she went mad, of course).
PHOTOS: HARRY SAPIEN
Shannon and Smokey are both from Texas, though Shannon's from the more cosmopolitan city of San Antonio, and Smokey resides in Rush Limbaugh country, forty miles outside Amarillo. Not that Smokey wants to talk politics; he knows better than to mess with me. He just wants to flirt with my gorgeous gals.
And who can blame him?
I'm surrounded by petite feminine pulchritude with the prettiest of brunettes to my right and the most beauteous of blondes to my left. "Little items" all! And you know what they say about good things coming in small packages… Rush and Mark, are you masturbating to this?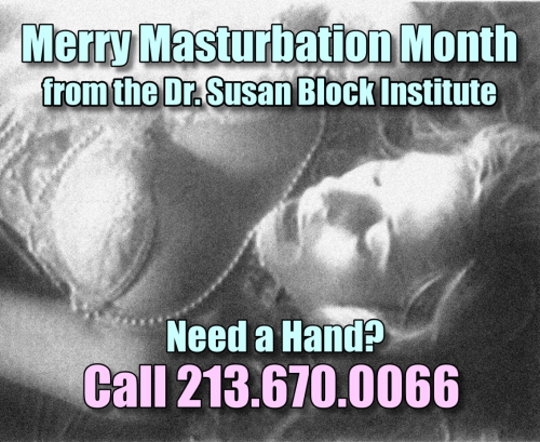 Forget Rush and Mark; Smokey's on the line! I tell him to sing us a song, and he croons "Love Me Tender" a cappella.
We can almost feel the presence of Elvis… in the building.
Spanking Maya
Then we turn to the question of spanking Maya. This is inevitable since Goddess Maya is a very spankable young lady.
But the fact that she arrives at the show one full week late gives me a really good reason to give Maya a good spanking.
It's true that the consent of the spankee is far more important than any so-called "reason" for giving a consensual adult erotic spanking. Nevertheless, a good reason gives the spanker something to lecture sternly about, and gives the spankee something to apologize for and say she'll never do again, though she most probably will, if only to receive another erotic spanking.
I invite Maya to lay across both Shannon and my knees. I figure Shannon might enjoy the experience, especially after hearing her enjoy Mark's (or was it Rush's) heated description of those Rust Belt guys getting spanked by Trump in dungeons… probably abandoned factories converted into palaces of pain.
Like I said, that's Rush's (and maybe Shannon's?) fantasy, not mine. I prefer a nice "domestic" over-the-knee OTK spanking by hand or with a book (preferably one of my books) like I give to Goddess Maya.
After a couple of whacks on her skirted bottom, I ask her if she's wearing panties. We're doing a lot of Facebook Live-shooting these days, and I don't want to shock Marky the Robot Boy Billionaire and his Puritanical minions with a screen filled with lush feminine genitalia.
Since Maya is wearing a cute thong, I pull down her tight skirt so it's just below the butt-line, revealing the bottomless beauty of her beautiful bottom.
Then I spank away, first with my hand, then with The Bonobo Way.


Then I spank her with the most appropriate, albeit a bit unwieldy paddle, SPANK 'n' ART: the brand spanking new Speakeasy Journal.
Then I spank her by hand some more, give that bouncy butt a kiss, and then Betsy the Dog walks through, perhaps aroused, like the rest of us, by the unveiling and spanking of Maya's posterior.
Dogs have that keen sense of smell, of course.
By this point, Ana has gotten into the act.
Meanwhile, on the Facebook Live feed, the comments are flowing from friends and strangers, from Madam Raven Rae who says "omg trump and the thought of sex makes me want to vomit" to Mistress Phoenix Steele who "loves the new place it totally suits you" to Ray Phunk of ActivateLA who declares "great show" to Donald Robson giving us "Amens" and "Awomens" to David Rogers who says "I listen sometimes, but I'm not really a Rush Limbaugh fan" to Robert Kekuna who is watching us while he's at a concert listening to a band (must be a band that's not much to look at).
For some reason, we don't get into reading them this time (I'm just seeing them now), but some are pretty funny. We'd prefer that people call us than write comments, but the Facebookers have forgotten how to use their phones as phones, like, for talking to people. They are interpersonally disabled and, even though we have a toll-free number (1-866-289-7068) and a regular number (213-291-9497), they're incapable of calling, so they post voiceless comments (mostly the ever-inflective "hi"), with the occasional heart or clap emoji.
It's not as satisfying as a phone call, but you have to work with what you've got.
PHOTOS 1,2,4: HARRY SAPIEN. PHOTO 3: BIANCA
Then, before we can say "call me" one more time (Shannon actually gets down on her knees, quite sweetly, and begs, quite ineffectually, for calls), this show skids into overtime and we have to say good-bye. My, my, how an hour and a half can fly by, even without much more happening than a lot of blathering… and that spanking.
Long before Maya even walks in, I call the show "a re-BUTT-all to Rush" and, as if blessed by the Fates, that's what it becomes, in more ways than one.
Then, after a little post-show partying, Capt'n Max and I celebrate the M month with Mem Day as I woman-handle his hot dog and he mashes my potatoes into a delicious sinus-clearing casserole of orgasms, spiced with wasabi fantasies and cheesy expressions of love.
I may be the poster girl for Post-Trump Sex Disorder(s), especially for the sadistic fun-loving Right Wing, but I'm not (thus far) a victim of it.
Coming up soon: The Bonobo Way is on the way to Philly—my hometown—for AASECT 2019  on Sunday, June 16 at 11 AM EST at the Loews Hotel. Philadelphia here I come, right back where I started from!
© May 27, 2019. Susan Block, Ph.D., a.k.a. "Dr. Suzy," is a world renowned LA sex therapist, author of The Bonobo Way: The Evolution of Peace through Pleasure and horny housewife, occasionally seen on HBO and other channels. For speaking engagements, call 310-568-0066.